Hi Wendy,
Thanks. We all got back home safely in one whole piece!.
We are happy to provide, please see our feedback as follow:
I will do the "Trip Advisor" later.
We are happy to provide you our group photo so that you can published into your website:
Please let me know if you need any further information
On behalf of our group, I thank you once again for your dedicated effort so that we have a great holiday in China
How was your tour with us in China?
Overall, our tour was good but hard to choose which part of the tour was the best. Below are our daily tour activities:
Zhangjiajie is our first destination:
On day 1, local guide, Carol was helpful, punctual and spoke English well. Her local knowledge was handy where she took us on the shortcut up to "1-step from Heaven" which saved us a couple of hours walking time. That was our 20km walk day!
On day 2, when we did the "Bailong Elevator", and "10-li Gallery - 十里畫廊" was probably a bit disappointing cos Carol didn't give us much info on some of the sights or the significance of them (if there was any significance). may be too noisy traveling in the cable car.
On day 3, very handy to have Carol organise for tickets to the evening show for "Mei Li Xiang Xi - 魅力湘西", which was pretty good show can't miss.
On day 4, This is a 2 days visit to "Fenghuang old town" was good, Carol was able to show us best vantage point to take photos of an old town at night. Carol is also flexible enough to make arrangement for us to visit the "Hibiscus town - 芙蓉镇" on our way back from FengHuang.
Last day – day 6 in Zhangjiajie, Carol was good in chasing down our outstanding train tickets from Zhangjiajie to Yichang and saw us off at the train station. So, overall, Carol was very good, in our opinion, but probably could have given us a bit more background info and historical significance of the places we visited.
We enjoy the Yangtze river cruise very much. The friendly crew members, the foods and the entertainments are excellent. The state room is roomy and clean. This is exceeded our expectation
Chongqing is our 2nd destination:
On day 1, a day tour to "Dazu Grotto - 大足", the local guide Alex, he certainly seemed to have more clued up on his subject re: the Dazu Grotto and the Beishan Rock Carvings. Alex's English was pretty good.
On day 2, a day tour to visit the "Wulong Karst Scenic Area -武隆 & Furong Cave - 芙蓉洞"was great. It features the rare geological wonder - three natural karst stone bridges. Both Wulong and the Furong Caves are highly recommended.
Alex did his best to ensure we saw both places.
Guangzhou is our 3rd(last) destination:
Our last day tour is to visit – "Windows of the World" in Shenzhen. The local guide was Maggie. She spoke the best English. No real requirement for a guide as we were only going to Shenzhen. The miniature park which combines history relics nature wonders and culture together was good. Cos of time restraints, the CBD - shopping centre that we went to was probably really just to kill time, certainly not a lot that we were interested in, but that could just have been us.
Have said that, Maggie did a fantastic job for us. She is doing her best to resolve our transportation issues. She organised a van to pick up us for the airport at 04:45am from our hotel. The van is able to carry 6 of us and 6 large luggage. Maggie, also organised a private car tour for me to visit my hometown in Chongbian, xinhu. The total price is cheap and the service is great.
Moreover, Maggie did recommend us a fantastic restaurant for us to have dinner at (this is the best meal we have since we arrived China), no one will forget that meal we had at the 1 Michelin star restaurant, nor the "Bor-lor bao - 菠蘿包"Many thanks to Maggie!
2. Are you satisfied with the tour we arranged for you?
Yes. We are happy with the services provided. Our travel consultant Wendy Dan is a response person, she communicates with us frequently and make sure our requirements are met. She also contacts us thru email while we are on our journey to ensure we are problem free. The quotations provided are clear & reasonable, the payment instructions are clear. Having said that, since we have chosen our destinations, I guess so, it was a lot easier for Wendy to make arrangement, provide local guide and van/driver based on our choose destinations.
Overall, we are happy with the services arranged. Because it was a lot easier to get to the faraway places with the organised driver and guide, rather than we have to organise it ourselves at the risk of being ripped off, or given a bum steer like that driver in Guangzhou (after getting off the airport shuttle bus) who said that he could take all of us in the one car, with the suitcases, only to find out that he couldn't do it!
3. Do you have any suggestions on improving our services ?
Well done. Only suggestion may be, ensure the local guide has a bit more background information and historical knowledge on the sights that we are visiting.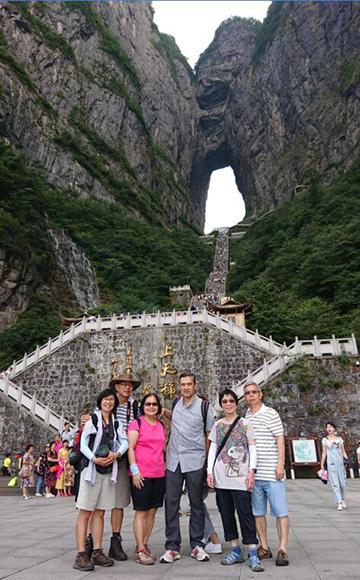 Zhangjiajie