2024 Shenzhen Visa on Arrival (VOA): 5 Day Visa and Group Visa to Shenzhen
Latest News About Chinese Visa on Shenzhen Ports Arrival (updated on March 15, 2023):
Currently, Chinese Visa on Arrival (VOA) is available at a few land ports in Shenzhen, including Shenzhen Bao'an Airport, Luohu Port (Lo Wu Port), Shekou Port, Huanggang Port and Fuyong Port.
China Discovery will keep focusing on the updates of the latest Chinese visa and entry policy! You can also call 86 0755 12367 (Official telephone number of China National Immigration Administration in Shenzhen) to check further information.
Can I Get A Visa at the Shenzhen Border?
Shenzhen does offer Visa on Arrival for special visitors, so whether you can get it depending on your own situation. Shenzhen Visa on Arrival (VOA) is also called Shenzhen Port Visa, which merely allows foreigners to apply for visa at the certain entry ports on arrival, visa application procedure and appropriate visa fees are still needed. 5-Day Shenzhen Special Economic Zone Tourist Visa is a special type of VOA visa for Shenzhen, and tourists may also apply for Group Visa at the border to visit Shenzhen with other cities in China.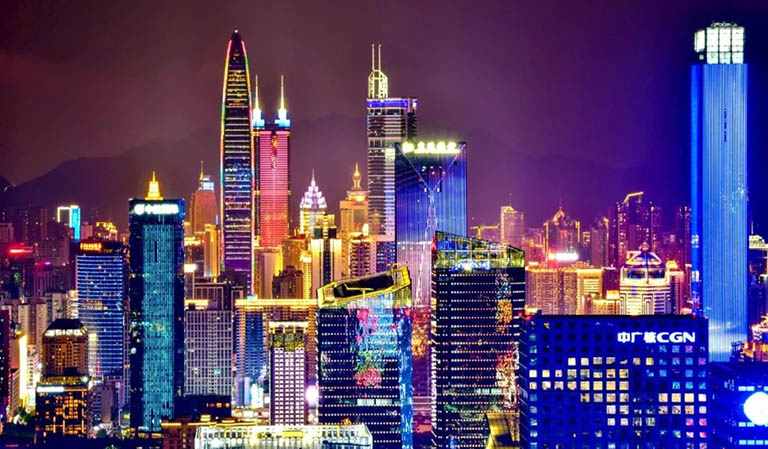 Gorgeous Night Visa of Shenzhen
Recommended Shenzhen Tours for You - Tailor-made, Valuable and Refoundable
You may apply for Shenzhen Port Visa upon arrival, if meeting one of the following cases. We list all situations included and highlight introduction on type 3 and type 4 here, for they are what ordinary traverlers most concerned.
Type 1: Invited overseas high-level talents, foreign university intern students, employed workers, admitted primary & secondary school students.
Type 2: Emergency entry for humanism reasons, urgent commercial affairs, engineering repair works, family visit or other special visit to Shenzhen (China) at short notice.
The inviting unit or individual (the sponsor) usually will help to provide necessary documents required, and the exact Visa Category (including Chinese R/Q2/C/S1/S2/Z/X1/M Visa) and duration of stay is based on your purpose of entry and planed stay period.
Type 3: Inbound tourist groups organized by travel agencies in accordance with China's laws and regulations.
Type 4: Travelers who are eligible for Shenzhen Special Economic Zone (SEZ) Tourist Visa.
The Shenzhen Special Economic Zone (SEZ) Tourist Visa is the so called Shenzhen 5-Day Visa, a special regional single-entry visa that allows tourists to stay within the administrative region of Shenzhen and exit via Shenzhen's ports only. The short-term visa is issued to aliens who visit Shenzhen from Hong Kong or Macau directly for tour or business. The visa is valid from the midnight the day after arrival. (Xiamen and Zhuhai offers 3-Day SEZ Tourist Visa.)
Shenzhen 5 Day Visa on Arrival Countries List
Most foreigners are eligible for the 5-Day Shenzhen Visa, but citizens from the following 25 countries are NOT allowed to apply for the Shenzhen SEZ Port Visa, they are:
Indian, Afghanistan, Algeria, Bahrain, Cameroon, Egypt, Iran, Iraq, Jordan, Kuwait, Lebanon, Liberia, Libya, Morocco, Oman, Pakistan, Palestine, Qatar, Saudi Arabia, Somalia, Sri Lanka, Sudan, Syria, Turkey, Uganda, Yemen.
Shenzhen 5 Day Visa Requirements
● Hold valid ordinary passport with blank pages;
● Completed Special Economic Zone Visa Application Form;
● Get to Shenzhen from Hong Kong or Macau directly;
● Visit Shenzhen for travel or business, and other private affairs.
● Enter Shenzhen via Appointed Port of Entry.
Before arrival, you shall check your passport if still has validity of 6 months and above. After arrival, you can get application form at the immigration visa office at the border.
Requirements of Shenzhen VOA
Shenzhen 5 Day Visa Price & Fee
Generally, the Shenzhen 5-Day SEZ Visa Fee vary from different countries, for most countries it is CNY 168 (about USD 25), and it's CNY 314 (about £36) for UK citizens, and CNY 956 (about USD 138) for USA citizens.
Note: Cash RMB is the only accepted payment at the immigration office. It's easily for you to find currency exchange at the border ports after arrival.
Ports Valid for Shenzhen 5-Day Visa on Arrival
According to updated guide on Division of Exit & Entry Administrtion Department of Public Security of Guangdong Province, now there are 5 ports foreigners can apply for Shenzhen 5-Day Special Econimic Zone Visa. For overland transfer from Hong Kong, Luohu Port (Lo Wu Port) with the most convenient facilities and transportation is the best recommended.
Useful Links: Shenzhen Checkpoints / Shenzhen Hong Kong Border Crossing
Very Important Notice:1)The Visa Office may not open even though the port is open; 2)the ports are subject to change their working hours, entry rules, etc. You'd better make a call to check availability before coming! 3) our advice is for reference only.
◆ Shenzhen Bao'an International Airport
Location: Immigration Counter, 1R016, East of International Arrival, 1F, Terminal, SZX
Contact Tel: 0755-22318671
Office Hours: 10:00am to 2:00am next day
◆ Shenzhen Luohu Port (Lo Wu Port) - The Busiest Land Port in Shenzhen
Location: 2F, Immigration Hall, Joint Inspection Building, No.1010 Heping Road, Luohu District, Shenzhen
Contact Tel: 0755-22318671
Office Hours: 6:30am -24:00pm
◆ Shenzhen Huanggang Port (Road)- The Only Port Opens Full Day in China
Location: Immigration Hall (Arrival), Joint Inspection Building, 1F, No.30, South Futian Road, Futian District, Shenzhen
Contact Tel: 0755-22318671
Office Hours: 0:00-24:00
◆ Shenzhen Shekou Port (Ferry & Cruise)
Location: Immigration Hall, Shekou Ferry Terminal, Nanshan District, Shenzhen
Contact Tel: 0755-22318671
Office Hours: 9:00am-13:30pm,14:30pm-17:00pm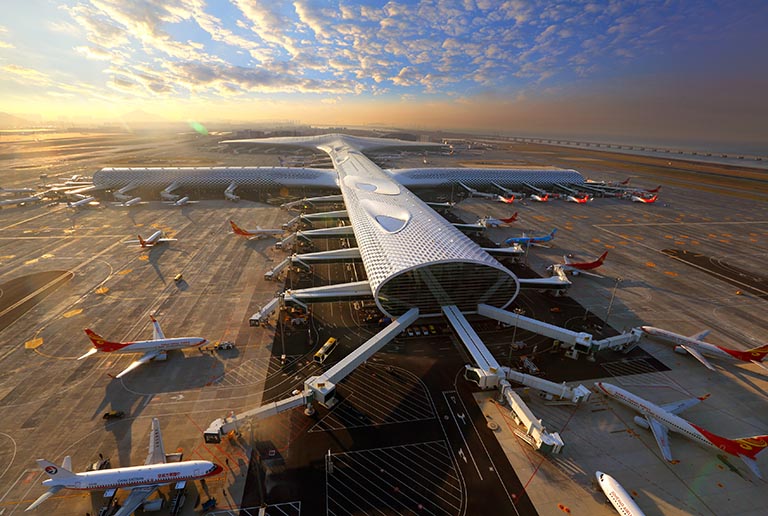 Shenzhen Bao'an International Airport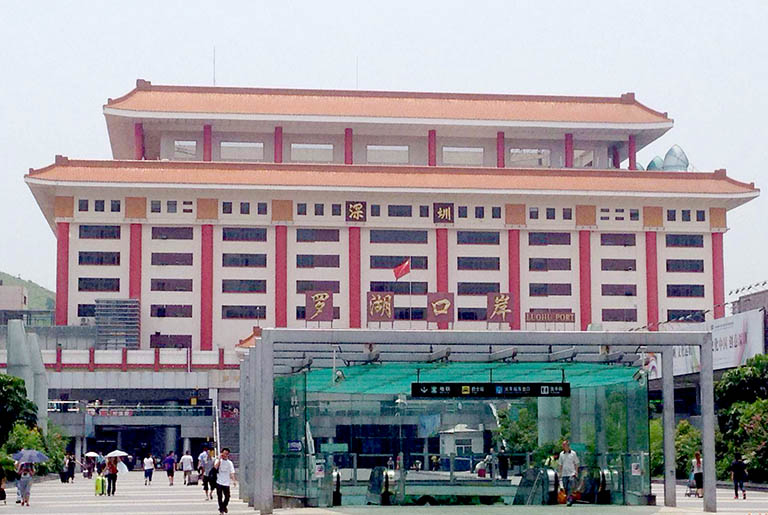 Shenzhen Luohu Port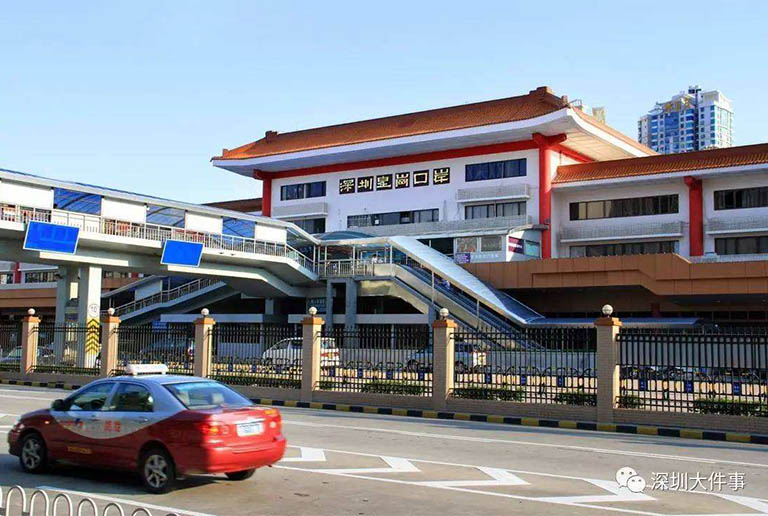 Shenzhen Huanggang Port
How to Get Shenzhen 5 Day Visa on Arrival?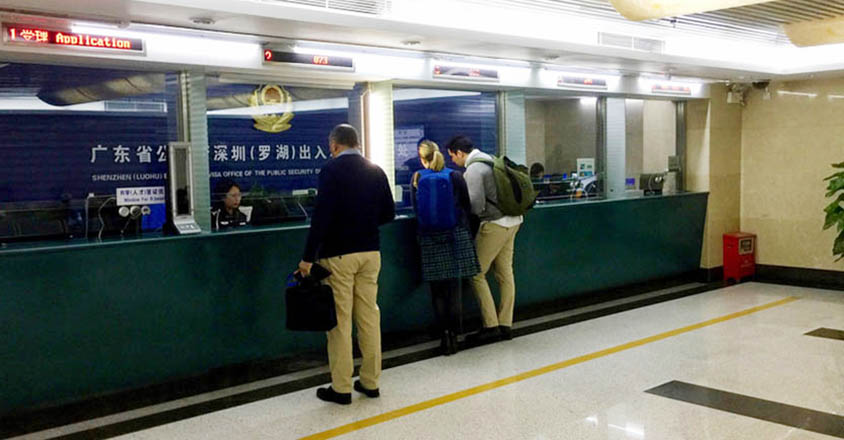 Fill in Special Economic Zone Visa Application Form at Luohu Port(Lo Wu Port)
STEP 1: Upon arrival, go to the specialized Immigration Area, fill in Special Economic Zone Visa Application Form.
STEP 2: Submit your valid original passport (or other international travel document), full-completed application form, pay appropriate visa fee.
STEP 3: Once application is accepted, answer related inquiry from the port visa authority, and then take a scene portrait.
STEP 4: Port visa authority will examine the application materials and give approval if meeting requirements, deny those not qualified.
STEP 5: Collect you passport and newly-issued Shenzhen 5-Day SEZ Visa from counter, upon receipt the notice.
Who can Apply for Chinese Tourist Group Visa?
Guangdong Government Administrative Service Website states that foreign tour groups with 2 person and more, and visiting China for tour, received by recognized HK or Macau based travel agency, are allowed to apply for the Tourist Group Visa (L Visa).
What are the Group Visa Requirements?
1. Valid original passport (or other international travel document) with blank pages;
2. Completed Port Visa Application Form (click to download the form) - normally filled in by the travel agency.
3. Applicant's recent-taken passport size photo (within 6 months).
4. Other supporting documents, including the invitation letter provided by the Chinese travel agency, tourists list with all members, travel itineray, etc.
How Much is A Group Visa to Shenzhen?
The Fee of Tourist Group Visa differs from nationalities and changes frequently. Normally, the fees will be covered in the quoted price of your Shenzhen Guangdong tour.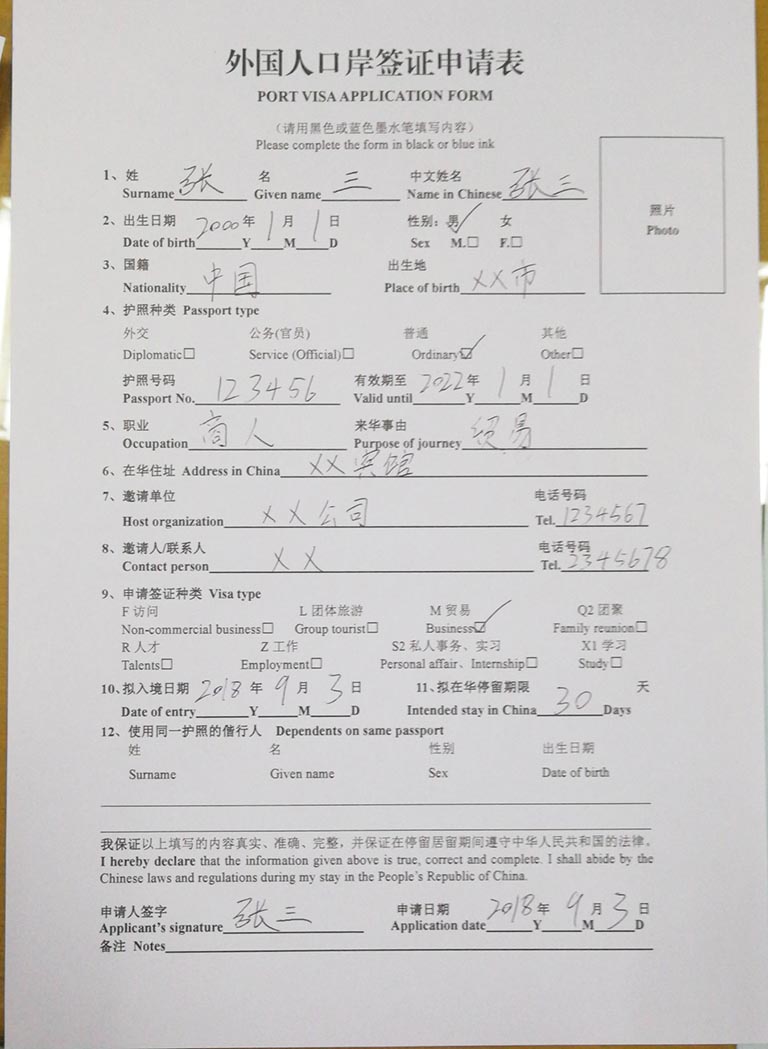 Sample of Port Visa Application Form (click to enlarge)
Which Ports can Apply for Group Visa to Shenzhen?
Normally, tour group granted with Tourist Group Visa can enter China via all opened port. In Shenzhen, group tourists can get entry from 5 ports, namely, Shenzhen Luohu (Lo Wu), Huanggang, Futian, Shekou Port and Shenzhen Bao'an International Airport. After finishing tour in Shenzhen and China, you may exit through all ports in Shenzhen.
How to Apply for Chinese Group Visa on Arrival?
The most imporatnt priority is to contact a professional and experience travel agency. Because the application shall be done by the travel agency, rather than the individual tourist. Each visitor need to give all required information to the travel agency.
Travelers were Going through Border Checkpoint at Shenzhen Luohu Port
Application Procedure:
A. Tourist fill in the Port Visa Application Form. Later, the eligible Hong Kong/Macau travel agency will collect your completed form, make invitation letter, a list of group tourists, travel itinerary, and other documents.
B. The travel agency will deliver all application materials to the border checkpoint and Shenzhen Public Security Bureau at least 1 working day prior to arrival.
C. The port visa officiers will check the documents and decide whether to issue the Group Visa.
D. If Group Visa is sucessfully issued, travel agency will pick up it and receive you at the port of entry.
E. Upon arrival, the group tourist will NOT fill in any Arrival Card. When crossing border, the travel agency will submit the name list. After border inspection examine, your passport will be stamped a Group Visa, marking the permitted duration of stay.
F. Go through immigration formaties, and leave the port to start your Shenzhen tour.
Attention: The Tourist Group Visa is a special regional visa policy allows singe entry only, but it's free to visit most citie sin mainland China during the 30-day journey.
Q1: Can UK citizenss, Indians, Indonesians and Pilipinos apply Shenzhen Visa on Arrival?
A1: Nationals of UK, India, Indonesia and Philippines can either apply for 5-Day Shenzhen SEZ Tourist Visa or 30-Day Tourist Group Visa to Shenzhen upon arrival. Please check the application guide above.
Q2:How to Get Shenzhen Visa from Hong Kong?
A2: Getting to Shenzhen from Hong Kong, you can take advantage of visa free policy and visit Shenzhen without visa, or get 5-Day Shenzhen SEZ Visa or Group Visa at border ports. Hong Kong to Shenzhen Visa >>
144-Hour TWOV: If you meet relevant conditions, and transit in Shenzhen from Hong Kong to another country (region) within 144 hours, you can get transit visa exempted at Shenzhen Airport after landing.
6-Day Pearl River Delta Visit: Joining a HK travel agency, you can also enjoy a 6-day visa-free tour to Shenzhen and total 10 cities in Pearl River Delta region, Guangdong.
Chinese Visa: If you would like to visit Shenzhen and else cities outside Guangdong, we recommend you apply for a regular Chinese Visa from country where you reside in. How to Get A Visa for China >>
On the basis of different visa policies of Shenzhen, visitors may have a layover tour for 1 to 6 days, or stay up to 30 days as you like. What's the best highlights to visit? Here are best travel ideas for you.
Shenzhen 1 Day Trip: for a quick sightseeing trip, you are recommended to travel to W Window of the World and China Folk Culture Village and Shenzhen Museum.
Shenzhen Classic Tour: 2 to 3 days are suitable for main scenic spots in Shenzhen, covering more sites like Diwang Mansion, Spendid China, etc. Shopping and tasting Cantonese Food are must-do in the local.
Recommended Shenzhen Tours:
>> 2 Days Shenzhen Short Stay Tour with All Essences
>> 3 Days Classic Shenzhen Tour
Shenzhen Guangzhou (Guangdong) Tour:extending further trip to other popular destinations in Guangdong lets you experience different cityscape, culture, history and folk customs. 1 week is highly suggested for a Guangdong discovery tour, which you could witness stunning modern skyscrapers (Canton Tower), visit Chen Clan Ancestral Hall in Guangzhou, enjoy Lion Dances in Foshan, photo Kaiping Diaolou in Jiangmen, etc.
Shenzhen Guangdong China Tour: With more travel time, your tour may extend farther to Guilin, Yunnan, Hong Kong, or go north to Beijing, Shanghai, Xian and other major tourist destinations in China and exit here.
Learn more about How to Plan a Shenzhen Tour >>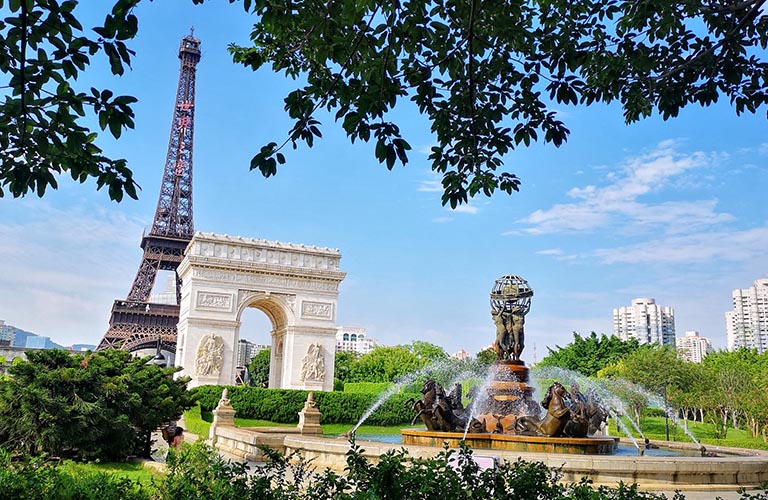 Window of the World in Shenzhen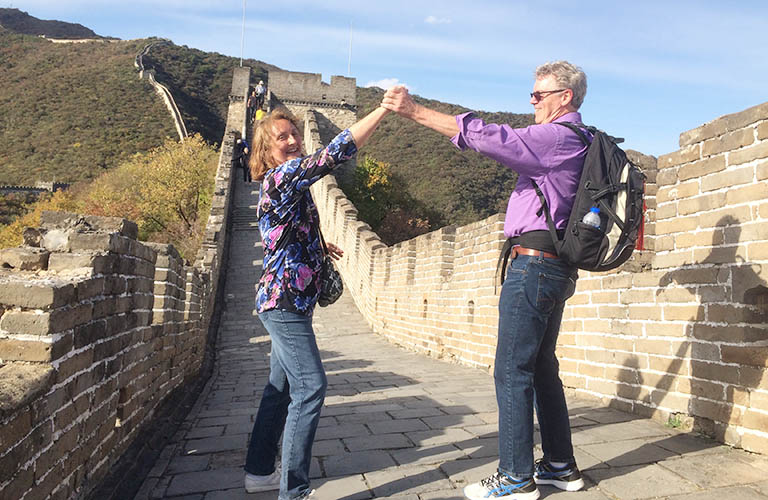 China Discovery is a professional and experienced travel companion who offers high-value and worry-free tours for you. We not only design ideal itinerary covering sightseeing, dining, transfer and hotel, but also can provide any visa support & help you need to travel to China. Except Shenzhen, Beijing, Shanghai, Xian, Guangzhou, Xiamen, Kunming, etc also offers 144-Hour Visa-Free Transit, and Guilin, Harbin and Changsha are transit visa exempted for 72 hours. International transit travelers may use it to experience different kinds of landscape, culture and history of China without applying a Chinese Visa. Know more cities and guide about China 144-Hour Visa-free Transit / China 72-Hour Visa-free Transit >>
Please feel free to contact us to join in our top popular Shenzhen tours, or let us customize a once-in-a-lifetime trip to China for you.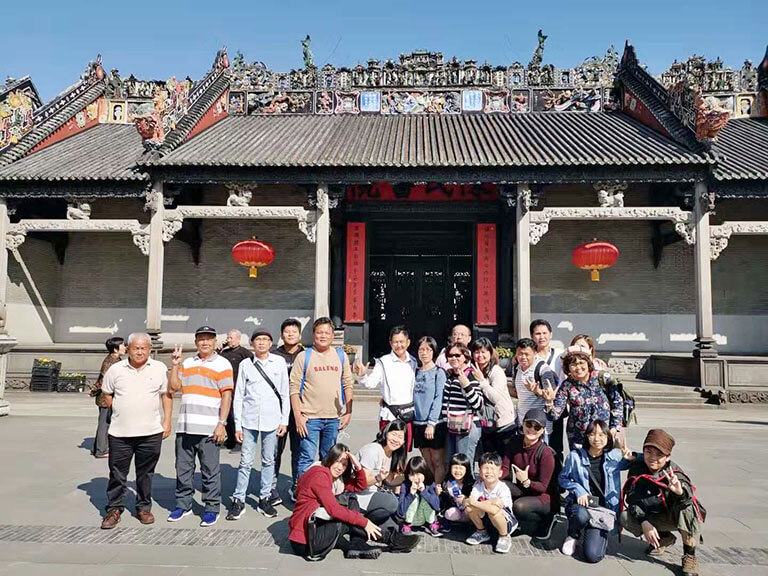 Our Singapore Tour Group Visited Chen Clan Ancestral Hall in Guangzhou
Recommended Shenzhen Tours & Shenzhen China Tours:
More Guide of Shenzhen Visa & Transportation
Extension Readings of Shenzhen Travel Guide
Recommended Tours
Top 3 tours chosen by most customers to explore in the best way. Check the detailed itinerary, or tailor your own trip now with us.
Start planning your tailor-made holiday to China by contacting one of our specialists. Once inquired, you'll get a response within 0.5~23.5 hours.
Customize a Trip
Questions & Discussions
Following are latest questions and answers from our webusers and customers. You can learn many useful information from the discussion and cases. You can also join in the discussions or ask your own question. Our experts will help you ASAP.
Shenzhen Visa
Hi,

Do you know if someone can get a 5 day visa even if they have already got a 30 day single entry tourist visa? A freind is visiting and we would like to go in and out of Hong Kong twice and use the 30 day visa on the 2nd trip, do you know if they could obtain a 5 day visa for the first visit to Shenzhen?

Thanks

Ben
Hi Ben,
Sorry to tell you that all visitors are required to hold only one type of valid visa to visit mainland China. If you and your friends come to Shenzhen directly from Hong Kong via specific port, you're qualified to apply the Visa on Arrival. But since you already obtained a 30-day single entry visa, you have to use it for first-time entry.
If your travel route is : overseas country ->Shenzhen -> Hong Kong, and meet related requirements, you may apply a 144 Hour Transit Visa Free in Shenzhen Airport. Then your single entry visa can be used for the second entry to Shenzhen.
Please let us know what kind of itinerary you have. We would like to offer help as long as you give more details.

Wish you everything goes well!
From HK Airport
Hi, if I will go to Shenzhen Shekou port from airport directly, whitout HK entry/exit record, am I qualified as "From HK"?
Hi Casper,
As regulated, travelers applying the Shenzhen Visa on Arrival must travel from Hong Kong or Macau, so the entry & exit stamp is required. If you want a visa-free travel to Shenzhen or Guangdong area, here is our Shenzhen 144 Hour Transit Visa Free guide (https://www.chinadiscovery.com/shenzhen-tours/shenzhen-144-hour-twov.html).
If you have more questions, we're glad to help!
Have a good day!
photo
do I have to provide the photo at the Chinese border or do they take one.

Hi Chris,
You should prepare one paper photo in advance and submit with the completed application form on the spot.
Wish you goes smoothly!

Best Regards,
Have a question? Get answers from our travel experts or guests
Your Question:

Your Name:

Your Email: