Types of Seat on High Speed Trains in China
Latest China Train News (Updated on October 31, 2023) :
Foreign passengers can book China train tickets on their own on the China Railway official website https://www.12306.cn/en/index.html. At present, www.12306.cn is the ONLY China Railway official website for China train tickets booking. No matter you want to book high speed train tickets ( G train, D train or C train), or purchase normal train tickets (like T, Z or K train), you can check latest train routes & schedules, seat classes and prices and as well as buy tickets on this website.
China Discovery will update the latest news about China train travel for you. We are also good at create tailor-made China train journeys. Find a tour here »
For the various needs of train travelers, there are several types of seat arranged on high speed trains in China. Unlike the seats on normal slow train, the seats on high speed trains are SPACIOUS, CLEAN and COMFORTABLE. Moreover, there are more great equipment and facilities for your free experience! So, now follow us China Discovery to know the main types and what facilities, equipment and services are offering onboard. Besides, we will also give you some very useful tips and show you some comparison for your deeper understanding of each one type and better for your choosing before you start your high speed train travel. Let's check!
Main Types of Seats on China's High Speed Trains
On a high speed train, the types of seat are arranged according to the type of train.
On the G trains and C trains, it usually provides three types of seats: First Class Seat, Second Class Seat and Business Class Seat. And on the D trains, there only are First Class Seats and Second Class Seats. On some overnight D trains, some sleeping berths are offered for a better comfortable longer train trip. Also you can get details about seats on China Normal Trains.
To let you know the features of each kind and class of seats on the high speed train, here we give some introduction of the seat arrangement, size, equipment, and pictures of each type at below. Please check them before your seat selection and booking.
1. Second Class Seats
Second Class Seats (二等座) are offered on high speed G, D and C trains in China.
This type of seat is the standard type and the cheapest onboard. A second class carriage has five seats (each one is about 45cm in width) in a row - two at one side and three at the other side of the aisle, like the layout on some airplanes. Although those seats have low prices, passengers can still enjoy roomy leg space and feel much more comfortable than on the plane. The seat is adjustable backwards to 5-24 degrees, and the arms between two seats can be folded up. On the back of every seat are a tray table, a hook and a bag, cleaning bag and magazine, etc.
Also, there is one socket under your or the front seat in a row for your charging up your mobile phones and other devices. However, the places and arrangement of number may vary based on the type of train.
Useful Links:
>> Check more details about Second Class Seats on China High Speed Train!
>> Baggage Rack & Stoage in Second Class Carriage on China High Speed Train
Related Train Travel Stories to Inspire You:
● Shanghai-Beijing: A Tale of Two Cities - Shanghai to Beijing Bullet Train Travel
● Sanjiang-Congjiang: Guizhou is An Ethnic Paradise for Rail Travelers, Come?
● Beijing-Xian: China's Superfast Bullet Train Riding from Beijing to Xian
● Shenzhen-Xiamen: A Comfortable Trip by High Speed Train in China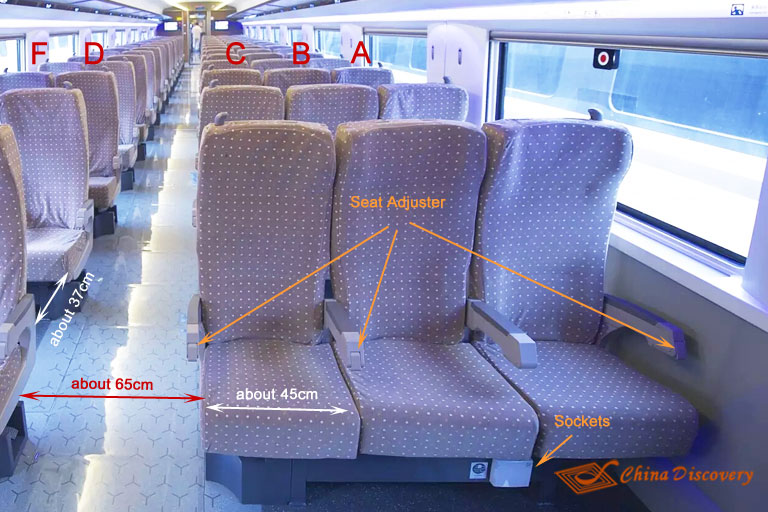 Click to See Size of Second Class Seats
2. First Class Seats
First Class Seats (一等座) are also available on high speed trains of G, D, and C types.
The first class seats belong to the middle class. They are more expensive than the second ones, for larger seat size of about 48cm wide and more personal space for your arms and legs. In the First Class Carriage, there are four seats in a row - two on both sides. The seat can be adjusted backwards better to a comfortable angle for your rest, within 5-32 degrees. The tray table is much wider than that for the Second Class Seats, which is in the arm of each seat, and you can pull out and unfold it for some reading, dining or placing your belongings.
Besides the facilities and items for Second Class Seats, First Class Seats additionally offer a pillow on your seat for a better sitting trip, more electrical outlets installation on both sides of every row, adjustable footrest to relax your feet, electric socket for earplugs or earphones for music, etc. As the First Class Seat Carriage is designed with lesser capacity and more space for passengers, you can enjoy a quieter and more comfortable environment easily through the high speed train riding.
>> More Details about First Class Seats on China High Speed Train!
>> Which one to Choose? First Class Seats vs. Second Class Seats!
>> Baggage Rack & Stoage in First Class Cariiage on China High Speed Train
3. Business Class Seats
Business Class Seats (商务座) are arranged on most types of high speed trains, includings the G trains and some C trains. And also some D trains for the needs of passengers.
Business Class Seats are the most luxurious and expensive seats, just like the first-class on the airplane. However, as all seats on train have no seat belts, passengers feel much more relaxed and free on the high speed train. Usually, there are usually 5 Business Class Seats in the one carriage behind the train operation cab on one train. In the business carriage, seats are arranged into two rows, with three near the carriage door and the other two near the operation cab. Besides, there is an aisle in the center part. Since the room in such kind of carriage is really spacious, passengers could walk at ease in there.
Furthermore, seats of this type are superb of leather, and can adjust into different positions for your sitting, half lying, full lying needs, etc. As there are only fewer than 5 people in this car and a sliding door keep you from other cars of this train, a good rest will be got without any effort in such quiet environment. What's more exciting, Business Class Seats can be turned 180 degrees, and you can adjust it to face the window, so the highlighting sightseeing along the way will not be missed.
Also, Business Class Seats passengers will enjoy more complimentary services and items, including free meals during dining hours, drinks, snacks, slippers, blindfolds, earplug, blanket, etc. Such kind of advanced services and functions of seats are luxury, thoughtful and a better choice for people travelling based on the comfort and experience.
(Tips: Free meals will served during dining hour: Breakfast before 08:00, lunch during 11:30-13:00, and dinner during 17:30-19:00) Food & Drinks on China High Speed Trains >>
>> Check more about Business Class Seats on China High Speed Train!
Related Train Travel Story:
● Shanghai-Hangzhou-Beijing: Luxury Shanghai Hangzhou Beijing China's High Speed Train Journey
●
Shanghai-Ningbo:
Affordable Superior High Speed Train Trip from Shanghai to Ningbo
Premier Class Seats
Apart from the standard Business Class Seats, there are also some Premier Class Seats (特等座) on some high speed trains. They are the same type of the business seats, the major differences are that the premier type has higher capacity with usually 28 seats in a whole carriage, however, it is also very spacious for enjoyment. Also, the prices are lower than those of the standard business ones.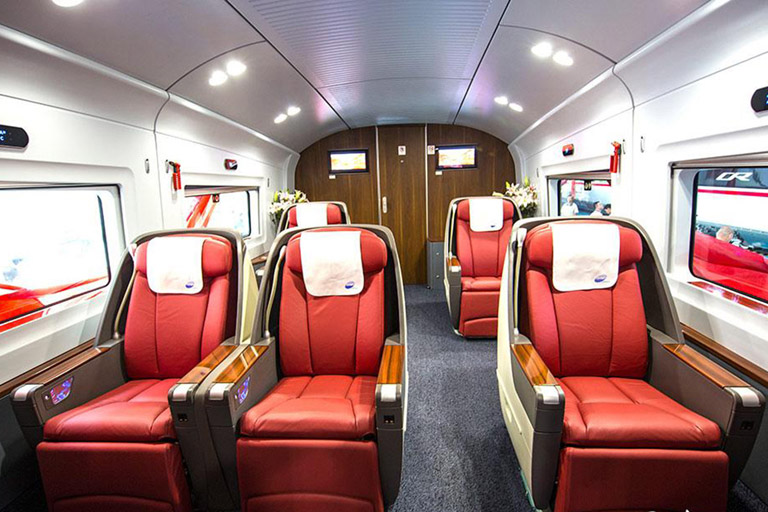 Business Class Carriage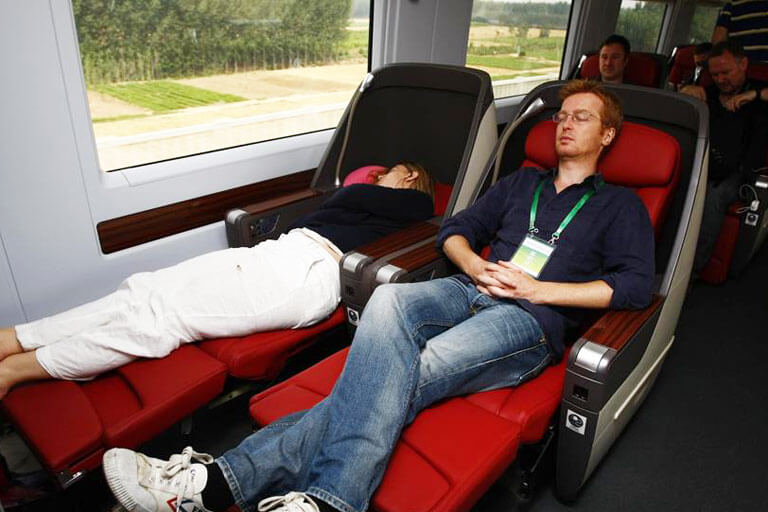 Deluxe Business Class Seats
Premier Class Seats
4. Sleepers
High speed trains also provide some sleeping berths onboard for the demands of travelers, businessmen, students, etc. However, most sleeping berths only can be found on some overnight and long distance high speed D trains from some cities including Beijing, Shanghai, Guangzhou, Shenzhen, Chengdu, etc. At present, there are mainly three various types of sleeper on the high speed trains, let's check to know the highlights and differences between each type at below.
1) New Sleepers (Dong Wo动卧)
★ Related Popular Tour: 4 Days Shanghai Xian Overnight Bullet Train Tour
Dong Wo (Bullet Train Sleeper) is the new sleeper
only available on the overnight high speed D trains
. Different from the traditional arrangement of sleeping berths onboard normal trains, all
New Bullet Train Sleepers
are designed
paralleled to the train carriage
with an aisle on one side, and they are displayed into two layers with their own window for watching the outside world. However, the train looks like a double-decker, inside of which is actually a whole single deck carriage layout. With a curtain for each sleeper, every passenger will have a
private room and convenient environment with quiet
.
Handy facilities and equipment are there within the short hand reach at your sleeping berth, including electrical charges, tray table, hooker, adjustable backrest, overhead light, reading light, book bag, bedding articles, separate air-conditioner, etc., also with some food. Therefore, you could enjoy some time for your business dealing and entertainment and also have a much better sleeping before reaching your destination on the following morning.
If you are planning to transfer between Beijing and Shanghai, Shanghai and Shenzhen, Shanghai and Guangzhou, Shanghai and Chengdu, and so forth, you could choose to experience such kind of New Sleeper to both save your time during the day and some money.
New Sleepers & Overnight Bullet D Train
2) Soft Sleepers Compartment (Ruan Wo软卧)
Soft sleepers are usually a little more expensive than the New Sleepers.
Soft Sleeper Compartment has 4 sleeping berths. Every compartment has a sliding door, so passengers there can keep away from the sounds outside in the carriage. The 4 sleepers are placed perpendicularly to the carriage with a small table in the middle on the carriage wall. Besides the every TV setting above the foot place at every sleeper, sockets, slippers, beddings, and many other things are offered for the comfortable and satisfied stay onboard the high speed train. As high speed trains are more user-friendly, service button is there in every compartment, if you need any help, the train service staff will come to you very quickly if you press it. Furthermore, if you are traveling with your friends and families, we advise you book your sleepers together in the same one compartment, and if you have another 3 people, you can book the whole one compartment, you can spend better time with them in such a great private room.
Soft Sleepers
3) Deluxe Soft Sleeper Compartment (Gao Ji Ruan Wo高级动卧)
The Deluxe Soft Sleepers are more comfortable than both the New Sleepers and the Soft Sleepers. Every compartment can be a private room, with a sliding door keeping the rest of the carriage away. There are only 2 sleeping berths in each on compartment, arranged at upper and lower position on the same one side. Moreover, there are soft sofa, wardrobe, and other frequently used facilities and equipment including sockets, tray table, LCD TVs, air conditioner, mirror, wardrobe, slippers, earplugs, etc. So, if you are traveling in couple or with your friend or family, such type of sleeper is the best selection for a quite private and quiet room. Besides those facilities in your compartment, there is a shared rest lounge at the end of the aisle, where provides sofa and small table for your leisure hours appreciating the landscape outside and relaxation. As the Deluxe Soft Sleepers have so particular equipment and service, people experienced it have reputed the compartment as a "moving hotel" to express their favor and compliment.
Deluxe Soft Sleepers
Apart from all above mentioned types of seats on high speed trains in China, there are also some other kinds of seats serving passengers in different destinations. As there are several kinds of high speed trains that are made in different years with difference designs during the past, the layout and functions of seats, equipment and facilities in carriages, and the types of trains are different according to different trains, however, the difference is not big and you will also enjoy a great and comfortable trip on the bullet trains. You can check the details about your booking train through the Internet if interested.
Tips for What to Prepare for High Speed Train Sleepers
Onboard the overnight high speed D trains, every carriage has one to two toilets of Chinese and Western type, washing sink, so you can wash your face and do some makeup for the travel or the business meeting. So, what to pack?
Water, towel, facial cleanser, toothbrush and cup, skin care items, makeups, comb, toilet paper, etc. are the most necessary things to prepare. If you are going to book the New Sleeper, a pair of sandals or slippers is highly recommended.
How to Choose Your Favorite Seats?
Still considering which seat to take on your bullet trains? Let's together make things easier. Think by the following factors and figure out what you are care about most.
● Traveling Hours: How long will you spend on the train? If it is long and takes more than five hours, first and business seats with much space and better comfort feelings are proper.
● Distance: if you are traveling for long distance between two cities very far away and usually need over 10 hours, the sleepers on the overnight trains are absolutely your wiser choice. In such a way, you can have a good sleep on the train to save money spent on hotel at your destination, also, it keeps you away from getting too early in the following morning for catching the early flight for saving time or rushing for the meeting.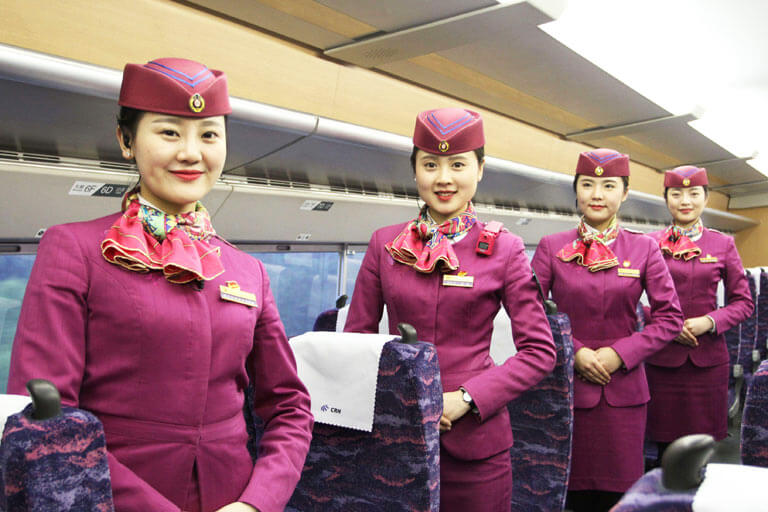 High Speed Train Seat Attendants
● Quiet or Chat?: Do you like to talk with the fellow passengers? Or do you just need some quiet time on the train to view the beautiful scenery pass by. If you like to join the Chinese to have some conversation, choose the second class seats to get into the more easy-going environment; if you need more personal time and room, choose the seats beside window and first or business seat with less passengers in one carriage will be proper.
● Comfortable: Do you care the comfort as the most important factor? If so, choose business seats that are the widest and best for your most comfortable position.
● Sightseeing or Aisle?: Are you interested in the outside sightseeing? If yes, the window seats are no doubt to be chosen to appreciate every beautiful passing by during the train travel. Among all types of seats, there are two "sightseeing seats" in the Business Class Seats carriage on one high speed train, beside which the super large window offers the best position and experience for scenery. If you want to walk to the toilet or other places without excuse others, the aisle seats are better selection. Also, if you would like to have more legroom, the aisle seats would meet you better than others in the Second and First Class Seats carriage.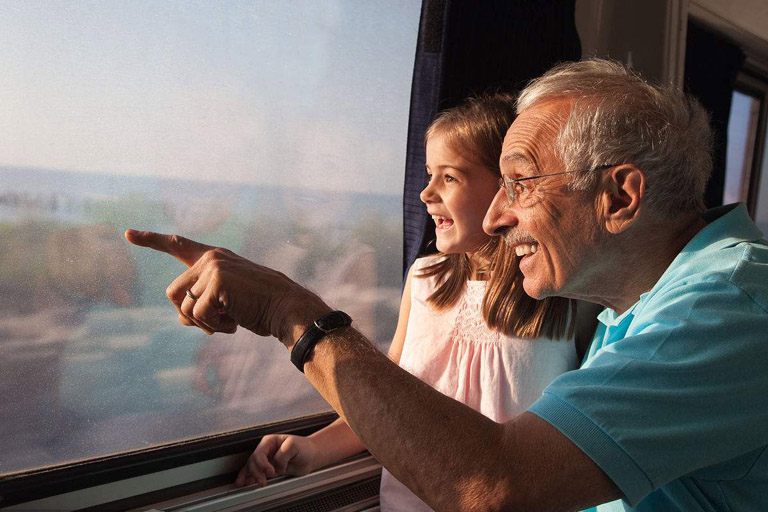 Choose Window Seats to Enjoy Sightseeing Outside
● Budget: What your budget? Train ticket fare in China varies according to the different classes. If you are on a budget travel, choose second class seats, which also have been receiving the good reputation of world travelers.
● Quick Getting On/ Off: Do you care about time waiting for getting off? If so, choose the seats near the aisle and the carriage door, so you can quickly collect your luggage and step on the platform once the door opens at your destination. How to Get on/off China High Speed Train >>
● Your Group Size: How many people are there in your group? If you are traveling alone, either seat is OK. If you take the bullet train with another one person, the two seats side by side is the perfect, so you can choose the seats "D and F", or "A and B", so you can seat together and enjoy your chat. And if you are traveling with other two people, or like you are in a family group of three members, the three seats together on one side of the carriage is a better choice, which are seats "A, B, and C".
Comparison of Seats on China Normal Trains & High Speed Trains
How better the seats of China high speed trains are than those on the normal trains? What are their differences related to your experience onboard? Taking the railway section between Beijing and Guangzhou, let's have a brief comparison of the seats and sleeping berths of the major two types of trains in China before you book your tickets.
Seats Comparison (Beijing - Guangzhou):
Factors
China High Speed Trains
(G, D, C)
China Normal Trains
(K, T, Z)
Price
About 860-2,750 RMB
About 250 RMB
Riding Hours
About 8-10.5 Hours
About 21.5-30 Hours
Seat Type
Wider seats separated by armrest
Bench type
Comfort
4.5 Star
3.5-4 Star
Adjustability
All can be adjusted
N/A
Tray Table
Separated for individual passenger
Usually a small one shared by 4-6 passengers
Carriage Environment
Cleaner, quieter, less crowded
More dirty, noisy, smelly
Smoking
Banned everywhere onboard
Only available at the connection of carriages now
Toilets
Facilities of both Chinese and Western styles
Only Chinese style with worse environment
Washing Basin
Better, more equipped, with mirror
Rougher, fewer
Sockets
Nearly available in every row, every carriage
Much fewer; N/A on some K trains
TV
Available in every carriage
Most trains have no TV
Sleeper Comparison (Beijing - Guangzhou):
Factors
China High Speed Trains
(D)
China Normal Trains
(K, T, Z)
Price
About 1,150 RMB
About 420-750 RMB
Riding Hours
About 10.5 hours
About 21.5-30 hours
Layers of Berths
2 berths on each side
3 berths on each side
Sleeper Size
Even much wider
Length: 180-190cm;
Width: 50-70cm
Comfort
4.5 Star
3-3.5 Star
Carriage Environment
Clean, quiet, private, full equipped
Dirtier, noisier, more bothered, rough
Smoking
Banned everywhere onboard
Only available at the connection of carriages now
Toilets
Facilities of both Chinese and Western styles
Only Chinese style on most trains; Western toilets available for some Soft Sleepers.
Washing Basin
Better, more equipped, with mirror
Rougher, fewer
Drinking Water
Water dispenser in every carriage
Only one kettle in every Soft Sleeper compartment
Sockets
Nearly available at every sleeper, every carriage
Available in every Soft Sleeper carriage but fewer.
TV
Available in every compartment; N/A for the New Sleepers
Available on some Soft Sleeper trains
Compartment Door
Available in every compartment; N/A for the New Sleepers
In every Soft Sleeper carriage
Sleeper Curtain
Only for the New Sleepers
N/A
Berth Spacing
Much wider
Narrow
Included Meals & Snacks
Yes
N/A
Please Note: the above information of price, size, facilities, equipment, etc. of China high speed trains and normal trains is only for your reference, which is various according to the difference of types of trains and sizes, and railway sections between different destinations.
>>Check More about Beijing Guangzhou High Speed Train
After comparing the size, equipment, facilities, environment and other aspects of seats and sleepers of high speed trains and the normal trains in China, you must have a clear impression of the great and better experience of high speed train seats. So, if you already have the clear idea of where to visit in China to take the cool bullet train, you can tell us to book the train ticket for you, therefore, you could get your tickets easily without those inconvenient procedures. If you just want to take the train but do not know which section to choose, please feel free to tell us your rough interests and ideal places, and our professional travel expert will give the good recommendation and help you tailor make your unbelievable high speed train tour in China!
Other Routes to Experience D High Speed Trains
As high speed train travel are becoming much popular and recommended by large portion of visitors in China, here we also list some top high speed train routes chosen by most people during their China tour. See the routes at below and pick one to experience the great advantages of travelling by high speed train. Also, you could check all high speed train routes to select which section to experience.
Extension Readings of Bullet Train Types & Seats
More Practical High Speed Train Travel Guide Articles
Recommended Tours
Top 3 tours chosen by most customers to explore in the best way. Check the detailed itinerary, or tailor your own trip now with us.
8 Days Beijing Xian Shanghai Tour by Flight

Beijing / Xian / Shanghai
7 Days Shanghai Suzhou Beijing Contrast Tour by High Speed Train

Shanghai / Tongli / Suzhou / Beijing
Start planning your tailor-made holiday to China by contacting one of our specialists. Once inquired, you'll get a response within 0.5~23.5 hours.
Customize a Trip
Questions & Discussions
Following are latest questions and answers from our webusers and customers. You can learn many useful information from the discussion and cases. You can also join in the discussions or ask your own question. Our experts will help you ASAP.
Premier Class seats
I have booked Premier class seats from Beijing to Tianjin (Usually travel Business, but it is only a 30 minute journey). Do they include access to the Business lounge at the station like with the Business class ticket? Do the seats fully recline? Do you get any food/drink complimentary? What other differences or similarities are there between Business and Premier seats?
Hi Matthew,

Greetings from China! Nice to hear that you are going to experience the high speed train in China! Usually, Business Lounge is only offered for passengers holding the Business Class Tickets. Most Premier Class Seats are the same with Business Class Seats according to the materials and most functions, so most of them can fully recline. And from Beijing to Tianjin, attendants on the train would serve snacks and drinks for passengers of Premier Class and Business Class seats most of the time.

There is another major difference. Business Class Seat Car usually holds only 5 seats, while Premier Class Seats Car may hold 6 to over 10 seats. however, the Premier Class Car is also much more private and quieter than the Second Class Car and First Class Car. For more information about seats on Beijing Tianjin High Speed Train, you could ask the attendants onboard.

Wish you a nice experience of high speed train from Beijing to Tianjin!
Luggage
Where can I store my luggage which is not cabin size?
Dear Tan,

Thanks for your message. When you taking high speed trains in China, you can put large luggage at the connecting area between two compartment. The middle-size or other smaller luggage can be stored in the luggage rack above the seats.
Have a question? Get answers from our travel experts or guests
Your Question:

Your Name:

Your Email: