Invitation Letter for China Visa 2023/2024
Notice on Further Adjusting the Visa and Entry Policies for Foreigners Entering China - Updated on March 14, 2023:
In order to further facilitate the entry and exit of Chinese and foreign personnel, it has been decided to make the following adjustments to the visa and entry policies for foreigners entering China, effective from 00:00 March 15, 2023 Beijing time:
1. The entry function of visas which were issued before March 28, 2020 and still valid will be restored.
2. Overseas visa offices will resume issuing various types of visas (including Tourist Visa) for foreigners to travel to China, with specific requirements detailed in the visa application guidelines of Chinese embassies or consulates.
3. Port visa offices will resume issuing various types of port visas for lawful purposes.
4. The policies of visa-free entry for Hainan, Shanghai International cruise arrival, Guangdong for Tourist group entry of foreigners from Hong Kong, Macau, and ASEAN tourist groups entering Guilin, Guangxi will be restored.
China Discovery will keep focusing on the updates of the latest Chinese visa and entry policy! You can also call 86 010 12367 (Official telephone number of China National Immigration Administration) to check further information. Welcome to join in our Facebook Groups to catch up with the latest news!
Invitation letter is a vital document for Chinese visa application. If you travel with us, we will not only create a valuable tour for you, but also provide you an invitation letter if you request, which will help you obtain your visa successfully. Start customizing your tour in China now!
We are one of the few China travel agencies who have kept active and received lots of feedbacks and reviews during pandemic years
"It was our second time with China Discovery Tours. Once again they tailored the tour according to our ideas and interests - and succeeded in surprising us! Thanks to the local guides we learned...
read more »
Reviewed on March 20, 2023
"We visited Beijing and the experience was superb. Everything was perfectly organised, easy and smooth. The guide and the driver were extremely friendly and did take care of us...
read more »
Reviewed on March 24, 2023
Recommended China Tours for You - Tailor-made, Valuable and Refoundable
What is an invitation letter for visa application?
When you search for instruction about Chinese Visa Application Requirements online, you will find out a letter of invitation is often mentioned. As required, the letter is one of the principal supporting documents you should submit to the Chinese Embassy or Consulate for visa request. The letter will help to explain the reason why you will visit China and give details about the planned visit.
Does China Visa need invitation letter?
An invitation letter is mandatory required when applying most types of Chinese Visa, such as China Crew (C) Visa, F Visa, Business (M) Visa, Work (Z) Visa, Family Reunion (Q1/Q1)Visa, Private (S1/S2 Visa), etc.
China Tourist Visa and Transit Visa are two exceptions. With confirmed connecting flight ticket, an invitation letter is not required for Transit Visa. If you are invited to travel to China by your friends or travel agency, an visa invitation letter is needed. However, independent travelers can choose to submit travel itinerary (proof of air ticket booking and hotel reservation) only. There is NO need to prepare an invitation letter if you don't have any friends, family members, relatives or inviting party in China. Making a letter of invitation from strangers will let your visit being suspicious, and even lead to visa denial.
What kind of format the invitation letter should be?
The Chinese Embassies and Consulates don't regulate any standard format and size of the invitation letter. Since the letter is submitted for visa application to embassy and consulate, being official/formal with proper etiquette is always the No.1 rule. Except the main body, a complete visa invitation letter should cover more elements, including the heading, greeting (opening salutation, the title of embassy name, embassy contact information), complimentary close, signature & official seal, writer's contact information, date when the date was written and enclosures.
Invitation Letter Writing Format
The letter must be paper form, and it could be computer print-out, handwritten letter, or in scanned copy or fax. The accurate format may vary slightly by different inviting individual or entity.
What to Include in the China Visa Invitation Letter?
There are many types of invitation letters for different visa category. Generally, three major sections of information should be contained in the visa invitation letter, including details about the inviter, invitee and the invitation. The rule applies to most types of Chinese Visas. Below are detailed visa letter instructions for China Tourist and Business Visas - two most common visas for China visitors.
☞ China Tourist Visa (L Visa) Invitation Letter
The invitation letter for China Tourist Visa should be related to the invited tour in China. It would be written by person or organization, covering information as follows:
1.) Information on the Applicant (Invitee)
Full Name, Nationality, Gender, Date of Birth, Passport Number, Contact Phone Number, Email Address, Relationship with the inviting person/unit (pictures together or materials in other formats), etc.
2.) Information on the Inviting Person/Unit (Inviter)
Full Name, Residence Status in China (property ownership certificate, lease agreement, etc), Contact Number, Address, Email, Official Stamp, Signature of the inviting individual or organization, etc.
3.) Information on the Intended Tour
Purpose of Visit
Itinerary of Travel
(When - Planned Departure Date & Arrival Date, Duration; Where - Places to Stay, including hotel reservation record, or statement if you will live in your friends' house, How - Booked Round-trip Air Tickets)
To present the invitation is real and reasonable, you need to attach or enclose additional documents about the inviting person and the invitation. For example, proof of his/her identification, like an ID Card, permanent residence permit, passport or Chinese Visa; and proof of residence. (Business license is needed if tour is organized by a travel agency.)
Warm Tips: To help our customers successfully getting a China Tourist Visa, China Discovery will provide an Invitation Letter stating travel schedules, duration and places planned to visit. The travel details are necessary informations for filling in a China Tourist Visa Application Form. Meanwhile, we will give other instructions and assistance for the China L Visa application. Contact us to get more practical tips!
>> A Sample Invitation Letter for Tourist Visa to China in Chinese & English (PDF file)
Useful China Tour Planning Ideas
☞ China Invitation Letter for Business Visa (M Visa)
An official invitation letter is required when you apply China Business Visa for commercial and trade activities. The letter should give authentic information of the commercial visit and issued by a trade partner or host organization in China. Essential content of the visa invitation letter should includes:
1.) Information on the Applicant (Invitee)
Complete Personal Name, Nationality, Gender, Date of Birth, Passport Number, Contact Phone Number, Email Address, Relationship with the inviting person/unit (pictures together or other materials), etc.
2.) Information on the Inviting Institution/Person (Inviter)
Full Name, Contact Number, Address, Email, Official Stamp, Signature of the inviting person or the legal representative, photocopies of Business License & Organization Code of domestic company affixed with official seal, etc.
3.) Information on the Business Visit
Reason for Visit to China
Schedule (departure & arrival dates, places going to visit and stay, reserved round-trip plane tickets)
Certification of Business Relationship between the two parties (contract, receipt or other business documents)
Evidence of Financial Support
>> A China Business Visa Invitation Letter Sample (Doc File)
☞ Invitation Letter for Hong Kong Visa
If you will apply for a visa/entry permit to Hong Kong for business activities (e.g. trade fair and exhibition), you need an invitation letter for visa request. The letter must be issued by a local company or other trade organization to confirm applicant's proposed attendance.
What kind of information should be contained in the invitation letter? The main content is same to the above mentioned China Business (M) Visa requirement. There is no fixed format set, as long as the letter states all details clearly, completely and truly.
Note: Normally, the official authority requires the photocopy of the invitation letter only, so scanned copy is accepted. But for some special situations, the consulate asks for an original letter, therefore, applicants shall submit a original version to play safe.
Popular Hong Kong Tours:
>> 1 Day Valuable Hong Kong Tour
>> 2 Days Essence of Hong Kong Tour
Special Notes for China Visa Invitation Letter
1. When applying for a Chinese Visa, the invitation letter is only submitted as one of the supporting materials. It serves as an strong proof of your purpose of visit, which persuades the visa officer to issue your a visa. However, the submission doesn't guarantee you will get a China Visa successfully. The embassies reserve the right to reject your visa application.
2. You're recommended to book cancellable air tickets and hotels for visa application. Once you obtain a Chinese Visa, you can adjust the reserved tickets and hotels.
3. Who should write you a letter of invitation?
* If you're invited by an local entity in China, the company may have experience in providing you required visa invitation letter. Better use a company letterhead paper printed with the full name and contact information.
* If you are invited to visit China by individual, like your friend, you should remind him/her of the essential requirements and guidelines.
China Visa Invitation Letter Samples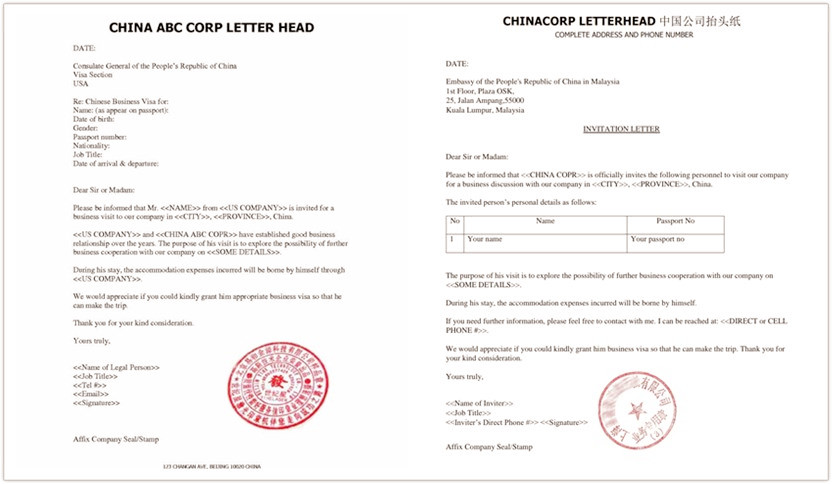 China Business Visa Invitation Letter Sample (Swipe to View Next One)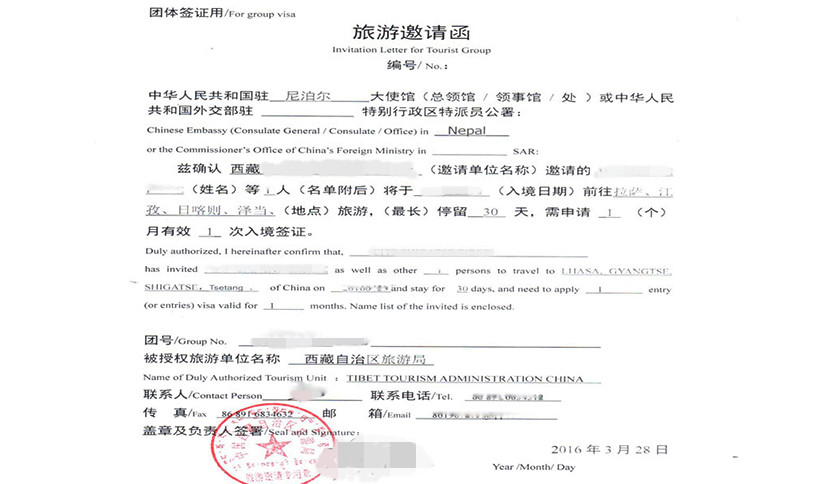 Chinese Tourist Group Visa Invitation Letter Sample (Swipe to View Next One)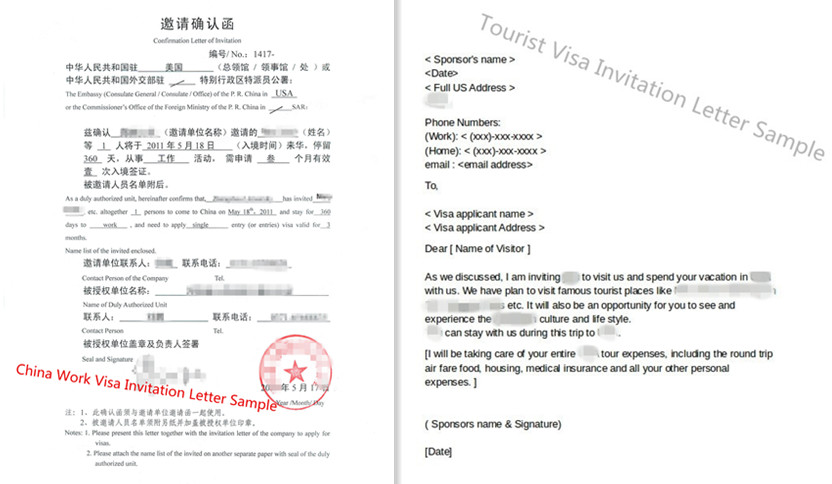 China Tourist & Work Visa Invitation Letter Templates
Travel China Worry-free with China Discovery
China Discovery is a professional and experienced travel companion who offers high-value and worry-free tours for you. We not only design ideal itinerary covering sightseeing, dining, transfer and hotel, but also offer visa application related support for your China tours. If it's your first time travel to China, Beijing, Shanghai, Xian and Guilin are the top recommended destinations with best representative tourism attractions of China. The great cultural, historical, natural landscape will fulfill your dream tour to China. For those who want an in-depth discovery in China, featured China Panda Tour, Ancient Silk Road Tour, High Speed Train Tour, Colorful Ethnic Tour are good ways to find more interesting places and authentic locals.
Most Recommended China Tours:
If you are interested in China visa-free tour, we could also  customize a China Visa-free Tour in Beijing, Shanghai, Xian, Chengdu, Hangzhou and more available destinations if you meet relevant visa requirements.
Top China Visa-Free Cities
Introduction to China Visa
China Visa Application
China Visa Exemptions
Recommended Tours
Top 3 tours chosen by most customers to explore in the best way. Check the detailed itinerary, or tailor your own trip now with us.
2 Days Guilin Ideal Li River Cruise with Yangshuo Essence Tour

Guilin-Yangshuo
Start planning your tailor-made holiday to China by contacting one of our specialists. Once inquired, you'll get a response within 0.5~23.5 hours.
Customize a Trip
Questions & Discussions
Following are latest questions and answers from our webusers and customers. You can learn many useful information from the discussion and cases. You can also join in the discussions or ask your own question. Our experts will help you ASAP.
Have a question? Get answers from our travel experts or guests
Your Question:

Your Name:

Your Email: