Best Time to Visit China
Traveling in the broad country, it's hard to say when is the best time to visit China. However, generally, with the variety of weather and climate, you may choose the comfortable weather in spring and autumn to go and admire the most stunning landscapes across the country; Join in the crowds in high season or save money to travel in low seasons; if you are a Chinese culture fan, the local festivals, presenting the traditions shouldn't be missed out. On the other hand, the best time to visit China depends on the places you go and other preferences.
In a nutshell, when and where you decide to visit China, it serves up a tasty smorgasbord of jaw-dropping attractions and makes you gladly to adventure each day.
China Weather & Climate by Season
With the wide-ranging weather of hot summer and cold winter, spring and autumn are the best seasons to visit China with mild climate and comfortable temperature throughout the country, especially the months of April, May, September and October. Decorated with spring flowers blossoming and golden autumn leaves falling, China seems more attractive with various amazing and picturesque scenic spots. However, before deciding when to go, you should check the China Weather to make a better preparation for the sudden change of weather.
Spring - March, April & May
Summer - June, July & August
Autumn - September, October & November
Winter - December, January & March
Spring is always regarded as the beginning of a year in China. As the transition season between winter and summer, spring enjoys a changing temperature from cold to warm and an atmospheric circulation adjustment period. The air is usually dry in northern China and humid in southern China. It is a great time to travel China, especially in April and May.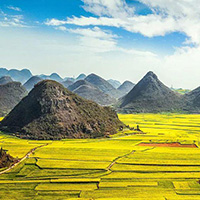 Average Temperature: 11.8 °C
Average Rainfall: 42.3 mm
Highlights: Rape Flowers, Peach Blossoms
Recommended Places: Beijing, Wuyuan, Nyingchi, Hangzhou, Danba
Seasonal Activities: Great Wall Hiking, Yangtze River Cruise
Packing Tips: Normal spring clothing like long skirts, sweaters, windbreakers… and extra thick layers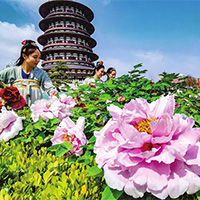 Average Temperature: 12.3 °C
Average Rainfall: 59.4 mm
Highlights: Rape Flowers, Peach Blossoms
Recommended Places: Beijing, Chengdu, Guilin, Huangshan, Weifang…
Seasonal Activities: Kite Flying, Hiking, Photography
Packing Tips: Normal spring clothing like long skirts, sweaters, windbreakers…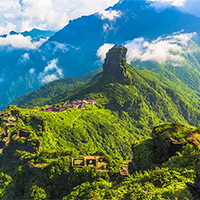 Average Temperature: 17.1°C
Average Rainfall: 69.7 mm
Highlights: Azalea
Recommended Places: Beijing, Xian, Shanghai, Chengdu, Guilin
Seasonal Activities: Hiking, Photography, Biking
Packing Tips: Light spring clothing like long skirts, windbreakers, skirts…
Best Time To Visit Popular Destinations in China
Due to the geography, China has different weather and climate in different regions and destinations, especially the places in the north and south parts. Usually, the northern China including Beijing, Xian, Luoyang, Pingyao, etc. is cold in winter with temperatures usually below 0°C and is great to visit in autumn. However, sandstorm occurs more often in spring months in some places. Southern China covering Zhangjiajie, Guilin, etc. is hot in summer and cold in winter with comfortable temperature in spring and autumn seasons. Southern Coastal China including Fujian (Xiamen), Hong Kong, Guangzhou, Shenzhen, Macau, etc. has find scenery and pleasant climate around the year, but rains often in spring and monsoon gathers most in summer with some heavy rains. Spring and Autumn are best time to go. There is a small temperature difference around the year. Southwest China usually refers to Sichuan (Chengdu, Jiuzhaigou), Chongqing, Yunnan, Guizhou, etc. offers various kinds of sites for your travel at any time of the year. With mountains, plains, etc., temperatures differs a lot in this area, but cities share that similar. Northeastern China covering Harbin, Jilin, Shenyang, etc. is cold and dry in winter. The thick snow cover is terrific to play with snow. However, summer is hot and rainy. While Eastern China part refers to Shanghai, Huangshan, Hangzhou, Suzhou, etc. and is nice to travel in spring and autumn, and is a little wet and cold in winter. Check the detailed weather and best time to go of the following top 14 popular destinations in China to plan your travel time to the beautiful country!
Beijing - Ancient & Modern China Capital!
Four seasons are distinct in Beijing with hot and rainy summer as well as cold and dry winter. Many people visit Beijing in any month of the year. April to November is the best period to visit this capital city with many World Cultural Heritage sites. While Autumn from September to November is most recommended to enjoy the fabulous scenery around Great Wall and city flowers and the most comfortable weather.
Best Time to Go: All year round, especially April to June and September to November
Best Highlights: Forbidden City, Great Wall, Summer Palace, Temple of Heaven, Bird Nest, Beijing Hutongs...
Recommended Trip Length: 2~6 days

Visit the best and featured highlights of Beijing in a single trip and explore the glorious past and present of Beijing in one go. Apart from Beijing's time-honored landmarks - Tiananmen Square, Forbidden City, Temple of Heaven, Summer Palace and Great Wall, you will take a special visit to 798 Art Zone and admire the most outstanding architectures in Olympic Park.
Price from $404

Apply to Beijing Transit Visa Free Policy, including airport pick and drop off. You will make best discovery of top best cultural and historical highlights of Beijing Capital City without missing the hiking experience on Great Wall!
Price from $300
China Tourist High & Low Season
When is the peak season to get the best highlights of the attractions and the low season to travel with less crowds and lower prices in China? That measures great for your planning of when to visit this vast country with many appealing places to go and also a large population. Check the detailed time and features of the tourist high season and low season in China below!
High Season
Normally, April to November is the high season for most part of China. When traveling China in its high season, you can view the best China landscape of incredible nature and attractions with pleasant weather in most time and most places. At the same time, you have to share with the noisy crowds and overcome the long queue, especially during the National Holidays, Labor's Day Holiday and China Summer Vacation in July and August. Besides, some tourist areas, activities, hotels, restaurants, flights, etc. are usually provided at high prices and need booking in advance for a hard-to-get vacancy. However, the detailed peak season time varies from various places with different weather. For example, Harbin and the northern China part have their peak season in winter from December to February to early March. Some southern coastal cities like Hong Kong, Shenzhen, Guangzhou, Sanya, etc. are also preferred to go in winter months.
Low Season
November to next March is relatively the low season in China. Though, some scenic attractions would be lack of its charm and many parts in China gets cold for staying long time outdoor, low season travel has undeniable advantages. With fewer crowds, you can spend less money visiting China's many top attractions and enjoy your sightseeing more comfortably with much shorter waiting in the queue. Also the airline price, train tickets, accommodations are easier to manage and offer great discounts for a large amount of saving for your travel budget! Besides, some special places sharing similar scenery and highlights throughout the year are recommended to ignite your exploration during the off season in winter. In the same way, summer months may have fewer visitors in those top furnace cities, and many places in the northenr part have their off season in winter.
More Useful China Travel Tips
Better Avoid Visiting China during China National Holiday Spring Festival

A. China's National Holiday & Labor's Day Holiday

The National Holiday in China is usually from October 1st to October 7th and is called the "Golden Weeks". And the Labor's Day Holiday is usually from May 1st to May 3rd but varies slightly according to the calender every year. The hard-to-get train ticket, over-priced flight and short-supplied hotels all lead to the inconvenience during these times. If you have to travel these times, make all your reservations well in advance or join in the group tour will be much easier. And try to avoid the first two days and the last days, the busiest times for transportation system.

B. China Spring Festival (Chinese Lunar New Year)

The traditional new year for all Chinese people and the most important for family reunion at the end of the Chinese lunar year. So Spring Festival Travel Season, usually 40 days from late January to end February, is crowded with many people transferring back to their hometown from other cities. It is most crowded during the lunar December 29 to lunar January 7. tickets for flights, trains and buses are extremely hard to get. And as nowadays, many Chinese citizens spend their Spring Festival in some tourist areas, it is highly suggested not travel to China during this grand festival. However, if you are interested in feeling the traditional festive atmosphere, remember to book your tickets as early as possible. Some popular winter destinations may rise their prices.

C. China Summer Vacation

The summer vacation for students in China is usually from July to August, when many family groups take their student kids to travel to various tourist attractions across the vast country, particularly the top popular destinations like Beijing, Shanghai, Xian, Chengdu, etc. For the big crowds in the tourist area and long queue, you are recommend avoid traveling to China during this time. If you have to, choose some unusual and cool destination to escape from the travelers and summer heat.

What to Wear in China during Four Seasons

What to wear also differs based on where to visit. For most mainland destinations in the north, east, south and west, the clothing are similar, particularly in spring, summer and autumn. Sunglasses, sunblock and lip balm are recommended in any season.

Spring & Autumn

Jackets, coats, sweaters, thin scarves, long sleeve shirts, jeans, long pants, travel shoes, socks, etc.

Summer

Light coats, T-shirts, short sleeve shirts, skirts, shorts, jeans, sandals, caps, rain wear, etc. Warm clothes, scarves, sports shoes are needed for cold places including Tibet, etc.

Winter

Overcoat, down jackets, cotton clothes, lined coats, sweaters, warm pants, warm socks, hats, scarves, gloves, etc. In very cold areas like Northern China, Tibet and Xinjiang, extremely warm clothes, a cap, and cotton-padded shoes are required.

Beijing, Xian, Shanghai & Guilin - Top 4 Classic Destinations for First-timers

For first-timers to China, Beijing, Shanghai and Hong Kong are the best gateways and great destination to have a brief understanding of the culture, history, cityscape, food and more of China. Xian with China's profound history and Terracotta Warriors is also the top frequently planned destinations for their first travel to China. No matter when you visit China, the 8-day itinerary of

Beijing - Xian - Shanghai

or

Shanghai - Xian - Beijing

will be your ideal and worthy choice to discover the most classic and iconic China. The

10 day Beijing - Xian - Guilin - Shanghai

(or

Shanghai - Guilin - Xian - Beijing

) is also the most classic China discovery of the best nature, culture, history and city. If you have more days in China, plan 2-4 days to Chengdu to see the giant pandas, Leshan Giant Buddha statue, Emei Mountain, or Jiuzhai Valley, plan 4-5 days to relax on the Yangtze River Three Gorges cruise, plan 3-4 days in Zhangjiajie to explore the Avatar mountains and Zhangjiajie Glass Bridge, plan 2-4 days to Huangshan to admire the Yellow Mountain and other elegant Anhui old villages, etc. Besides, Tibet, Hangzhou, Dunhuang, Yunnan, and so forth are favored by travelers to China for their first discovery of this large country as well. Get inspired by checking our Top 10 China Tours. Also, you can contact us directly to help you customize your own China trip according to your travel time, group size, needs, interests, budget and more!

Tibet and Yangtze River

Tibet

With the high altitude, Tibet is a typical plateau with hug temperature gap in different areas, and April to October are the best months to visit with stunning nature and various local festivals, such as the Shoton Festival.

Before you go, make a full preparation to handle altitude stress. It is better to dress in layers with both thick and thin clothes, thus you can easily take on or off your clothes according to the frequently changed weather and climate.

Yangtze River

Running through many cities and left most highlights along the southern China, Yangtze River is best for cruise in spring and autumn with most beautiful sightseeing. Also summer and winter are still attractive with different scenery and good discounts. Besides, you can discover the cruise port cities, like Chongqing, Yichang and Shanghai without a detour.
2024/2025 Popular China Tour Packages