China in Autumn: Months, Weather, Temperature & Travel Tips
From September to November, autumn in China is something worth expecting. With floating clouds, clear sky, gradually colorful autumn scenery and decreasing temperature but not too cold, autumn is definitely a favorable time to travel China. The gingko trees and maple are especially beautiful in autumn. The leaves are changing into red or bright gold and fall on the sidewalk like a yellow carpet. Also it is a perfect season to spend a great deal of time outside for a sightseeing trip. To better plan a China autumn tour, here we have gathered useful information about China in autumn such as the weather, recommended places to visit, what to wear & pack and some travel tips for your reference.
When is the Autumn Time in China
Generally speaking, autumn in China is from September to November. But as China is a vast country with various landforms, the weather of China in autumn shows noticeable regional disparities.
In northern China (Beijing, Xian, Shandong, Luoyang, Pingyao…), it is cool or even a little hot in September, then you will feel a clear temperature decrease in October and November. The precipitation is dropping and the wind is getting stronger. In eastern China (Shanghai, Huangshan, Hangzhou, Suzhou, Nanjing…) and southern China (Guilin, Zhngjiajie…) the weather is alike but there are more rainy days in early autumn and the wind is not so strong. As for southwestern China (Chengdu, Kunming, Guizhou, Chongqing…), the weather is milder with occasional rain. In northeastern China (Harbin, Jilin, Shenyang…), autumn is short and it feels like winter even though it is only October. In southern coastal cities (Hong Kong, Guangzhou, Shenzhen, Macau, Xiamen…), it is still rainy in September and then the weather becomes gradually travel-friendly. It is cool in autumn with the temperature slightly decreasing. In northwestern China (Gansu, Xinjiang, Ningxia…) and Qinghai-Tibet plateau, it is mostly sunny and dry but still cold at night, so you need to pay close attention to the large temperature difference in case of getting a cold. Inner Mongolia covers a vast region from west to east, but generally speaking, it is cool in September and cold in late autumn and the sunlight is strong at noon.
Where to Travel in China in Autumn
It is no exaggeration to say that it is suitable to travel any place in China in autumn. Among them, the top cities are Beijing (Forbidden City, Great Wall, Summer Palace, Temple of Heaven), Shanghai (the Bund, Yu Garden, Shanghai World Financial Center), Xian (Terracotta Warriors, Ancient City Wall, Muslim Quarter), Chengdu (Panda Base, Jinli Old Street, People's Park)… Popular destinations show their own charms in this beautiful season. If you are traveling to Guilin, it is very relaxing to take a Li River cruise and you can see the golden rice terraces. Zhangjiajie is still the amazing Avatar world with the forests gradually changing color, fairyland Jiuzhaigou Valley is the most beautiful in autumn, Yunnan with both rich minority culture and natural landscape offers you different travel experiences in ancient towns, snow mountains, and tropical forests. Of course, there are some featured autumn scenes such as the red leaves along the Yangtze River, the dreamlike Kanas Lake in Xinjiang, special scene of crops-drying in ancient villages in Wuyuan and around Huangshan, magnificent Ejina Poplar Forest in Inner Mongolia.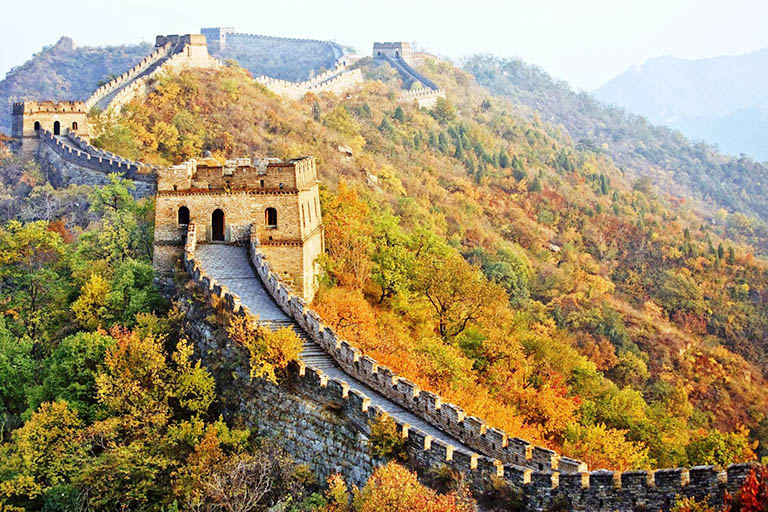 Mutianyu Great Wall in Late Autumn
Check more detailed information about autumn temperature and weather in some popular China tourist cities/destinations below:
China Weather in September
• Avg Temperature:16℃-26℃ • Avg Rainfall: 85mm
September is the first month of autumn, so it remains some features of summer in many areas. In early September, it is still very hot and in cities like Beijing, Xian, Chengdu, the temperature can reach 30℃, in southern cities like Guangzhou, Hong Kong, Xiamen, it is likely to be 36℃, while in the high-altitude area such as Qinghai-Tibet Plateau and western Sichuan, it is colder and about 20℃. There are some rainy days especially in the southern part and mountainous area. In middle and late September, both rainfall and temperature drop and the weather is very comfortable for travelling.▶ Learn More about China Weather in September & Places to Visit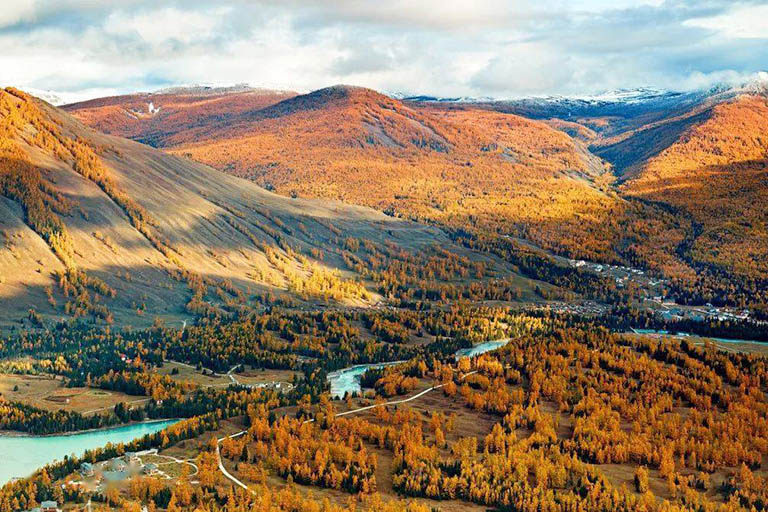 Kanas in Late September
Where to Travel in September:
September is a perfect time to take a hike on the Great Wall or to the mountains such as Yellow Mountain, Zhangjiajie, Mount Emei, and Changbai Mountain. It is also the prime time to appreciate the unique scenery of Kanas in Xinjiang and the yellow ripe rice on Longji Rice Terraces in Guilin.
| Places to Visit | Beijing | Xian | Shanghai | Guilin | Zhangjiajie | Kanas | Changbai Mountain | Chengdu | Dunhuang | Emeishan | Lhasa | Chongqing |
| --- | --- | --- | --- | --- | --- | --- | --- | --- | --- | --- | --- | --- |
| Features | Great Wall Hiking | Terracotta Warriors | Cityscape | Li River & Rice Terraces | Avatar Mountains | Crystal Lake in Colorful Valley | Lake in the Sky | Shu Culture & Giant Panda | Mogao Caves on Silk Road | Hiking | Holy Land for Buddhists | Yangtze River Cruise |
Best China September Tours:
☛ 4 Days Classic Beijing Tour with Jinshanling Great Wall Hiking
☛ 4 Days Guilin Highlights Tour (Li River, Yangshuo & Longji Terraces)
☛ 9 Days Kanas Lake Fairyland Tour from Urumqi
Packing & Travel Tips:
In early September, it is OK to wear T-shirt and skirt as it is still at a high temperature, then in middle and late September, you may need long-sleeved shirt and blouse, you can also add a light jacket at night. But if you are traveling to the mountains, Tibet, Qinghai, Inner Mongolia, Xinjiang, Western Sichuan… a thick coat is needed as the temperature difference is sharp and it gets very cold at night. Pay close attention to the weather forecast to see if a light raincoat is necessary.
China Weather in October
• Avg Temperature:10℃-20℃ • Avg Rainfall: 49mm
October begins to show obvious features of autumn, which is decreasing temperature, more sunny or windy days and gradually color-changing landscapes. In most cities of China, such as Beijing and Xian in the north, Shanghai and Hangzhou in the east, Chengdu and Chongqing in the southwest, the temperature is around 15℃, while in Tibet, Xinjiang, Gansu, Inner Mongolia, Harbin, Shangri-La in Yunnan… it is much colder and the average temperature is around 10℃ and sometimes can be below 0℃ at night or in late October. In southern cities like Guangzhou, Hong Kong, Xiamen, and Sanya, the weather is more cool than cold. The temperature drops a little and no heavy rain to interrupt your trip.▶ Learn More about China Weather in October & Places to Visit
Note: China's National Day Holiday is from Oct. 1-7, which is also called Golden Week, is the busiest traveling time of China and it will be crowded in most attractions. Please avoid arranging your China trp in this period. ▶ Learn More about China Golden Week Travel Tips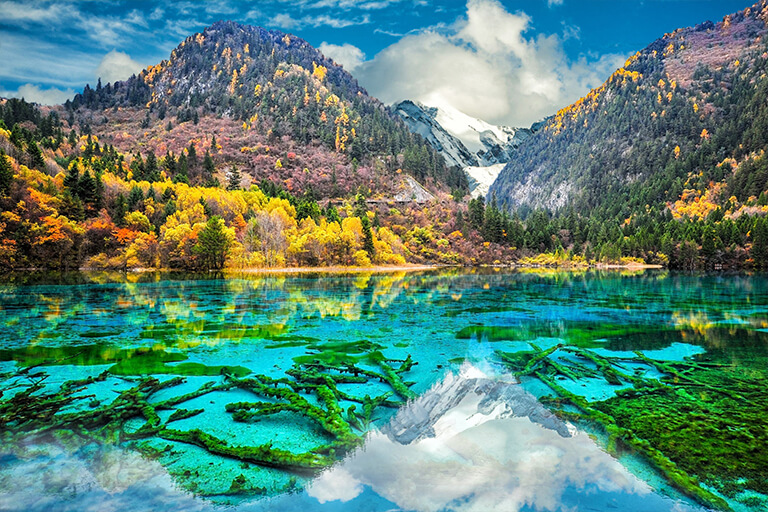 Jiuzhaigou Valley in October
Where to Travel in October:
As long as you avoid the Golden Week, October is suitable to travel China no matter you want to see the cityscape, take a cruise, make in-depth cultural exploration, or appreciate the autumn scenery. There are classic charms as well as inclusive beauty of October such as the poplar forest in Ejina in Inner Mongolia.
Best China October Tours:
☛ 3 Days Classic Jiuzhaigou Tour (Flight Arrival)
☛ 4 Days Best Huangshan Tour with Hongcun & Xidi Ancient Villages
☛ 5 Days Relaxing Yangtze River Cruise Tour (Yichang - Chongqing)
Packing & Travel Tips:
Traveling China in October, you need to prepare long-sleeved shirt, light sweater, and a coat. If you are going to Tibet, Qinghai, Gansu, western Sichuan or want to stay a night on the mountain, winter coats are needed and it is advised to bring sunglasses and sunscreen cream because the ultraviolet ray is strong in these areas. Facial cream and lip cream are also needed as the weather is getting dry in October. If you are to the southern part of China, then you can travel light as the weather is warm and comfortable there.
China Weather in November
• Avg Temperature:3℃-13℃ • Avg Rainfall: 29mm
In November, most parts of China can feel the approaching of winter with the rapidly dropping temperature. In most areas of China, there is little rainfall in November. The average temperature of northern cities like Beijing and Xian is about 5℃ and the weather is dry and windy. In the northwest and northeast of China, it can be below 0℃ and is possible to snow. Temperature in southern and southwestern cities like Shanghai, Hangzhou, Suzhou, Chengdu, and Chongqing may be several degrees higher but it is still very cold. If you want to go to somewhere warmer, Kunming in Yunnan and southern coastal cities like Guangzhou, Hong Kong, and Xiamen are good choices.▶ Learn More about China Weather in November & Places to Visit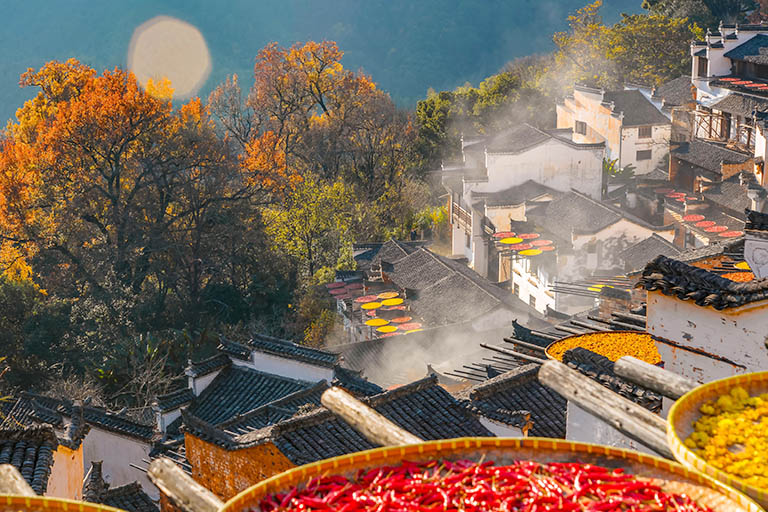 Wuyuan in November
Where to Travel in November:
The red leaves are at their prime in November and you can appreciate the beautiful scene in ancient villages in Wuyuan or on a Yangtze River cruise. You can also go to the popular tourist cities such as Beijing, Xian and Shanghai to get a more enjoyable trip as there will be fewer tourists or you can go to warmer places like Xiamen to enjoy the comfortable weather.
Best China November Tours:
☛ 5 Days Yellow Mountain Autumn Landscape Tour with Shaiqiu Experience
☛ 5 Days Xiamen, Fujian Tulou & Mount Wuyi Discovery Tour
☛ 6 Days Western Sichuan Autumn Sightseeing Tour
Packing & Travel Tips:
In November, it gets cold in most areas of China, so it is recommended to wear sweater, scarf, hat and thick coat. Extra attention should be paid to keeping yourself warm if you are going to colder places such as Harbin, Tibet, Gansu, western Sichuan, mountains... In addition, it is dry in November and the sunlight is strong in high-altitude areas, so sunscreen cream, facial cream and hand cream are needed.
How to Plan a China Autumn Tour
Choose A Destination According to Your Interest: It is comfortable to travel to most destinations in China in autumn, so you just need to choose a destination according to your interest. If you want to explore more about China's history and culture, Beijing, Xian, Shanxi, Shandong and Gansu are all recommended. If you want to view or photograph the best autumn colors, we suggest you go to Jiuzhai Valley, Kanas, Western Sichuan, Wuyuan, Dongchuan Red Earth and some other forests or mountains or grasslands with colorful autumn views. If you want to stretch your legs and enjoy natural landscape at the same time, Yellow Mountain, Zhangjiajie, Mount Emei and some other mountains are perfect. If you want a relaxing journey with some autumn landscape, we advise you take a Yangtze River Cruise and visit some beautiful cities like Hangzhou, Nanjing, Xiamen, Chengdu, etc.
Try to Avoid Traveling in China's Golden Week: China's Golden Week usually starts from the first day to the seventh or eighth day in October. It is the longest national holiday in China and most tourist destinations will be crowded with domestic travelers. If you have to travel in these days, we suggest you visit some remoter areas in Yunnan, Western Sichuan, Guizhou, Tibet, etc. and avoid Beijing, Xian, Shanghai, Guilin, Jiuzhai Valley, etc.
Pack and Dress According to the Climate in Destinations: Generally, the weather of autumn is mild and comfortable, warmer in September and cooler in November. Because of the vast land, there is a large temperature difference between two cities in northern China and southern China. If you go to Kanas in September, you need to prepare sweaters and down coat. If you go to Haikou in November, T-shirt is enough.
Top Recommended China Autumn Tours:
☞ 6 Days Classic Beijing Xian High-speed Train Tour
☞ 5 Days Yellow Mountain Autumn Landscape Tour with Shaiqiu Experience
☞ 6 Days Western Sichuan Autumn Sightseeing Tour
☞ 9 Days Kanas Lake Fairyland Tour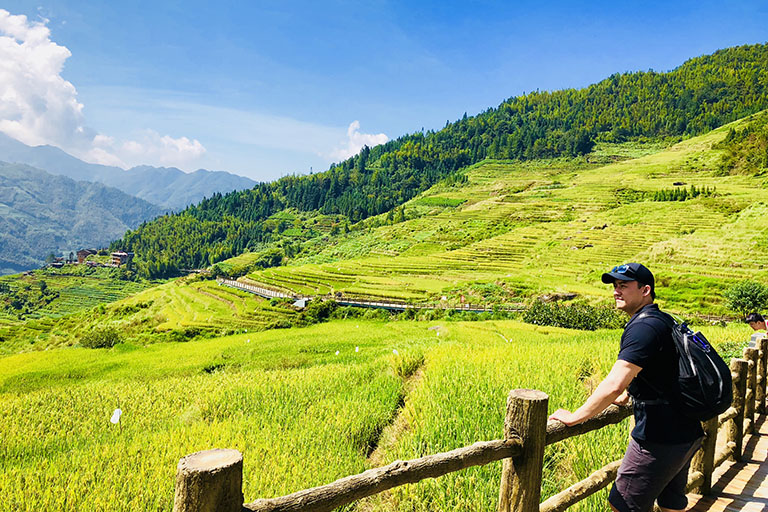 Our Customers Traveled Longji, Guilin in September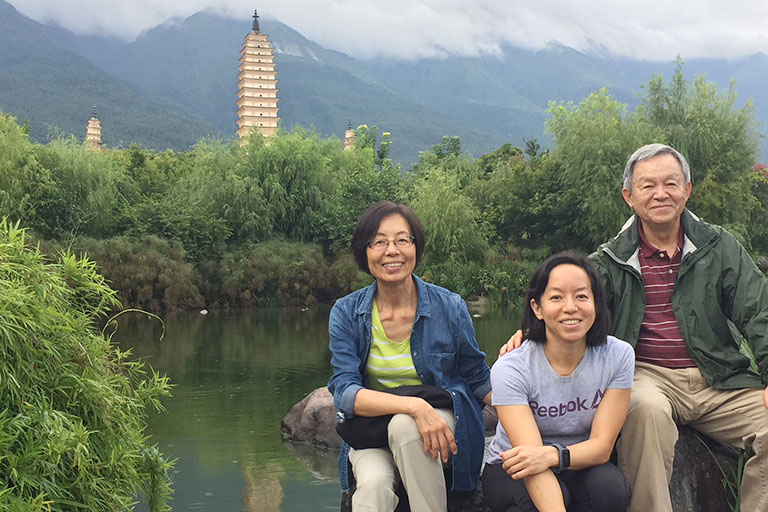 Our Customers Enjoyed a Family Holiday in Dali in September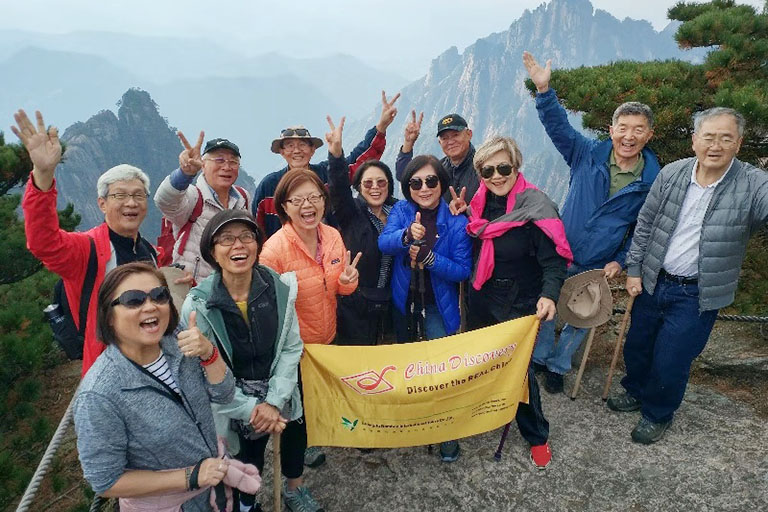 Our Customers Visited Yellow Mountain in October
Travel China in Autumn with China Discovery
Feel trouble about your China Autumn Tour planning? Why not travel with us China Discovery and let our professional Travel Consultants help you? And then you will get a worry-free trip and focus all your energy to sock in the highlights during the tour! Our experienced travel expert will help arrange your accommodation and plan your trip sincerely. And our English-speaking tour guide will accompany you all the way, show you the best travelling route, share interesting stories and introduce all highlights to you. Our local experienced drivers will escort you to the attractions with comfortable car directly with speed and safety.
The tour can be tailor-made according to your group size, time, physical condition, plan, interest, budget and every special need. Please feel free to contact us if you need any help!