Are you planning a trip to China and seeking for the real China travel experience to help you with that? Are you curious about what other people have seen, done, eaten and felt about all the aspects during their China holidays? Are you wondering whether your trip to China would be a good one or even an unforgettable memory of your life? In the following China trip stories, our dear customers shared their real experience about the attractions, food, accommodations, service from China Discovery, and more things you are considering. Besides, there are many special and touching stories in various fantastic destinations including Beijing, Shanghai, Chengdu, Guilin, Yunnan, Tibet, etc. make their visits to China far more from sightseeing only. Read our top inspiring stories or select your interested ones to get your own ideas about making the next coming trip to China!
We love to know about more experience our customers have in China, and you are always warmly welcomed if you are willing to share your beautiful China travel stories!
Top Inspiring Customers' Travel Stories
Among our hundred thousands of customers visiting China, some people enjoyed their own customized trips by our professional travel consultants with different travel themes to meet their special needs. After the full itineraries, they were also very willing to share their unique stories with us and other people, no matter about their multiple times revisit to the same country, more than two months entire vacation traveling around, memorable close-up memories with chubby giant pandas, or about the special family trip for the self-confidence of young daughter, etc. Here we select some of the top inspiring travel stories to let you know not only the wonderful highlights they had enjoyed but also the forever unique memorable moments!
All Amazing Travel Stories from Our Valued Customers
For the coming China trip, where are you interested to visit, what would you like to enjoy about China, when do you want to land here, are you traveling alone or with other dear people…? Why not get some ideas by browsing the following real China travel stories from our guests. Choose your favorite themes, destinations, months, etc. and select the stories you are interested in to plan your trip to China! (Multiple Choice)
Travel Theme

All Travel Themes
Nature & Sightseeing
Culture & History
Delicious Food
Modern Cities
High Technologies
Religions & Believes
Time of Year

All Time of Year
January
February
March
April
May
June
July
August
September
October
November
December
Destination

All Destinations
Beijing
Shanghai
Yangtze River
Silk Road
Shaanxi (Xian, Huashan, Xianyang, Baoji, Yanan...)
Guangxi (Guilin, Yangshuo, Longsheng, Nanning...)
Yunnan (Kunming, Dali, Lijiang, Shangri-La, Jianshui, Yuanyang...)
Sichuan (Chengdu, Jiuzhaigou, Leshan, Emeishan, Dujiangyan, Daocheng Yading, Mount Siguniang...)
Hunan (Zhangjiajie, Changsha, Fenghuang Ancient Town, Shaoshan, Yueyang...)
Anhui (Huangshan, Jiuhuashan, Hefei...)
Zhejiang (Hangzhou, Wuzhen, Putuoshan, Ningbo...)
Jiangsu (Suzhou, Nanjing, Zhouzhuang, Wuxi...)
Heilongjiang (Harbin, China Snow Town, Yabuli
Gansu (Lanzhou, Dunhuang, Zhangye, Jiayuguan...)
Hubei (Wuhan, Wudangshan, Shennongjia, Enshi...)
Inner Mongolia (Hohhot, Ordos, Baotou, Ulanqab, Hulunbuir...)
Tibet (Lhasa, Gyantse, Shigatse, Tingri, Mount Everest...)
Xinjiang (Urumqi, Turpan, Kashgar...)
Guizhou (Guiyang, Fanjingshan, Anshun, Kaili, Zhaoxing, Rongjiang, Congjiang...)
Henan (Zhengzhou, Luoyang, Dengfeng, Kaifeng...)
Shandong (Jinan, Mount Tai, Qufu, Qingtao, Yantai...)
Shanxi (Taiyuan, Pingyao, Datong, Mount Wutai...)
Fujian (Xiamen, Tulou, Wuyishan, Xiapu, Fuzhou, Quanzhou...)
Guangdong (Guangzhou, Shenzhen, Foshan, Jiangmen, Shunde...)
Other Destinations
Travel Photos Shared by Our Dear Customers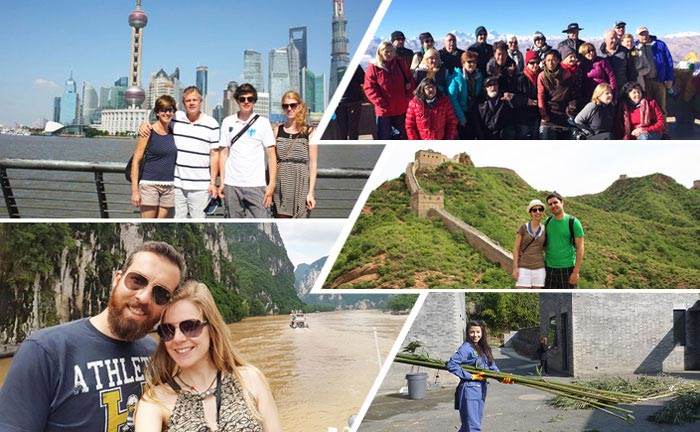 Photos probably are one of the best records of the wonderful moment. Our customers also shared us their great China travel photos of the nice landscapes, fun activities, buildings, city views, food, accommodations, and so forth they have enjoyed at various places in the vast China and also the sweet time with their family members, bosom friends, etc. with beautiful smiles!
Of course, you are definitely highly and warmly welcomed to share your China travel photos to tell us about what you have enjoyed and more wonderful memories during your trip with China Discovery!
Travel Feedbacks from Our Dear Customers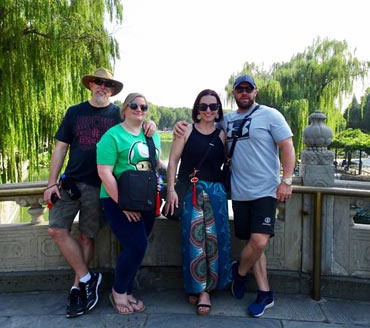 For a VIP experience, this team are the BEST!
We looked at multiple cheap group tour deals before a google search led us to China Discovery, and to Mr JOHNSON WANG. He was amazing to deal with and we highly recommend you contact him to arrange your trip to China.
With Johnson's advice and recommendations we planned our own itinerary, including ALL our China must do's, and with the private car, driver and guide we never waited in queue, had ALL our entries included, and had the flexibility of time and changes to plan after we arrived. The guides were knowledgeable and fun, and Johnson was only an email away if we needed to contact him. In fact he phoned via the guides to ensure we were happy, and was super accommodating of our special requests.
I was nervous about sending money over the internet, but had NO dramas or concerns, receiving constant updates and reassurances from Johnson.
Having seen the crowds on the tour coaches, buses and in the queues... If you want to avoid being one amongst a crowd wearing a name tag and following a guide with telescopic pole, then contact CHINA DISCOVERY and have them plan you an incredible experience.
Dear Wendy,
We are back home after this great well-organized trip. We would like to thank you for your great work. All the arrangements you worked on coordinating were on time and in place. The guides were helpful and drivers brought us safely to our destination. I would like to thank you personally for the special effort you put into making right the glitch caused by the flight delay. I'm sorry it ruined your Sunday afternoon. Please let me know if there is an unsettled bill for the hotel in Kunming airport in case the airline didn't reimburse you for it (usually they do because it's their fault).
Again, thanks for your efforts who made this trip to China such a great one.
Best regards
Rubi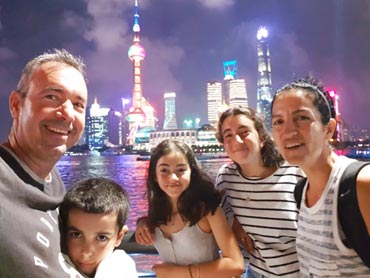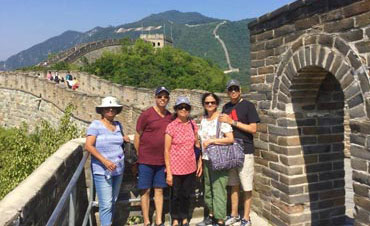 Our wonderful trip to China
We traveled to China in the beginning of September. What can I say- we had a wonderful time! Our tour coordinator- Lyn Wang from Chengdu Bamboo Tours Co., Ltd did a phenomenal job.
All of our guides were excellent. I had told Lyn beforehand that we are mostly vegetarians and she did amazing job accommodating our request at every meal. We enjoyed everything about China- their culture / their people/ the landscape. Thank you so much Lyn. We cherish our memories to China! I will recommend your travel agency to all my friends and family !!
Our Customers' Favorite China Trips 2024
China being one of the largest and also most popular traveling destinations around the globe offers diverse highlights to savor, no matter natural sightseeing, cultural history, modern metropolises, mouth-watering gourmet……! Our top China trips favored and chosen by our customers for the past years will take you from around the world to catch the must-see splendors in the hot destinations. Also, you are also welcomed to tell us your own idea or needs for a customized China trip for some special enjoyment! Select your interested China trip or contact us directly about your plan to start the next awesome trip to China!