Catch the Tail of Winter to Enjoy the Ice and Snow Wonderland
-- Jennifer's 15 Days Unforgettable Trip in the Northeastern China

Departure Date

2023-01-20

Travel Length

15 Days

Travel Theme

Nature, Winter

Group Size

1

Travel Route

Harbin - China Snow Town - Changbaishan - Jilin - Arctic Village - Mohe - Harbin

Highlights

Harbin Ice and Snow World, Yabuli Ski Resort, Jingpo Lake, Changbai Mountain, Arctic Village

Story Tags

#Northeastern China Tour#Harbin Tour#Jilin Tour#Nature Tour#Winter Tour#Snow Tour
Typically, travelers have two options of a winter tour in China - escaping the cold weather in in the southern region or indulging into the ice and snow fun in northern China. Our valued customer, Jennifer, opted for the latter and spent an incredible 15 days exploring the wonderland of Northeastern China. When asked about her experience, she praised that "The entire tour was really fantastic, one of my best travels in China so far. The trip was very well organized, information was clear from the beginning from the travel agency, drivers and tour guides were great. Before the trip, Leo was very prompt in providing detailed information and itineraries. I asked for quotes for different hotels as well as added on extra days, all which Leo accommodated. Thank you for an unforgettable trip." Let's read her story and get inspiration for an amazing winter.
Day 1-4 The City of Ice Exploration
Jennifer's trip embarked on a memorable journey that commenced in the enchanting city of Harbin, where the magic of winter unfolds with stunning ice sculptures, glittering snow-covered streets, and a unique winter culture. During her four-day stay, she traversed the illuminated landmarks of Harbin, such as Harbin Ice and Snow World, Sun Island, Saint Sophia Cathedral, Zhongyang Pedestrian Street, Siberian Tiger Park, etc. The most remarkable attraction, Harbin Ice and Snow World, housed over with over 2,000 pieces of sculptures of ice and snow, creating an awe-inspiring experience for Jennifer. Walking around the festival, Jennifer felt like she was in a winter wonderland, surrounded by glittering towers, castles, and even a giant slide made entirely out of ice, as well as snow carvings.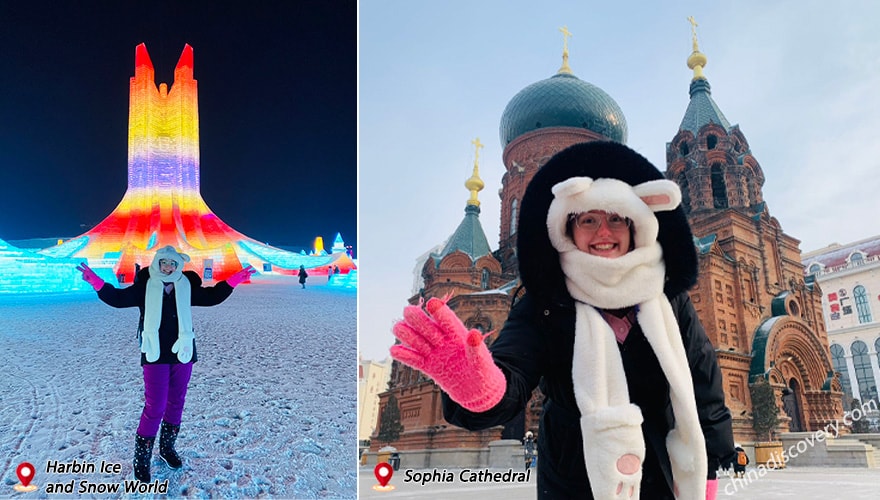 Jennifer's Happy Moments in Harbin
Harbin Travel Tips: 1) Visit Harbin during the International Ice and Snow festival (usually from late December to early February). You will not only get amazed by the incredible ice and snow sculptures, intricate designs, and breathtaking light displays, but also illuminated exhibits and wonderful shows. 2) Remember to wear much to keep warm. Harbin enjoys an average temperature of -14.2°C (6.44°F) during that season, you are suggested to wear thick clothes and warm shoes, such as down coat, thick jacket, mouth-muffle, gloves, etc.
Day 5-6 The Snow Fun and Sightseeing
The next two days were expected to be snowy. Jennifer spent one full day in Yabuli Ski Resort, the largest ski resort in China offering more than 40 trails, ranging from beginner to expert levels, and over 30 ski lifts, ensuring that guests can spend as much time on the slopes as possible. Skiing in Yabuli Ski Resort was an exhilarating experience that brought me immense joy and satisfaction. During her time at the resort, Jennifer have had a lot of fun experiencing the different snow sports. Off the slopes, the resort also provided a lively and interesting atmosphere, with plenty of restaurants, bars, and shops to explore. Jennifer enjoyed sampling the featured local food, warming up with a hot drink in a cozy café.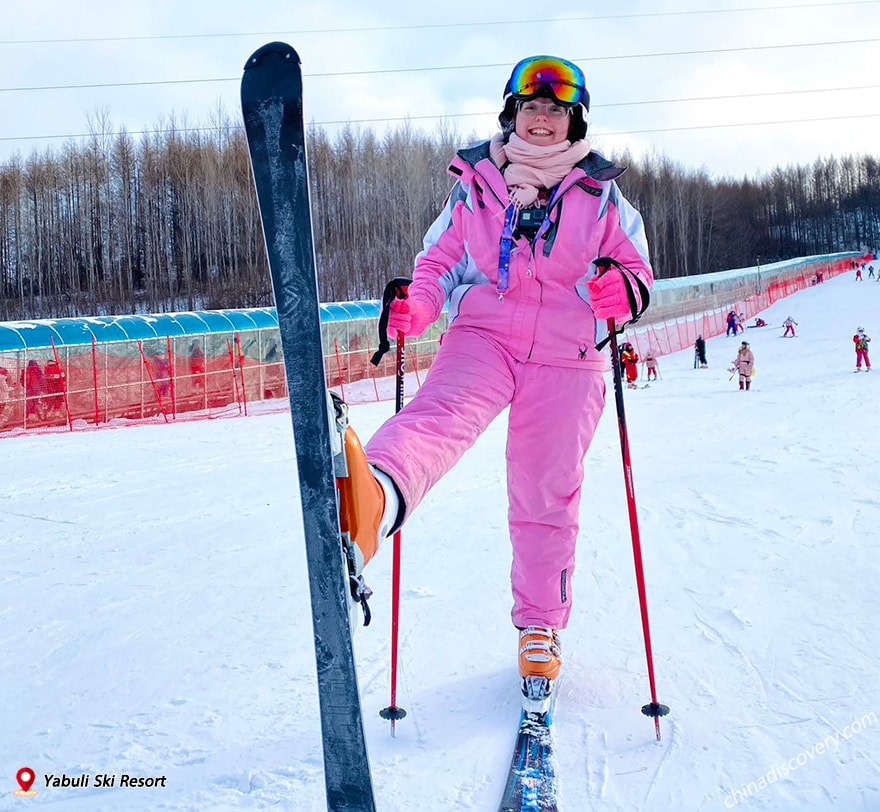 Jennifer enjoyed Skiing in Yabuli Ski Resort
Yabuli Ski Resort Travel Tips: 1) For new beginners learning skiing, it is suggested to do it under the guidance of a coach, so you can learn skiing very quickly and prevent for much body hurt. 2) Usually, the daytime of Yabuli is from 8:00 to 16:00, so you may feel it very short to have high fun. It is recommended to plan your Yabuli tour for more than 2 day if you are a skiing enthusiast.
On the following day, she journeyed to China Snow Town, a picturesque village nestled in the heart of snowy mountains. She delighted in a true winter wonderland, complete with snow-laden streets and traditional wooden houses. Although the air was chilly, the village was so enchanting that Jennifer couldn't resist strolling through it. The panoramic view of the China Snow Town was incredibly amazing. Jennifer had the pleasure of visiting the observation deck twice, once during the day and once at night, bask in the breathtaking panoramic views of the surrounding area. During the day, she witnessed the majestic snow-covered landscape stretching out as far as the eye could see. At night, the scenery transformed into a magical winter wonderland, with the sparkling lights of the town. Jennifer was in awe of the sheer beauty of the scenery, and she felt incredibly grateful to have witnessed such an enchanting display of nature.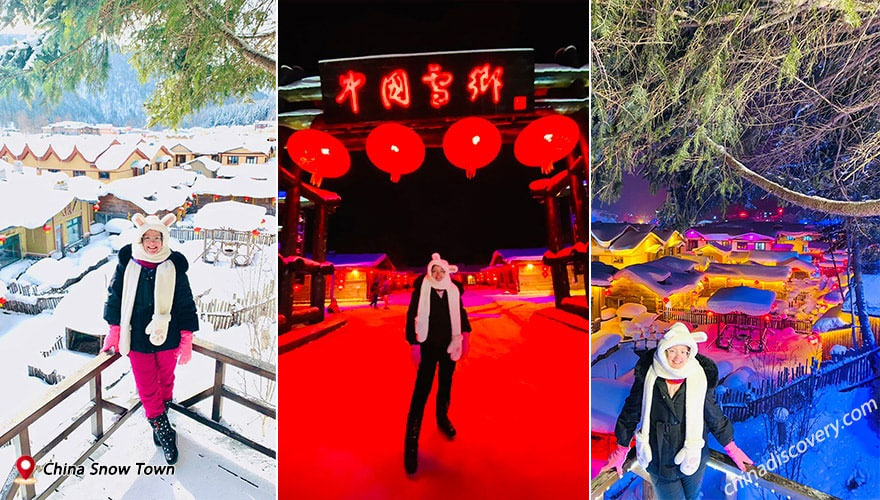 Dreamlike China Snow Town
Day 7-10: The Frozen Lake to the Snowy Changbaishan
In the morning of the 7th day, Jennifer was escorted by the guide and driver to Jingpo Lake (Mirror Lake), the largest alpine lava barrier lake in China and the second largest in the world. It was designated as a UNESCO Global Geopark in 2015. In such a season, the scenic area became a silver world. Glittering rime, translucent ice lake and solemn icefall were shining under the bright ray of the sun. Jennifer watched the live dive performance off the Diaoshuilou Waterfall cliff and the rare Ice Fishing scene. She also witnessed the amazing Ice Fishing scene before heading to Changbai Mountain.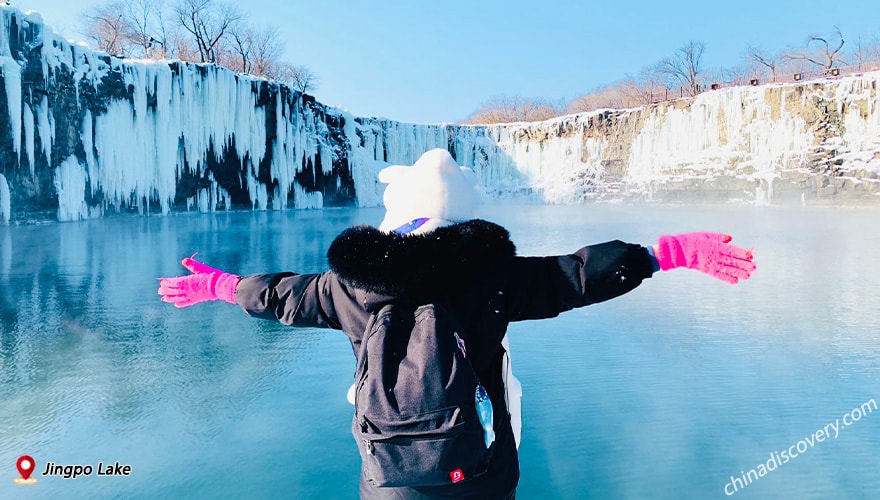 Jingpo Lake with Frozen Waterfall Scenery
Jingpo Lake Travel Tips: 1) Visitors can enjoy the lively big net fishing and small net hanging shows every day from December to February, normally between 10:00 and 11:00 in the morning. 2) There are two diving performances every day, one at around 10:30 a.m. and one at 14:00 p.m. (Please notice: The show may be subject to change or cancellation under special circumstances.)
After a comfortable stay in Erdao Baihe Town, Jennifer started her trip to Changbai Mountain via the Northern Slope on the next day. Highlights of Changbaishan are a lot, including its Tianchi (Heavenly Lake), waterfalls, hot springs, alpine lake & garden, lava forests, canyons, and so on. The Heavenly Lake covered with thick snow looked like a white gem embedded in the mountain clusters of Changbaishan. It was hard to walk in the snow, but Jennifer really liked the scenery and thought it worthed the time and effort to get there.
Ever-white Changbai Mountain
Changbaishan Travel Tips: 1) Changbaishan is available to be visited along 4 different visiting routes, including the North Slope Route, West Slope Route, South Slope Route in China and East Slope Route in North Korea. The North and West Visiting Routes are the most popular ones and share the best scenery of Changbaishan. 2) Pay attention to Altitude Sickness. Tianchi sitting atop Changbaishan is at an altitude of 2,189 meters above sea level. You are recommended to sleep well, drink enough water and keep a calm mood to release your body while visiting to avoid altitude sickness. 3) Tianchi may be closed when there is Heavy Snow.
☞ 7 Days Amazing Northeast China Winter Tour with Changbai Mountain & Wusong Island
☞ 6 Days Jilin Winter Tour
The 9th and 10th days was for
Jilin City
, and
Wusong Island
, famous for Jilin rime - one of China's Four Natural Wonders, is the biggest highlight. The weeping willows with the peculiar shape of trees were covered with translucent frost flowers, delighting Jennifer so much.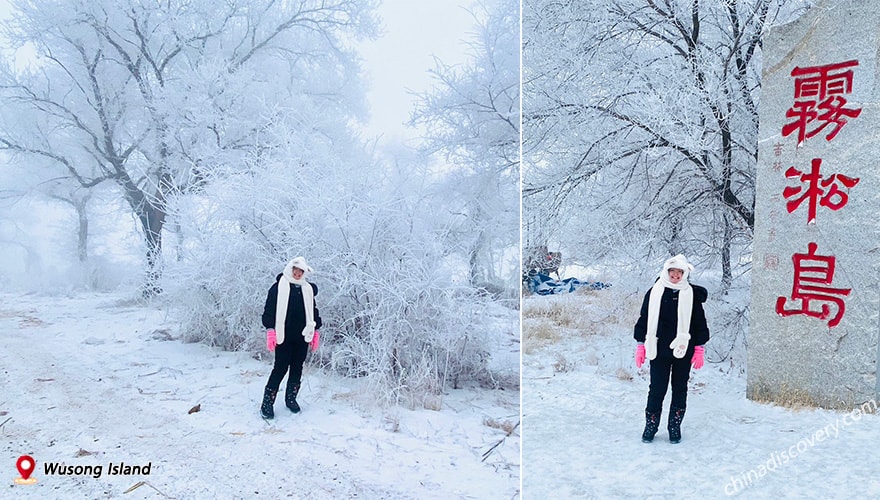 Jilin Rime in Wusong Island Scenic Area
Wusong Island Travel Tips: 1) Shoot when the time is right: The reflection and color of sunlight in the early morning makes it a good time for photography. It is generally recommended to shoot at 4 to 5am when the fog rises. 2) Other Places in Jilin City to Appreciate the Rime: Except for Wusong Island, there are some other places in Jilin City where visitors may have a chance to appreciate the rime, such as Songjiang Road (松江路) and Jiangbin Park (江滨公园) at Jilin city center, Ashiha (阿什哈) at suburb of Jilin city, Beidahu Ski Resort (北大壶滑雪场), Hongshi Lake (红石湖) and Baishan Lake (白山湖), etc.
"Both the driver and tour guide were extremely lovely. From the moment I stepped off the plane, Dora said she would take care of me like a little sister and that she did. She was always there to help me and accompany me even in the freezing cold weather. She had prepared extra heat packs for my time in China and again gave me some recommendations of some extra places we could go to on the way if there was time permitting. We struck up a really good friendship talking about our family and friends and I really enjoyed her company. She really went beyond a tour guide and wanted me to have the best possible time." Jennifer commented her guide and driver like that when speaking of this experience.
Day 11-15: Getting All the Way North
On the 11th day, Jennifer took a train to Mohe, a small town located in the northernmost of China. She visited Longjiang First Bay - a stunning scenic area, Wusuli Shoal - a shallow section of the Wusuli River, Beihong Village - a small village located on the banks of the Beihong River, etc. on day 12. On the following day, she also had a good time seeing and interacting with reindeer up close in Eenki Reindeer Park, the home to the Ewenki people, a group of indigenous people who rely on reindeer for their traditional way of life. After another day in Mohe, Jennifer went back to Harbin by train on and left on day 15.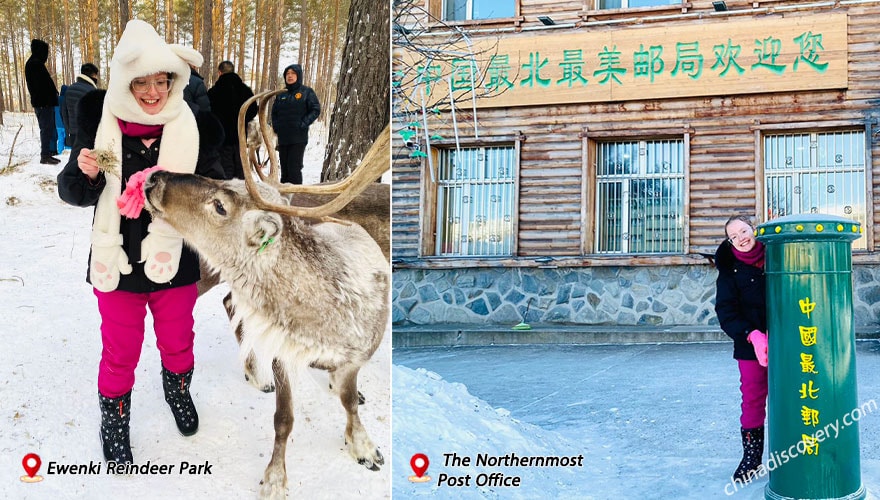 Jennifer went all the way north to Arctic Village
Apart from the fascinating sceneries and activities, Jennifer also liked her driver and guide. She said that "Again both the driver and interpreter were very lovely for my entire time there and although it was sort it was one of my favourite parts of the whole trip. The driver was one of the best I have ever had, he was extremely knowledgeable, talking about all aspects of the different places in Mohe".
Mohe Travel Tips: 1) The best time to visit Mohe is from November to March when the Northern Lights are most visible. Of course, it is necessary to pack warm clothes,. 2) There are many things to do in Mohe, including visiting the Arctic Village, watching the Northern Lights, and visiting local ethnic villages. Plan your activities in advance and make sure to allocate enough time for each activity. 3) Hiring a local guide can be a great way to get the most out of your trip to Mohe. They can show you around, provide local insights, and help you communicate with locals who may not speak English. Or book a tour package from China Discovery, you are able to enjoy a worry-free experience.
Tour ended here. Though Jennifer traveler alone, but she never felt lonely, because of the accompaniment of the guides and the driver. She also enjoyed the solo tour in that she could finish faster in some areas than a normal tour group so sometimes had a lot of spare time in the afternoon/evening so would be great to have back up places to go to.
(Above travel story was written by our editor, inspired by our customer Jennifer's real experience and the feedback she sent to Leo.)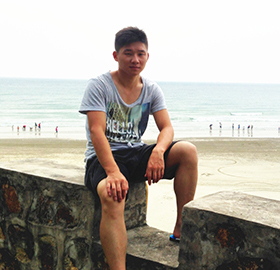 Hi, I'm Leo, Jennifer's travel consultant. Are you interested in her 15 days Northeastern China tour? Want to know her trip itinerary, accommodation, transportation or other arrangements? Feel free to contact me, and I will be glad to tell you more stunning stories about the places they visitied. Or, if you want to customize a tour on your own, I'm always ready to help at any time. Just like you, I love to travel and my favorite is riding on the road. So I'd like to invite you to China and help you work out a perfect travel plan. Come to join us and I'm just here waiting for you.
Other Stories of Similar Route
Stories You May Also Like
More Travel Stories by Destination
Our Real Customers' Travel Photos
Recommended Tours
Top 3 tours chosen by most customers to explore in the best way. Check the detailed itinerary, or tailor your own trip now with us.
5 Days Charming Harbin & China Snow Town Winter Tour

Harbin / China Snow Town / Harbin
6 Days In-depth Harbin Tour with China Snow Town & Yabuli Skiing

Harbin / China Snow Town / Yabuli Ski Resort / Harbin
7 Days Amazing Northeast China Winter Tour with Changbai Mountain & Wusong Island

Harbin / China Snow Town / Jingpo Lake / Dunhua / Changbai Mountain / Jilin
Have a question? Get answers from our travel experts or guests
Your Question:

Your Name:

Your Email: