How to Get On/Off the High Speed Train in China
You must have already be arose by the cool and super high speed train in China and want to make your first try of such convenient kind of transportation during our China trip. Is it complicated or troublesome to board and disembark a high speed train? NOT AT ALL!! You don't have to worry about anything to enjoy a smooth and pleasant bullet train journey. Though language is a barrier for travelling in another country, taking high speed trains is not a difficult thing in China. In fact, the process for boarding and disembarking from a train is much simpler than that of a plane. Follow the instructions step by step and you'll feel it as easy as ABC.
To make things easier, take our private China high speed train tour package, the local guides at China Discovery would give you the train tickets, escort you to the right train station on time and pick you up at the arrival hall when your train reaches your destination.
Top China High Speed Train Tours:
Get On a High Speed Train in China
Here are the details of every step for taking a high speed train in China, from the documents, tickets, check in, security check, boarding, seats finding, etc. Check them at below and you will have a very clear understanding of how to board a train.
Get On Your High Speed Train Step by Step
1) Prepare Your Documents
Besides your entire luggage, digital devices and other items, don't forget your valid identity documents for taking the high speed train. Citizens from other countries and regions bring your valid passport, while people from Hong Kong, Macau and Taiwan need to carry your valid Mainland Travel Permit. Of course, Chinese citizens take your valid ID card.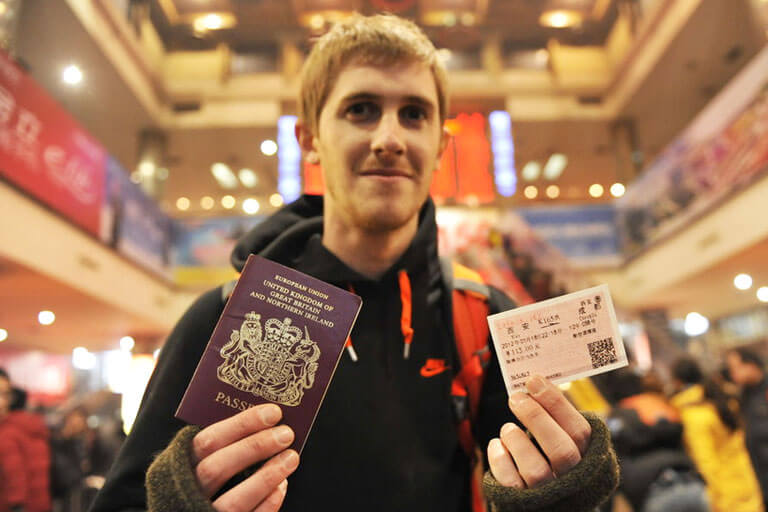 Prepare Your Ticket & Passport
2) Get to the Right Train Station in Advance
Train stations for departure and arrival are both written on the paper tickets. If you have collected your paper train tickets, just read the ticket to know which station to catch your train in your original city. If you book it online and have not change the E-ticket into the paper ones, check your booking information to know the specific train station. There are usually more than one train stations in one city, even 3 and more in some big and prosperous cities, like Beijing with Beijing Railway Station, Beijing West Railway Station, Beijing South Railway Station, Beijing North Railway Station and Beijing East Railway Station. So to avoid arriving at the wrong place, please pay attention to make certain of your train station for departure.
Always arrive at the station in plenty of time before the departure of your train, perhaps 60 minutes before departure, especially for first-timers who haven't change your e-tickets into paper ones, since it need some time for the several queue for the ticket changing, ticket checking, security check and find your right train waiting room. If taking trains in large and busy cities like Beijing, Shanghai, Xian, etc., you'd better arrive at the station perhaps over 50 minutes before your train leaves because there are usually many passengers in the station for taking trains. Furthermore, during special festival periods like and Spring Festival (usually during January and February), National Holiday during October 1st - 7th, May Day Holiday, etc. there usually are numerous people in the train station, we highly suggest you arrive there much early even to 2 hours in advance or avoid your train experience during those days.
Read more about China Train Station Layout, Transportation, Facilities in major tourist cities, including Beijing, Shanghai, Xian, Guilin, Chengdu, Chongqing and Hong Kong.
3) Collect Train Tickets for Booking Online
Scanning passport without collecting paper tickets to board train is only available in some train stations. Just in case of missing trains, you'd better go to collect your paper tickets before check-in.
Booking online is actually not very recommended for foreign travelers in China, because besides the official website of only Chinese version for booking, there would be some more complicated process for your payment. However, if you do not want to expressly rush to the train station to buy the ticket, just throw that booking part to China Discovery.
If you book your train online, make sure to write down your order number. Before you go through the checking process, you need to collect your paper tickets (取票) first. Usually, for passengers from other countries, we suggest you get the tickets at the window of the train station. Just show your order number and your valid passport which you have used to order that ticket to the staff. Remember, one document for one ticket. If you want to collect paper tickets of other people, show their passports simultaneously. Although, there offer some self-service ticket machines, they are only available for citizens in mainland China so far.
Want to know guide to pick up your train tickets? Please visit our How to Collect China (High Speed) Train Tickets and Useful Chinese Phrases for China Train Travel!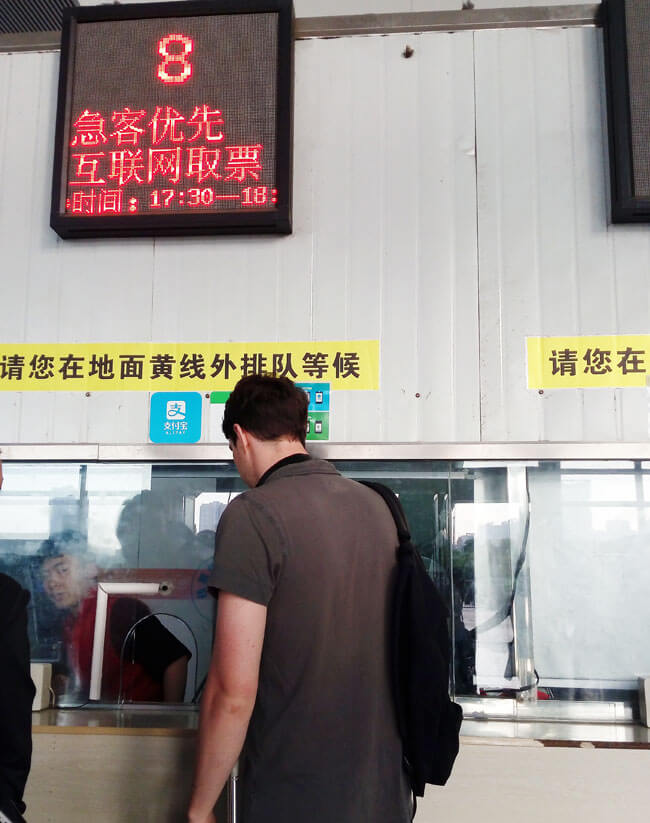 Change E Tickets into Paper Ones
4) Read Your Train Ticket
You train ticket tells everything you need to board and disembark a high speed train. So remember to read the ticket before you start to the train station. You will clearly see the departure time (by year, month, date, hour and minutes), departure and arrival train stations both in English and Chinese, train type, train number, carriage number, seat class/number, passport number & passenger's name, boarding gate, prices, etc. It's worth noting again that please pay specially attention to the departure station and make sure which one you should go. And also, boarding is usually arranged 15-20 minutes before departure. The back of the ticket gives some practical notices for taking a high speed train.
>> Check more about How to Book, Collect and Read Your Train Tickets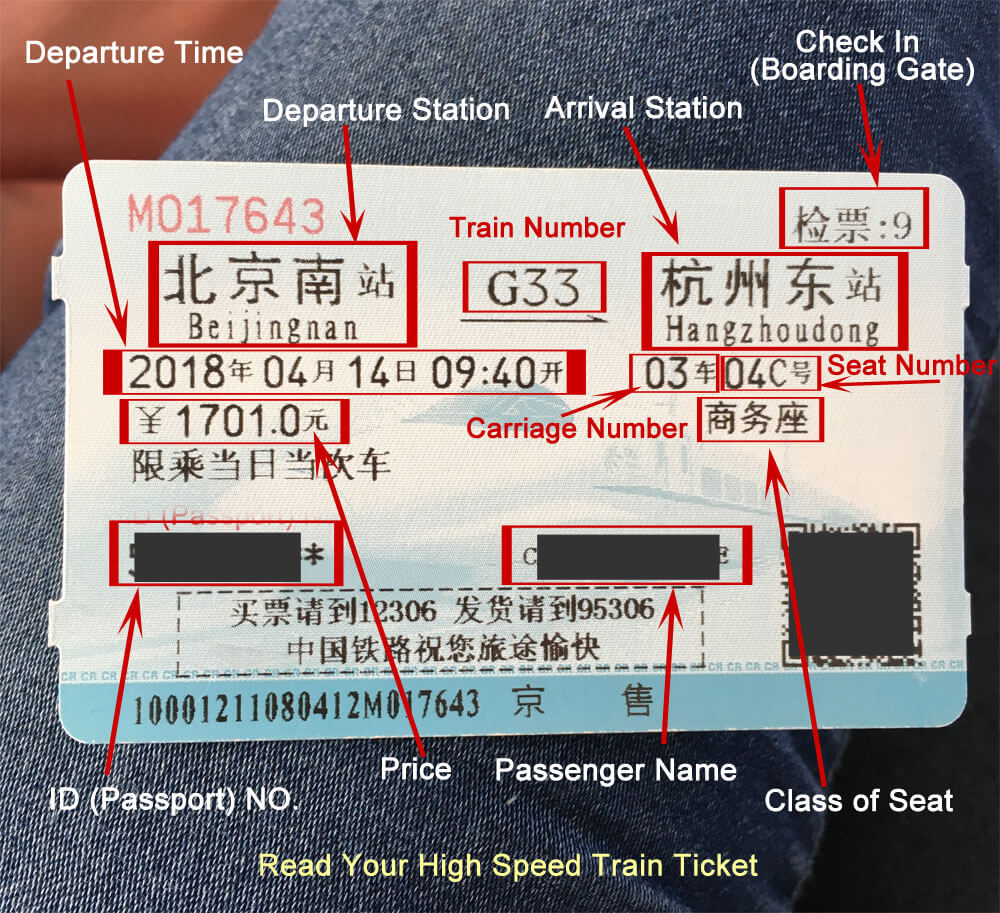 Click to See How to Read Your Train Ticket
5) Show Your Ticket & Passport
Chinese passengers could go through this identity check (验票) by the automatic checking machines which are only acceptable for Chinese ID Card so far. For foreign visitors, you could go through the manual checking points. As there are several queues for manual checking process, you can join in any one of them. Show your ticket and passport to the staff and face to the camera to recognize your image, and then, he/she would seal on your ticket to show you pass the real-name recognition. At some comparatively smaller train stations, the staff would directly verify your real look and the image on your passport to go through the step.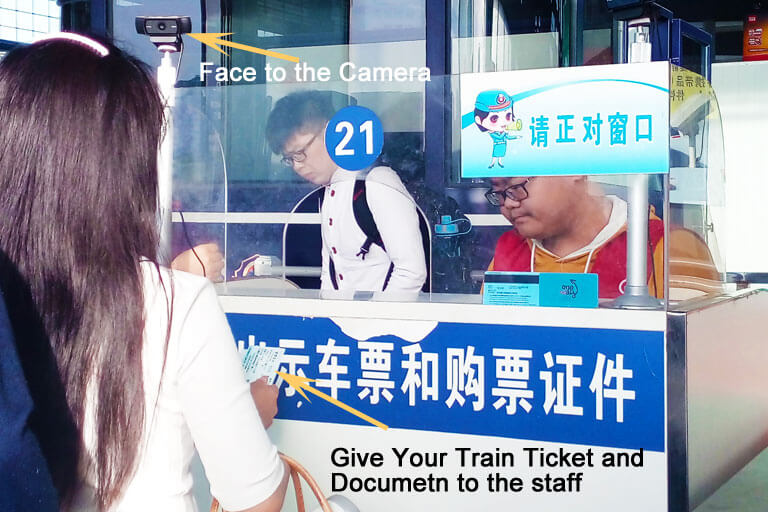 Click to See How to Pass the Identity Check
6) Security Check & Luggage Check
After the security control process, join another queue for the security check and luggage check (安检)at the site next to. This step is like that for catching a plane, however, the whole process is much simpler and faster. Just place your luggage into the security inspection equipment, and go through the safety-check. You can always keep your coat, belt and shoes on, but only sometimes need to take off your hat for a quick check. Then, after the guard staff (usually females) quickly and harmlessly pat down on your body with the scanner, get your luggage at the other side of the equipment.
Every passengers can carry some luggage for free when board the high speed train. Moreover, the size, weight and limitations of items are more pleasant than that for boarding a plane. Please have a good notice the detailed amount, size and limited and prohibited items at below.
● Regular passengers can take 20 kg carry-on luggage, children can take 10 kg carry-on luggage, and 35 kg for diplomat.
● For bullet trains, every piece of luggage (length, width and height) cannot exceed 160 cm in size and 20 kg in weight.
● Passengers can take wheelchairs onboard for free and not listed as the above limitations.
>> Check more about Baggage Allowance & Policies for China Trains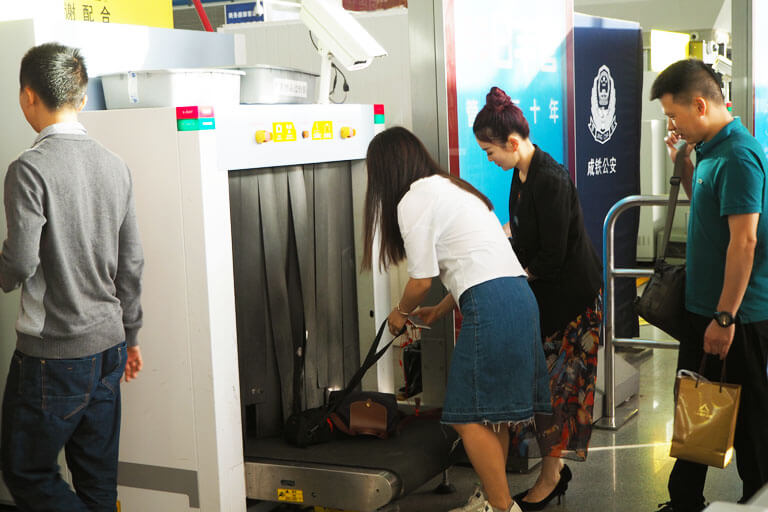 Go Through the Luggage Check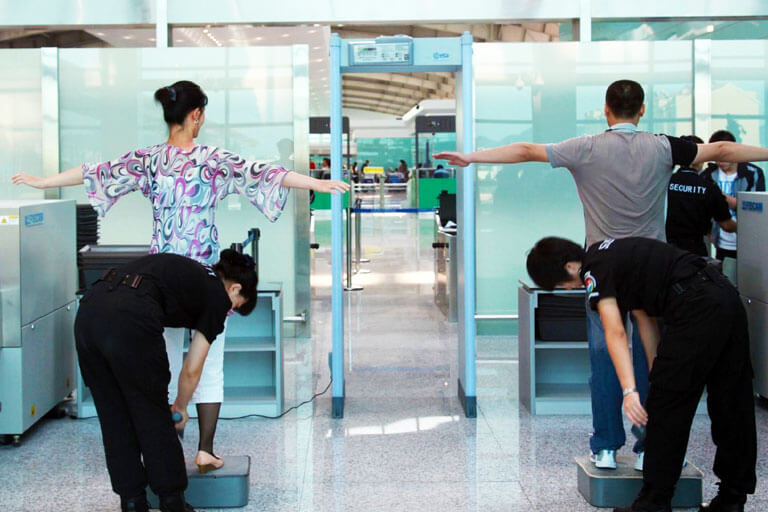 Get the Security Check
● Prohibited Items: (a) Items is prohibited by the government; (b) Dangerous Items such as, knives, guns, offensive weapons; (c) Animals (except guided dogs) and goods which affect public hygiene, including items with odor like foul smell; (d) Goods may pollute and disorder railway stations, dirty carriages and affect traffic inside carriages; (e) Luggage that exceeds the limitation of the regulation.
● Limited Items: (a) Less than 5 lighters and less than 20 boxes of matchstick; (b) Items like enamel, deluster, tint, less than 20 ml; alcohol and cold fine, less than 100 ml; mousse, styling gel, hygienic insecticide, air freshener, less than 600 ml; (c) Less than 20 newborn poultries.
7) Find the Right Waiting Room
Usually you could know which boarding gate to go to by reading the number at the top right corner on your train ticket.
Besides, after you go through the security check, you can also know the boarding gate (检票口) from the LED schedule board at the departure concourse. It shows which train is allocated to which waiting room, and also the status of every train. At some stations there are in Chinese, but you can easily make out your train number and departure time, the platform or gate number to go to. Find yours and go to the waiting room. Most trains will be shown as "on time" with the most immediate departures shown as "waiting", which means you can enter that train's specific waiting room. When you get to the waiting room, if the train has not started its ticket checking, you could have a sit on the chairs seats.
8) Ticket Check for Getting on the Train
Once a high speed train is ready for boarding, usually about 15-30 minutes before departure, it's shown as "check in (检票中)" which means you can proceed through to the platform. Also, the broadcasting system would announce the boarding notice during the ticket checking period. If your hold a blue ticket, slide your ticket into the machine (like at a subway), pull it out of the slot and the turnstiles will open. While, if you have a red ticket, go through the ticket checking from the manual checking queue. Usually, barriers close 3-8 minutes before departure, and the train is then shown as "Stop Boarding (停止检票)".
Don't throw your tickets away!! Please keep the train ticket in good condition since you will use it to exit the train station at your destination.
9) Get to the Right Platform
Your high speed train usually stops right there below your boarding gate. Just walk from the stairs, or take the elevators or escalators, you can arrive in front of your train. In some smaller cities, some boarding gates are at the same floor with the platform, so once you pass the ticket checker and walk from the door, you can arrive at the platform.
10) Get On Your Train
After you reach the platform, follow the signs to get to your correct train carriage (车厢). Safety is most important. Remember always walking within the yellow line and keeping away from other trains, especially those are moving. As every carriage shows its number and the running route on the LED screen, you will easily find you carriage for boarding. In the carriage, both sides show the seat number (座位号) of each row. Read your ticket again to reconfirm your seat. If you take not much and a little luggage, just stow it on the roof rack above your seat. While if you are travelling with large suitcases, put them in the closet either end of the train carriage.
>> Check more Details about Classes of Seat on High Speed Trains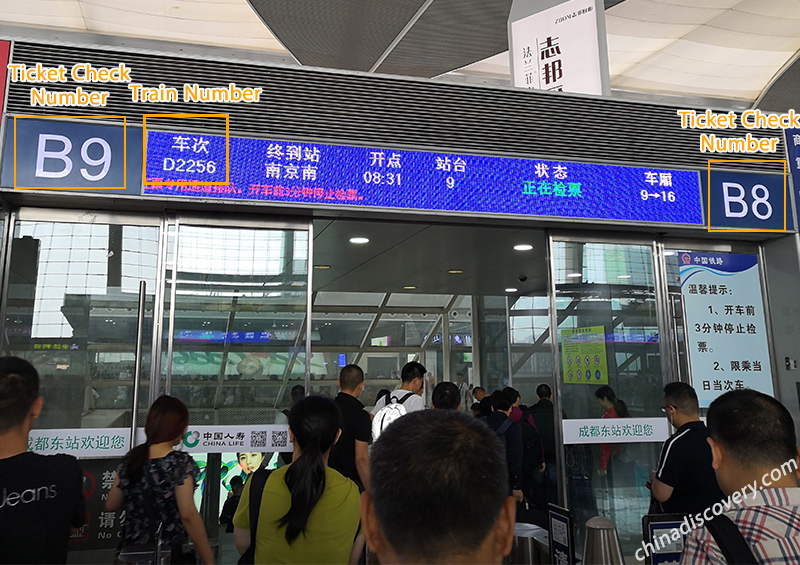 Find Your Correct Boarding Gate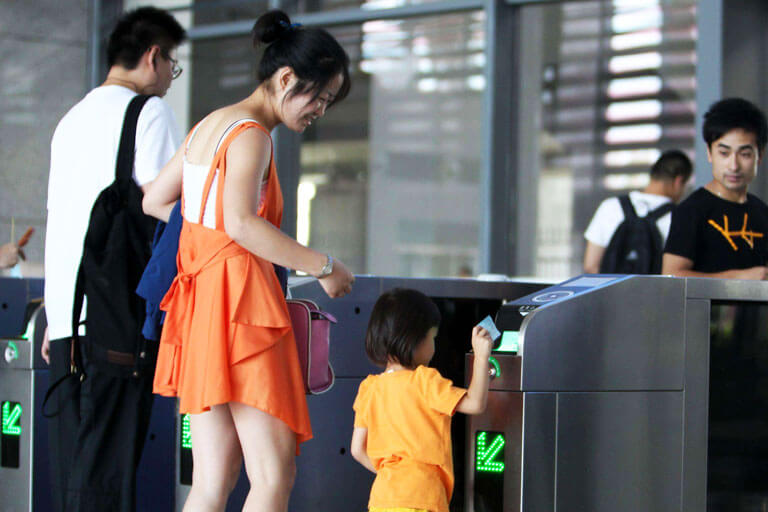 Ticket Checking for Train Boarding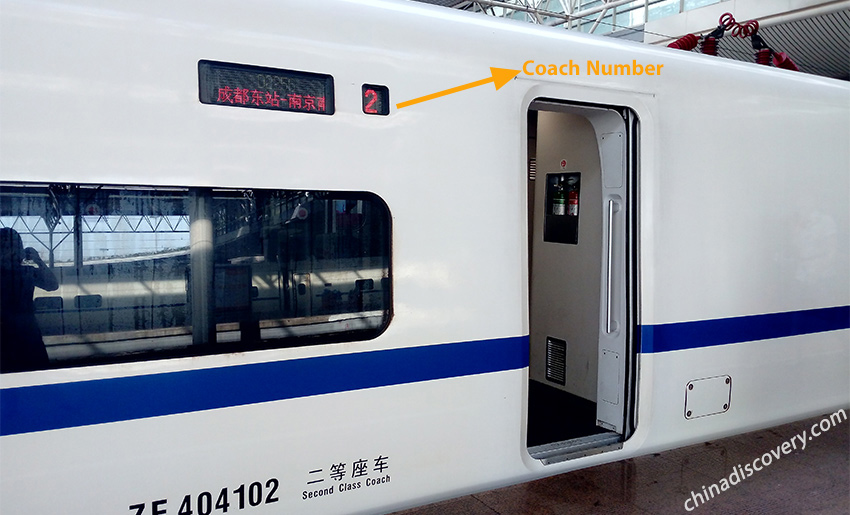 Click to See How to Find Your Train Carriage & Board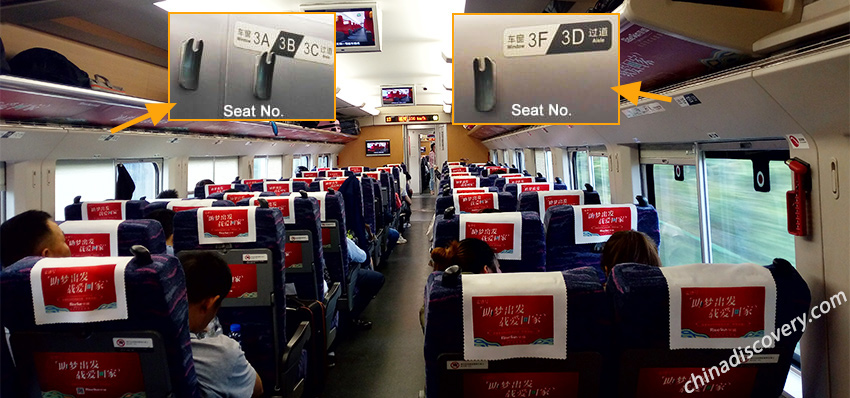 Click to See How to Find Your Seat Number in Your Carriage
11) Enjoy the High Speed Train Trip
Now, everything is ok! Sit on there relaxed and enjoy your inspiring high speed train in China. Feel the smoothness of the train riding and appreciate the beautiful landscape of the villages, natural field, hills, etc. outside your window.
>> Check more about Facilities, Food & Services on High Speed Trains
Disembarking from High Speed Train
Getting off a high speed train is much easier than getting on it! Check how to disembark the train at below.
Get Off Your High Speed Train Step by Step
1) Watch Your Stop
If your destination is not the terminus of the train, you need to listen to the stop announcements and pay attention to stop information on the LED screen, both in English and Chinese, carefully. Station announcements usually come at least 10 minutes before each stop to give travelers time to prepare for collecting their baggage off the racks to get off the train. If you get confused, it is strongly advised that you show your tickets to a member of the train staff or just a passenger next to you and ask her/him to remind you to get off. You could write or type a word like:"到这个车站请提醒我下车,谢谢! (which means that please remind me to get off the train while arriving at this stop, thank you!)"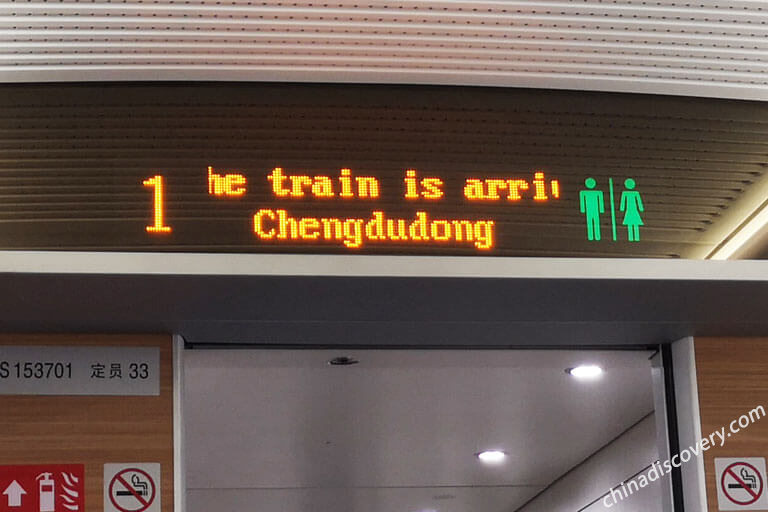 Attention to the Stop Annoucement
2) Get Off Your Train
Please remember to take your whole luggage and all belongs with you when embark the high speed train. In a stop at a large city like Beijing, Shanghai, Chengdu, Xian, etc. or the terminus stop, you could take your time to avoid the crowed in the aisle and train exit. However, it has usually only 2-3 minutes' stop in a not very big train station. If so, please get off the train with all your baggage as quick and safe as possible. If you feel it a little hurry, you are suggested take your luggage to wait at the train door as it gives the announcement.
Once you land on the platform, you will see clear signs above head showing you the way out. To make it simpler, you can just follow the crowd and then successfully get to the correct exit for ticket checking again.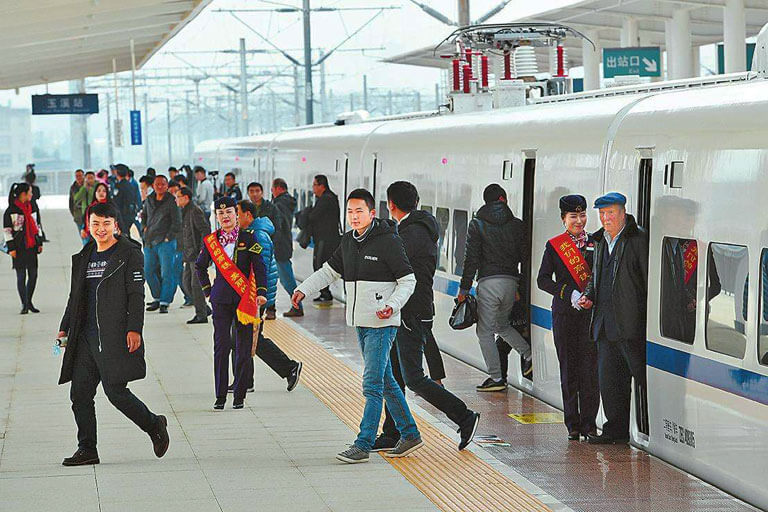 Get Off the High Speed Train
3) Check Your Train Ticket at the Gate Machine
Before you walk out of the train station, you are required to check your ticket again for exit. Just do like you check your ticket before getting on a train, insert your ticket into the slot of the machine and take it after is coming out. Please choose a machine with green light at the slot. Machines with slot with red light are not available temporarily. If your ticket cannot go through the checking machine successfully, please go through the manual checking passage.
4) Ground Transportation
Subways, taxis, buses or coaches are all available in some big cities. And in some not very prosperous destinations, they also have buses and taxis for your easy transfer to the downtown and the scenic areas. No matter where you are in the station, the logical and conspicuous signs and arrows will tell you where to take a taxi, subway, bus, airport shuttle bus, or distance coaches and way to different exit of the station.
Reassuring Transfer with China Discovery
Unwilling to walk a long way and wait in a line to catch a bus/taxi/subway? If you are picked up by our local guide, she/he will wait for you at the train exits. As someone will do the driving to your hotel and your luggage will be places well in the trunk, you could appreciate the appearance of your destination with relaxation or have a rest. Please feel free to contact our travel expert if you need the local pickup service.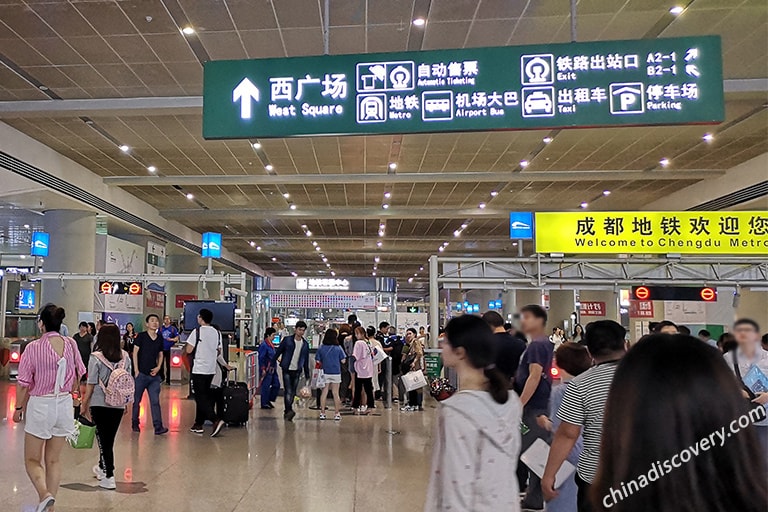 Clear Signs of Groups Transportation and Exit
Tips of Porter Service for Boarding & Disembarkation: in almost train stations in China, there are some porters with red cap and waistcoat (小红帽) cooperated with the train station. They can take your luggage from the entrance of the station to your carriage of the train smoothly, so you can get to the normative specified area on the floor of the boarding gate to have a rest and wait for the train, board your train with his guide through standard and convenient special passage and without carrying your luggage by yourself. Also, porters also can take your luggage from the platform to your taxi or other types of vehicle after your arrival. Such kinds of services need extra charges, and you can know the detailed prices in site after arriving at the train stations.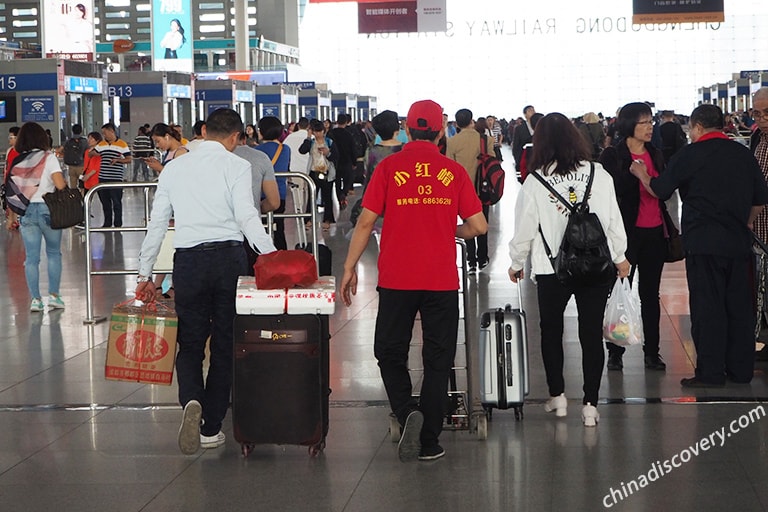 Red Capped Porter at Train Station
How to Plan Your China Train Travel with China Discovery
Since there are so many tourist cities connected by high speed rail network, tourist have lots of choices and routes to experience the super fast, comfortable and fashionable high speed trains. China Discovery offers you featured high speed train tours in different routes, length, themes and landscape.
If it's your first time to visit China, Beijing, Shanghai and Xian are the top recommended destinations to enjoy the newest Gaotie and most representative attractions in China. It takes about 4.5-6 hours from Beijing to Shanghai or Xian by high speed train, and Shanghai Xian express needs about 6-7 hours. You can experience the top standard seat - Business Class Seats to enjoy the half day train travel. Here is our 6 Days Beijing Shanghai High Speed Train Tour and 8 Days Best of China Tour. If you want to an in-depth train trip to discover more interesting cities, you can have a new Hong Kong Guilin Train Tour, an Ancient Silk Road Tour (15 Days Classic Ancient China Silk Road Tour with Bullet Train Experience) and ethnic culture tour in Yunnan. Check updated train schedules and route to get inspired for you China train tour!
Other Routes to Experience D High Speed Trains
As high speed train travel are becoming much popular and recommended by large portion of visitors in China, here we also list some top high speed train routes chosen by most people during their China tour. See the routes at below and pick one to experience the great advantages of travelling by high speed train. Also, you could check all high speed train routes to select which section to experience.
Extension Readings of High Speed Train Travel in China
Recommended Tours
Top 3 tours chosen by most customers to explore in the best way. Check the detailed itinerary, or tailor your own trip now with us.
8 Days Beijing Xian Shanghai Tour by Flight

Beijing / Xian / Shanghai
7 Days Shanghai Suzhou Beijing Contrast Tour by High Speed Train

Shanghai / Tongli / Suzhou / Beijing
Start planning your tailor-made holiday to China by contacting one of our specialists. Once inquired, you'll get a response within 0.5~23.5 hours.
Customize a Trip
Have a question? Get answers from our travel experts or guests
Your Question:

Your Name:

Your Email: