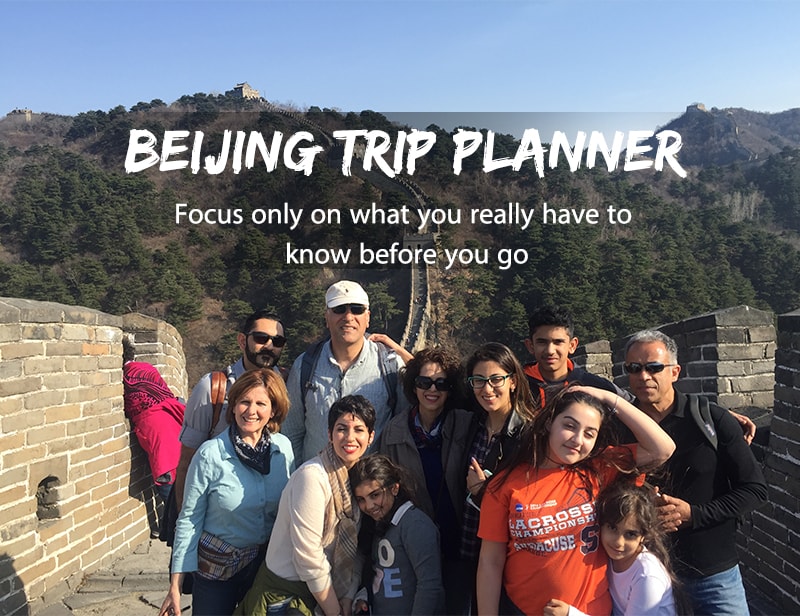 How To Plan A Trip To Beijing: Beijing Trip Planner 2023/2024
Visiting Beijing for the first time? Does trip planning exhaust so much of your effort and time? Have no idea where to start? Yes, it may be overwhelming for everyone, not only you, to plan a perfect trip to Beijing, such an amazing city which is full of history and culture as well as thousands of hotels, attractions, shops, and restaurants, that's why we stand out to help. Our Beijing Trip Planner is the best tool which aims to help to focus on where to go, where to stay, where to eat, when to go and more vital travel information you need to know before you go, such as Visa-free Policy, city transfer, etc.
◆ Tian'anmen Square/Forbidden City/Jinshan Park (a half day)
Enter Forbidden City, the most imperial site of China from Tian'anmen Square, explore the halls and houses where the ancient emperors lived, and enjoy a panoramic view of the whole Forbidden city from a higher location in Jingshan Park.
◆ Hike one or two section of Great Wall (one or two days)
Beijing possesses most of the famous sections of Great Wall, such as Mutianyu, Badaling, Jiankou, Simtai, Huanghuacheng, etc. Enjoy a memorable hike on the Great Wall is the No. 1 things to do for all travellers in Beijing. The less-crowded and beautiful Mutianyu Section is most recommended. To enjoy a 2 days Great hiking, you can choose Gubeikou+Jinshanling, or Jinshanling+Simatai.
◆ Appreciate the royal gardens in the Summer Palace (2 hours)
The Summer Place ranks No. 3 on TripAdvisor among all things to do in Beijing. This 700-acre royal retreat offers you a glimpse at how the imperial family once spent its leisure time. It is located on the northwestern suburb of Beijing.
◆ Explore the traditional living style of old Beijing in Hutong (1~5 hours)
Beijing Hutong connecting the quadrangle dwellings is more than a tourist attraction, but the pulse of this city. All the over 6,000 long, short, wide, narrow, straight and winding alleys link the whole Beijing from the ancient times. They tell various stories that happened here and show the historic development and cultural change of Beijing city.
◆ Savor a delicious meal of Peking Roasted Duck in a local authentic restaurant
The daintiness of Peking Roasted Duck has been brought to the entire world as more and more restaurants of Peking Roasted Duck have been set up in Newyork, Paris, Melbourne. But the authentic recipe never go abroad. To savor at the true taste of Peking Roasted Duck, you really have to come to its originated place – Beijing.
◆ Enjoy a tremendous performance of Chinese Kung Fu
Having no idea where to have fun in the night of Beijing? The Red Theatre is the place you should go where you can enjoy a Kungfu Show - the Legend of Kung Fu which is a theatrical production, presenting the origin and development of traditional Chinese martial arts with thrilling performance and vibrant show atmosphere. It is usually performed after 17:30. Address: 44 Xing Fu Da Jie, Dongcheng District, Beijing北京东城区幸福大街44号
Keep Reading: - Beijing Top Attractions and Things to Do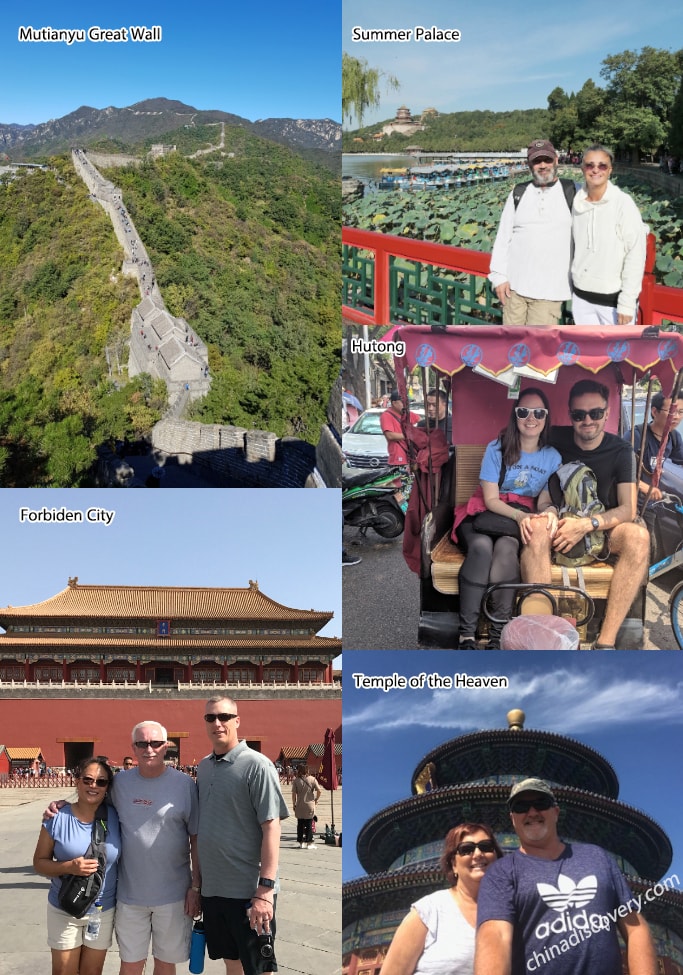 Beijing Top Attractions and Things to Do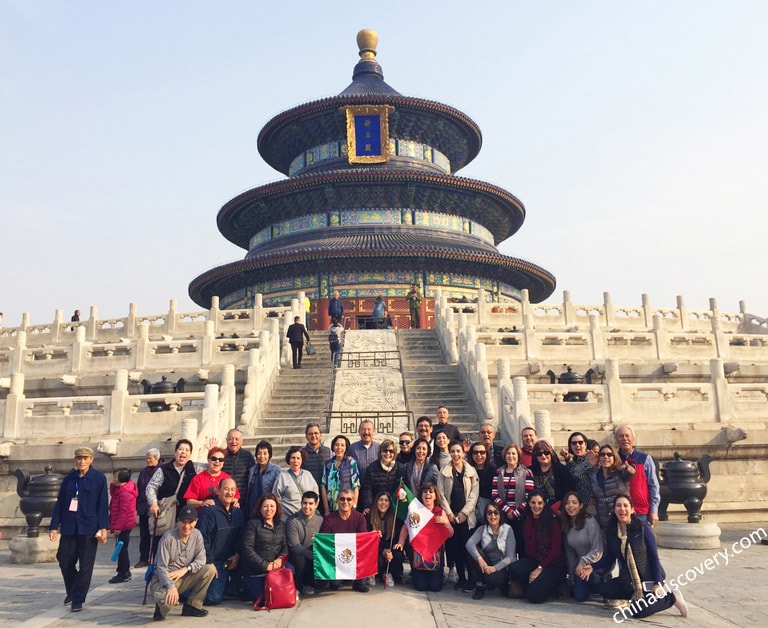 Temple of Heaven
To discover the essence of Beijing, you need at least 3 full days. Below is the most classic 3 days itinerary at leisure pace:
DAY 1: Discover the Tian'anmen Square, Forbidden City and Summer Palace;
DAY 2: Hike one section of Great Wall near Beijing (Mutianyu, Huanghuacheng, Badaling..)
DAY 3: Visit Temple of Heaven and explore Hutong
If you want to discover more highlights of Beijing, you can plan one or two more days. You can have a Great Wall hiking to the wild sections, such as Simatai, Jinshanling, Gubeikou, etc., or plan a family tour, photography tour, or walking tour to explore more of Beijing's charms. China Discovery has designed many featured Beijing tour packages for you. You can also ask our travel experts to tailor-make your own Beijing experience.
Recommended 2~4 Days Beijing Tours:
- 2 Days Beijing Stopover Highlights Tour
- 3 Days Visa-free Beijing Essential Tour
- 4 Days Classic Beijing Tour Package
Beijing applies to the newest 144-Hour TWOV (Transit Without Visa). Transit passenger from 53 specified countries who holds valid passport and connecting flight tickets to a third country or region can stay in Beijing up to 6 days without a Chinese visa, for examples: America > Beijing > Hong Kong; Australia > Beijing > Singapore. There are 144-Hour Visa-free Counters set up in Beijing Capital International Airport. Check 6 Steps to Apply for 144-Hour Visa Free
If you want to stay longer than 6 days in Beijing, or Beijing is just a part of your China trip, you will have to apply for a China Tourist Visa (L Visa) before coming to China. You can apply for Chinese visa at Chinese Embassy and consulates in your country.Except special circumstance, applicants can get a Chinese Visa after 1 ~ 4 working days, even on the same day of your submission.
Keep Reading: - Beijing Airport Layover | Chinese Visa Application
Recommended Beijing Visa Free Tour Package starting from the airport:
- 3 Days Beijing Essential Short Stay Tour (Transit Visa Free)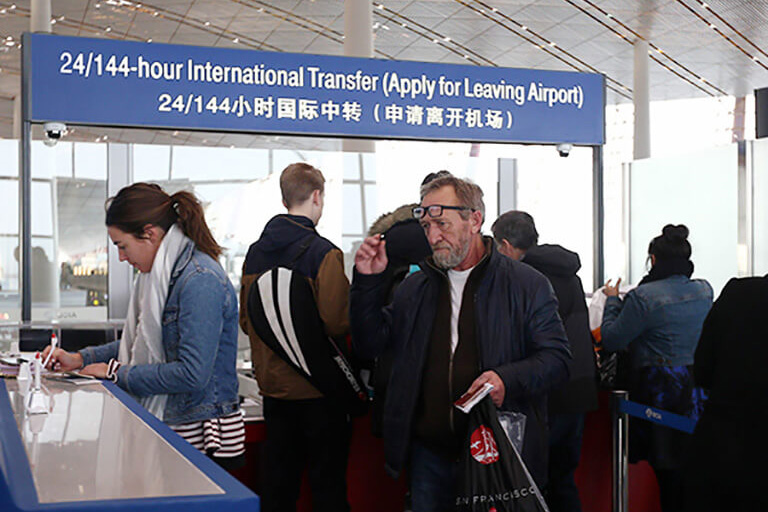 144-Hour Visa-free Transit Counter in Beijing Capital Airport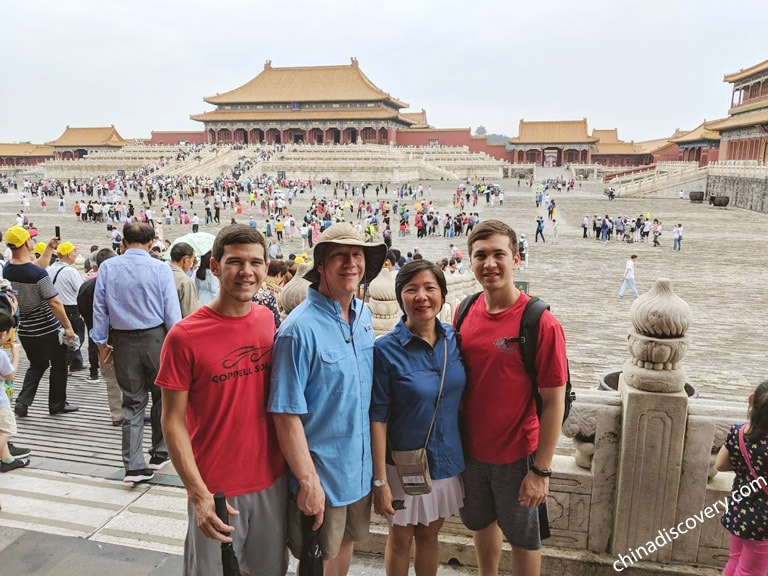 Forbidden City in June
Having a temperature and continental monsoon climate, Beijing has hot and rainy summers, cold and dry winters, cool and sunny autumns, windy and booming spring. The coldest month is January with the average temperature of -4 °C/24.8°F, and the hottest season is July (at an average of 26 °C/79°F) with most rainfalls.
Beijing is suitable for a trip all year around. The best time to visit Beijing is in autumn, from mid-September to November. During this period, it is neither too hot nor too cold, and the crowds in most attractions start to decrease. If it is not possible to schedule your Beijing tour in September, October or November, we also recommend you visit Beijing in May and June as a backup choice, for the comfortable temperature and the low population density in the scenic sites.
We also advise you not to visit Beijing or make bookings in advance during Chinese holidays if possible when it will be very crowded everywhere in Beijing – school summer holiday (July to August), National Days (Oct 1-7), Labor's Days (May 1-3).
Keep Reading: - Best Time to Visit Beijing
Beijing is the transportation center of China. It has a vast network of both arrival and departure, connecting the China's capital city to most domestic cities in China as well as most of international cities in the globe. There are 3 airports, 4 railway stations and hundreds of bus stations in Beijing.
For international travellers, you can take international flights directly to Beijing from Europe, North America, Asia, South America, Oceania, etc, or take international cruise to land China at Tianjin, Beijing's neighborhood, then transfer to Beijing by train or highway. If Beijing is not your visit stop in China, you can take domestic flights, high speed trains, fast trains, highway, bus to Beijing from most cities in China, such as Shanghai, Guangzhou, Shenzhen, Chengdu, Chongqing, Hangzhou, etc.
Keep Reading:
- 6 Days Hong Kong Beijing High Speed Train Experience Tour
- 7 Days Shanghai Beijing Tour by High Speed Train
- 9 Days Pandas Terracotta Warriors Great Wall Encounter by High Speed Trains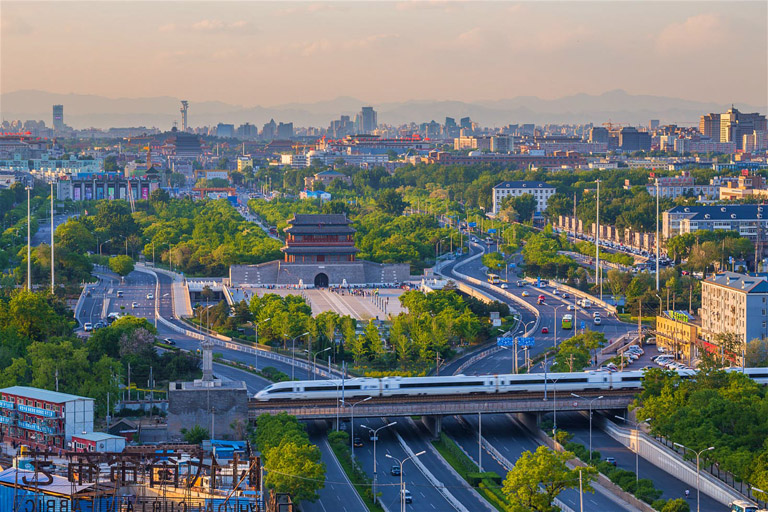 A Bullet Train Going Throgh City in Beijing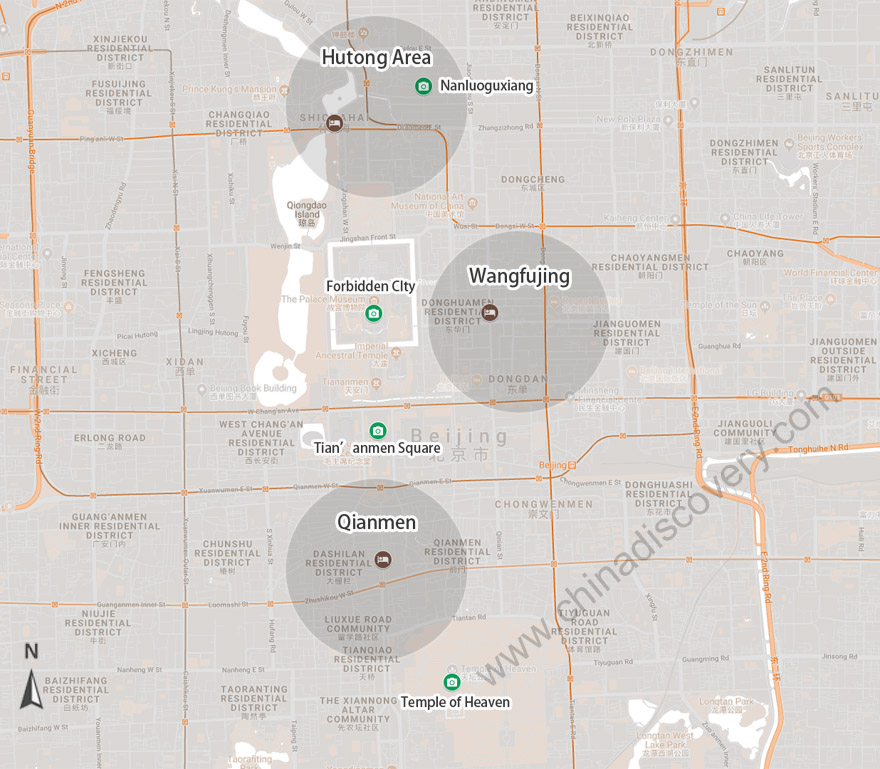 Where to Stay in Beijing for Accommodation
Wangfujin Area (王府井)
- Wangfujin area has fantastic location and top class hotel facilities. It is located at the east side of the Forbidden City within 30mins walking. This area is also the paradise of shopping and food hunting. Many luxury 5 stars hotels are located at Wangfujin Area, such as the St Regis Beijing, Waldorf Astoria Beijing, etc. But the hotel rates here are usually higher than other areas in Beijing.
Qianmen Area (前门)
- Qianmen Area is located right in the front of Tian'anmen Square. It takes only about 5 minutes to walk to Tian'anmen Square, and 10 minutes to Forbidden City. For those want to stroll around the imperial Forbidden City, this area is the best choice. It also have many place for shopping and dining. The Ritz Calton is the bes hotel at this area.
Hutong Area (胡同)
- Hutong Area is located on the north of Forbidden City. If you want to stay in somewhere local and more cultural, Hutong Area is the best choice. This area gathers many famous attractions in Beijing, such as Drum Tower, Nanluoguxiang, Prince Gong's Masion, Lama Temple, Shichahai, etc. Hotels types ranges from boutique courtyard hotels to Youth hotels, business hotels, luxury hotels, etc. There are also many souvenir shops, bars and restaurants here.
Keep Reading:
Beijing is the best city in China to start a China tour because: 1) it can be arrived from most international cities by flights; 2) it has flights and trains to most of the popular destinations in China; 3) visiting Beijing first help you to learn about China's culture and history.
How to plan a China tour from Beijing
The transportation matters most when you are planing a China tour from Beijing. Usually, a 2~3 days trip to Xi'an (Terracotta Warriors, Ancient City Wall...) usually comes after the Beijing tour. After Xi'an, you have many options: 1) take a long trip to Tbiet (4~8 days); 2) fly to Zhangjiajie (3~4 days); 3) take a bullet train to Chengdu (2~4 days); 4) go to Take a Yangtze River Cruise in Chongqing (4~5 days); 5) fly to Guilin to visit Yangshuo and Longji Rice Terrace (3~4 days). After above tours, you can finish your China tour in Shanghai or Hong Kong.
Keep Reading:
- 20 China Tours from Beijing
- Beijing Xian Tours | Beijing Shanghai Tours | Beijing Zhangjiajie Tours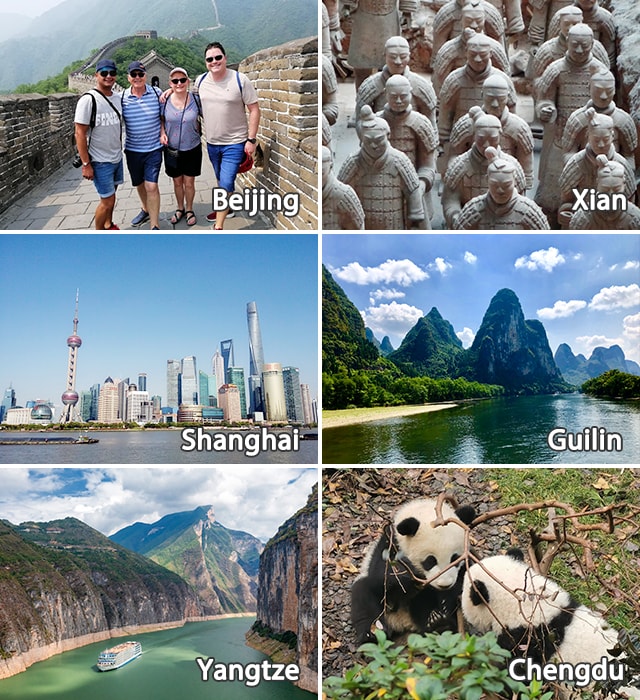 China Tours from Beijing