Food & Drinks on China High Speed Trains
Your high speed train journey in China may be long which sometimes could last for 3-6 hours or even longer. You may be curious about how to order and get food delivered in on the new and modern high speed train? What kind of food and drinks does the train provide? Is it palatable? Should we bring some food onboard? China Discovery is here trying to offer you comprehensive food and dining information as well as provide useful tips to solve all your questions and put your worries down. You can appreciate the beautiful countryside landscape passing by while enjoying great culinary experience on the train journey.
Still planning which high speed rail to go? Not sure which the most worthy train journey to try? Here is the Top 10 Most Popualr China High Speed Train Travel Routes and 8 Most Beautiful High Speed Railway in China that you can check to get inspired and useful advice and tips.
Way One: Order Food in High Speed Train
At Dining Car
If you take a high speed train with 8 carriages, the dining car is in the fifth carriage. For a high speed train with 16 carriages, the dining cars are in the fifth and thirteenth carriage. Dining is excluded in the tickets for Second Class Seats and First Class Seats and you need to pay extra expenses to buy the food. They accept Chinese cash, Alipay and Wechat, so you'd better prepare some Chinese cash before boarding.
Food on the dining car is usually in Chinese-style and western dishes are unavailable in most of the trains. The dishes for breakfast, lunch and dinner vary with several kinds of choices. The menu is both in English and Chinese with pictures shown which would be easy for you to order the food. If there is no English, you can ask the staff for help who can speak some simple English.
● Breakfast: It is served during 07:00~09:00, providing 1-3 kinds of porridge, Chinese breads, and steamed stuffed buns. The breakfast package is usually around 20 Yuan.
● Lunch & Dinner: It is available during 11:30~13:00 and 17:30~19:00. There are several choices for lunch or dinner and you can choose from steak with pepper sauce, beef curry, beef brisket, steamed pork with preserved vegetable, pork chop, spicy diced chicken, pickles and different vegetables, etc. Besides the main course, there are other 3-4 dishes in the package. The prices range from 15 Yuan to 65 Yuan.
● Snacks & Drinks: There are staffs working in the dining car and you can buy snacks and drinks whenever you need. You can select your likes from black tea, milk tea, green tea, coffee, coca cola, sprite, beer, red bull, Wong Lo Kat, soybean milk, soda water, mineral water, ice cream, potato chips, biscuits, cake, peanut, grape, pears, oranges, apples, cherry tomato, and so on. The prices are reasonable and affordable.
Latest News:
Since January 21, 2019, there are 15 pairs of high speed bullet trains in China started using online ordering service. Passengers just need to scan the QR code on the seat and place an order, the attendants will deliver the food to your seat within half an hour. It is very fast and convenient experience that passengers don't need to walk through carriages to find the dining car and check what kind of meals are served. If you take train travel between Beijing and Shanghai (6 Days Beijing Shanghai Tour by High Speed Train), or from Beijing to Hangzhou (8 Days Shanghai Hangzhou Beijing Highlights Tour by High Speed Train), and other routes, you can try the new ordering service on the high speed trains.
Tips for Where to Eat:
Some of the high speed trains have dining cars with tables and seats where you can enjoy your meal with your family and friends together. While some of the high speed trains with very small dining cars without tables and seats. So, travelers who take First Class Seats and Second Class Seats should take your meal back to your carriages, pull out the tray table and unfold it above your legs and enjoy your meal.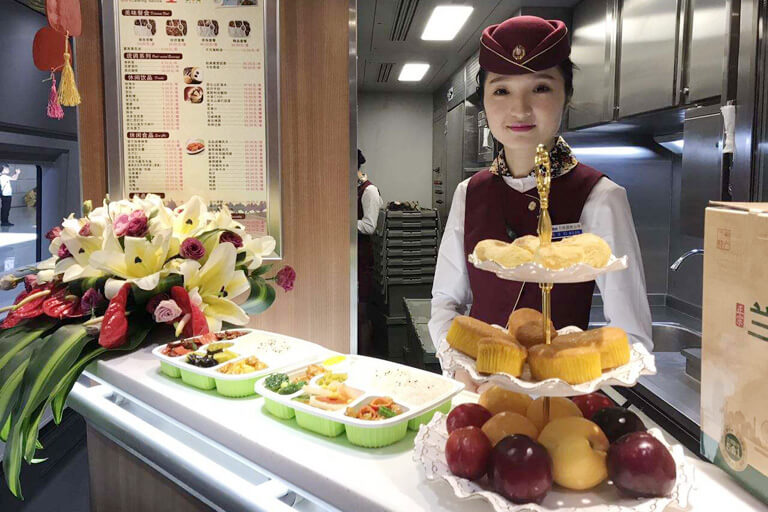 Dining Car on a High Speed Train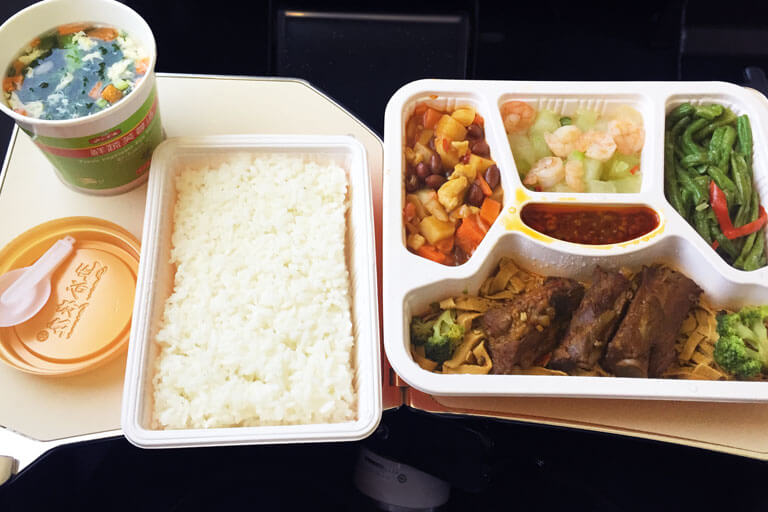 Enjoy Chinese boxed-meal (¥65 standard) on the Tray Table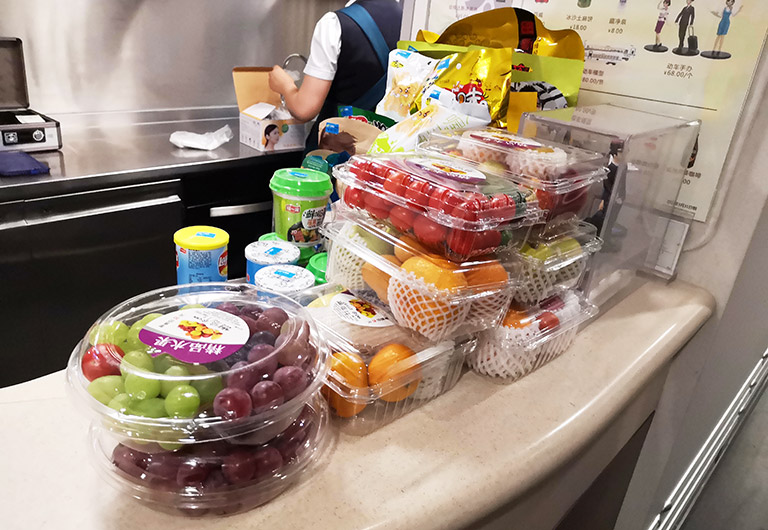 A Part of Snacks & Fruits Presented in the Dining Car
At Food Trolley
To bring convenience to passengers in different carriages, the attendants would bring trolleys to shuttle back and forth through different carriages (carriages for second class seats and first class seats) to sell packed meals during meal time. That means you can select your food and buy it on your own seats. The meals are the same as those in the dining cars. You should pass the money to the attendants after they give you the food.
At other times, the attendants would go through the carriages of second class seats several times to sell snacks, drinks, packed fruits and magazines. For first class seats passengers, if you have any needs, tell your likes to the attendant who work in first class carriages.
If you get to the railway station quite early, you can buy some snacks in the convenient stores at the railway station, which are usually located in the waiting hall floors.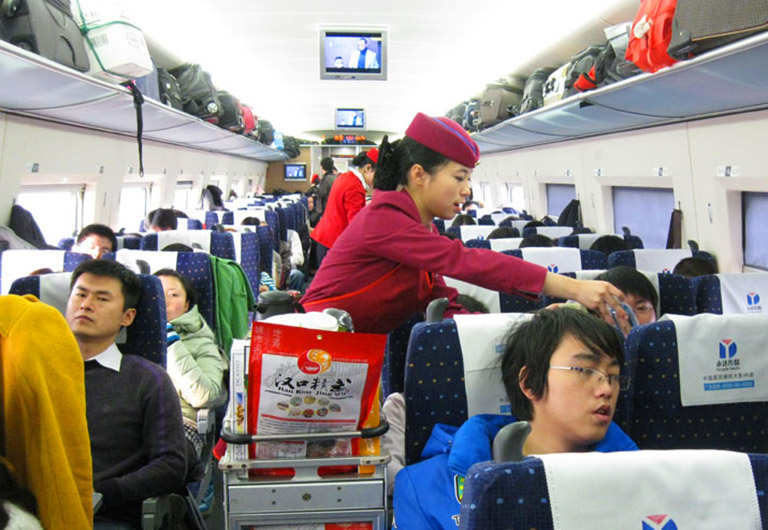 Order Food or Snacks at Food Trolley
VIP Food Service for Business Class Passengers
For those passengers who take Business Class Seats, you are regarded as the honored guests, providing you superior service during the train journey!
All the food, drinks, snacks and service are included in your tickets. There is a special attendant working for business class travelers. During the meal time, the attendant will come to your cabin and ask what you want to eat for your meal. Usually, you can select from three packages, like spicy diced chicken with peanuts, steamed pork with preserved vegetable, and steamed pork with brown sauce. Once ordered, he/she will bring the meals to your seats. You can find the package is scrumptious with 3-4 dishes and one soup.
At other time, the attendant will ask what you want to drink - coffee, black tea, green tea, juice, hot water, etc. Just tell your likes and he/she will serve for you. If you need refill, he/she will come and do it. Moreover, you can enjoy some several kinds of snacks, like cake, cookie, beef and haw slices.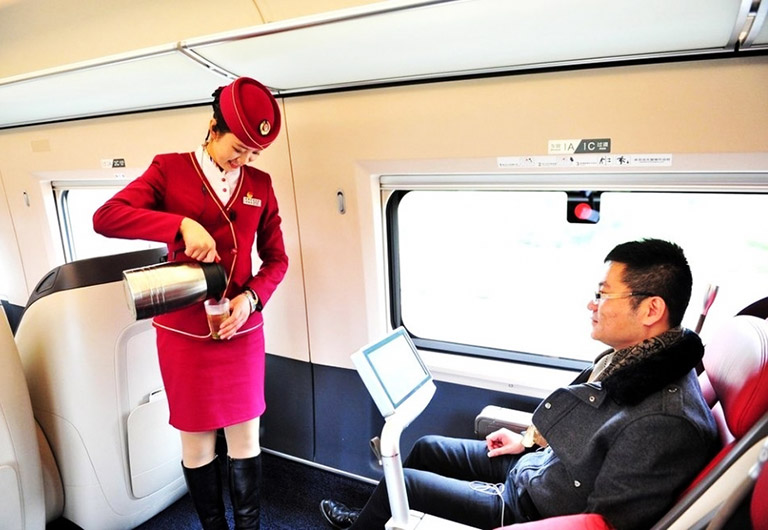 Food & Drinking Service for Business Class Passenger
Way Two: Buy Some Food on Platform
Not every high speed train is nonstop train. Many high speed trains stops along the way for several minutes. Travelers can get off your train to the platform for a break as well as buy some food or snacks. Some vendors sell local snacks, providing you an opportunity to try different flavors.
Many high speed trains will stop and pass lots of station en route. Say if you took high speed train from Beijing to Xian or Xian to Beijing for about 4.5-6 hours, you will stop at Shijiazhuang, Zhengzhou, Luoyang or Huashan Station in the midway, where you can get supplied shortly on the platform while the train is stoping. 6 Days Classic Beijing Xian High Speed Train Tour >
Way Three: Bring Some Food Onboard
At Railway Station:
Many railway stations in China have fast food chain restaurants, such as KFC, McDonald and Dico's that you can buy some hamburgers, chicken dices and drinks before boarding.
At Hotels & Outside Restaurants:
If your time is hurry, but you want to enjoy a delicate and abundant meal, you can ask your hotel to cook and pack some dishes for you. As well, you can pack some food at a good restaurant before you heading to the railway station.
Buy Some Food & Snacks at Store:
Many Chinese passengers take a plastic bags contained some food and snacks onboard. It is money-saving and easy sharing. If you like, you can purchase some before boarding. The recommended food and snack are sandwiches, bread, eggs, yoghourt, milk, chewing gum, and some fruits, etc. Try to avoid the food with strong smelling. China Train Station - Layout, Transportation, Facilities & Service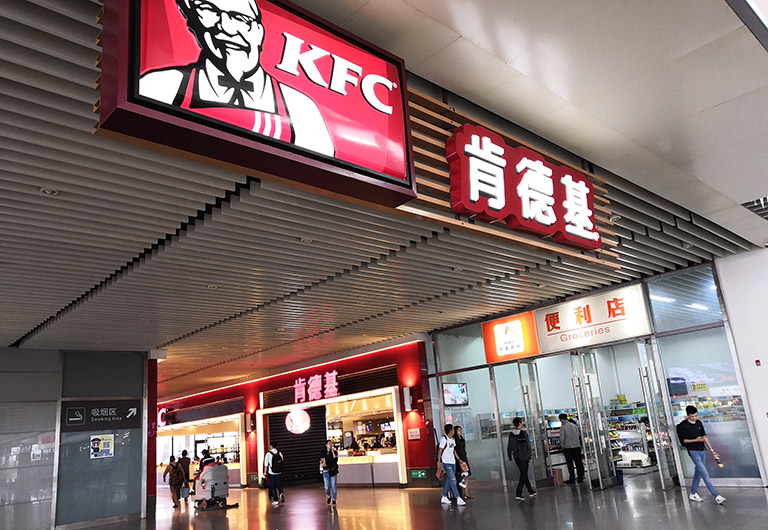 Buy Fast Food at KFC inside Railway Station before Boarding
Way Four: Food Delivery Service to High Speed Train
Looking forward to try the new food delivery service offered by the official China railway? If you know Chinese, you can use the food delivery service to book food online.
According to the China Railway Company, any passengers on train routes starting with the letter "G" or "D" can pre-order food either online (www.12306.cn) or through the official railway app. This kind of service are available in many big railway stations, like Shanghai Hongqiao, Xian North, Chengdu East, Guangzhou South, Changsha South, Tianjin West, Nanjing South and Chongqing North Railway Stations and more. This kind of service is available during 10:00-20:00. You have to order the food at least two hours before your train departs and pay through either Wechat or Alipay.
The procedure is simple: 1. Enter your trip information on the official China railway website to see what food options are available. 2. Make your choice. 3. Create an account and fill your trip details and meal preferences. 4. Complete your payment. Then, your meal will be delivered straight to your seat at the meal time.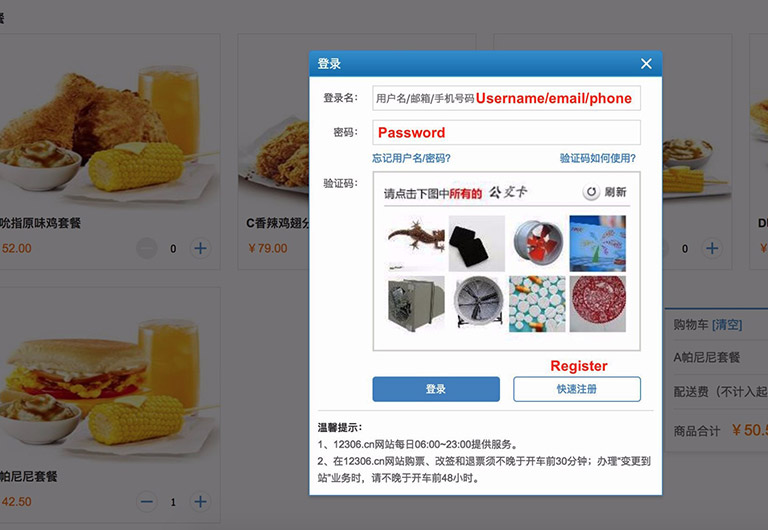 Use Food Delivery Service of Official Railway to Order Food to your Seat (Click to Enlarge)
Useful Food & Drinking Tips for Passengers
1. Don't eat too much!
You are suggested to eat suitable and try to avoid the food that is hard to digest, especially during a long trip. It is a good idea to take a little walk through the carriages after eating.
2. Where to get hot water?
Every carriage is equipped with a water dispenser. It is placed at the connection part of two carriages. Clean boiled water and paper cups are prepared there. As the water may be too hot, you can put the paper cup below the water outlet and then press the button to get your drinking water.
3. Where to wash your hands?
Wash basins are available on high speed trains. In an 8-carriage train, there are usually 3 wash basins, together with liquid soap, tissue and mirror provided. Moreover, clean water is available at each washroom.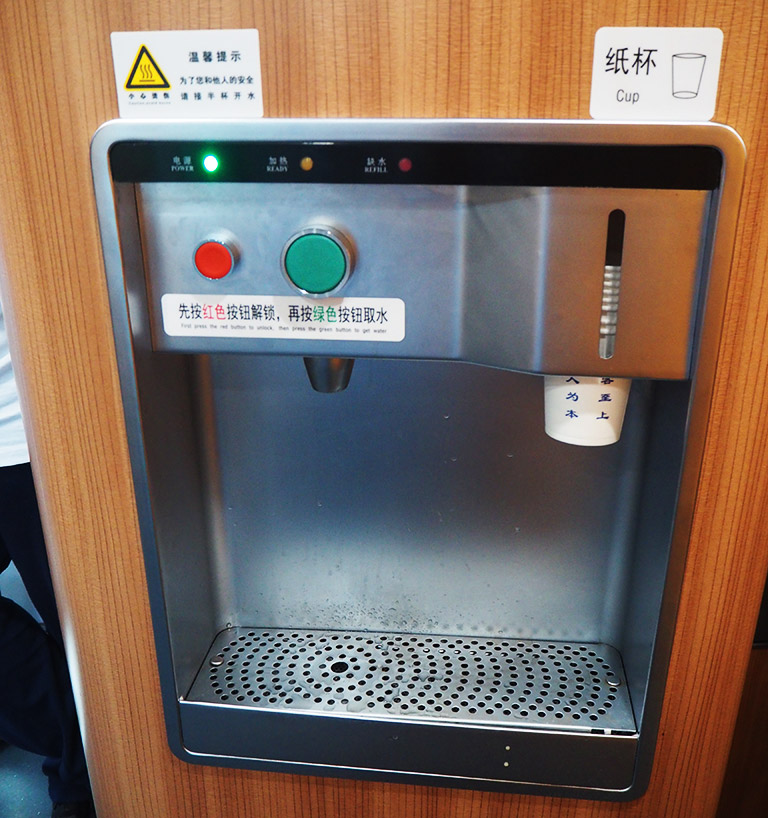 Get Hot Water at Water Dispenser in Each Carriage
4. Where to litter?
Cleaning bags are provided in front of seats putting in the mesh bag. You can put the rubbish in the cleaning bags and the attendants will take them away. If you don't mind moving several steps, you can put the food packing box or other rubbish into the dustbin which is located at the connections of two carriages, close to the washroom.
If you have more questions and concerns about food and dining on a high speed train, please feel free to let us know. For travelers who want to know everything about life on a high speed train, please head to our facilities & service onboard.
Highly Recommended Routes to Experience China High Speed Trains
As high speed train travel are becoming much popular and recommended by large portion of visitors in China, here we also list some top high speed train routes chosen by most people during their China tour. See the routes at below and pick one to experience the great advantages of travelling by high speed train. Also, you could check all high speed train routes to select which section to experience.
Extension Readings of High Speed Train Travel in China
Recommended Tours
Top 3 tours chosen by most customers to explore in the best way. Check the detailed itinerary, or tailor your own trip now with us.
9 Days East China & Mt. Huang Tour by High Speed Train

Shanghai / Suzhou / Hangzhou / Huangshan
7 Days Shanghai Suzhou Beijing Contrast Tour by High Speed Train

Shanghai / Tongli / Suzhou / Beijing
Start planning your tailor-made holiday to China by contacting one of our specialists. Once inquired, you'll get a response within 0.5~23.5 hours.
Customize a Trip
Have a question? Get answers from our travel experts or guests
Your Question:

Your Name:

Your Email: