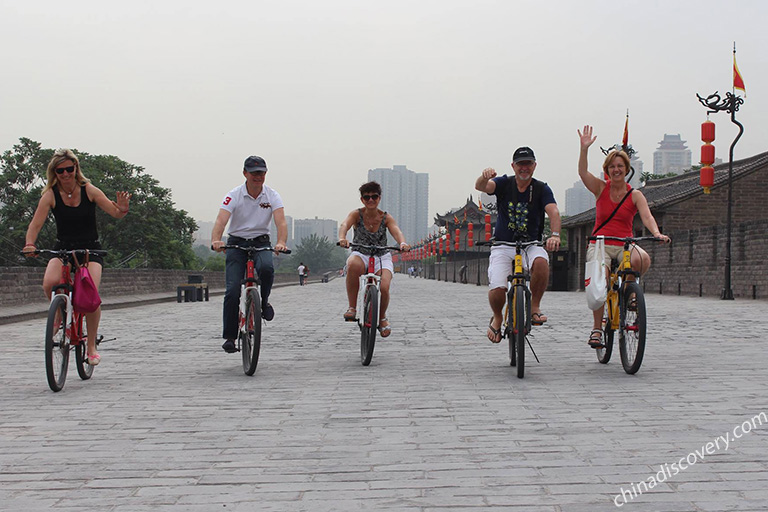 How To Plan A Trip To Xi'an: Xi'an Trip Planner 2023/2024
"If you have not been to Xi'an, you have not been to China!" which is fairly true. Xian, together with Beijing and Shanghai, is the famous China tourism's Golden Triangle that all travellers to China should never miss. In the ancient time, Xian was known as Chang'an (Eternal Peace) as the capital cities for Zhou, Qin, Han, Tang and other 13 dynasties for more than a thousand years. Over 70 ancient emperors ruled China here. That's why there are so many historical sites, ruins, museums and ancient relics cultivated in Xian. Among all the historical places, Terracotta Warriors is the most epic site to visit. There are more than 8000 life-size, hand-molded figures buried with China's first emperor, Qin Shi Huang. There are also many other places worth visiting, such as the best reserved Ancient City Wall, exotic Muslim Quarter where the Great Mosque locates, magnificent Giant Wild Goose Pagoda, grand Bell Tower, etc. You should also not miss out the nearby Mount Huashan which has the Plank Road in the Sky, one of the most adventurous experience in the world.
Now come to the most difficult question of how to organize everything in your Xian trip? Our Xian Trip Planner is here to help you focus on must do and see, where to stay, where to eat, when to go and more vital travel information you need to know before you go. Let us start it!
Xi'an is famous for its long-lasting history and mixture of different culture, not a place with beautiful mountains and rivers like Yangshuo. Visiting Xi'an is unlocking some of the most important chapters of the book of Chinese history, which is the reason why Xi'an has so many historical sites and museums.
◆ Places You Must See in Xi'an:
Terracotta Warriors - UNESCO World Heritage Site, Word's 8th Wonder, mausoleum of first emperor of China in history… there are too many reasons for you to take a look even if there may be tourists jam. It is located at northeastern suburb of Xi'an, approximately 1.5hrs' driving away.
Ancient City Wall – was originally built in Ming Dynasty (1368-1644), partly original and partly restored. Walking or biking around the wall is awe inspiring with interesting and different views of the old and new parts of Xi'an.
Giant Wild Goose Pagoda - the bright pearl on the Silk Road with excellent architectural beauty, precious Buddhist relics, rich religious culture, stories of the famous ancient monk - Xuan Zang, etc.
Bell & Drum Towers – two grandiose towers used to tell time in ancient time, and now great places to get up to enjoy panoramic view of Xi'an.
Shaanxi History Museum – one of the most important museums in China, an art palace that fully shows Shaanxi history, culture, and Chinese ancient civilization.
Other recommended places to go if you have extra time: Tangbo Art Musuem, Hanyangling Mausolem, Small Wild Goose Pagoda, etc.
Keep Reading: - Xi'an Top Attractions to Go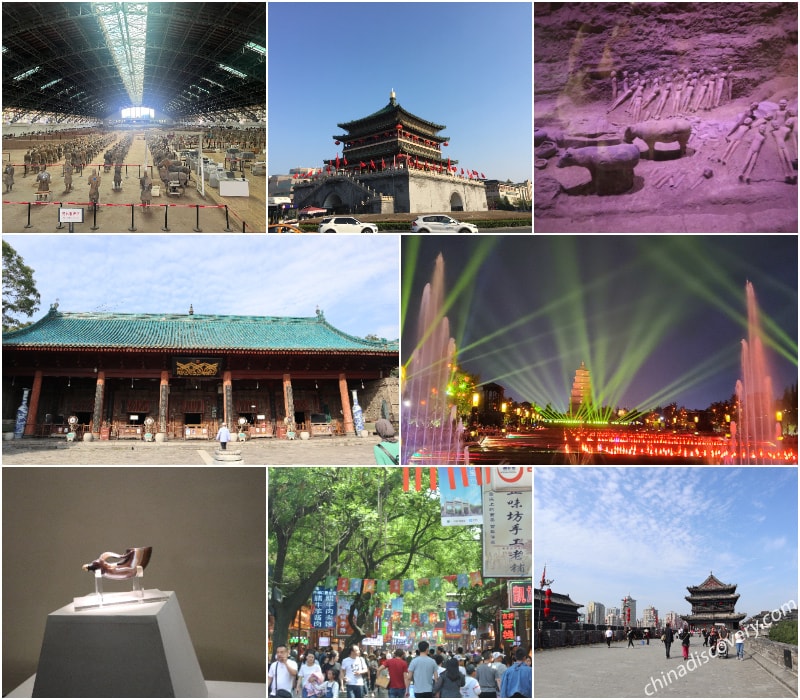 Xi'an is full of places to see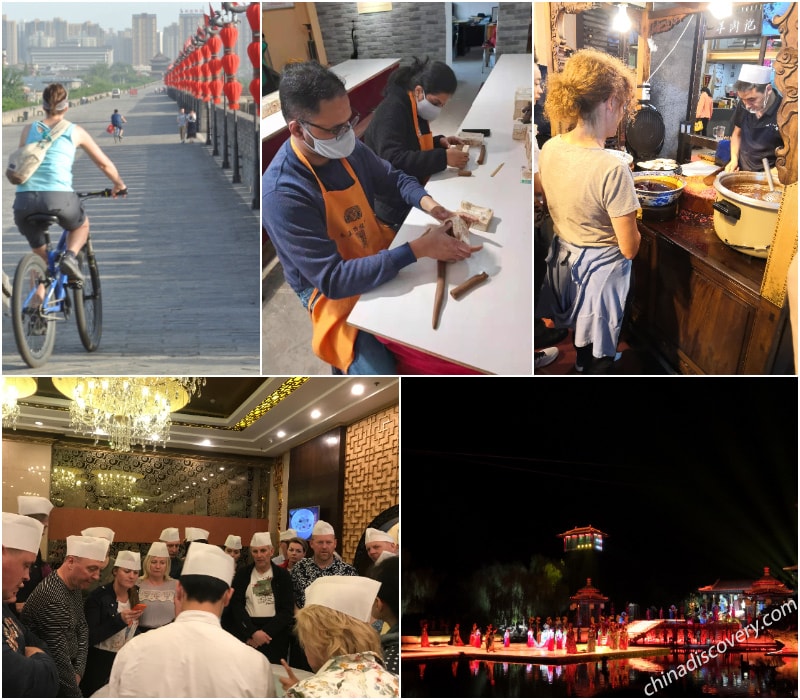 Xian is full of things to do
Sightseeing is most important thing during your trip while experiencing some featured local acitivities can make your trip more enjoyable, interesting and memorable. Xi'an has many this kind of thing do and below are some most popular ones:
Cycling on the Ancient City Wall – this is one of kind experience, cycling on the ancient wall is like cycling on the history of China. You can rent bike on the ancient wall, and the price is only 45 CNY/pp.
Hunt for local food and snacks at Muslim Quarter – Muslim Quarter offers only local favors, but also many snacks and food from other provinces even other countries. It also has bars and drink shops.
Enjoy a hearty dumpling meal – Xi'an is famous for making delicious dumplings in China. There are even special banquets of dumplings.
Watch a magnificent cultural night show – great way to learn about Chinese culture and relax at the same time. Xi'an has two great night shows: Tang Dynasty Show (dancing and musical performance) and The Song of Ever Lasting Sorrow (outdoor live-action show)
Keep Reading: - Xi'an Top Things to Do
It is strongly recommended to make a day to hike Mount Hua during your trip in Xi'an. This one of the most beautiful and most legendary mountains in China is only about 2 hour's driving from Xi'an. If you are solo travelers, you can also get there easily by high speed trains or tourist buses from Xi'an.
Mount Huashan has five very beautiful peaks: South Peak, North Peak, East Peak, West Peak and Central Peak. There are steep but accessible stone steps connecting the peaks together. The best highlight of the mountain is the Plank Road in the Sky which is said to be one of the most dangerous hiking trails in the world. It was constructed on the surface of a vertical cliff at the South Peak by a Taoist in 700 years ago.
We advise you to complete your hiking on Mount Huashan in a day because the guesthouses on the mountain are very poor but extremely expensive. To save time and energy, you can take North Peak Cable Car to get onto the mountain, and get down by West Peak Cable Car.
Recommended Xi'an Huashan Tour Packages:
- 3 Days Xian Mount Huashan Leisure Tour
- 4 Days Xian Highlights Tour with Mount Huashan Hiking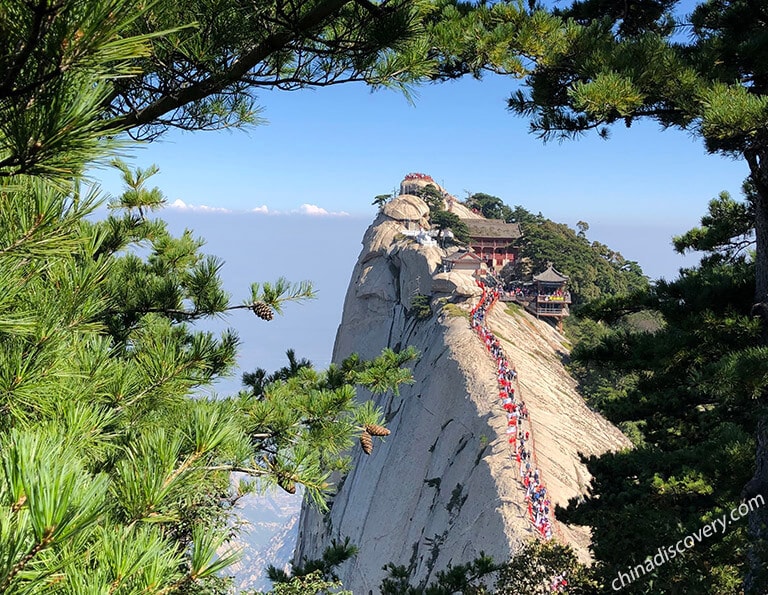 West Peak of Mount Huashan in September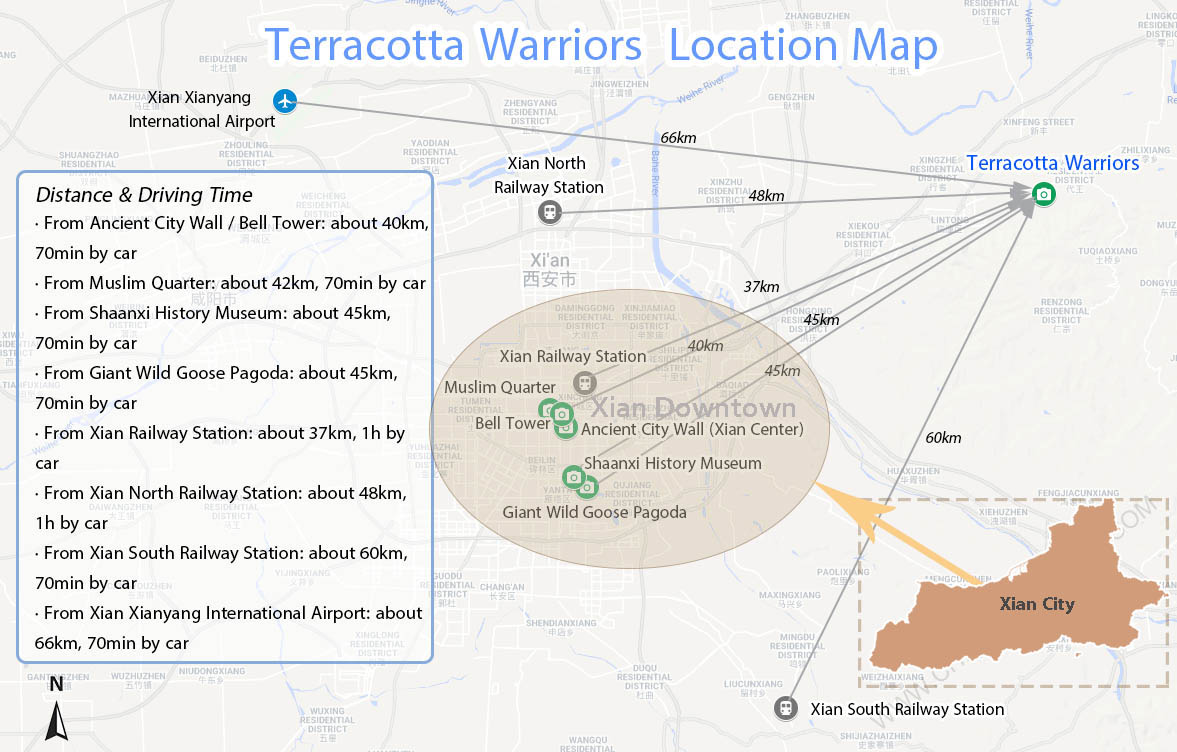 Xian Tourist Map
1 Day in Xi'an – too short to get the essence of Xi'an, but can be a glimpse to see the city in brief way. You can visit the Terracotta Warrior in the morning, then the Ancient City Wall and nearby. 1 Day Xian Essence Tour
2 Days in Xi'an – 2 days are long enough to take the classic Xi'an city tour. Day 1 to visit the Terracotta Warrior, Ancient City Wall, Muslim Quarter, Bell Tower; Day 2 to visit the Shaanxi History Museum and Giant Wild Goose Pagoda, and catch flight or train. 2 Days Xian City Break
3 Days in Xi'an - you can explore the city in a leisure pace. Beside the Must-Sees, you may find surprises if you put some other small places into your itinerary, such as Tangbo Art Museum, Hangyangling, Small Wild Goose Pagoda, etc. If you don't mind haste, you can visit both Xi'an and Mount Huashan in 3 days. 3 Days Classic Xian Tour
4 Days in Xi'an - 4 days is the idea trip length of Xi'an tour with great flexibilities. You can spend a full day to hike Mount Huashan, and the rest 4 days to explore Xi'an's historical sites, food and cultural activities. You also don't have to catch flights (train) in a hurry. If you are not interested in hiking, you can place Mount Huashan with Luoyang. 4 Days Xian Highlights Tour with Mount Huashan Hiking
5 Days in Xi'an – if you have 5 days in Xi'an, you can play in the city as much leisure as you want. You also have flexible extension trips choices, such as Mount Huanshan, Hukou Waterfall, Shaolin Temple, Pingyao, etc.
- 3 Days Best Xian City Tour Plus Hukou Waterfall
- 4 Days Xian Highlights Tour with Sidetrip to Luoyang Longmen Grottoes
- 6 Days Xian to Luoyang Highlights Tour with Sidetrip to Shaolin Temple
Xi'an applies to the 72 Hour TWOV (Transit Without Visa). Travellers of 53 specified countries who make transits in Xi'an Xi'anyang International Airport and hold valid passport and connecting flight tickets to a third country or region can stay in Xi'an area up to 3 days without a Chinese visa, for examples: Singapore > Xi'an > Hong Kong; London > Xi'an > Macau. There is 72-Hour Visa-free Counters set up in Xi'an Xi'anyang International Airport with English signs. Please note the Lintong District where the Terracotta Warrior locates in applies to the 72 Hour TWOV but Mount Hua doesn't because it is not an administrative part of Xi'an.
Since Xi'an has not many international flights, and the city is usually a middle stop of a China tour, we advise you to apply for a China Tourist Visa (L Visa) before coming to China so that you can travel in a more secure and flexible way. You can apply for Chinese visa at Chinese Embassy and consulates in your country. Except special circumstance, applicants can get a Chinese Visa after 1 ~ 4 working days, even on the same day of your submission.
Keep Reading:
- 72 Hour Visa Free Transit
- Chinese Visa Free Countries
- Chinese Visa Application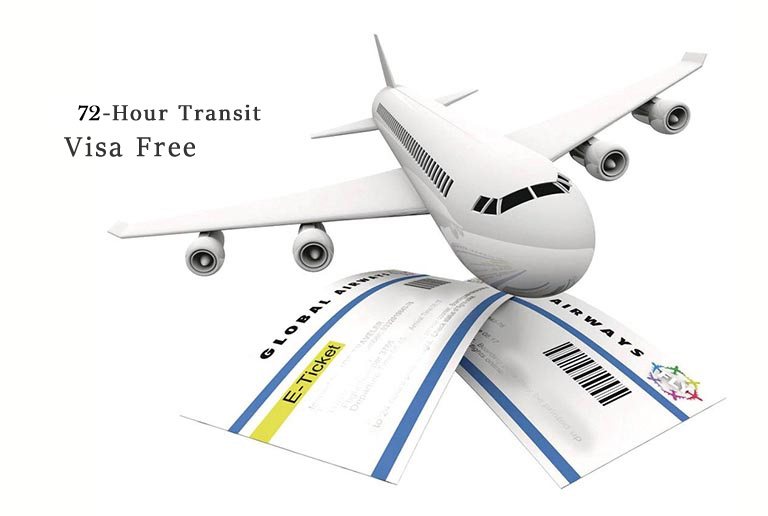 Xian Applies to 72-Hour TWOV (Transit Without Visa)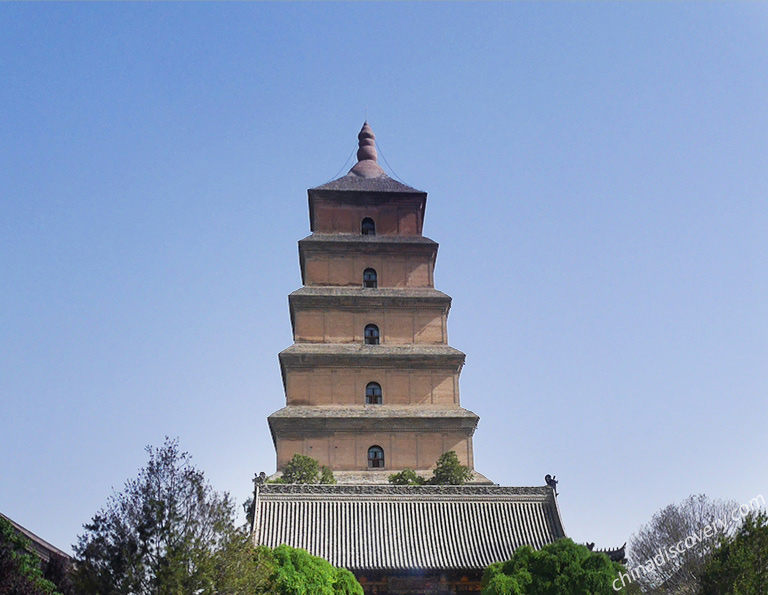 Giant Wild Goose Pagoda in June
Xi'an has a warm temperate semi-humid continental monsoon climate with distinct four seasons. The summer is hot and rainy, the winter is cold and less rainy and snowy, the spring is warm and misty, and the autumn is cool and comfortable. The average annual temperature of Xi'an is around 13°C / 55°F. The annual maximum temperature is 35 / 95°F in July; the minimum temperature is -10 °C / 14°F in January. Daily temperature differs much between daytime and night. Precipitation varies greatly from year to year. About 78% of the rainfall is concentrated in May-October, and the rainfall from July to September accounts for 47% of the annual rainfall, and there are occasional heavy rains. The annual average relative humidity is about 70%. The annual average wind speed is 1.8 m/s, and the prevailing wind direction is the northeast wind.
Generally speaking, you can go to visit Xi'an all year around, while the best two periods of time to visit is March to June and mid-September to early November. During this period, the weather there is neither too hot or too cold, and the number of tourists is relatively smaller than the summer time's.
Keep Reading: - Xian Weather & Seasons
Located in the central area of China, Xi'an can be arrived from majority of Chinese cities by train, flight and highways easily. Currently three is an international airport, 3 railway stations, 4 subway lines and hundreds bus stations in Xi'an.
Get to Xi'an by Flight
- Currently you can take nonstop, stopover, or connecting flights to Xi'an from more than 50 countries and regions, such as Hong Kong, Macau, Taipei, Los Angeles, London, Paris, Sydney, Kuala, Bangkok, etc. Xi'an is also connected wide by domestic flights from majority of big cities in China, such as Beijing, Xi'an, Chengdu, Guangzhou, Shanghai, etc. - More details
Get to Xi'an by Train
- Most of major cities in China, such as Beijing, Shanghai, Chengdu, Chongqing, Hangzhou, Guangzhou, etc., have high speed bullet trains or normal fast trains to Xi'an. There are nearly 50 high speed bullet trains running between Beijing and Xi'an each day. It is also very popular to take high speed train to Xi'an from Chengdu. Besides the normal high speed trains, Shanghai also has an overnight bullet train to Xi'an. Among the three railway stations in Xi'an, Xi'an North Railway Station serves for high speed trains while Xi'an Railway Station serves for normal trains. Xi'an South Railway Station is barely used by travellers. - More details
Get Around Xi'an by Highway
- Xi'an has a widely connecting highway system. You can take bus or use private cars of travel agencies to get to most of the tourist destinations in Shaanxi Province, and most of the highways are under good road conditions. Traffic jams are usual on the roads in Xi'an and the roads to Terracotta Warriors and Mount Huashan.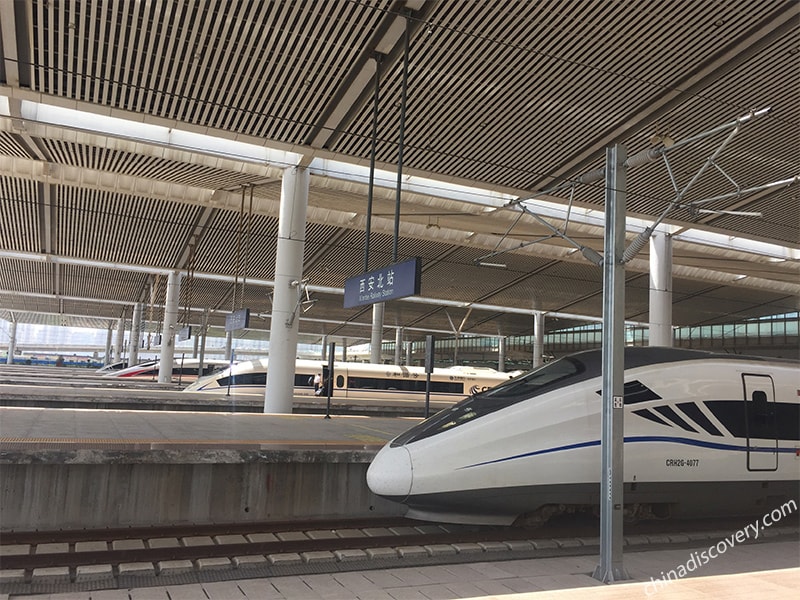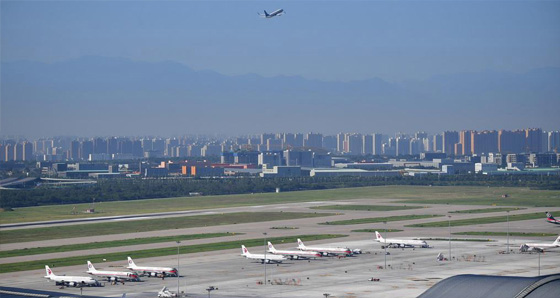 Xian North Railway Station (Up) / Xian Xianyang International Airport (Down)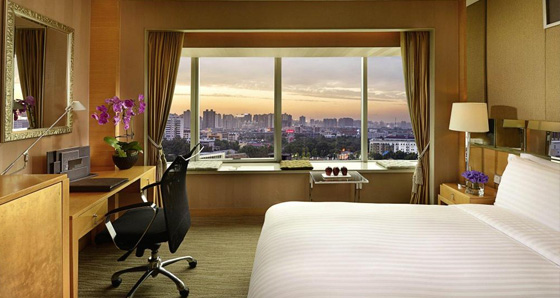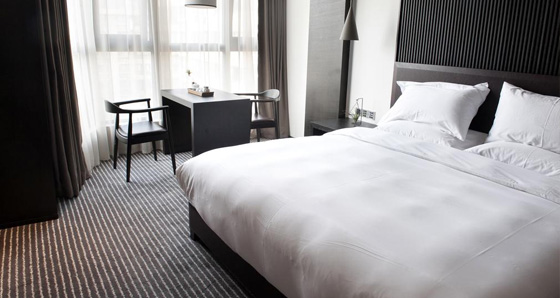 Sofitel on Renmin Square Xi'an (Up) / ET House (Xi'an Bell Drum Towers) (Down)
It's easy to find a hotel or guest house to stay in Xi'an, from economy hotel, youth hotels to luxurious international brands, but it's very important to find hotels with good great locations, which will help you save a lot of time to find taxi, subway, food, supermarkets, etc. Below are top areas to stay in Xi'an:
Bell & Drum Towers Area - strongly recommended for first-timers, easy access to Ancient City Wall, Muslim Quarter, Bell Tower, Drum Tower and popular restaurants. Hotel rates are higher than other areas, but you have a lot of choices of different standards.
Xincheng District - not very far from the city center as well as Xi'an's main attractions, recommended for families as there are shopping center and parks to enjoy a stroll.
Yanta Distict – Yanta District is on the south of the city center, also near main attractions, including Giant Wild Goose Pagoda, History Museum, etc. It has many hotels of budget class.
Sofitel on Renmin Square Xi'an (No.319 Dongxin Street, Xi'an)
ET House (Xi'an Bell Drum Towers) (Crossing of Dachejia Alley and Fen Alley, Beilin District)
Sheraton Xi'an North City Hotel(No.32 Weiyang Road, Xi'an)
Grand Mercure Xian Renmin Square (No.319 Dongxin Street, Xincheng District, Xi'an)
Grand Dynasty Culture Hotel (No.172 Lianhu Road, Xi'an)
Ramada Bell Tower Hotel Xi'an (No.79 North Street, Xi'an)
Xi'an is an essential part of Chinese food culture. Influenced by Silk Road and Muslim culture, the food and cuisines of Xi'an are quite different from Sichuan Cuisines, Cantonese Cuisine, etc. Cooked wheaten snacks and mutton dishes are very popular here, including Flatbread in Mutton Soup, Meat Burger, Cold Noodles, Pepper Beef Ball Soup, Biangbiang Noodles, etc.
Where to eat the most authentic Xi'an food? Among various food streets in Xi'an, the Muslim Quarter and Yongxingfang Area are the two most popular ones, especially at night. Muslim Quarter as various local food and snacks of halal style, while Yongxingfang also offers cuisines of traditional Chinese dishes. Besides, there are some popular food streets and their locations for your reference.
Beiyuanmen Night Market 北院门夜市
Location: Bell-Drum Tower Square, Lianhu District, Xi'an 西安市莲湖区钟鼓楼广场
Eastern Street Night Market 东新街夜市
Location: Eastern Street in the middle of Jiefang Road, Xi'an City. 西安市新城区解放路中段
Nanshaomen Night Market 南稍门夜市
Location: Outside the South Gate in Yanta District. 西安市雁塔区南门外南稍门
Boshulin Night Market 柏树林夜市
Location: Near Forest of Steles Museum, Duanlvmen, Xi'an City 西安市新城区端履门内,碑林博物馆旁
Keep Reading:
- Popular Xian Food, Snacks & Cuisines
- Top 10 Best Xian Restaurants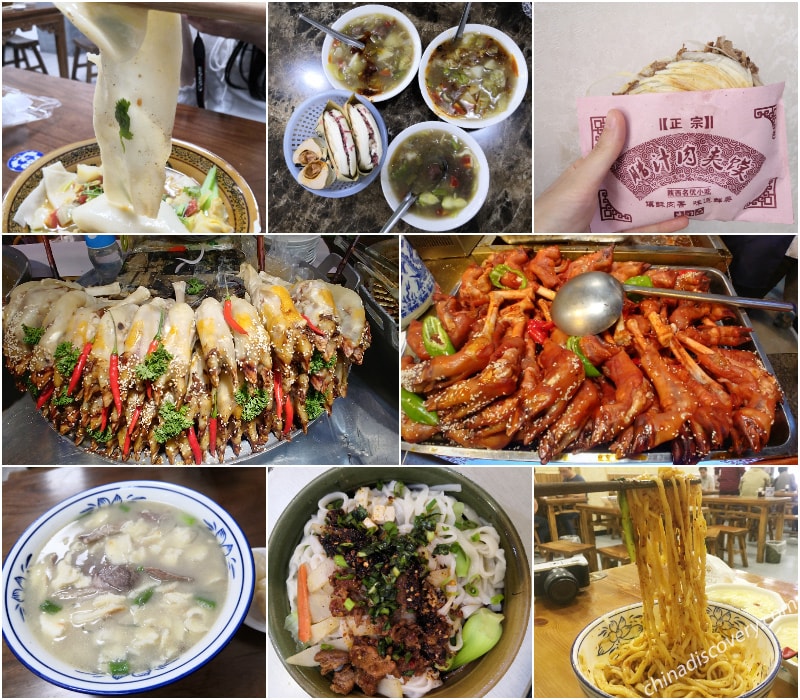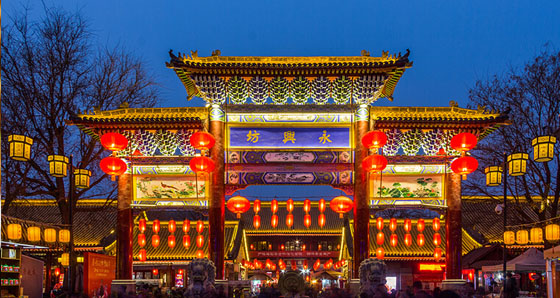 Cold Noodle (Up) / Muslim Quarter (Down)