China in November: Weather, Top Places to Visit & Highlights
China's climate ranges from tropical to subarctic because of its extremely vast land with board grasslands in the north, mountains in the south, plains in the east, and deserts and high plateaus in the west. It's hard to describe China's climate in a few words because there is a big difference between different palace with different terrain and altitude. However, it's certain that November is a good time to travel many destinations of China. Just check the following weather guide to learn more about the weather and top-recommended places to visit in China in November.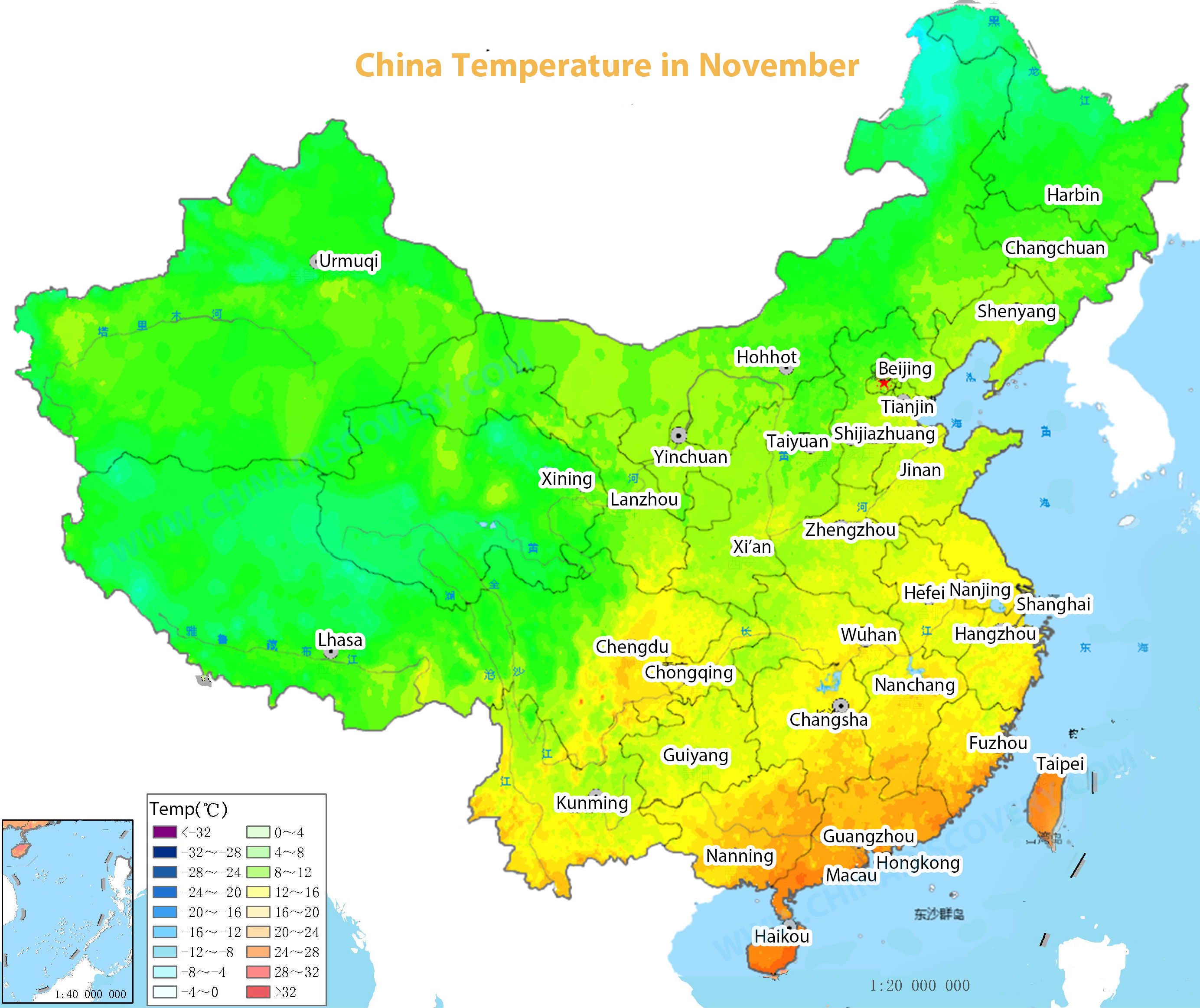 China Temperatures in November (Click to Enlarge)
China Weather in November
As the last month of autumn, it enjoys a mild temperature in early and middle periods, and the temperature always begins to drop in the late period. The average temperature of the whole country is about 4°C. The temperature of some northern cities may be lower than 0°C, but the temperature of some southern cities are higher than 20°C. Here, we have some major provincial cities and popular scenic cities listed according to their locations with detailed weather info offered for your reference.
Area
Cities
(Provinces/Municipalities)
Weather & Climate
Northern China
Beijing, Xian(Shaanxi), Shandong, Luoyang(Henan), Pingyao(Shanxi) and other places
Avg Temperature: -2°C~13°C
This area belongs to temperate and continental monsoon climate with crisp, cool, clear days in November usually. It becomes cold in the late period of this month and the temperature inland cities (like Beijing, Xian, Luoyang…) varies widely from day to night. The highest temperature of Beijing is more than 11°C and the lowest temperature is below 0°C. Rainfall is limited and there are about 5 rainy days in the whole month.
Eastern China
Shanghai, Huangshan(Anhui), Hangzhou(Zhejiang), Suzhou(Jiangsu) and other places
Avg Temperature: 11°C~20°C
This area belongs to subtropical monsoon climate with mid temperature, plenty sunshine, high visibility and some rainfall in November. The average temperature of the cities in the middle and lower reaches of the Yangtze River shares a big similarity. Compared with north areas, it is still warm in southeastern China. There are about 9 days in this month the humidity is around 73%. It gets cool and a little chilly at high altitudes of Yellow Mountain and snow may occur in late November. Sunrise time of Yellow Mountain is about 06:20~06:45 and sunset time is about 17:20~17:00.
Southern China
Guilin(Guangxi), Zhangjiajie(Hunan) and other places
Avg Temperature: 9°C~20°C
Guilin and Zhangjiajie also belong to subtropical monsoon climate with four distinct seasons. It is windy, humid and partly cloudy in November. The weather is mild and gradually getting cold day by day. The lowest weather is always more or less than 10°C, making it a very nice time to enjoy the beautiful scenery in a comfortable weather.
Southwestern China
Chengdu (Sichuan), Yunnan, Guizhou, Chongqing< and other places
Avg Temperature: 7°C~21°C
Sichuan, Yunnan and Guizhou provinces belong to the subtropical monsoon climate zone, while the higher altitude areas belong to the alpine plateau climate zone. It is generally pleasantly cool, cloudy, comfortable. Most cities eastern Sichuan have an average temperature of about 12°C and it quite colder in western Sichuan. Guizhou and Central Yunnan (Kunming and Dali) has a warm and comfortable weather. It is much colder in Yuanyang and Shangri-La.
Northwestern China
Gansu, Xinjiang, Ningxia and other places
Avg Temperature: -13°C~11°C
Sunny, Cold, Dry: This region has a wild climate ranging from subtropical humid monsoon climate to alpine cold climate and dry climate. It is always sunny, cold and dry in November. Usually, it is much colder in the early morning and night. There are very little rainfall in these places. Remember to bring moisturizer to protect your skin from the dry air.
Southern Coastal China
Hong Kong, Guangzhou (Guangdong), Shenzhen, Macau, Hainan, Xiamen and other places
Avg Temperature: Most of the region belongs to the subtropical monsoon climate zone, partially belonging to the tropical monsoon climate zone. It is still warm in November and you can travel to these destinations comfortably. There are plenty sunny days and quite a few rainy days. The average humidity is more than 60% and the air is quite fresh.
Northeastern China
Harbin (Heilongjiang), Jilin, Shenyang (Liaoning) and other places
Avg Temperature: -9°C~6°C
Cold, Windy, Dry: Most of northeastern China belongs to the temperate monsoon climate zone. The temperature decreases rapidly. It is freezing and precipitation usually occurs not very often. If you want to enjoy ice and snow scenery in November, don't hesitate to visit northeastern China but keeping warm is the most important thing.
Qinghai-Tibet Plateau
Qinghai, Tibet
Avg Temperature: -3°C ~18°C
Variable, Cold, Sunny, Windy, Dry: Most areas of Qinghai and Tibet are located on the Qinghai-Tibet Plateau, belonging to the plateau mountain climate zone. It becomes cold with possible snow especially at night. Lhasa is still suitable to visit but some places like Mount Kailash and Namtso Lake are not recommended because of the dangerous road condition. Traveling Tibet, it is necessary to bring sun cream, hat and sunglasses to protect your skin from the strong ultraviolet ray.
Inner-Mongolia
Inner Mongolia
Avg Temperature: -3°C~4°C
Inner Mongolia enjoys a monsoon climate with regional variations. The temperature difference between day and night is large in desert areas and small in grassland area. It is much colder in grassland area it is available to see ice and snow views. The weather is milder in the middle and western part.
What to Wear in China in November
Because of the different weather conditions, you need to pack differently according to the places you want to visit. Generally, long shirts and pants are enough if you plan to visit warmer cities, like Guangzhou, Xiamen, Kunming, etc. Light sweaters and windbreakers are needed if you want visit some places with cities with mild temperature, like Chengdu, Chongqing, Huangshan, etc. Thick sweater and down coat are needed for a tour to Beijing, Xian, Luoyang, etc. If you want to visit some cold cities like Harbin, you have to prepare down jacket and snow boots and wool sweaters.
8 Best Places to Visit in November in China
How to Plan a China Autumn Tour
Choose A Destination According to Your Interest: It is comfortable to travel to most destinations in China in autumn, so you just need to choose a destination according to your interest. If you want to explore more about China's history and culture, Beijing, Xian, Shanxi, Shandong and Gansu are all recommended. If you want to view or photograph the best autumn colors, we suggest you go to Jiuzhai Valley, Kanas, Western Sichuan, Wuyuan, Dongchuan Red Earth and some other forests or mountains or grasslands with colorful autumn views. If you want to stretch your legs and enjoy natural landscape at the same time, Yellow Mountain, Zhangjiajie, Mount Emei and some other mountains are perfect. If you want a relaxing journey with some autumn landscape, we advise you take a Yangtze River Cruise and visit some beautiful cities like Hangzhou, Nanjing, Xiamen, Chengdu, etc.
Try to Avoid Traveling in China's Golden Week: China's Golden Week usually starts from the first day to the seventh or eighth day in October. It is the longest national holiday in China and most tourist destinations will be crowded with domestic travelers. If you have to travel in these days, we suggest you visit some remoter areas in Yunnan, Western Sichuan, Guizhou, Tibet, etc. and avoid Beijing, Xian, Shanghai, Guilin, Jiuzhai Valley, etc.
Pack and Dress According to the Climate in Destinations: Generally, the weather of autumn is mild and comfortable, warmer in September and cooler in November. Because of the vast land, there is a large temperature difference between two cities in northern China and southern China. If you go to Kanas in September, you need to prepare sweaters and down coat. If you go to Haikou in November, T-shirt is enough.
Top Recommended China Autumn Tours:
☞ 6 Days Classic Beijing Xian High-speed Train Tour
☞ 5 Days Yellow Mountain Autumn Landscape Tour with Shaiqiu Experience
☞ 6 Days Western Sichuan Autumn Sightseeing Tour
☞ 9 Days Kanas Lake Fairyland Tour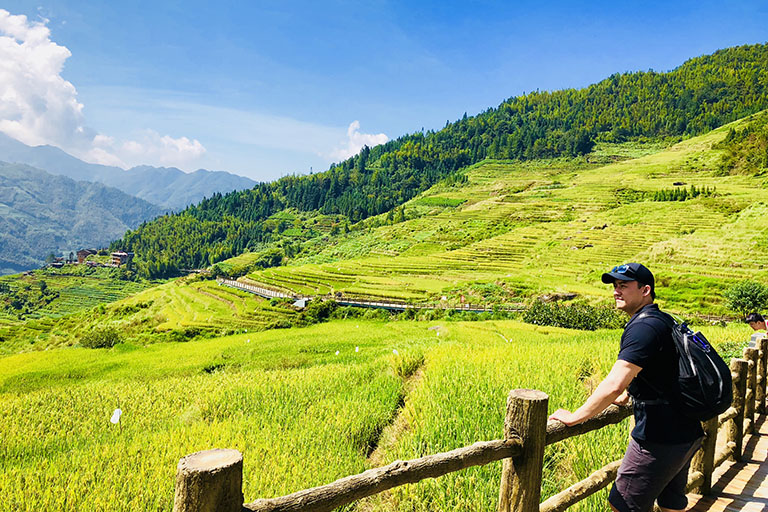 Our Customers Traveled Longji, Guilin in September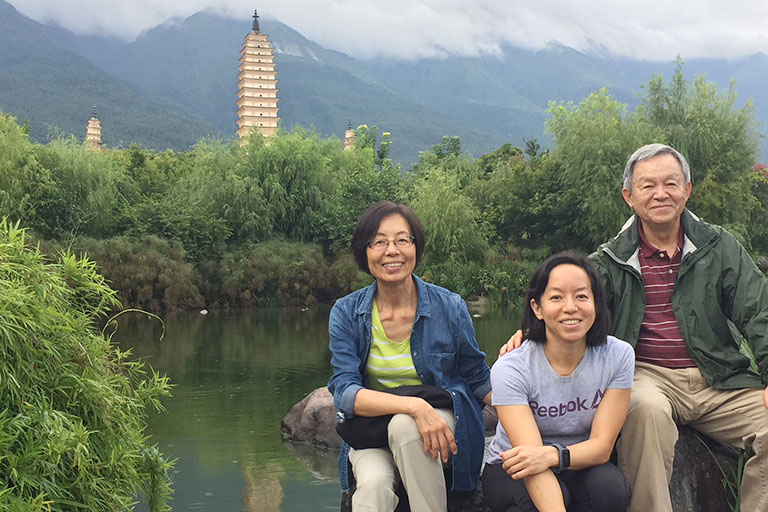 Our Customers Enjoyed a Family Holiday in Dali in September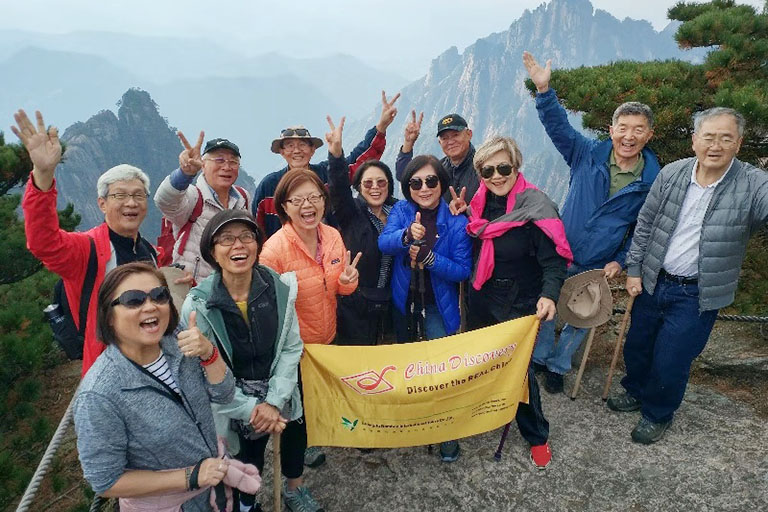 Our Customers Visited Yellow Mountain in October
Travel China in November with China Discovery
Want to enjoy a worry-free china tour in November? Just travel with China Discovery! China Discovery is a leading travel agency offering private China tour packages with great flexibility, comfort and personalized services for decades. We have got 1,460+ good reviews on TripAdvisor.com, and 4,050+ China travel reviews from the customers. Before your travel, our experienced travel expert communicate with you one-to-one and organize everything (accommodation, transfer, itinerary…) well. In your trip, our local travel guide will accompany you all the way and introduce the highlights of every place to you. Private transfer service allows you to enjoy a comfortable and safety trip. All the experience can be tailor-made according to your group size, travel time, physical condition, personal interest, travel budget and other needs. Please feel free to contact us if you need any help!
Keep Reading about China Autumn Travel
Learn More about China Seasonal Travel
China Monthly Weather
Recommended Tours
Top 3 tours chosen by most customers to explore in the best way. Check the detailed itinerary, or tailor your own trip now with us.
5 Days Xiamen, Fujian Tulou & Mount Wuyi Discovery Tour

Xiamen / Nanjing Tulou / Yongding Tulou / Xiamen / Wuyishan
6 Days Western Sichuan Autumn Sightseeing Tour

Chengdu / Wolong / Mount Siguniang / Danba / Tagong / Xinduqiao / Kangding / Chengdu
5 Days Yellow Mountain Autumn Landscape Tour with Shaiqiu Experience

Yellow Mountain - Hongcun - Jiusha - Yangchan - Huangshan
Start planning your tailor-made holiday to China by contacting one of our specialists. Once inquired, you'll get a response within 0.5~23.5 hours.
Customize a Trip
Have a question? Get answers from our travel experts or guests
Your Question:

Your Name:

Your Email: