China Weather in December: Temperature & Places to Visit
December marks the end of a year and also the start of China's winter. Because it is such a vast country, the weather and temperature in December in China vary quite a bit depending on geography. Broadly speaking, those cities located on the south part of China are much warmer than the northern ones. For example, Beijing in the north has temperatures reaching the -2°C / 28°F at this time of year whereas somewhere like Guangzhou in the south has warmer weather ranging in the 15°C / 59°F.
China Temperatures in February
China December Weather of Some Major Tourist Cities for your reference:
Area
Cities
Average High
Average Low
North China
Beijing
4°C / 39°F
-6°C / 21°F
Northwest China
Xian
6°C / 43°F
-3°C / 27°F
East China
Shanghai
11°C / 52°F
2°C / 36°F
Huangshan
4°C / 39 °F
-3°C / 27°F
Xiamen
19°C/ 66 °F
12°C/ 53 °F
South China
Hong Kong
20°C / 68°F
15°C / 59°F
Guilin
15°C / 59°F
7°C / 45°F
Northeast China
Harbin
-9°C / 16°F
-20°C / -4°F
Southwest China
Chengdu
11°C / 52°F
5°C / 41°F
Lijiang
14°C / 54°F
0°C / 32°F
Central China
Zhangjiajie
12°C / 54°F
4°C / 39°F
North China Weather in December
Cities: Beijing, Tianjin, Taiyuan, Hohhot, etc.
North China cities like Beijing are cold and dry in December, with snow on the ground in most of the places. However, the weather never as that chilly as the Northeast China cities like Harbin. Temperature in North China in December mostly tends to range from the high 5°C to the low -12°C. But those Inner Mongolia cities like Hohhot may be a little bit colder.
What to Wear in Beijing in December
Northeast China Weather in December
Cities: Harbin, Jilin, Shenyang, Changchun, etc.
Northeast China is by far somewhat the coldest area of the country. The December weather of this region is chilly, with temperatures mostly dropping lower than 0°C. The Northeast China also tends to see more snow in December than the rest regions of China.
What to Wear in Harbin in December
Northwest China Weather in December
Cities: Xian, Lanzhou, Jiayuguan, Xining, etc.
Weather in Northwest China cities like Xian and Lanzhou is similar to those North China Cities like Beijing, with temperatures just a bit higher. The weather is cold and dry in this month. It snows occasionally and slightly.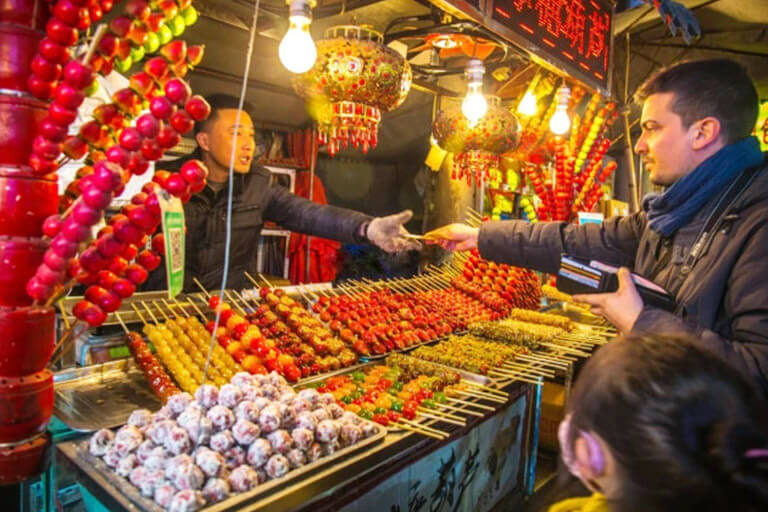 What to Wear in Xian in December
South China Weather in December
Cities: Guangzhou, Shenzhen, Guilin, Yangshuo, Sanya, Hong Kong, Macau, etc.
South China region is normally one of the most pleasant and warm places in China in December. The further south you move, generally speaking, the warmer experience you will get and the rarer it'll to find snow! The average temperature in Guangzhou in December is about 15°C / 59°F, and in Guilin is about 11°C / 51°F.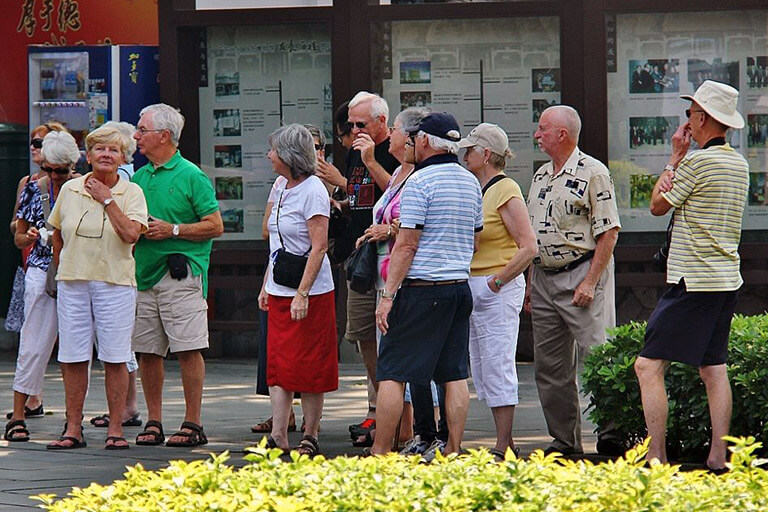 What to Wear in Guangzhou in December
Central China Weather in December
Cities: Zhangjiajie, Luoyang, Yichang, Changsha, etc.
Central China in December is freezing, cold, humid and often icy. Though the temperature in December of this region is higher than those North China cities like Beijing, you may feel colder there sometimes because of the humidity. There are occasional snows in the mountainous areas of this region in December.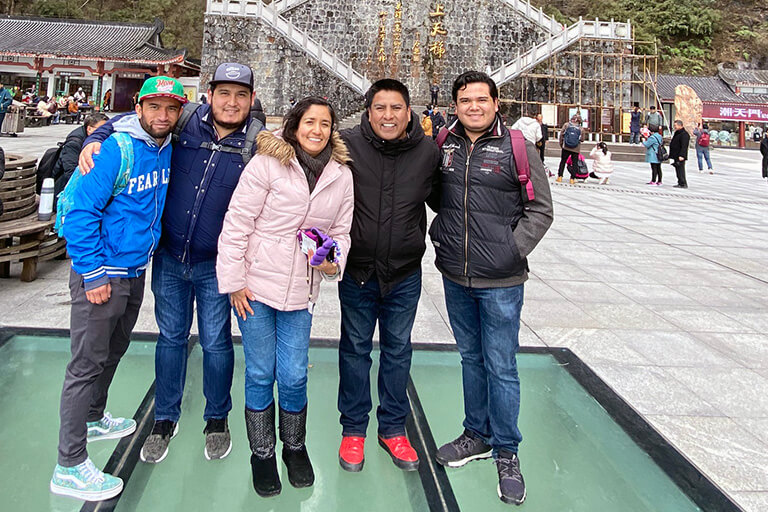 What to Wear in Zhangjiajie in December
Southwest China Weather in December
Cities: Chengdu, Chongqing, Guiyang, Dali, Lijing, Kunming, Xishuangbanna, Lhasa, etc.
Southwest China is a large region with diverse weather features. Most of its cities like Chongqing and Chengdu are a little bit cold and foggy in December, while those cities like Kunming, Dali and Lijiang are much warmer. You can even have a taste of summer at Xishuangbanna, the most southwest city in China. Snow is rare there except in those high-altitude mountains like Mount Emei and Jade Dragon Snow Mountain. And even if there is unexpected snow in the downtown area, it usually melts soon after hiting the ground. Temperature in China's southwest part differs in certain areas of the region, with an average high for 11°C / 52°F and low for 4°C / 39°F in the city areas.
What to Wear in Mount Emei in December
East China Weather in December
Cities: Shanghai, Nanjing, Hangzhou, Huangshan, Xiamen, etc.
Est China cities settled close to the East China Sea are windy, humid and cold in December in China. In Xiamen of Fujian Province, the temperature in December usually varies from 12 °C/ 53 °F to 19 °C/ 66 °F. And in Shanghai, the temperature change is between 2°C / 36°F and 11°C / 52°F.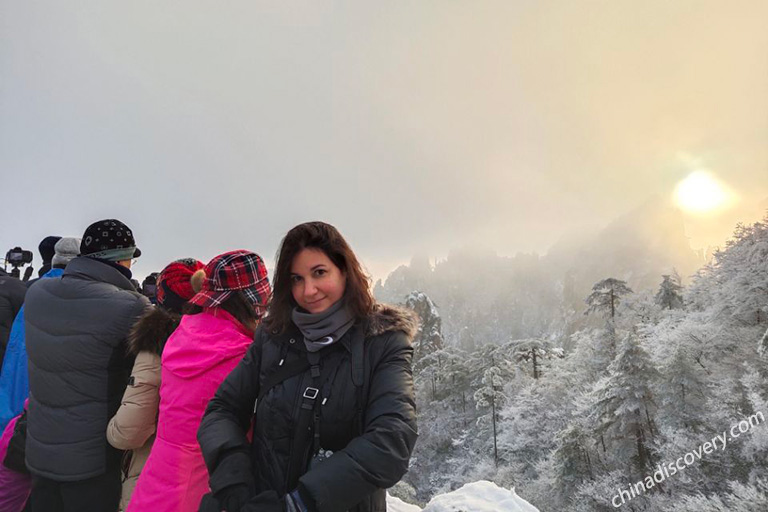 What to Wear in Huangshan in December
What to Wear in China in December
Since China has a range of weather conditions around its cities, the clothing that your are suggested to wear also differs according to the places you are in China. Usually, long shirts, pants and a jacket or a coat are recommended if you are going to visit these South China cities like Guangzhou and Hong Kong or the warm destinations in Southwest China like Lijiang and Kunming. Sweater, down jacket or down coat, winter pants, hat, scarf and gloves are suggested for those planning to visit cities in North and Northwest China, like Beijing and Xian. And if you are heading to enjoy the snow and ice fun in Northeast China with Harbin included, you are advised to wear all the warm gears, like snow boots, padded trousers and jacket, wool sweater and so on.
5 Best Places to Visit in December in China
The diverse China has a lot to offer in December. While some of its northeastern cities like Harbin start their annual great events to have fun with snow and ice, other south cities like Lijiang are still bathing in the warm sun, giving you various options to choose. Besides, those classic China travel destinations like Beijing, Xian and Shanghai are less touristy in December and provide big discounts on the price of accommodation, attraction and so on, which may be really good news for budget travelers! How can you miss these great chances?
Check 5 Best Places to Visit in December in China here, including Beijing, Yellow Mountain, Yunnan, Harbin and Sichuan!
No.1: Beijing - Meet with Amazing Snowy & Less Crowded Great Wall, Forbidden City…
Visiting Beijing in December is one of the greatest options as you can enjoy the happy atmosphere of Christmas and New Year only this time of the year! The biggest discounts on accommodation and attractions sites also come, and thus you will get a more luxurious experience in the same price.
When it comes to Beijing, the Great Wall and Forbidden City are somewhat the must-visits. So it is in December. Never worry much on the snow. In December, the weather is seldom so bad to spoil your plans. Those crystal flying snowflakes will instead add more spectacular views. The striking contrast of white snow and red walls of Forbidden City will create many wonderful photos. And the Great Wall covered with a layer of thin snow is also amazing, which will give you a stronger feeling of its ancient charm. Skiing fans? All the major ski resorts in Beijing also open in early December.
Even if you still feel trouble about the outside cold, this ancient capital with over 170 museums offers many inside wonders. National Museum of China, Beijing Capital Museum, and Beijing Opera Museum are also all fantastic places for you to explore deeper about China.
Beijing Weather & Clothing in December: The average temperature in December in Beijing is approximately -2°C / 28°F, 4°C / 39°F during daytime and -6°C / 21°F at night. It is cold outside, so you are suggested to wear thick sweater, long pants, wool coat, down jacket and winter coat. The heating is provided at all the rooms, so you are suggested to wear layers and thus you can take your coat off inside the warm rooms. Beijing Weather in December >>
Recommended Beijing Tours in December:
>> 4 Days Classic Beijing Tour Package
>> 3 Days Beijing Essential Short Stay Tour (Transit Visa Free)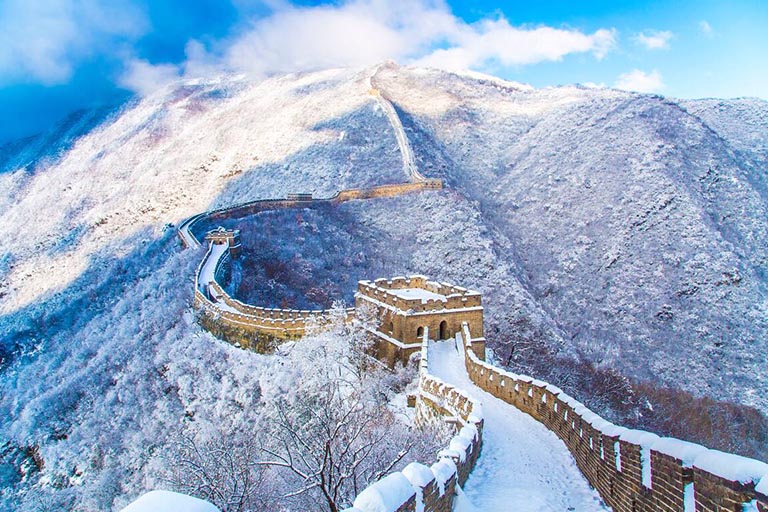 Beijing Mutianyu Great Wall in December
Beijing Forbidden City in December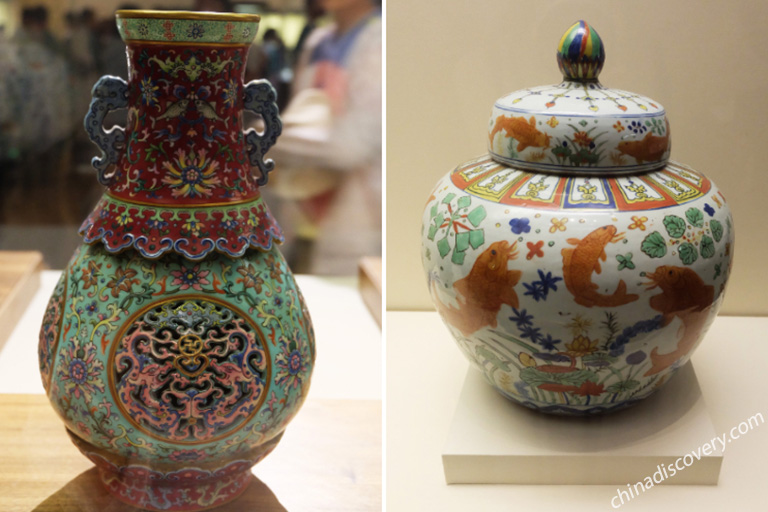 Exhibits in National Museum of China
No.2: Huangshan - Spectacular Natural Beauty beyond Your Imagination
Huangshan, or known as Yellow Mountain, starts its snow season from every November. And in December, it is usually already all covered with snow, which implies beautiful snowy landscapes are ready and it's time to do a winter hiking there!
There is never too thick or too thin snow in December in Huangshan, so you will never feel it is too hard to hike up or too boring. There are crystal-like rimes hanging on the leaves and mysterious mists floating in the air. All the mountain tops are dressed in bright white color, while their sharp cliffs are still yellow. And there are many chances to capture the magnificent Sea of Clouds. If lucky, you can even appreciate the "Buddhist Light", which can frequently be seen on after a snowfall!
Huangshan Weather & Clothing in December: Huangshan in December enjoys an average highest temperature of 3℃ and a lowest of -3℃. It is colder with altitude rises. You are suggested to wear down coat, warm pants, hats, gloves, scarves and antiskid shoes.
Recommended Huangshan Tour in December:
>> 4 Days Huangshan Hongcun Winter Vacation with Hot Spring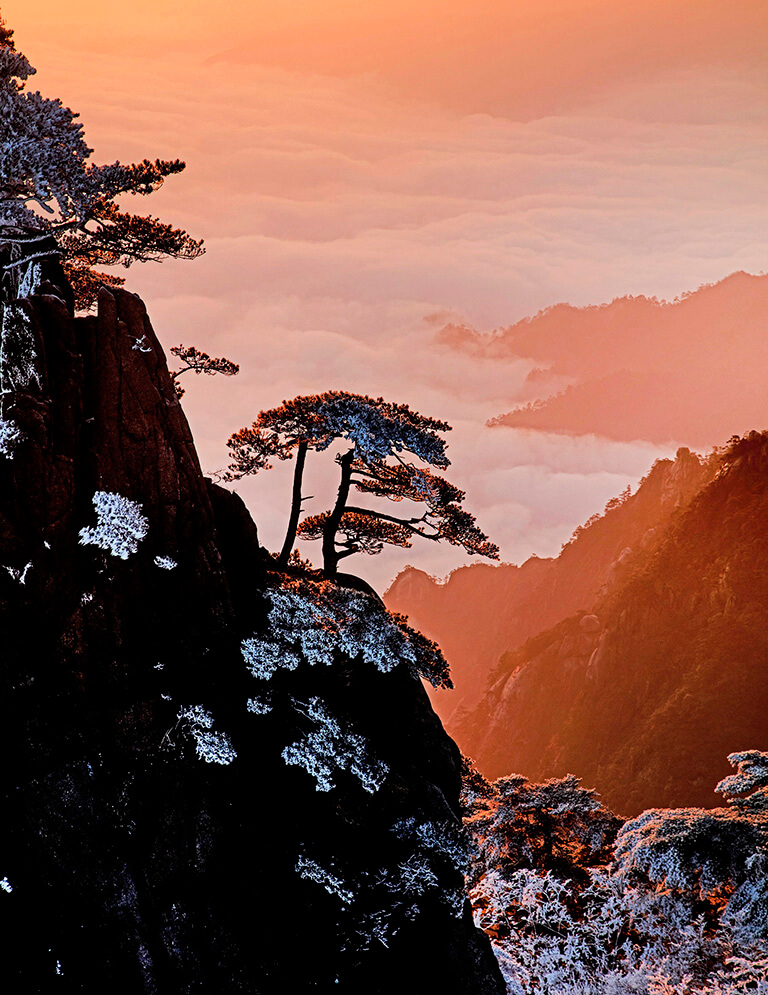 Poetic Sunrise in Shixin Peak in December
No.3: Yunnan - Best Place to Escape the Winter Cold with Diverse Ethnic Culture to Explore
Different with cold north cities of China like Harbin, Jilin and Beijing, most parts of Yunnan Province like Kunming, Dali and Lijiang in December is still warm and pleasant. And you can even get a summer feel in its most southwest city - Xishuangbanna! Due to its pleasant weather and climate, plenty of visitors prefer to visit it to escape the freezing winter, making it one of the most popular winter travel destinations in China!
Besides the weather, Yunnan Province also famed for its different kinds of natural beauty and diverse ethnic culture. Highlights spread this province, like ancient cities, stone forests, terraced fields, snow mountains, gorges, monasteries and pagodas and so on! And the most recommended Yunnan highlight you should never miss in December must be Yuanyang Rice Terraces! In December, every single field of Yuanyang Rice Terrace will be full of water, creating amazing mirror-like fields! Beautiful blue sky, floating mist and clouds, and moving sun are all collected on the surface of the water. During the sunset and sunrise hours, there will also be colorful fields due to the work of refraction. Besides that, the local ethnic groups dressed in their ethnic clothes will farm their fields with their buffaloes. What a beautiful and peaceful world! It comes no surprises that there are countless terraced field scenic areas in China but only Yuanyang Rice Terraces has been listed as a sacred UNESCO World Heritage Site.
Yunnan Weather & Clothing in December: Yunnan is a large province with many tourist cities to explore. In the downtown area of those cities like Kunming, Lijiang and Dali, the weather is normally relatively pleasant and warm, with an average temperature of over 8°C in the day. Thick sweater and long pants are recommended in this month. And since it may be a little bit colder in the mountainous areas like Yuanyang, especially at night, you are also always suggested to bring an overcoat or jacket with you.
Recommended Yunnan Tour in December:
>> 4 Days Yuanyang Rice Terrace Awesome Photography Tour
>> 5 Days Kunming, Jianshui & Yuanyang Rice Terraces Tour
Bada Rice Terraces of Yuanyang in December
Duoyishi Rice Terraces of Yuanyang in December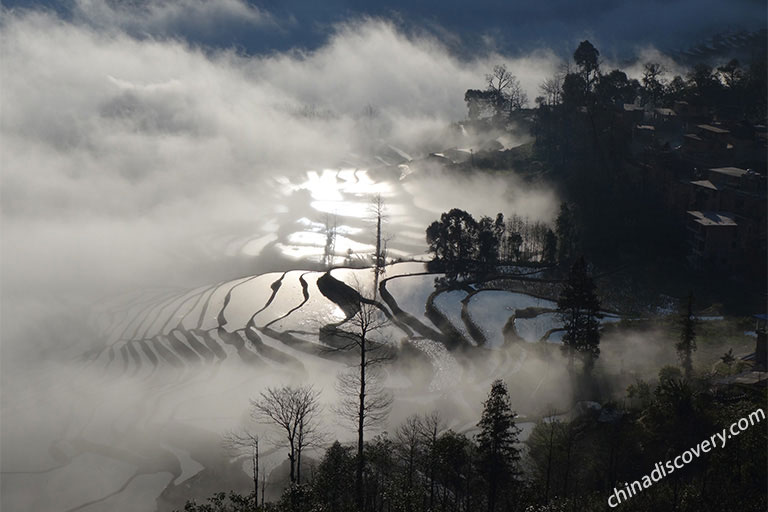 Duoyishi Rice Terraces Sunrise in December
No.4: Harbin - Annual Grand Ice & Snow Festival Comes
Harbin is one of the coldest places in China, and somewhat the most spectacular snow and ice scenery can be captured in this northeast land during winter from December to February. It's most famous Ice & Snow Festival also kicks off in December. If you happen to visit Harbin in the first half of this month, you will see huge ice chunks being cut off from the surface of Songhua River and then be transferred to Harbin Snow and Ice World to build ice sculptures. And in the second half of December, almost all the ice works will be ready and the official Opening Ceremony will soon come, which often happens on January 5th every year. The Harbin Ice and Snow Festival is one of the grandest festivals in China and even the world. It welcomes visitors from all over the globe to marvel at world-class superb ice and also snow sculptures and lantern shows. Ancient castles, adorable animals, notable landmarks and so on can all be found there during the festival days. All of them are made in ice blocks and snow and decorated with colorful illuminated lights, creating an appealing fairy-tale ice and snow kingdom that everyone should pay a visit in close at least once of lifetime.
In addition to the must-experience Ice and Snow Festival, Harbin also hosts many great snow slopes for skiing and snowboarding. In December in Harbin, there will always be enough snow for you to enjoy these cheerful snow activities. And no matter you are a beginner, intermediate or advanced skier, there is always a ski resort that allows you to have a blast there. Amongst all the Harbin ski resorts, Yabuli Ski Resort is the largest and best one, which even hosted the Asian Olympic Games in 1996. If you have ever dreamed of waking up in a snowy village like a hero of the cartoon, your dream can be perfectly realized at China Snow Town in Harbin. This small town will not only introduce you what a real cartoon winter world be, but also gives you a special glimpse of China's village life in its northeast part!
December surprises never end in Harbin. It is really a paradise for everyone who is fond of snow and ice!
Harbin Ice and Snow World in Late December
Harbin Sun Island in Late December
Harbin Yabuli Ski Resort in Late December
No.5: Sichuan - Food and Snow Paradise in December and Never Forget Adorable Pandas
There are so many reasons why you should visit Sichuan in December. Firstly, the largest amount of lovely pandas is always there. Secondly, it is somewhat the most budget month to savor all the treasures you are long for. In addition, some of China's best snow landscapes are calling!
Only 1 or 2 days are available for a vacation? Never mind! Already enough to have a close visit of adorable pandas and have a taste of spicy Hot Pot in Chengdu, the capital of Sichuan Province! Isn't it a good idea? In addition to the highlights in Chengdu, Sichuan in December also welcomes tourists with abundant other attractions, like Mount Emei, Jiuzhaigou Valley, Xiling Snow Mountain, Hailuogou Glacier Park, etc., each of them will show you a different style of snow beauty. And besides that, Mount Emei, one of the Four Great Buddhist Mountains in China, will introduce you sacred Buddhist Culture.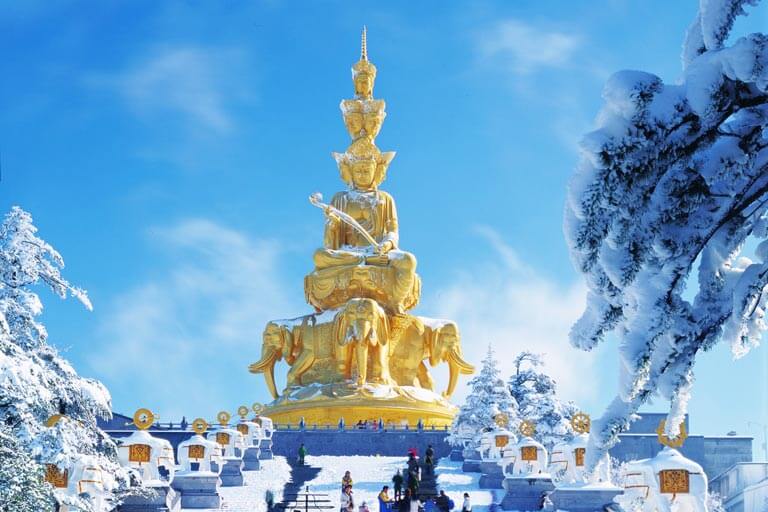 Mount Emei in December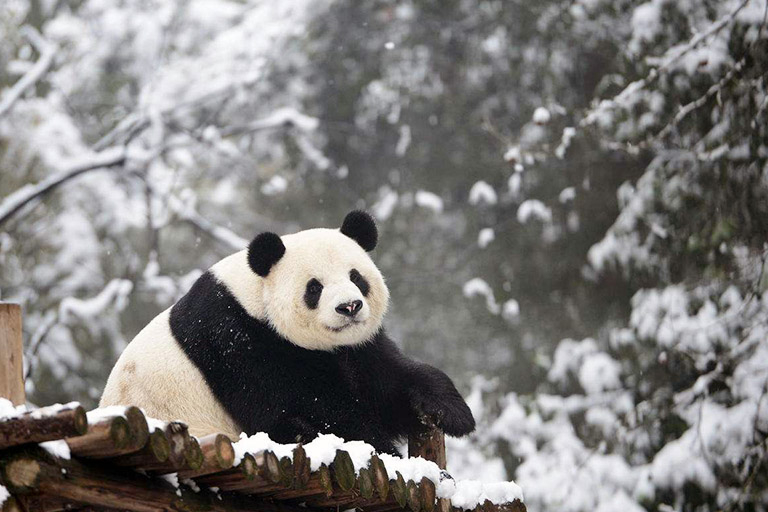 Adorable Panda in December
How to Plan a China December Tour
Before choosing the best places to go in December in China, you are required to ask yourself one question. What are you dreaming for the most in this month, the best snow scenery and festival atmosphere, the best natural beauty in warm or the best budget vacations to explore the classics? Choose your bests and then find the answers here!
If you prefer the best snow scenery and festival atmosphere, Harbin, of course, is your best choice. And about 3~6 days are recommended then. Looking for great snow landscapes in China? Huangshan, Jiuzhaigou, Mount Emei, Hailuogou, Zhangjiajie and Jilin are also good. 10 Best Cold Weather Winter Destinations in China >>
>> 3 Days Harbin Ice Festival Tour
>> 6 Days Beijing & Harbin Stunning Winter Tour
For the visitors looking for somewhere warm to have a taste of summer and spring in winter, you are suggested to visit Yunnan (Kunming, Lijiang, Yuanyang, Dali, etc.), Fujian (Xiamen, etc.), Great Bay Area (Hong Kong, Guangzhou, Shenzhen, etc.), Sanya or Guangxi (Guilin, Yangshuo, etc.). And then you will relax and bathing in the sun of the south. Check more about Top 5 Warm Places to Visit in China >>
>> 5 Days Kunming, Jianshui & Yuanyang Rice Terraces Tour
>> 5 Days Xiamen, Nanjing Tulou & Mount Wuyi Discovery Tour (Xiamen / Nanjing Tulou / Wuyi Mountain)
>> 6 Days Hong Kong Guangzhou Macau Cultural Highlights Tour (Hong Kong / Guangzhou / Macau)
Interested in a budget tour to visit the classic destinations in China? Beijing, Xian, Shanghai, Guilin Chengdu are all fantastic choices! 4~14 days are needed to explore some of or all of them.
Check more about How to Plan a Winter Trip to China >>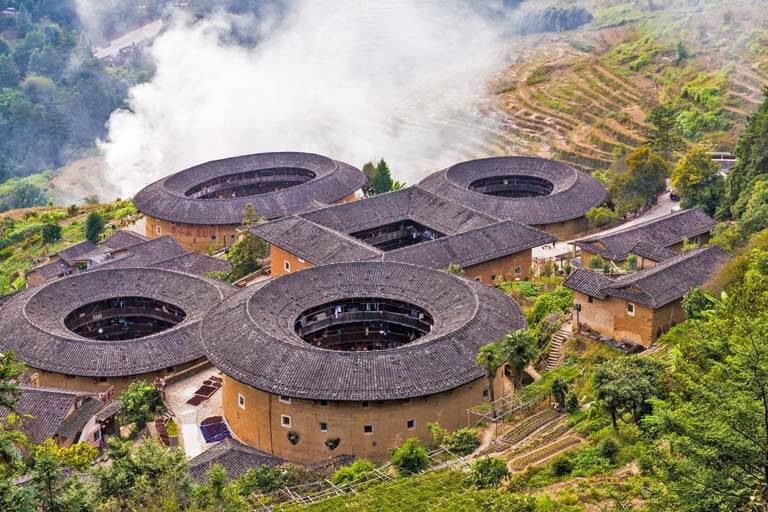 Fujian Tulou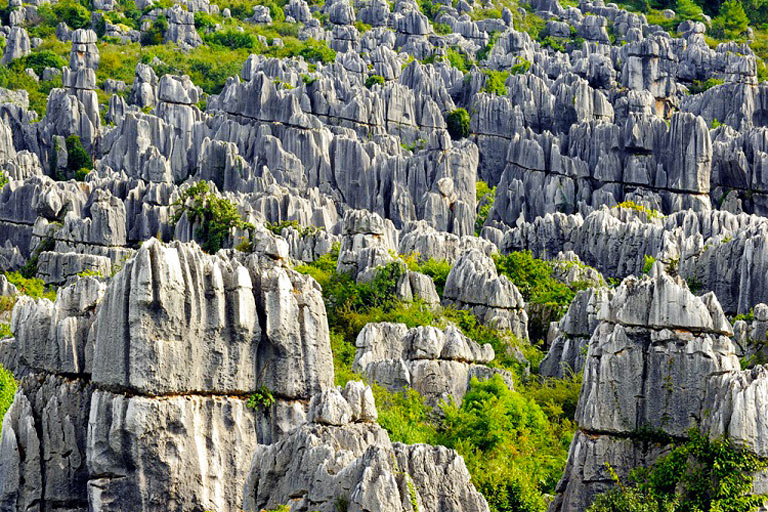 Travel China in December with China Discovery
Feel trouble about your China December Tour planning? Why not travel with us China Discovery and let our professional Travel Consultants help you? And then you will get a worry-free trip and focus all your energy to sock in the highlights during the tour! Our experienced travel expert will help arrange your accommodation and plan your trip sincerely. And our English-speaking tour guide will accompany you all the way, show you the best travelling route, share interesting stories and introduce all highlights to you. Our local experienced drivers will escort you to the attractions with comfortable car directly with speed and safety.
The tour can be tailor-made according to your group size, time, physical condition, plan, interest, budget and every special need. Please feel free to contact us if you need any help!
Learn more about China Weather
More Travel Articles for Winter Travel
Recommended Hong Kong Guilin Tours
Top 3 Hong Kong Guilin tours chosen by most customers to explore Hong Kong Guilin in the best way. Check the detailed itinerary, or tailor your own trip now with us.
3 Days Mount Emei Winter Tour with Skiing and Hot Spring Experience

Chengdu / Leshan Giant Buddha / Chengdu / Mount Emei
4 Days Huangshan Hongcun Winter Vacation with Hot Spring

Tunxi - Huangshan - Hot Spring - Hongcun
Start planning your tailor-made holiday to China by contacting one of our specialists. Once inquired, you'll get a response within 0.5~23.5 hours.
Customize a Trip
Have a question? Get answers from our travel experts or guests
Your Question:

Your Name:

Your Email: