China Weather - China Climate & Seasonal Travel Guide
In general, China weather features a distinct continental monsoon climate, characterized by cold winter and hot summer. However, it's hard to define China weather in a few words because of vast land. It enjoys a rich climate and the weather differs from region to region by different temperature zones according to the diverse landforms. Two different cities may have totally different temperature and climate in the same time, that makes China is a great country to travel all the year around. No matter when you step into the land of China, you can easily find some great places to visit. Traveling to China in different seasons, you will enjoy quite different scenery. It is also important to pack and dress accordingly if you visit different places or in different month. This China Weather Guide including weather today, climatic characteristics, different climate of top tourist cities, four seasons features, top recommended tours by months, etc. to help you enjoy a better China tour!
China Climate Types
The temperature varies a lot in cities in different climate zones. There are five climate types in China, including Tropical Monsoon Climate, Subtropical Monsoon Climate (Shanghai, Guilin, Zhangjiajie, Kunming, Hangzhou…), Temperature Monsoon Climate (Beijing, Xian, Luoyang, Pingyao…), Temperate Continental Climate (Harbin, Inner Mogolia…) and Alpine Cold Climate (Chengdu, Lhasa, Jiuzhaigou, Qinghai...).
Precipitation and Humidity
The precipitation decreases from the southeast to the northwest. Generally, southeastern coastal cities receives about 2,000 mm. The annual rainfall of farther norther areas along Huai River decreases to around 880 mm. The northeastern regions along Yellow River have around 600 mm rainfalls annually. Rainy season starts from June to August usually, so the humidity is higher in summer and lower in winter.
Monsoon and Typhoon
Typhoons generally track in a westward or northern direction and hit China a bit often than other Asian countries. Beginning in May and ending in September, the monsoon in China visit route is from southeast area along the coast, the middle and lower reaches of Yangtze River, and to north and northeast China. Devastating typhoons usually strike in the southern and eastern coastal regions of China, like Fujian, Hainan Guangdong and Zhejiang provinces.
Air Pollution and Smoggy Weather
The air pollutions in recent years make travelers afraid. Because of the government's control of pollutant discharge, the air-condition becomes much better. Smoggy weather always occur between November to next January in some northern cities, like Shijiazhuang, Xianyang, etc. Visiting these cities, you should wear mask. Tourist destinations with less pollutions include Shanghai, Guilin, Hangzhou, Xiamen, Sanya, Lhasa, etc.
China Weather in Different Regions
Having a vast territory, the weather in China has an extreme variety. There are most hot days of year in south coastal cities and most cold days in Qinghai-Tibet Plateau. In southern Yunnan Plateau (like Kunming City), there is spring all the year round. Also, you can see most long winter in the northern Inner Mongolia and long summer in the south of Fujian province. Click the city on the China Weather Map and find the detailed city weather condition.
MAP LEGEND
Capital City

Major Cities

Top Destination

Yangtze Cruise
Area
Cities
(Provinces/Municipalities)
Weather & Climate
Northern China
Beijing, Xian(Shaanxi), Shandong, Luoyang(Henan), Pingyao(Shanxi) and other places
Avg Temperature: -1°C~31°C
The northern region has mainly temperate continental climate and temperate monsoon climate. The temperature in winter is lower than 0°C, and the temperature in summer is higher than 20°C. The temperature changes in four seasons. The coldest month occurs in January, and the hottest month is July. There is little precipitation throughout the year, and the seasonal distribution is uneven, with precipitation concentrated in summer.
Eastern China
Shanghai, Huangshan(Anhui), Hangzhou(Zhejiang), Suzhou(Jiangsu) and other places
Avg Temperature: 5°C~32°C
Most of southeast China belongs to the subtropical monsoon climate zone. The climate is mild and humid throughout the year with abundant rainfall. The seasonal changes in wind are obvious, with alternating cold and summer, and four distinct seasons. Its main climatic characteristics are: rainy spring, sultry summer, cool autumn air, and wet and cold winter. The time from March to May (spring) and the late September to November (autumn) boasts comfortable temperatures and fewer tourists and rain showers, making it the best time to travel.
Southern China
Guilin(Guangxi), Zhangjiajie(Hunan) and other places
Avg Temperature: 7°C~33°C
Both Guilin and Zhangjiajie have a subtropical monsoon climate, with four distinct seasons. Summer in Guilin and Zhangjiajie is hot and sunny and the rainfall is abundant. It is not too cold in winter and you can visit this region for a comfortable winter holiday. Spring and autumn are also the best time for these cities.
Southwestern China
Chengdu (Sichuan), Yunnan, Guizhou and other places
Avg Temperature: -13°C~30°C
Most areas of Sichuan, Yunnan and Guizhou provinces belong to the subtropical monsoon climate zone, while the higher altitude areas belong to the alpine plateau climate zone. Sichuan and Chongqing have distinct seasons. In Guizhou and Yunnan, you can enjoy a comfortable weather all year round.
Northwestern China
Gansu, Xinjiang, Ningxia and other places
Avg Temperature: -16 °C~30°C
The northwestern region is deep inland and far away from the sea. Coupled with the high plateaus and mountainous terrain that block the humid airflow, the area has sparse precipitation and arid climate, forming a landscape of vast deserts and Gobi beaches. Winters are severely cold and dry, summers are hot, and precipitation is scarce, showing a decreasing trend from east to west.
Southern Coastal China
Hong Kong, Guangzhou (Guangdong), Shenzhen, Macau, Hainan, Xiamen and other places
Avg Temperature: 11°C~35°C
Located on the subtropical coast, with the Tropic of Cancer passing through the central and southern regions, this region has a maritime subtropical monsoon climate characterized by warm and rainy, abundant light and heat, long summers and short frost periods. The cities in this region have a very small annual average temperature difference.
Northeastern China
Harbin (Heilongjiang), Jilin, Shenyang (Liaoning) and other places
Avg Temperature: -20°C~30°C
The northeast is located in a temperate monsoon climate zone. The winter is controlled by temperate continental air masses, which are cold and dry, and the temperature difference between north and south is large; summer is affected by temperate ocean air masses or degeneration of tropical ocean air masses, warm, hot and rainy, and the temperature difference between north and south is small. In addition, the four seasons are distinct and the weather varies significantly.
Qinghai-Tibet Plateau
Qinghai, Tibet
Avg Temperature: -15°C~33°C
The general characteristics of the climate of the Qinghai-Tibet Plateau: strong radiation, more sunshine, low temperature, less accumulated temperature, temperature decreases with the increase of altitude and latitude, and the temperature difference between the days is large; the dryness and the wetness are distinct, and the night rains; the winter is long and dry and cold, and there are many strong winds; Summer is cool and rainy, with much hail.
Inner-Mongolia
Inner Mongolia
Avg Temperature: -14°C~20°C
Inner Mongolia has a typical mid-temperate monsoon climate, which is characterized by low and uneven precipitation and drastic changes in cold and heat. The winter is long and cold, and the cold season in most areas lasts from 5 months to half a year.
China Weather and Best Places to Visit by Season
Judged by the interval of temperature variety, China weather changes with seasonal replacement. In spring (March to May), the weather is warm and dry; in summer (June to August), it is hot and rainy; in autumn (September to November), the weather is quite cool on most windy days, while in winter (December to February), it is piercing cold and freezing in north China. Check the detailed weather in each season below:
Spring - March, April & May
Summer - June, July & August
Autumn - September, October & November
Winter - December, January & March
Spring is always regarded as the beginning of a year in China. As the transition season between winter and summer, spring enjoys a changing temperature from cold to warm and an atmospheric circulation adjustment period. The air is usually dry in northern China and humid in southern China. It is a great time to travel China, especially in April and May.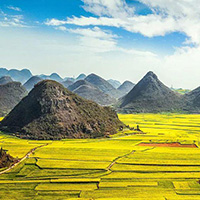 Average Temperature: 11.8 °C
Average Rainfall: 42.3 mm
Highlights: Rape Flowers, Peach Blossoms
Recommended Places: Beijing, Wuyuan, Nyingchi, Hangzhou, Danba
Seasonal Activities: Great Wall Hiking, Yangtze River Cruise
Packing Tips: Normal spring clothing like long skirts, sweaters, windbreakers… and extra thick layers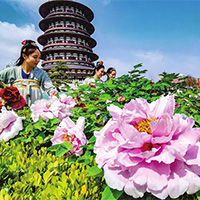 Average Temperature: 12.3 °C
Average Rainfall: 59.4 mm
Highlights: Rape Flowers, Peach Blossoms
Recommended Places: Beijing, Chengdu, Guilin, Huangshan, Weifang…
Seasonal Activities: Kite Flying, Hiking, Photography
Packing Tips: Normal spring clothing like long skirts, sweaters, windbreakers…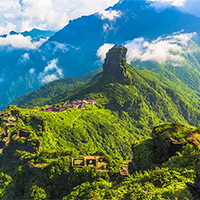 Average Temperature: 17.1°C
Average Rainfall: 69.7 mm
Highlights: Azalea
Recommended Places: Beijing, Xian, Shanghai, Chengdu, Guilin
Seasonal Activities: Hiking, Photography, Biking
Packing Tips: Light spring clothing like long skirts, windbreakers, skirts…
Top 6 Frequently-asked Questions About China Weather?
In diverse China, it is just a piece of cake to find a perfect destination in each month. Many places featured with cultural charm and city view can be visited all the year around, such as Beijing, Xian, Shanghai, Guangzhou, Nanjing, Luoyang, etc. If you want to travel in the most comfortable days with mild temperature and less rainfall, spring and autumn are the best seasons, especially April, May, September and October.
Learn more>
China Golden Week usually refers to Chinese National Holiday, a holiday lasting for 7 days from October 1st – 7th, sometimes extending to 8 days because of the mid-autumn Festival happens to fall on one day in the Golden Week. It is the busiest traveling time of china and many popular tourist destinations will be full of people. The cost for meals, accommodation and transfer is increasing and tickets run out quickly. We suggest you avoid traveling China during the Golden Week. If you have to, remember to book your hotel and transfer ticket quickly and choose some less-crowded destinations, like Silk Road, Tibet, Inner Mongolia, Xinjiang, etc.
Learn more>
Typhoon: Typhoon occur most frequently in summer (July, August and September) in places along the coastline of southern China, such as Guangdong, Taiwan, Hainan and Fujian.
Sandstorm: Sandstorms do not frequently occur in China in fact and it mainly occur in late winter (March) and early spring (February). The most frequent areas of sandstorms are the northern regions, like southern Xinjiang basin, southwestern Qinghai, western Tibet, central and western Inner Mongolia, and central and northern Gansu.
Flood: Because of the large amount of rainfall in July and August, flood occur in southern China and southeastern China, including Guangdong, Guangxi, Zhejiang, Jiangsu, etc. Torrential flood also occurs in Anhui, Liaoning, Hunan, Guizhou, and Yunnan.
Don't be scared by the cold weather in winter, and you will get enough fun if you travel in this season. Snow view and snow activities are the biggest highlight of a winter holiday. For travelers who want to have a snowscape sightseeing journey, just go to Jiuzhaigou, Yellow Mountain, Mount Emei, Xiling Snow Mountain and Jilin. For snow sports fun, Harbin, Jilin, Beijing, Zhangjiakou and Emeishan are recommended. Besides, you can also find some warm places to go in winter, like Yunnan (Kunming, Dali, Lijiang, etc.), Fujian (Xiamen, Tulou), Hainan Island(Sanya, Haikou), Great Bay Area (Hong Kong, Maocao, Shenzhen, Guangzhou) and Guangxi (Guilin, Yangshuo, Longsheng).
Learn more>
Just as winter, summer is not suitable for all destinations, but you can get a great summer holiday as well. There are many cool destinations to go in summer as well, including Hohhot with eye-pleasing green grassland, Jiuzhaigou with green & blue fairyland, Yunnan with everlasting spring weather, Zhangjaijie with breathtaking Avatar scenery and Moganshan with amazing bamboo shelter.
Learn more>
There are numerous flowers blooming in China in different seasons and different months. If you like golden sea of rapeseed flowers, Wuyuan and Luoping are best recommended. If you are interested in cherry blossoms, Wuhan is the great place. If you prefer plum blossoms, ancient Nanjing awaits your discovery. Besides, there are pear blossoms, peach blossoms, peony flowers, etc.
Learn more>
2023-2024 Top Recommended China Tours by Month