Shanghai Weather & Seasons
The weather in Shanghai is overall mild and moist all year round, but is often grey and overcast. It has four distinct seasons - a warm spring, a hot rainy summer, a comfortable cool autumn and mild winters - with an annual temperature of around 18 °C.
The time from the late September to November (Autumn) boasts comfortable temperatures and lacks the crowds and rain showers of summer, making it the best time to visit. The rising temps of spring offer a short sweet spot for travel. When visit Shanghai in winter, you may encounter the chilly weather; while in summer, you should stand the heat. So it is necessary to check out the weather forecast while planning your Shanghai tour.
Average Shanghai Temperature by Month
| Month | Recommended Rate | Max Temp. | Min Temp. |
| --- | --- | --- | --- |
| Jan. | | °C | °C |
| Feb. | | °C | °C |
| Mar. | | °C | °C |
| Apr. | | °C | °C |
| May. | | °C | °C |
| Jun. | | °C | °C |
| Jul. | | °C | °C |
| Aug. | | °C | °C |
| Sep. | | °C | °C |
| Oct. | | °C | °C |
| Nov. | | °C | °C |
| Dec. | | °C | °C |
Shanghai Seasons to Go
Spring

Spring (March - May) brings warming days and welcomes the beautiful blossoms that reside in the city's parks, making March to mid-May probably one of the best times to visit weather-wise. There is moderate rainfall. Sweaters and coats are suitable for this season, but prepare lighter clothes for warmer days.
Seasonal Activities
Take a walk along the Bund or cruise on the Huangpu River. Also, you can go to Zhujiajiao Water Town or Yuyuan Garden to enjoy the spring green scenery. Besides, have a lot of fun in Shanghai Disney Resort or get some fresh air in the Shanghai Botanical Garden.
Summer

Summer (June- Sept.) may be the peak travel season, but the hot and humid weather makes conditions outside uncomfortable, with temperatures sometimes as high as 40°C (104°F) in July and August. The heat, a damp saunalike heat, is draining. June brings 'plum rains', saturating downpours that send pedestrians scrambling for cover as streets turn to rivers. It is recommended that you carry an umbrella if rainfall seems likely. Wear summer clothes such as skirts, shorts and T-shirts. Wearing sunglasses and using sunscreen is recommended for those susceptible to burning.
Seasonal Activities
Visiting Yuyuan Garden or go boating on the river of Zhujiajiao Water Town or Fengjing Water Town is very relaxing in summer. Also, you can go to visit Shanghai Museum, Shanghai Urban Planning Exhibition Center to learn more about the history the whole China and the future of Shanghai as well as to escape from the summer heat. What's more, you can take a slight walk along the Old French Concession to spend a leisure time with the pretty international buildings.
Autumn

Autumn (late September to mid-November) is also very pleasant, but it can still be very hot in September. The weather is generally sunny and drier. Autumn is the season with sharp and frequent temperature changes. Long-sleeve T-shirts and then sweaters or coats are needed as the season progresses.
Seasonal Activities
The area's fall foliage begins at the end of this season and continues to early December. See fall foliage in Shanghai. Get some serene in the Jade Buddha Temple. Visit the world high skyscrapers like Shanghai Tower, Shanghai World Financial Center, Jinmao Tower, Oriental Pearl Tower, and so forth in Lujiazui is also recommended.
Winter

Winter is from December to February of the next year. Winter in Shanghai is characterized by bitingly cold northerlies and dryness. You'll need silk long johns and down jackets for winter.
Seasonal Activities
You could join the Chinese New Year and Spring Festival from late January until early February. And during this season, you can visit Zhujiajiao Water Town and Yuyuan Garden that are very antique and charming in winter.
How to Plan a Shanghai Tour
How to Get to Shanghai: You can fly to Shanghai directly from Hong Kong, Macau, Tokyo, Seoul, London, Los Angeles & many overseas countries (regions) and almost all major Chinese cities, like Beijing, Xian, Guangzhou, Guilin; or take high speed bullet train to Shanghai from Beijing, Xian, Hangzhou, Suzhou and hundreds of cities in China.
Best Time to Visit Shanghai: March to May (in spring) & September to November (in autumn), because these periods offer beautiful nature scenery and comfortable weather for outdoor sightseeing and activities.
Top Attractions to Visit in Shanghai: The Bund, Shanghai Museum, French Concession, World Financial Center, Yu Garden, Nanjing Road, Shanghai Disney Resort…
Best known as an international popular tourist destination, Shanghai perfectly preserves mixed culture of the western and eastern. The duration and theme of your Shanghai tour can be flexibly arranged based on your time and interests. Usually, tourists spend 1 to 2 days on sightseeing the most famous landmarks in Shanghai, including the Shanghai Museum, Shanghai World Financial Center (WFC) - the highest skyline in Lujiazhui, various historical architectures, Yu Garden, City God Temple along the Bund and busy Nanjing Road. Local culture lovers can use one extra day to visit Tianzifang, Zhujiajiao Water Town, while family travelers can have fun in Shanghai Disney Resort. Meanwhile, you can also experience Maglev Train (the world's fastest high speed bullet train) and energetic nightlife, taste diverse snacks to make your Shanghai tour interesting and memorable.
✔ 2 Days Classic Shanghai City Tour
✔ 3 Days Shanghai Past and Present Contrast Tour
✔ 3 Days Shanghai Highlights & Zhujiajiao Water Town Tour
Travel Shanghai with Hangzhou Suzhou, Mt Huang & More Nearby Destinations
Convenient transportation makes it quite efficient and popular to make day trips from Shanghai to Hangzhou, Suzhou, and longer vacation in Huangshan Mountain, Nanjing, Mount Jiuhua and other places in surrounding areas to discovery distinctive traditional Chinese culture and history and spectacular nature. You can visit West Lake to capture the scenic sights and learn the tea culture of China in Hangzhou, marvel at fantastic architecture art and tasteful ancient life in notable elegant Jiangnan style gardens and closely witness the manufacturing processing of elaborate Suzhou silks. Splendid rocky mountains standing with exotic pine trees, magnificent sunrise & sunset are the can't miss highlights in Huangshan Mountain.
✔ 5 Days Shanghai Hangzhou Suzhou Highlights Tour
✔ 6 Splendid East China Tour by Bullet Train
✔ 5 Days Shanghai Huangshan Tour by High Speed Train
Travel Shanghai with Beijing, Xian & More China Destinations
Beijing Xian Shanghai are golden triangle cities often visited together for a week holiday. You can use 3 days to visit the Great Wall and major iconic spots like Forbidden City, Temple of Heaven in Beijing, and leave 2 days for fulfilling your Terracotta Warriors tour in Xian. With more time, you can extend the trip from Shanghai to Zhangjiajie, Guilin, Chengdu, Yunnan, Silk Road, Tibet and more phenomenal destinations to enrich your China discovery. (more top China tours from Shanghai >>)
✔ 6 Days Beijing Shanghai Tour by High Speed Train
✔ 8 Days Best of China Tour (Beijing/Xian/Shanghai)
✔ 7 Days Shanghai Suzhou Beijing Contrast Tour by High Speed Train
Travel with China Discovery
As a leading travel agency in China which dedicates to offering high-quality China tours, China Discovery has helped thousands of travelers enjoy their trips to Shanghai, Beijing, Xian, etc., in China. Travel with us, you can enjoy worry-free tour services as well as well-organized itineraries, even our assistance of Chinese Visa application, convenient airport/train station pick-up & drop-off and transfer between all scenic spots, knowledgeable tour guide, safe & licensed private vehicle, satisfactory accommodation and dining and so on. You are free to choose from our most popular Shanghai tour packages or contact us to design a memorable holiday in Shanghai, China.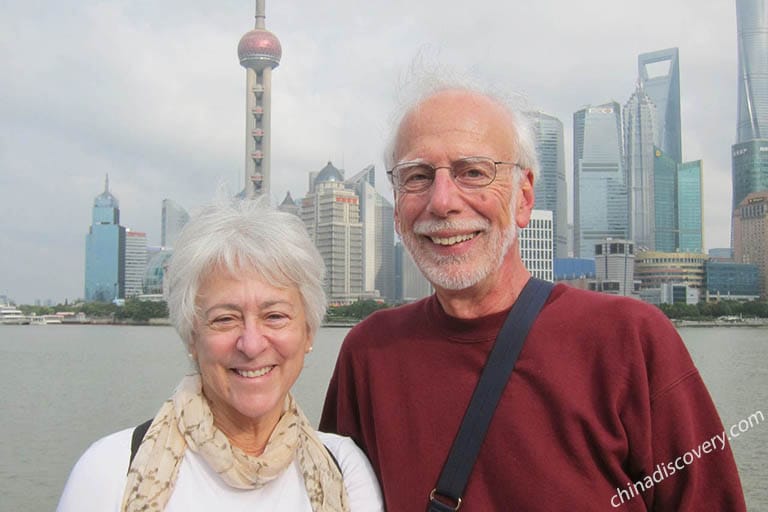 Paul & His Wife Visited the Bund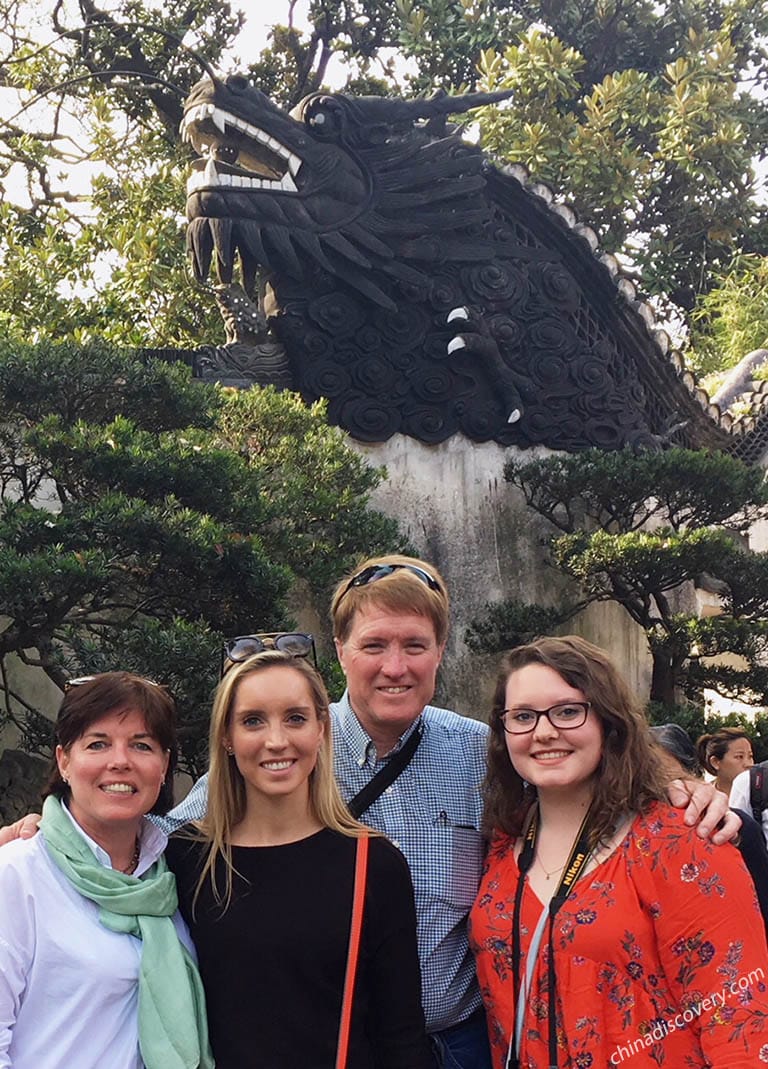 Timothy Family in Yu Garden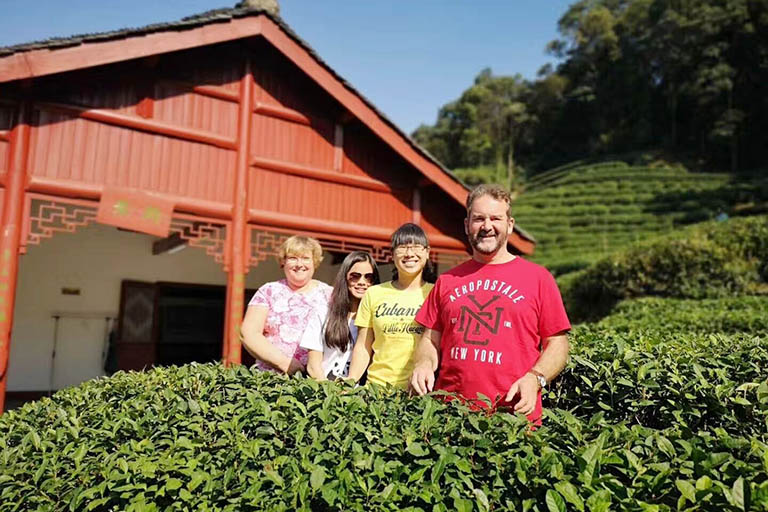 Jane's Family Travel to Meijia Dock Dragon Well Tea Village, Hangzhou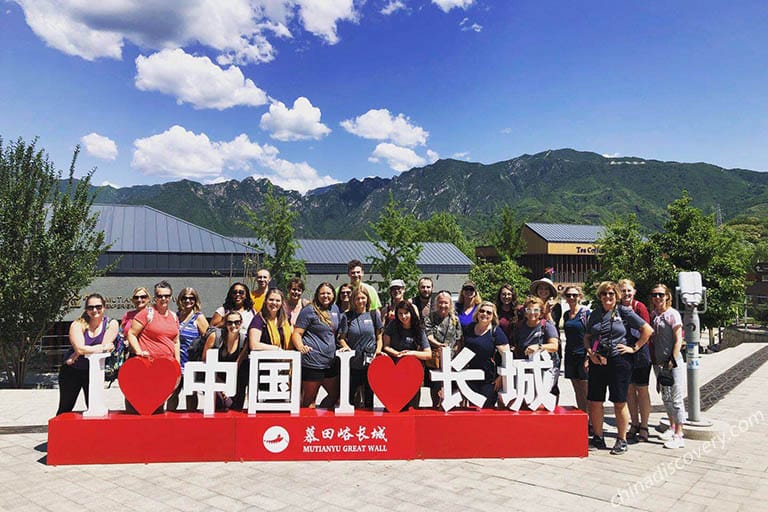 Tailor-made Group Tour to Mutianyu Great Wall, Beijing
Keep Reading
Recommended Shanghai Tours
Top 3 Shanghai tours chosen by most customers to explore Shanghai in the best way. Check the detailed itinerary,or tailor your own trip now with us.
5 Days Shanghai Hangzhou Suzhou Highlights Tour

Shanghai / Hangzhou / Suzhou / Shanghai