How to Plan a Guilin Tour
Guilin is an incredibly beautiful city in the northeast of China's Guangxi Zhuang Autonomous Region in South China. With "the finest scenery under heaven", Guilin is one of the best-known tourist destinations in China, ranked as top four destinations to go after Beijing, Xian and Shanghai.
When people speak of Guilin, it really means Guilin - Yangshuo / Guilin - Yangshuo - Longsheng as a whole. Whether it's your first time or your next time in Guilin, there's so much to see and do that you might want to stay here for 3~5 days! From unbelievable Karst landscape to amazing rice terraces, relaxing Li River cruising to enjoyable walking/cycling and more, you've got a lot of inspiration here!
But, how to plan your Guilin tour in 2024 & 2024? We've listed some essential travel information, like best to go, how to get to and travel within Guilin, top places to visit, inspiring activities to experience, where to stay in different places...for your amazing Guilin trip. Hope this may help you make a more reasonable, useful and smooth trip plan. Check now!!!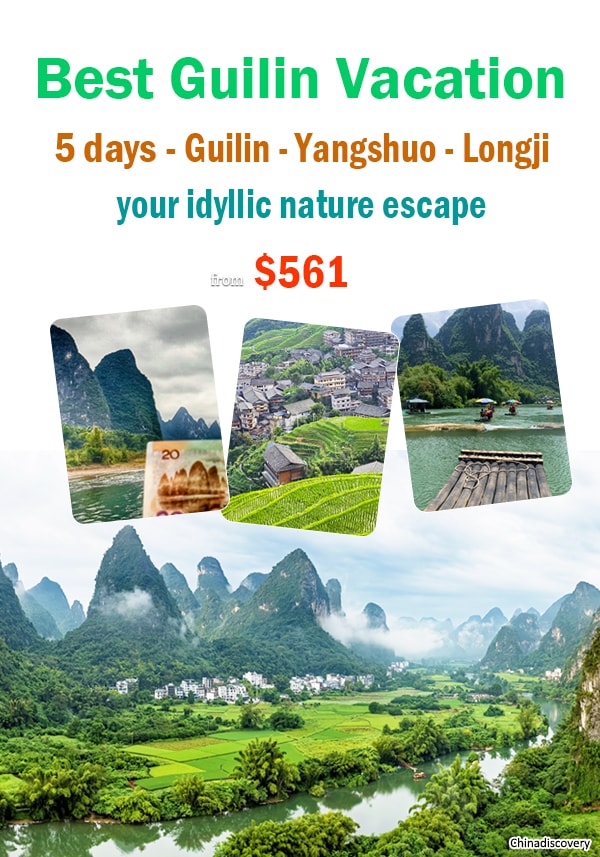 Best Time to Go / When to Go
The latitude longitude coordinates for Guilin are 25°16'54.98"N, 110°17'11"E, thus Guilin belongs to subtropical monsoon climate with four distinctive seasons and comfortable climate conditions. The annual temperature is around 17.8℃ (64℉). Generally speaking, the best time to visit Guilin is from April to October. Try to avoid Chinese holidays such as the Chinese National Day (the beginning of October) and the Labor's Day (the beginning of May). Meanwhile, avoid traveling during December - February if you can for the weather tends to be depressingly cold and rainy almost every day with fog that obscures most views.
To have a perfect exploration in Guilin, you should make clear the best time in different places with different sceneries - Guilin downtown area, Yangshuo County as well as Longsheng County. Check specific weather information about each hot destination and you may have a clear idea about when to go in and around Guilin.
How to Go to & Travel within Guilin
After deciding your suitable time to go to Guilin, you may still wonder how to reach Guilin - a paradise with many picturesque limestone mountains and formations. You can get to Guilin by air, high speed train (as well as normal train), distance coach, private car and taxi, etc.
Top Destinations to Visit in Guilin
There is a saying "East or West, Guilin Landscape is the Best". Besides the picturesque Karst landscape and idyllic painting-like countryside scenery, there are more to see and explore - brilliant ethnic minority folk customs and culture hidden among the gorgeous rice paddy fields.
Guilin administers seventeen county-level divisions, including 6 districts, 8 counties, 2 autonomous counties and 1 county-level city. Among them, three parts including Guilin Downtown Area, Yangshuo Town and Longsheng Various Nationalities Autonomous County are worth your time and effort to visit.
Inspiring Activities to Do in Guilin
No matter what kind of travelers you are - seeking for leisure pace visiting or adventurous exploration, Guilin will never let you down. There are much to do to meet all your interests and demands. Not all the inspiring activities can be done in one trip. Just feel free to select your likes. Try??!
Decide your Travel Length & Suggested Route
For most first-time travelers, they put Guilin into their long China tour (such as Beijing Xian Guilin Shanghai tour) and usually arrange 3 days & 2 nights in Guilin to cover all the highlighted attractions. To visit Guilin and Yangshuo, it costs three days and to cover Guilin, Yangshuo and Longji altogether, it takes about four days. Or, you can contact our professional travel consultant to customize your trip based on your time, date and likes.
Where to Stay in Guilin?
Usually, you'll stay 3 nights in Guilin if you plan to visit Yangshuo and Longji Rice Terrace combined with downtown area in a regular trip.
That's to say, you'll accommodate one night in Guilin downtown area after your arrival in Guilin or your trip of Longsheng County, stay one night in Longji Rice Terrace area and enjoy your accommodation for one night in Yangshuo. Choices are a lot and you can select your favored hotels, hostels and resorts in the best locations for the finest scenery.