Best Beaches in Sanya: Top 7 Sanya Beaches 2024
Thanks to the unique location, which is roughly situated in the same latitudes as Hawaii in the tropical monsoon area, Sanya, the ideal tropical paradise in China, of course, is no shortage of amazing beaches. No matter when you visit Sanya, you can always easily find a beach area to relax, run or just sit down and admire sunset or sunrise views. And such sweet moments are musts for both first-timers and returners. So, how many beaches there are in Sanya? Which is the best for you and your family? This Best Beaches in Sanya with a list of 7 Best Sanya Beaches is going to help!
No.1: Yalong Bay Beach - The Popular Beach with The Finest Sands in China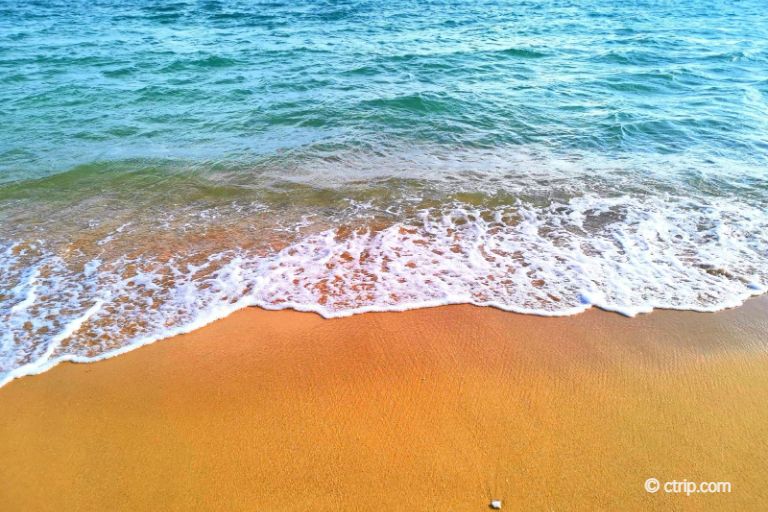 Yalong Bay Beach Washed by a Surf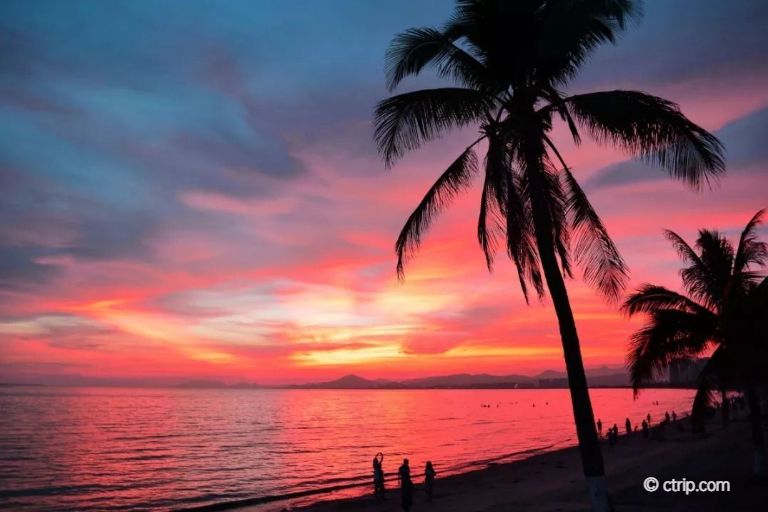 Beautiful Yalong Bay Beach Sunset
Ticket: Free
Opening Hours: all day around
Location: Yalong Bay National Resort, Longtang Road, Jiyang District, Sanya, Hainan, China. (海南省三亚市吉阳区龙塘路)
This 7 kilometers long stretch of beach at popular Yalong Bay features the softest and finest sand of this region and even the entire China, plus the azure water and diverse kinds of beach fun and underwater activities, it comes no surprise that an increasing number of resorts and upscale hotels like Sheraton, Marriott, Hilton and Ritz-Carlton have sprung up along the shore since the early 2000s. The beach is fronted by perfect crystalline water with a year around pleasant temperature for swimming.
Not very far away from the east end of the beach there is also a tropical forest park. Yalong Bay Golf Club is also within a short walking distance to famous resorts by the beach.
No.2: Dadonghai Beach - The Closest Beach from Sanya Downtown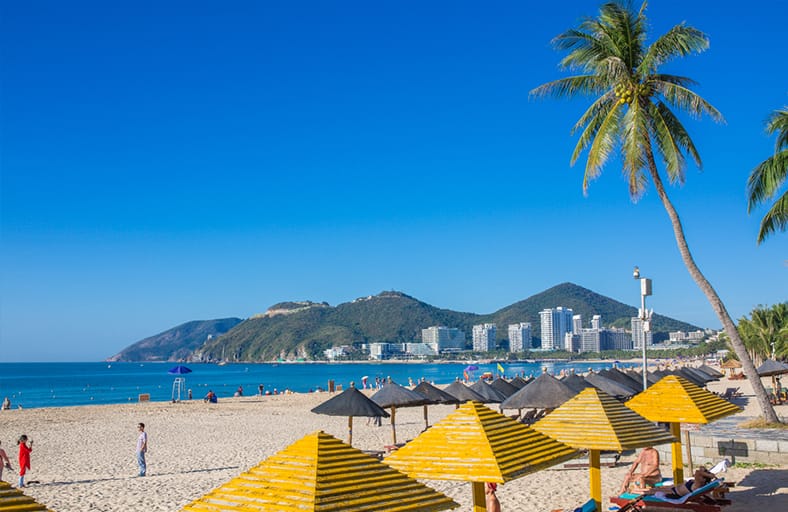 Sanya Dadonghai Bay December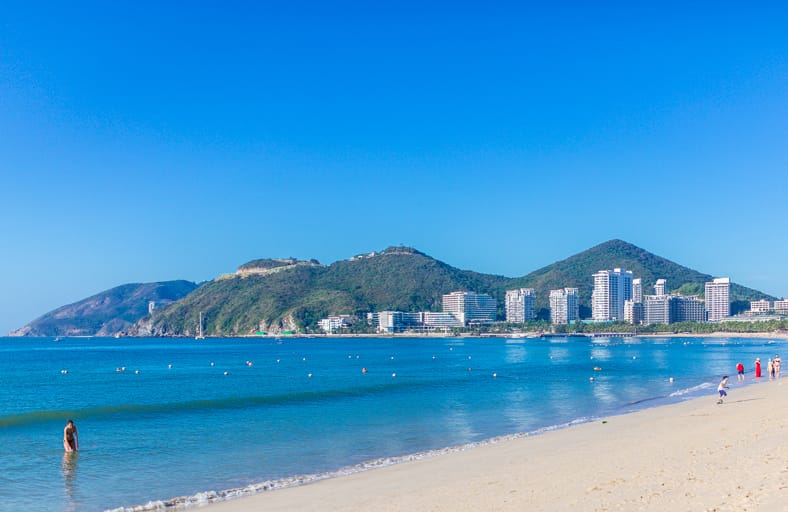 Dadonghai Beach
Ticket: Free
Opening Hours: all day around
Location: between Yulin Port and Luhuitou, Sanya City, Hainan Province (海南省三亚市榆林港和鹿回头之间)
Dadonghai Beach is short, measuring only 2.9 kilometers or so. However, the sands there are very solf and eye-popping, with no inferior to Yalong Bay Beach. Thanks to its close distance to Sanya downtown, which is the closest when compared with all other beaches in Sanya, Dadonghai Beach is popular with locals, especially on weekends. Bordered by Luhuitou Ridge and Tuwei Ridge, Dadonghai Beach offers a gorgeous ocean view hugged by rolling hills on the two sides. Lines of lush palm trees separate the beach area and city life area, giving you a relatively private atmosphere on the beach. It is an amazing choice to enjoy a laid-back afternoon or early evening there, especially on your first day in Sanya while you still have some energy.
No.3: Sanya Bay Beach - The Longest Stretch of Beach in Sanya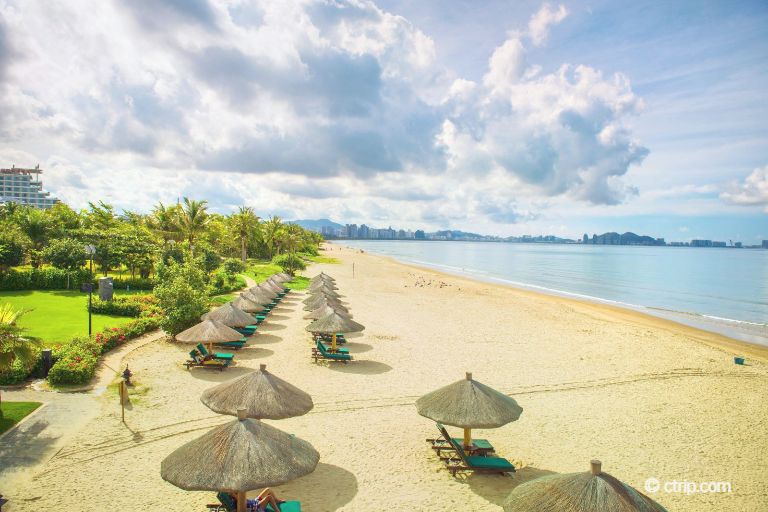 Sanya Bay Beach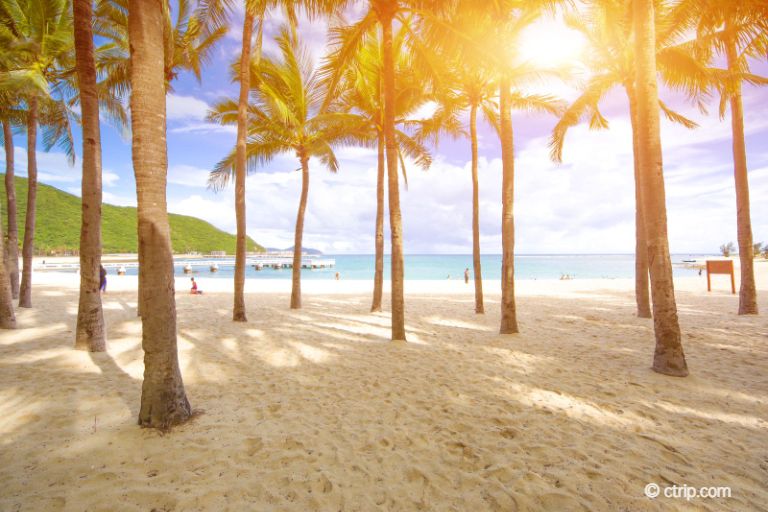 Sanya Bay Beach
Ticket: Free
Opening Hours: all day around
Location: Sanya Bay, Sanya, Hainan, China (海南省三亚市三亚湾)
Sanya Bay Beach varies from Tianya Haijiao in the west and Phoenix Island in the east, stretching for 22 kilometers in total, which marks it the longest beach in Sanya. The east shore of Sanya Bay Beach neighbors Sanya downtown. This region is backed by lushest coconut trees, and thus is being called the Coconut Dream Corridor. It is a good choice to enjoy sunbathing and is widely considered to be a great place to admire sunset and sunrise. In the evenings, barbecues and low-key parties break out along the beach and its a good time to get sizzling cheap seafood from the restaurants. However, swimming is not allowed in this section. If you want to try swimming, you should go to its middle part or west part.
No.4: Haitang Bay Beach - Exclusive Private Beach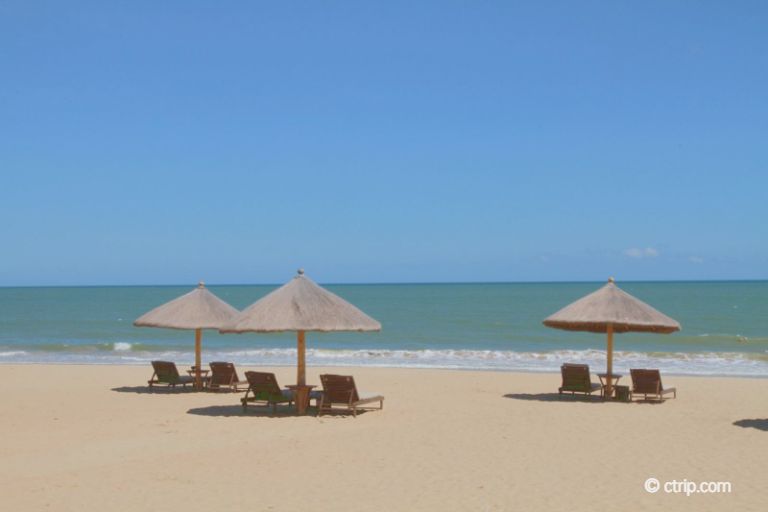 Haitang Bay Beach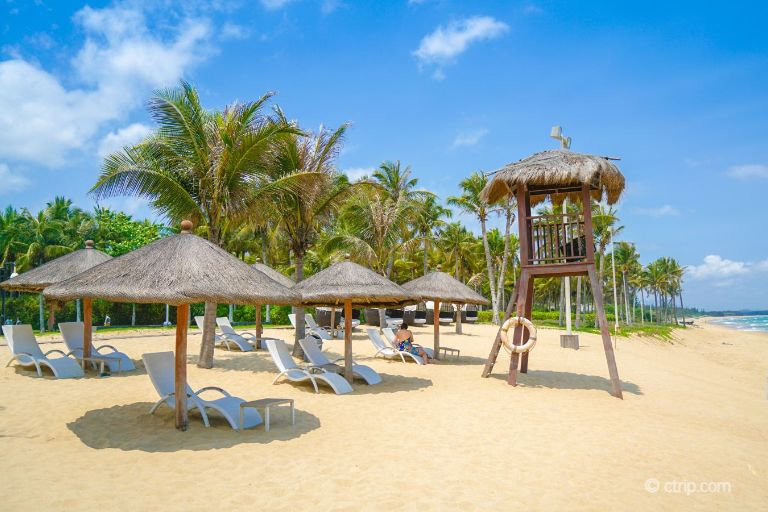 Haitang Bay Beach
Ticket: Free
Opening Hours: all day around
Location: Haitang North Road, Haitang District, Sanya City, Hainan Province (海南省三亚市海棠区海棠北路)
Haitang Bay is the newest opened bay area a little bit far away from Sanya downtown. The beach there is featured by white soft sands, crystal clear calm blue waters and a series of newly-built upscale resorts with a collection of intimate spaces. Compared with Yalong Bay Beach and Dadonghai Beach, which also boast many fantastic resorts with private beach spaces, Haitang Bay Beach gives a better vibe of enchantment and mystique because it is less crowded and is far away from the hustle and bustle of Sanya city center. The section of beach in Houhai Village enjoys a great fame among surfing lovers. If you standing on Haitang Bay Beach, you could also get a glimpse of Wuzhizhou Island from a distance. Sanya Duty-free Shopping Mall, the world's largest duty-free shopping mall, is also there.
No.5: Bathing Beach on Wuzhizhou Island - A Great Place to Relax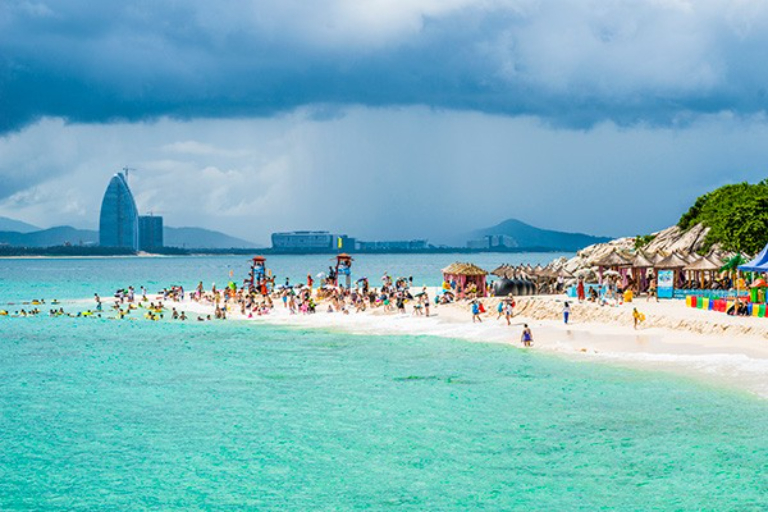 Bathing Beach on Wuzhizhou Island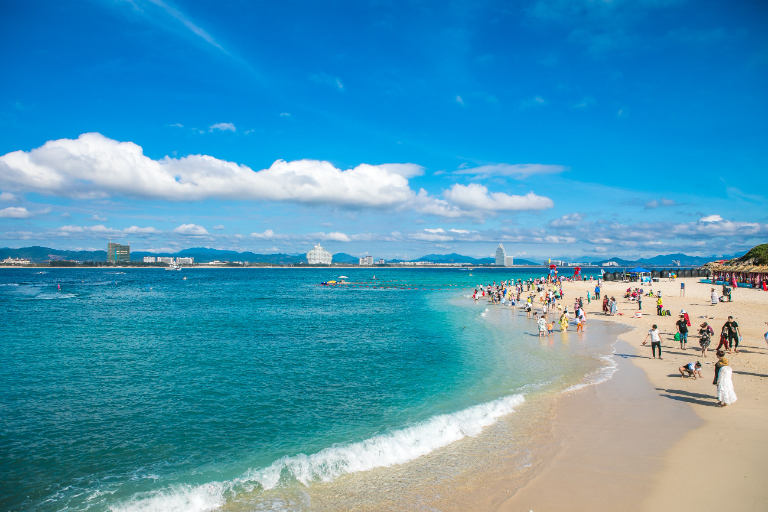 Bathing Beach on Wuzhizhou Island
Ticket: Free
Opening Hours: all day around
Location: Houhai Village, Linwang Town, Haitang District, Sanya City, Hainan, China (海南省三亚市海棠区林旺镇后海村)
The Bathing Beach on Wuzhizhou Island is located on the northwest corner of Wuzhouzhou Island. It is the only place on the island that is available for swimming. The water there is exceptionally clear, and you may lucky to see underwater colorful coral and exotic fish without jumping into the water. The sea life and water clarity are up there somewhat with the best in Sanya, which make it tops the list of best places to dive in Sanya and even China.
No.6: Tianya Haijiao Beach - A Tity Beach with Unique Love Stones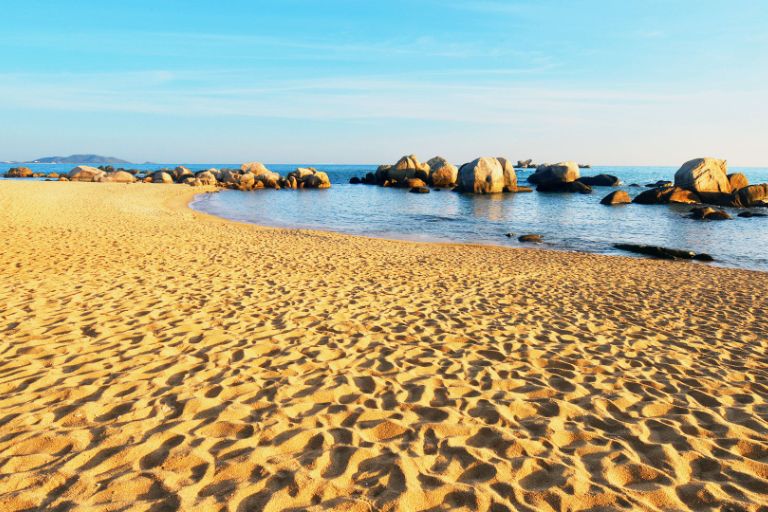 Tianya Haijiao Beach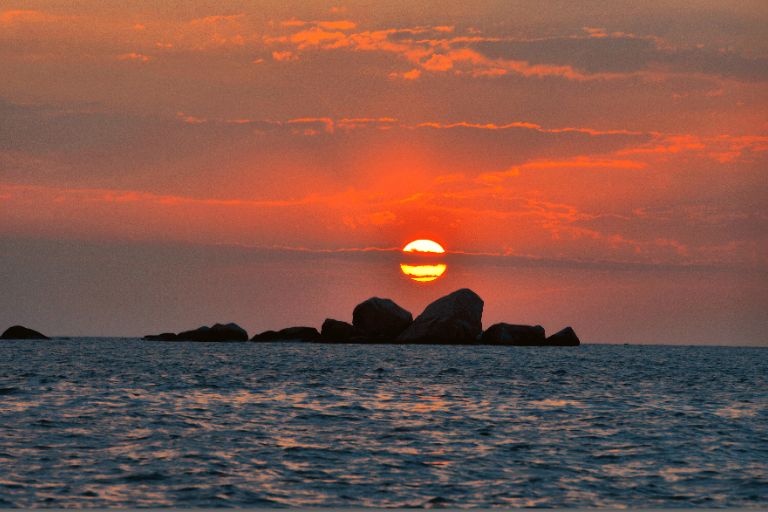 Sun and Moon Stones of Tianya Haijiao
Ticket: Free
Opening Hours: all day around
Location: Sanya Bay, Sanya, Hainan, China (海南省三亚市三亚湾)
Tianya Haijiao, the landmark of Sanya, boasts amazing coastal landscapes and a tiny beach with the famous "love stones" washed by a cool pounding surf. Palm trees and white sands are coming to see in Sanya. However, it is only at Tianya Haijiao Scenic Area that you can get a such unique coastal landscapes with stones of unique shapes like heart and so forth. By nightfall, the sky lights up above the beach with spectacular colors as the sun sets over the sea and stones, which is really impressive. If you are going to visit Tianya Haijiao, do not forget to spend some laid-back moments on the beach there.
No.7: Yazhou Bay Beach - A Little-known Area 60 KM West of Sanya Downtown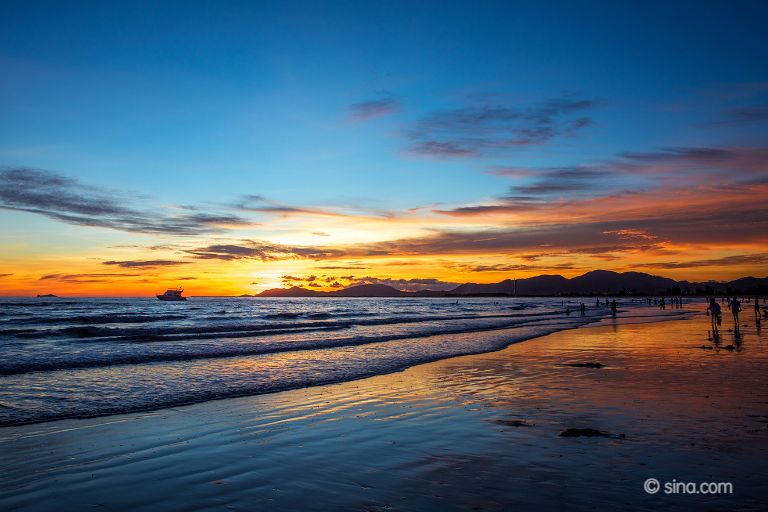 Yazhou Bay Beach Sunset View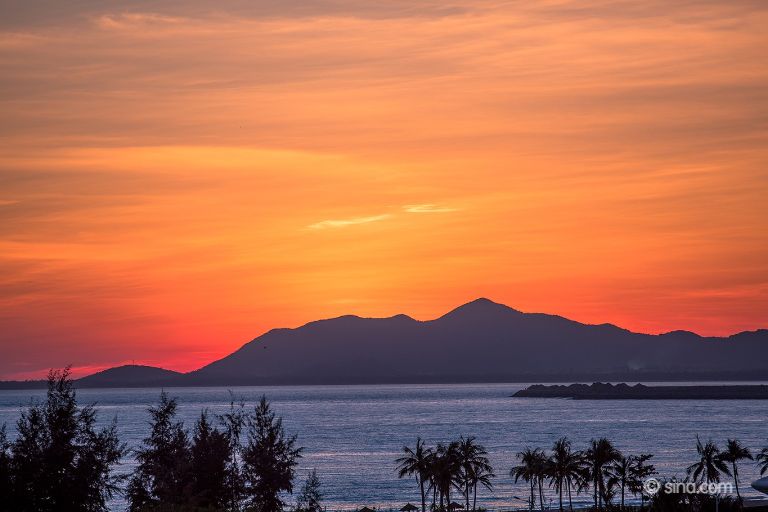 Yazhou Bay Beach Sunset View
Ticket: Free
Opening Hours: all day around
Location: Yazhou District, Sanya City, Hainan Province, China (中国海南省三亚市崖州区)
Covering an area of 61 square kilometers, Yazhou Bay, one of the Five Bays in Sanya, is little known by the world outside Sanya. However, being the ancient maritime gateway of this region, Yazhou Bay has played significant role in Sanya's history and is considered as the birthplace of Sanya's culture. Nowadays, its historic echoes fade away. However, thanks to its west location and its nice coastal scenery, its beach still attracts visitors to have holiday escapes and admire sunset.
Which to Choose? - Best Sanya Beach for You or Your Family/Group
| Best Beaches in Sanya | Swimming | Sand Quality | Upscale Hotels | Affordable Hotels |
| --- | --- | --- | --- | --- |
| Yalong Bay Beach | √ | | √ | √ |
| Dadonghai Bay Beach | √ | | √ | |
| Haitang Bay Beach | | | √ | |
| Sanya Bay Beach | √ | | √ | √ |
| Bathing Beach on Wuzhizhou Island | √ | | | |
| Tianya Haijiao Beach | | | | |
| Yazhou Bay Beach | √ | | | √ |
Yalong Bay Beach and Dadonghai Bay Beach are our best picks for all Sanya visitors. These two beaches have top-class sands, best facilities, a large scale of high-end resorts and hotels to choose and diverse kinds of activities to guarantee you an amazing beach vacation. If you want to enjoy beach fun and duty-free shopping joy on one day, then Haitang Bay Beach is more suggested. For couples who want island and beach fun together, we would suggeste you to visit Wuzhizhou Island and enjoy sunbathing on its Bathing Beach. Sanya Bay Beach is recommended to those who will stay overnight in Sanya downtown or Sanya Bay. If you are in hurry and don't want to miss Sanya's landmark Tianya Haijiao, then you can spend leisurely moments on the beach of the scenic area. Yazhou Bay Beach is only recommended to those who spend more than one month in Sanya.
How to Plan a Sanya Tour
Best Time to Visit Sanya: October ~ Next May
Places to Visit: Various bays, Betelnut Valley, Nanshan Buddhism Cultural Park, Yanoda Rainforest Park
How to Get There: International flights from London, Singapore, Seoul, Jakarta, Moscow, Novosibirsk, etc., and domestic/regional flights from most major cities like Beijing, Xian, Shanghai, Chengdu, Guangzhou, Chongqing, Hong Kong, Macao, Taiwan, etc.
Generally, a Sanya tour can be short or long, and many travelers choose to stay in Sanya for about 4~7 days. We suggest you visit at least one bay for a real "holiday", such as Yalong Bay, Sanya Bay, Dadonghai Bay or Haitang Bay where you can immerse yourself in the relaxing atmosphere by taking a sunbath, strolling on the soft beach, viewing the coastal scenery, etc. It is also available to spend several hours or more time experiencing some watersports. For travelers interested in the primitive nature of tropical forests, Yalong Bay Tropical Paradise Forest Park or Yanoda Rainforest Park, which needs 0.5~1 day, is worthwhile. Besides, Nanshan Temple (0.5~1 day) with the world's largest statue of Avalokitesvara - Nanhai Guanyin is also recommended if you have a Buddhist faith or want to appreciate a religious savory. For travelers needing an in-depth tour, Binglanggu is a nice option for local minorities exploration!
☛ 4 Days Sanya Beach Resort Tour
☛ 6 Days In-depth Luxury Sanya Tour with Two Free Days
Want to escape the crowds and explore Hainan? Don't miss Haikou - the capital city with lots of culture fun. A classic Haikou tour takes about 2 days. The top highlights include informative Hainan Museum, old buildings in Qilou Old Street, Volcanic Crater Park, etc. Besides, you can spend 1~2 days exploring the undeveloped bays and uninhabited islands, 1~2 days appreciating the peaceful town of Boao and its unique natural landscapes, 1~2 days involving in the sunny homeland of minorities in Lingshui, etc.
Notice: The pictures on this page, except for additional remarks, are all from the official websites.
Keep Reading About Sanya
Keep Reading About Hainan
Keep Reading About Sanya Hotels
Recommended Sanya Tours
Top 3 Sanya tours chosen by most customers to explore Sanya in the best way. Check the detailed itinerary, or tailor your own trip now with us.
Start planning your tailor-made holiday to China by contacting one of our specialists. Once inquired, you'll get a response within 0.5~23.5 hours.
Customize a Trip
Have a question? Get answers from our travel experts or guests
Your Question:

Your Name:

Your Email: