How to Get from Shenzhen to Shanghai by Flight, Train 2023
As one of the most populous and richest cities in China, Shenzhen attracts many tourists to enjoy its charm. If you finish your business trip or travel in Shenzhen, Shanghai is a good gateway city to continue to explore more cities in China or return home. Transportation between the two cities is convenient and easy. If you want to extend your China tour to Shanghai from Shenzhen, it is available to take a flight, high-speed train, or normal train.
How to travel - by flight, bullet train, or normal train?
① By Flight: the fastest way to get to Shanghai, only takes 2.5 hours; 
② By Bullet Train: comfortable, enjoyable and environment-friendly; takes about 12 hours;
③ By Normal Train: the slowest way to reach Shanghai; crowded on the train; takes about 19.5 hours; less recommended.
Flights from Shenzhen to Shanghai
Shenzhen Airport (IATA: SZX), short for Shenzhen Bao'an International Airport (深圳宝安国际机场), is one of the four busiest airports in China as well as one of the three largest airport hubs in China, alongside Hong Kong International Airport and Guangzhou Baiyun International Airport. It is about 45 kilometers (28 miles) northwest of the city center of Shenzhen. Every day, Shenzhen has about 100 flights to Shanghai and the one-way air trip takes about 2.5 hours.>>Read More about Real-Time Flight Schedules from Shenzhen to Shanghai
Shenzhen Airport Address: Bao'an Avenue, Bao'an District, Shenzhen, Guangdong Province (深圳市宝安区宝安大道)
Shenzhen Airport
Trains from Shenzhen to Shanghai
If your time allows, taking a high-speed train is recommended. It is much more economical than flights and faster than a normal train. Moreover, you can have a comfortable experience on the train. Shenzhen North Railway Station operates 6 high-speed trains to Shanghai Hongqiao Railway Station. The trains usually depart in the morning and arrive at night. The duration of the high-speed trains is about 12 hours. There are still 2 overnight normal trains (T Train) available to take you from Shenzhen Railway Station to Shanghai South Railway Station with a duration of 19.5 hours.
Referential Currency: RMB=1USD
Train No.
Departure / Train Staiton
Duration
Seat Type / USD Price / Availability
Note: Train information is subject to final confirmation due to the delay of data occasionally.
Useful Link: Shanghai to Shenzhen Trains Schedules
Shanghai Shenzhen High Speed Train Route
The railway between Shenzhen and Shanghai is measured 1,623 km (1,008 miles). Connecting Guangdong Province and Shanghai, it passes through Zhejiang province and Fujian Province. There are 27 midway railway stations along this railway, including Huzhou South (惠州南), Xiamen North (厦门北), Fuzhou South (福州南), Wenzhou South (温州南), Ningbo (宁波), Hangzhou East (杭州东), etc. Thus, you can travel betweeen Shanghai and Shenzhen, and transfer in Hangzhou, Nanchang, Changsha and Guangzhou and enjoy a city tour there. Not all the trains will stop at the same railway stations, so the duration will be different.
Shenzhen North Railway Station (Shenzhenbei Railway Station, 深圳北站)
Shenzhen North Railway Station is situated in No. 28, Zhiyuan Middle Road, Longhua New District, Shenzhen (深圳市龙华新区致远中路28号), about 16 kilometers (30 minutes' driving) to Window of the World, 10 kilometers (25 minutes' driving) to Shenzhen Museum and 15 kilometers (about 25 minutes' driving) to China Folk Culture Village. You can take metro Line 4 from the downtown or Shenzhen Museum to Shenzhen North Railway Station directly. Taking metro Line 4 and 5, you can also easily transfer to some tourist spots like Window of the World, Splendid China, China Folk Culture Village, etc. Shenzhen Transportation Guide >
Shenzhen Tours:
● 3 Days Classic Shenzhen Tour
● 3 Days Shenzhen Culture Tour
● Foshan Day Tour from Shenzhen
Shanghai Hongqiao Railway Station (上海虹桥站)
Shanghai Hongqiao Railway Station is adjacent to Shanghai Hongqiao International Airport and about 25km (about 40 minutes' driving) to Lujiazui and the Bund. Taking Metro Line 10, you can transfer between Shanghai Hongqiao Railway Station and the Bund or Yuyuan Garden. If you want to go to Shanghai Pundong International Airport, you can take metro Line 2 and then transfer to maglev train. Read more about Shanghai Railway Stations>
Shanghai Tours:
● 3 Days Shanghai Past and Present Contrast Tour
● 3 Days Shanghai Family Tour with Ocean Aquarium
● 4 Days Shanghai Magic Tour with Disneyland Park
Shenzhen North Railway Station
Shanghai Hongqiao Railway Station
China Train Travel Tips
Class of Ticket
You can usually choose from the First Class Seat, the Second Class Seat or Business Class Seat on the high speed trains. While, there are three types offered on the normal train, including Soft Sleeper, Hard Sleeper and Hard Seat. learn more >>
Book, Collect, Alter and Cancel
Foreign tourists can book train ticket online or via a ticket agency, or buy the tickets physically at the train station with your valid passport. Train ticket alteration and cancellation are only available at ticket counters. learn more >>
Board & Get off
1) Prepare your passport and China Visa; 2) Get to the right train station at least 30 mins in advance; 3) Collect your train ticket; 4) Read your train ticket; 5) Pass the security control; 6) Pass through Security & Luggage Checks; 7) Find the right waiting room; 8) Cross the ticket checking gate; 9) Get to the right platform; 10) Get on your train. learn more >>
Baggage Allowance
Passengers don't need to check luggage separately. Each passenger is allowed to carry luggage in certain weight and volume, but without limitation of amount and types. learn more >>
Facilities and Service
All high speed trains in China are equipped with advanced facilities and good service, including luggage racks, air-conditioner, power socket, dining car, hot water, etc. learn more >>
How to Plan Your Shenzhen Shanghai Tour
As the "Silicon Valley" of China and the gateway city from China mainland to Hong Kong and Macau, Shenzhen, the city of "creativity" is valued as one of the "Top 10 cities to visit in 2019" by Lonely Planet with its unique charming modern city sightseeing, pleasant coastal line and so forth. Usually, you can visit Shenzhen from Hong Kong or Guangzhou and spend 1 day in Shenzhen to see the urban scenery and past change there. It's suitable to tour Shenzhen for 2 ~ 3 days to visit the major sites of this city from its towering Pingan Finance Center, history introduction in Shenzhen Museum, fabulous Splendid China Folk Culture Village, Dafen Oil Painting Village, etc. Since May 1, 2019, Guangdong Province (including Shenzhen) has been implementing 144-hour visa-free period for citizens from many countries, under certain conditions, you can go for a city tour to explore all the stunning attractions in the city even without applying for a visa.
✔ 2 Days Shenzhen Short Stay Tour with All Essences
✔ 3 Days Classic Shenzhen Tour
✔ 3 Days Shenzhen Business Tour (Customizable)
Travel from Shenzhen to Shanghai
Both Shanghai and Shenzhen are two highly developed cities in China. Different location and history bring the two destinations distinctive metropolis features and landscape. During your stay in Shenzhen, this young and energetic city has many theme parks and fasinating attractions showing its creation and rapid development. While in Shanghai, you have many places to experience the international city and its mixture of eastern and western culture. Two or three days is reommended to tour the essential landmarks, including the Bund, Yu Garden & Bazaar, Shanghai Museum, etc.
✔ 2 Days Classic Shanghai City Tour
✔ 3 Days Shanghai Past and Present Contrast Tour
✔ 3 Days Shanghai & Zhujiajiao Water Town Tour
Travel Shenzhen, Shanghai, Beijing & More China Destinations
With more time in Shanghai, you can extend the trip to the nearby cities of Shanghai such as Hangzhou, Suzhou, Huangshan Mountain, etc. Besides Shanghai and its nearby cities, it is also highly recommended to extend your Shenzhen trip to the nearby cities like Guangzhou, Hong Kong, Macau in the Great Bay Area, and a bit further to Guilin to admire the fantastic Karst landscape. Since Shenzhen has very good transportation with other destinations in China, it is also very good to travel to more top destinations, including Beijing, Shanghai, Xian, Chengdu, etc. to appreciate more highlights! Select your favorite one at below to start your exploration! If you have more ideas, please feel free to tell us to customize your Shenzhen Shanghai tour!,
✔ 4 Days Guangzhou Shenzhen Explorer Tour by Bullet Train
✔ 8 Days Amazing Greater Bay Area Tour
✔ 4 Days Shanghai Suzhou Excellent Tour
✔ 5 Days Essence of Shanghai & Hangzhou Tour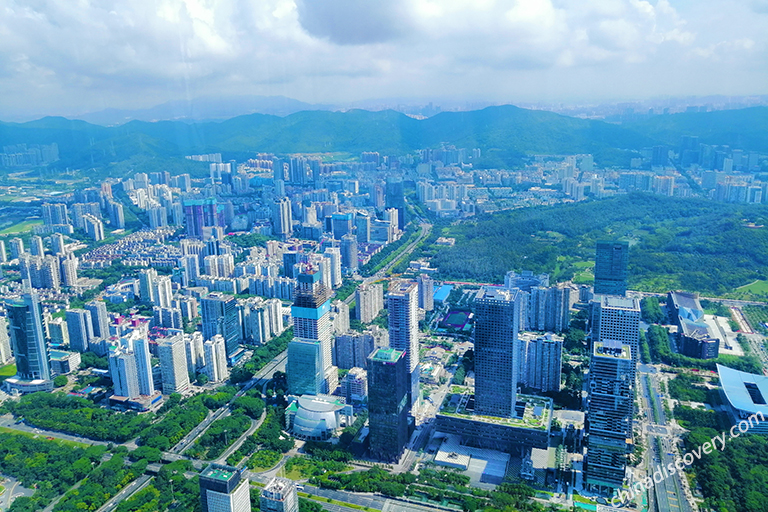 Ping'an Financial Center in Shenzhen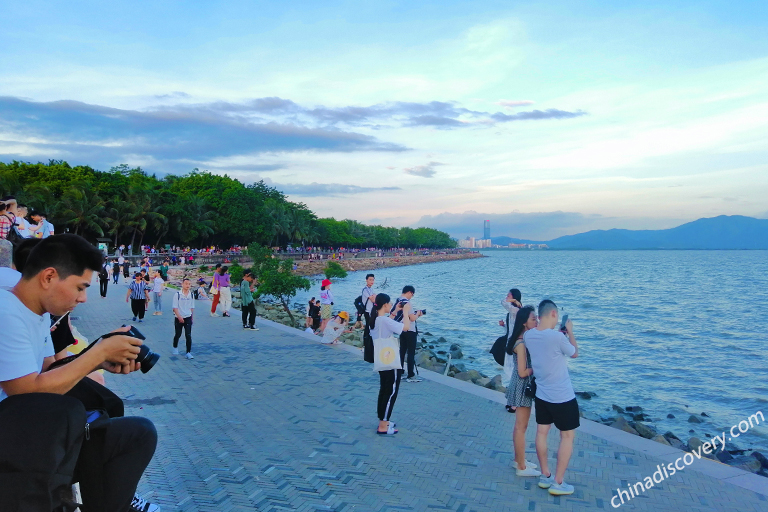 Shenzhen Bay Park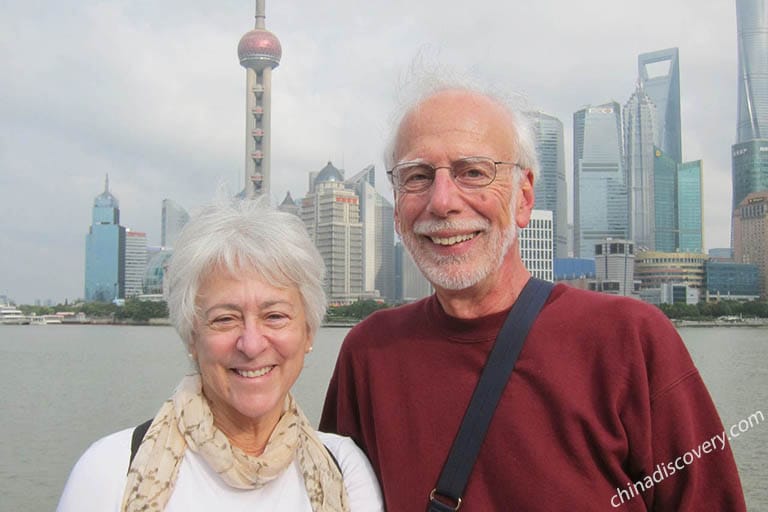 Paul & His Wife Visited the Bund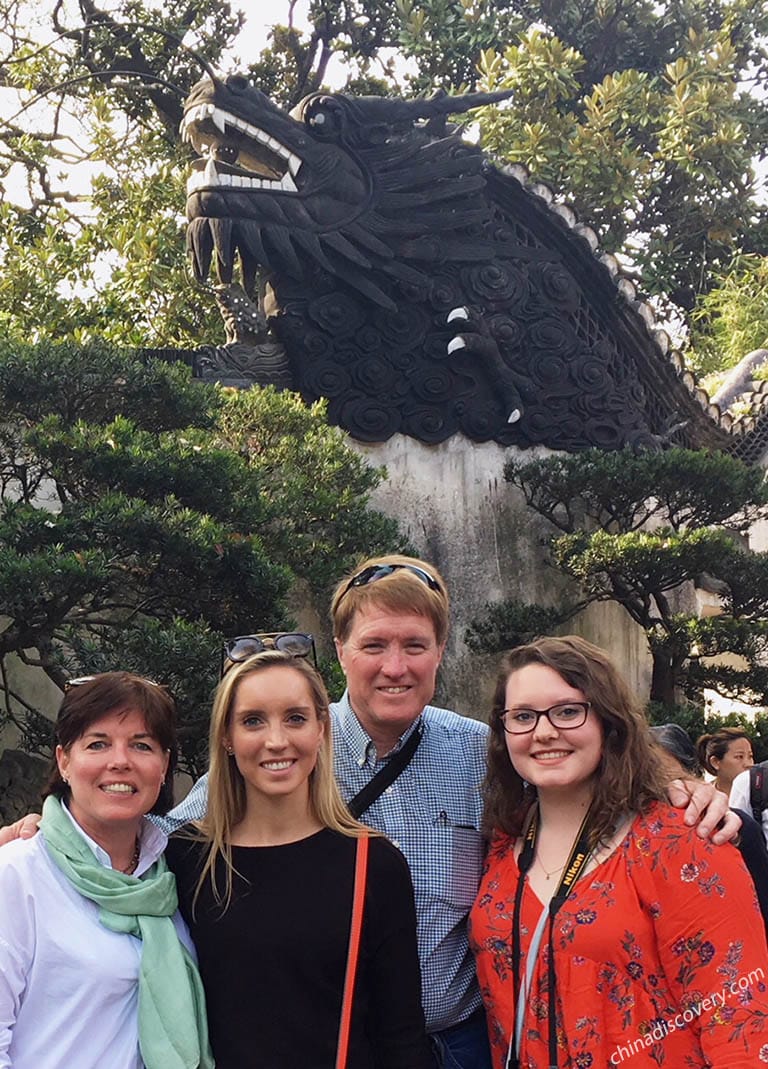 Timothy Family in Yu Garden
Travel with China Discovery
As a leading travel agency in China which dedicates to offering high-quality China tours, China Discovery has helped thousands of travelers enjoy their trips to Shanghai, Shenzhen, Xian, etc., in China. Travel with us, you can enjoy worry-free tour services as well as well-organized itineraries, even our assistance of Chinese Visa application, convenient airport/train station pick-up & drop-off and transfer between all scenic spots, knowledgeable tour guide, safe & licensed private vehicle, satisfactory accommodation and dining and so on. You are free to choose from our most popular China tour packages or contact us to design a memorable holiday in China.
Shanghai Travel Guide
China Train Travel Guide
Recommended Shanghai Tours
Top 3 Shanghai tours chosen by most customers to explore Shanghai in the best way. Check the detailed itinerary, or tailor your own trip now with us.
5 Days Shanghai Hangzhou Suzhou Highlights Tour

Shanghai / Hangzhou / Suzhou / Shanghai
Start planning your tailor-made holiday to China by contacting one of our specialists. Once inquired, you'll get a response within 0.5~23.5 hours.
Customize a Trip
Have a question? Get answers from our travel experts or guests
Your Question:

Your Name:

Your Email: