China in June: Weather, Top Places to Visit & Travel Tips
China, a country with vast territory, lies in the northern hemisphere. In most areas of China, seasonal differentiation is obvious. June to August is summer in China, high temperatures are common throughout the country and with little difference in temperature between the north and south.
June is always being considered as the transition month of spring to summer and the first month of summer. The temperature begins to rise gradually and everywhere bursts into glorious green. Check the detailed climate, temperature and weather tips in China in June and inspire yourself by checking the top 10 travel destinations in China in June and plan your China early summer tour in 2023.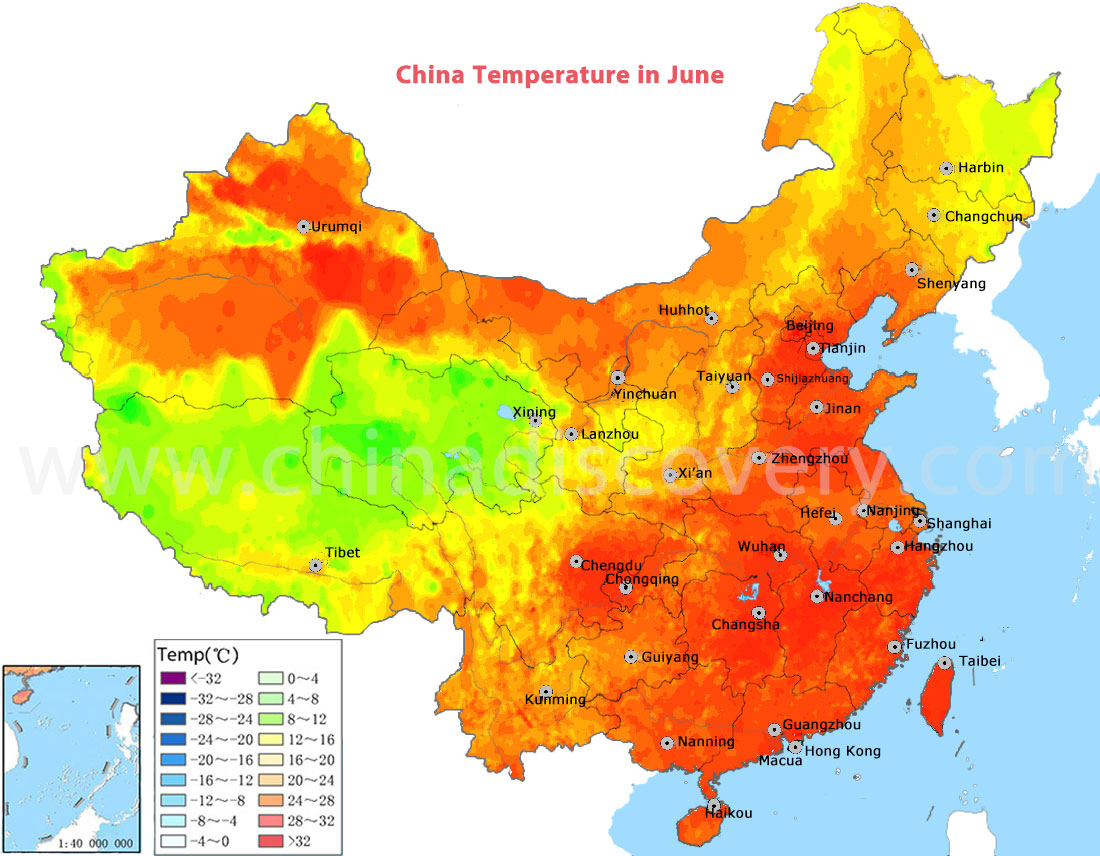 Click to Enlarge China Temperatures in June
China in June: Weather, Climate & What to Wear
In June, the national average temperature is 20℃. The average daytime temperature in June is around 28℃ and the nighttime temperature is around 18℃. The difference in temperature between north and south is small. For example, Beijing, located in the northeast part of China, with an average temperature between 21℃~32℃. Shanghai, located in the middle east part of China, with an average temperature between 23℃~29℃ and Hong Kong, located in the south east part of China with an average temperature between 28℃~32℃. The precipitation nationwide is around 90mm and the average precipitation day is around 6-9 days. Generally speaking, the main rain belt in June is stretched from the middle and lower reaches of the Yangtze River to the area that is south of the Yangtze River, mainly involving provinces and cities such as Yunnan, Guangxi, Guizhou, Hunan, Sichuan, Chongqing, Wuhan, Nanchang, Fuzhou, etc.
What to Wear - It is recommended to wear cotton and linen fabric shirts, thin dress, thin shirts and other cool and breathable clothes during daytime and comfortable clothes such as short suits of single-layer cotton and linen fabric, T-shirts, thin jeans and trousers, casual clothes and career suits during night time. For those who are planning to visit northeast China, northwest China and high altitude areas like Tibet, Xinjiang, Qinghai, West Sichuan, etc. need to take an extra coat or other warm clothes with you. Carry an umbrella in case of sudden rainstorms.
Area
Cities
(Provinces/Municipalities)
Weather & Climate
Northern China
Beijing, Xian (Shaanxi), Shandong, Luoyang (Henan), Pingyao (Shanxi) and other places
Temperature: 21℃~33℃
Rainfall: 10~30mm; 40~60mm
Northern China is mainly in the temperate climate zone with monsoon and continental climate. The temperature difference between day and night is small in coastal areas, but larger in inland areas. For example, the daily temperature difference in Beijing, Xian, etc. in June can be over 10℃, but for Qingdao in Shandong, the temperature difference in June is only about 5℃. The region also receives little rainfall in June. Generally speaking, the climate is dry, sunny and windy.
Eastern China
Shanghai, Huangshan (Anhui), Hangzhou (Zhejiang), Suzhou (Jiangsu), Nanjing and other places
Temperature: 23℃~31℃
Rainfall: 60~120mm; 150~200mm
Most of southeast China belongs to the subtropical monsoon climate zone. The average temperature of cities in the middle and lower reaches of the Yangtze River doesn't differ much, with an average temperature around 27℃. June is the first flood season in South China and the plum rain season in this area. Heavy rainfall often occurs, therefore umbrellas are necessary for travelling.
Southern China
Guilin (Guangxi), Zhangjiajie (Hunan) and other places
Temperature: 23℃~32℃
Rainfall: 120-150mm; over 200mm
Both Guilin and Zhangjiajie have a subtropical monsoon climate, with four distinct seasons. Summer in Guilin and Zhangjiajie is hot and sunny and the rainfall is abundant. The average altitude of the Zhangjiajie scenic area is 1000 meters, and due to the difference, the temperature difference between day and night can reach 10℃. The rainfall in June in both areas is mainly heavy rain, which lasts only for a short time, and the scenery is excellent after the rain.
Southwestern China
Sichuan, Chongqing, Yunnan, Guizhou and other places
Temperature: 18℃~30℃
Rainfall: 50-80mm; 60-120mm
Most areas of Sichuan, Yunnan and Guizhou provinces belong to the subtropical monsoon climate zone, while the higher altitude areas belong to the alpine plateau climate zone. The average temperatures in Chongqing, Chengdu and east Sichuan are pretty much the same from 22℃ to 30℃. Guizhou and Yunnan are the top two provinces to escape summer heat with the average temperature from 18℃ to 25℃. The Western Sichuan Plateau and Yunnan-Guizhou Plateau are both high altitude areas with an average temperature of 12℃~25℃. The average rainfall in this area is around 50-80mm, among which, rainfalls in Chongqing, Chengdu, south Sichuan, east Guizhou and south Kunming are likely above average, around 60-120mm. Visitors are recommended to bring umbrellas during the tour.
Northwestern China
Gansu, Xinjiang, Ningxia and other places
Temperature: 17℃~30℃
Rainfall: 10~30mm, 40~70mm
Most of the provinces and cities in this region are in the temperate continental climate zone. This area is deep inland. The climate in June is characterized by a large temperature difference between day and night, less precipitation, sunny days, heavy wind and sand, and strong ultraviolet. If you have the intention to visit the deserts, gobi and other places, it is recommended to bring sunblocks, sunglasses, dusk masks and other dust prevention stuff.
Southern Coastal China
Hong Kong, Guangzhou (Guangdong), Shenzhen, Macau, Hainan, Xiamen and other places
Temperature: 26℃~33℃
Rainfall: 120~150mm; over 200mm
Most of the region belongs to the subtropical monsoon climate zone, partially belonging to the tropical monsoon climate zone. The temperature is generally high in June, and the hottest places in the country are mostly concentrated in this region. The average precipitation is around 120-150mm in most areas. Precipitation will exceed 200mm in some areas, like Fujian Province. Hainan province and coastal areas of Guangdong provinces may be affected by typhoons in late June.
Northeastern China
Harbin (Heilongjiang), Jilin, Shenyang (Liaoning) and other places
Temperature: 17℃~28℃
Rainfall: 10~30mm; 40~60mm
Most of Northeast China belongs to the temperate monsoon climate zone. The summer is warm and rainy. Precipitation usually occurs in the form of showers or thundershowers.
Qinghai-Tibet Plateau
Qinghai, Tibet
Temperature: 10℃~25℃
Rainfall: 40-70mm
Most areas of Qinghai and Tibet are located on the Qinghai-Tibet Plateau, which belongs to the plateau mountain climate zone. Summer is cool and dry, but ultraviolet radiation is extremely strong. If you don't want to get sunburned, remember to wear sunscreen or use sun umbrellas.
Inner-Mongolia
Inner Mongolia
Temperature: 15℃~28℃
Rainfall: 10~30mm
Inner Mongolia has a wide range of regions, most of which belong to the temperate continental climate. The east and northeast part are mostly grasslands, while the west part is mostly deserts and gobis. For example, Hulun Buir, located in the northeast part of Inner Mongolia, has an average temperature around 18℃-20℃, while the average temperature in Baotou is around 16℃-29℃. It shows that the temperature difference between day and night is large in desert areas, with less precipitation, more wind and sand, and more sunny days; However, grassland area is cooler and the temperature difference is small, the climate is humid than the middle and western part, which is suitable to escape summer heat.
Places to Visit in June: Top Destinations & Highlights in China June
June, China begins to warm up in the north and south, but it is still not as hot as July and August. June is one of the best months to visit China. You can avoid the crowds of May as well as students' summer vacation which usually starts in July. You can look for a cool summer resort with the best scenery and then set out on the trip of your lifetime. Besides the must-see destinations in China such as Beijing, Shanghai and Xi'an, we have also compiled a list of top 10 places to visit in June in China. Continue to read the following passages to inspire your China tours in June 2023!
No.1 : Guilin
- Emmerse in the Emerald Rivers and Mountains and Enjoy Bamboo Rafting
• Temperature: 25℃-32℃
June is the most abundant season for rivers in Guilin. In the middle and late May, rafting activities in places like Longjing River and Wupai River are becoming more and more popular. During June, there is no hot sun and the water temperature is also suitable. Visitors won't get cold or even get wet. If you want to have a rafting trip in Yangshuo, the Yulong River is the perfect choice. Although there are no famous sights like those on the Li River, the scenery along the banks would also be hard to turn away from. More importantly, you'll take a bamboo raft that actually punts along the Yulong River.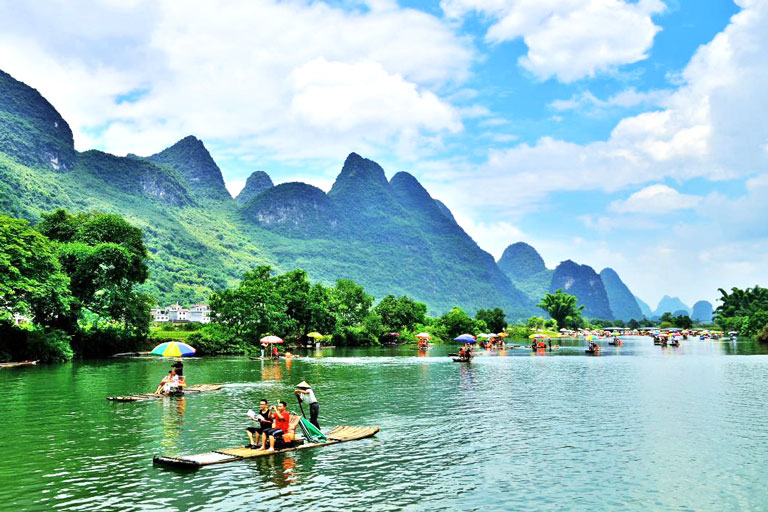 Yulong River Bamboo Rafting in Summer
No.2: Zhangjiajie
- The Fantastic World of Avatar in Misty Rain
• Temperature: 23℃-31℃
In June, Zhangjiajie is a cool summer resort where you can climb perilous peaks, visit karst caves and experience rafting. Take the longest sightseeing ropeway to experience passing through the fog and clouds, step on the glass walkway to challenge the limit of your fear of heights, and explore the customs of Tujia people. After the hiking tour, you may also extend your trip to the most beautiful town in China - Fenghuang (Phoenix) Ancient Town to enjoy the charming scenery of multiple ancient sites of towers, bridges, stone paths as well as the rich culture of Miao, Tujia and other 26 minority ethnic groups.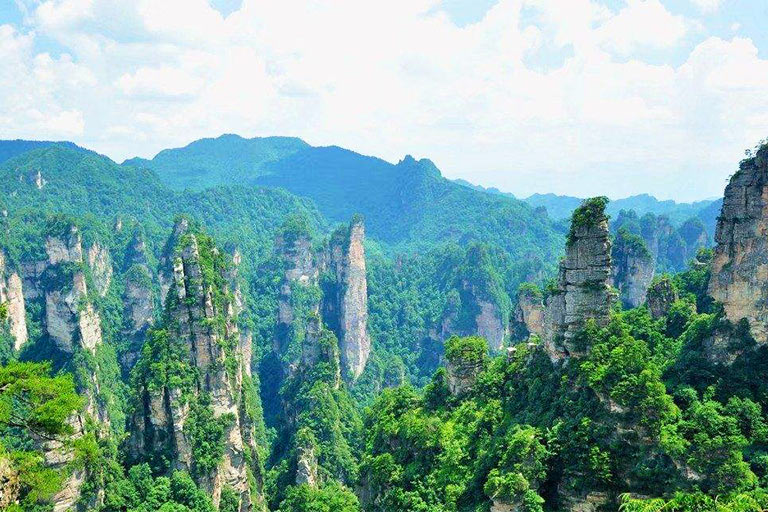 Zhangjiajie National Forest Park in Summer
No.3: Shangri-La
- Best Time to Enjoy the Widespread Flower Sea
• Temperature: 10℃-20℃
In June, Shangri-La performs the most beautiful scenery of the year. Green alpine meadow, azaleas everywhere, flocks of cattle and sheep, forming a gorgeous painting. Stay one night in the prairie tent, pillow flowers and count the stars during night, enjoy the quiet and romantic of the magic land.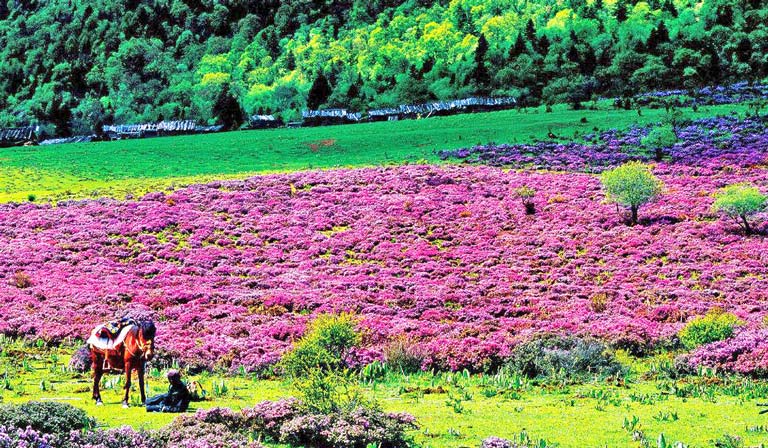 Azalea Blossom in June
No.4: Silk Road
- Pleasant Culture Tour with Dunhuang Sand Festival
• Temperature: 16℃-29℃
The most pleasant time to visit Gansu and Dunhuang is summer and autumn. Golden sand dunes and verdant oasis nestle in perfect harmony. Climb up the sand dune before sunset, watch the camel team returning home, enjoy the colorful sunset, and wait for the last sunset to disappear on the horizon, admire the lights of Crescent Moon Lake liting up against the silhouette of the lake. Visitors can also experience desert camping, one of the most popular activities on the silk road. If you happen to visit Dunhuang on June 1, don't miss the Dunhuang Sand Festival, where hundreds of sand skating fans slide down the Echo Sand Hill (Mingsha Hill) at the same time, the sand sea rolls and the sound of sand is like the roar of war drums.
Echoing Sand Mountains
No.5: Tibet
- A Spiritual Journey before Summer Crowd
• Temperature: 9℃-22℃
Lhasa, Tibet, is the dream place for many youth and believers, and many students choose it as their must-visit place on their graduation trip. Tibet Buddhism is the first feature. Amazing temples like the Jokhang, Tashilhunpo, Palcho Monastery and Potala Palace are found throughout the cities (Lhasa, Gyantse and Shigatse) in Tibet and the devotion of the people can be witnessed around every corner. People always feel that it will be a kind of regret if they have not been to Lhasa in life. Head to Lhasa for a soul-cleansing tour before the summer rush begins!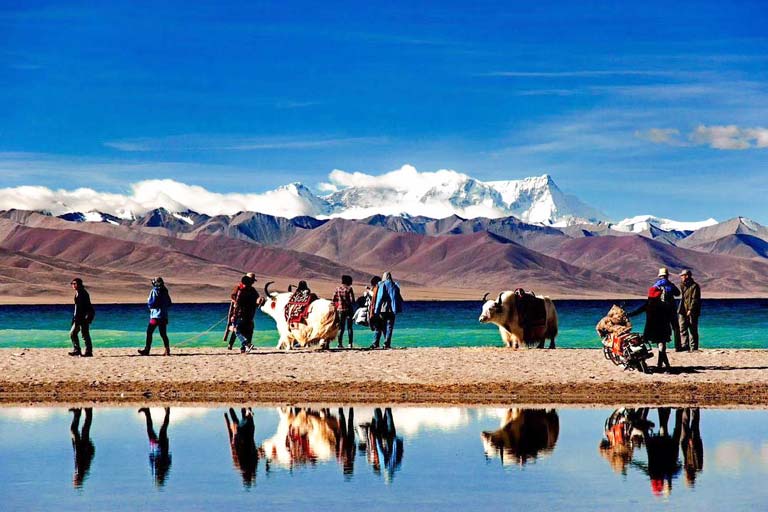 Visit Tibet in June
No.6: Daocheng Yading
- The Last Pure Land on Earth
• Temperature: 8℃-19℃
Daocheng Yading, a legendary holyland on earth, an isolated paradise and a sacred place to visit at least once in a lifetime! Because of its high altitude, June is the late spring in Daocheng Yading. Various colored azalea flowers blooming with the fresh green pasture vitalize the mountains in Yading fully, making Daocheng Yading a nice place for mind refreshing. Moreover, thicker ice from winter makes snow mountains at Yading brighter and magnificent.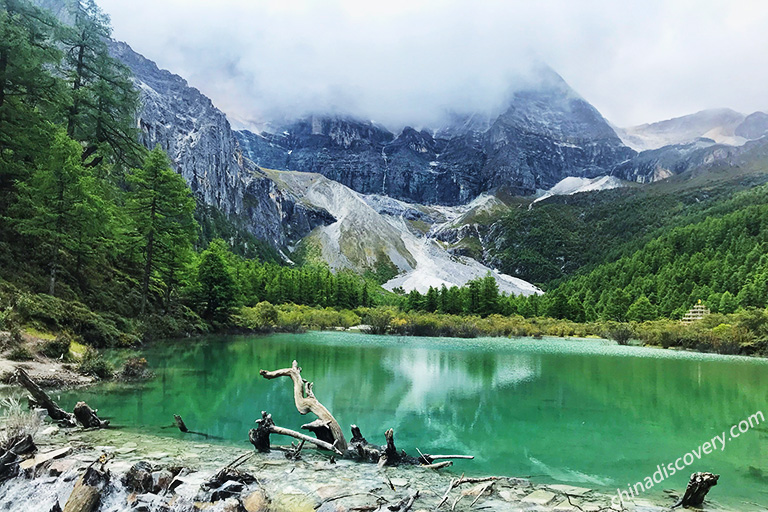 Mount Xiannairi
No.7: Fujian Xiapu
- Record of Interaction of Light, Shadow and Color with a Camera
• Temperature: 24℃-30℃
Xiapu, one of the top photography destinations in China, attracts countless visitors to come every year. June is one of the best months for photo creation. Rapidly changing clouds and mist after thundershower, plus abundant photography subjects like fry catching, kelp seaweed and egrets, provides photographers with the largest space for self-creation. Besides, Songshan, Xiapu is the hometown of Mazu. During the Dragon Boat Festival, Songshan Village will hold the "Mazu Walk the Water" activity, and welcome the statue of Mazu from the Tianhou Palace to get on a dragon boat cruise, followed by a lively dragon boat race.
Rapidly Changing Clouds and Mists in Summer
No.8: Zoige Grassland
- The Oasis in Northwest Sichuan Plateau
• Temperature: 8℃-19℃
In June, the sky is high and the air is cool in Zoige. There are meadows, grasslands and marshes, which constitute the beautiful grassland scenery. The grasslands are dotted with flowers, with a fragrant smell. You can enjoy the beauty of the vast grassland while savoring the customs of the Tibetan nationality and purifying your soul.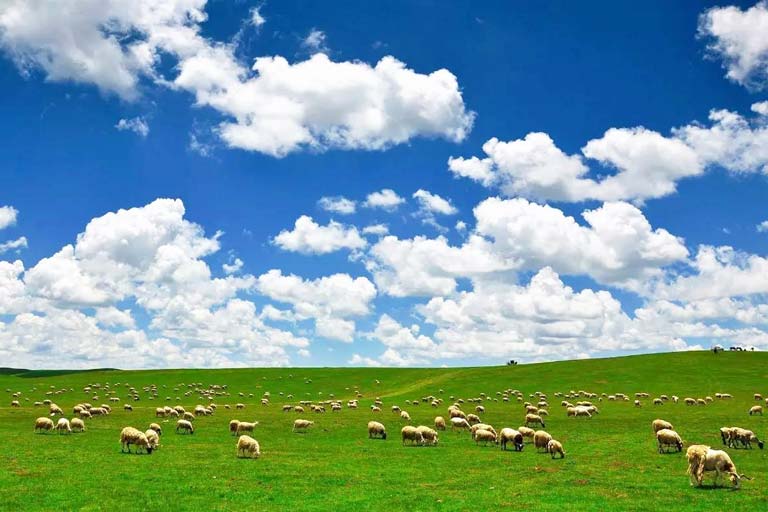 Zoige Grassland in June
No.9: Xinjiang
- Immerse Yourself in the Splendid Purple Dream
• Temperature: 19℃-29℃
Yili (伊犁), the hometown of lavender in China, is praised as the "Provence in China". Every year in the middle of June, tens of thousands of acres of lavender fields look like a purple sea, emitting a romantic atmosphere. At the same time, nearly one million acres of rape flowers in Zhaosu County also begin to bloom. Endless rapeseed flowers spread like a golden tapestry across the endless prairie, Endless rapeseed flowers just like the golden woven blanket sweeping across the endless prairie, and the Tianshan Mountain glows in the distance. This scenery can be called the magnificence of Xijiang and even west China. In June, the water of Sailimu Lake is blue and clear. The grass looks like a green carpet and flowers blooming like a piece of brocade. The scenery here is simply amazing, unforgettable. Contact us to tailor-made your North Xinjiang tour >>
Lavender Sea in Summer
No.10: Hangzhou
- Savor the Ten Scenes of West Lake
• Temperature: 23℃-30℃
Curved Yard and Lotus Pool in Summer in West Lake is the top highlight in Hangzhou in Summer (June-August). Little bridges with different shapes across the pool and people walk on the bridge as if they were walking among the lotus flowers. For those who want to find a tranquil place to avoid the hot waves, visiting the old Linyin Temple, Longjing Tea Plantations or the bamboo forests around West Lake are definitely a pleasant experience.
Curved Yard and Lotus Pool in Summer
Travel China in June with China Discovery
Feel trouble about your China June Tour planning? Why not travel with us China Discovery and let our professional Travel Consultants help you? And then you will get a worry-free trip and focus all your energy to sock in the highlights during the tour! Our experienced travel expert will help arrange your accommodation and plan your trip sincerely. And our English-speaking tour guide will accompany you all the way, show you the best travelling route, share interesting stories and introduce all highlights to you. Our local experienced drivers will escort you to the attractions with comfortable car directly with speed and safety.
The tour can be tailor-made according to your group size, time, physical condition, plan, interest, budget and every special need. Please feel free to contact us if you need any help!
Learn more about China Weather
More Travel Articles for China Summer
China Summer Tours
Recommended China Summer Tours
Top 3 China Summer tours chosen by most customers to explore China Summer in the best way. Check the detailed itinerary, or tailor your own trip now with us.
9 Days East China & Mt. Huang Tour by High Speed Train

Shanghai / Suzhou / Hangzhou / Huangshan
Kunming / Dali / Lijiang / Shangri-La
13 Days China Landscape Tour including Zhangjiajie and Guilin

Beijing / Xian / Zhangjiajie / Guilin / Shanghai
Start planning your tailor-made holiday to China by contacting one of our specialists. Once inquired, you'll get a response within 0.5~23.5 hours.
Customize a Trip
Have a question? Get answers from our travel experts or guests
Your Question:

Your Name:

Your Email: