Everything about China High Speed Train Facilities
China High Speed Trains are equipped with the most advanced and most humanistic facilities among all the China trains, making your China train journey comfortable and convenient. Here, you could know the details about the facilities like carriage, seats, luggage, dining, bathroom, toilet, electricity, drinking water, Wi-Fi, language, etc.
>> Photo Gallery of Facilities on China High Speed Train
Table of Contents
Unlike China normal trains which have more than 15 carriages, a China High Speed Train is consisted of 8 carriages (Sometimes two trains may be chained together in order to transfer more passengers during peak seasons like Chinese Spring Festival and the October National Day Holiday). The carriage number is shown both outside and inside the train. The outside number may be above or next to the entrance door, while the inside always shown at the end of every carriage. The floor of the carriage is as high as the railway platform, making it easy to board and disembark. Hold your little things like iPhone firmly or else it may drop into the gap between the train and railway platform.
Train number, departure station and arrival station can be also seen outside the train, you'd better have a check about that before board the train.
Check more about Board & Disembark from High Speed Train
In order to suit the need of every passenger, China High Speed Trains equipped with different kinds of seat including Business Class Seat, Premium Class Seat, 1st Class Seat and 2nd Class Seat. All the seats on High Speed Trains have met the basic need during travel, but the design details on each kind of seats are different, which make different travel experience.
Business Class Seats are the most advance and deluxe among all types of seats on High Speed Trains, also the most expensive. There are many design details on a Business Class Seat, including reading lamp, service call, large tray table, back cushions, and special buttons to automatically adjust the seat into upright, half lying, full lying and also the sightseeing mode (facing the big glass window).
Related Train Travel Stories:
● Shanghai - Hangzhou - Beijing: Luxury Shanghai Hangzhou Beijing China's High Speed Train Journey
● Shanghai - Ningbo: Affordable Superior High Speed Train Trip from Shanghai to Ningbo
Recommended Train Tours:
>> 7 Days Shanghai Suzhou Beijing Contrast Tour by Bullet Train
>> 8 Days Shanghai Hangzhou Beijing Highlights Tour by High Speed Train
Premium Class Seats are not available for every High Speed Train. There are two kinds of Premium Class Seats. One is using the same kind of seats as Business classes, while another using seats as 1st Class Seats.
First Class Seats are the best-value seats among all the seats on high speed train. Though don't have that much high-tech elements as Business Class Seats and Premium Class Seats, First Class Seats are equipped with full humanized designs including tray table, footrest, windowsill, pillow, power sockets, earplug socket and buttons to adjust the seat backward, making you a sufficient and fantastic carriage environment during the trip.
Second Class Seats have almost all the equipment that 1st Class Seats owned, but the smaller size and more basic standard. For example, 1st Class Seats are arranged every 4 in one row, while 5 seats are arranged in each row for Second Class Seats. It is highly recommended for those travelers in budget, but not that suitable for those travelers with children. (First Class Seat VS Second Class Seat)
Related Train Travel Stories:
● Shanghai - Beijing: A Tale of Two Cities - Shanghai to Beijing Bullet Train Travel
● Beijing - Xian: China's Superfast Bullet Train Riding from Beijing to Xian
● Shenzhen - Xiamen: A Comfortable Trip by High Speed Train in China
● Sanjiang - Congjiang: Guizhou is An Ethnic Paradise for Rail Travelers, Come?
Recommended Train Tours:
>> 6 Days Classic Beijing Xian High Speed Train Tour
>> 6 Days Beijing Shanghai Tour by High Speed Train
There are Sleepers among overnight-travel High Speed Trains in small amount of cities like Beijing, Shanghai, Xian, Chongqing, etc. Unlike normal hard or soft sleepers in which aisle lies the edge of a carriage, the Sleepers on High Speed Trains arranged parallel with the moving directing and the aisle lies in the center. The upper and lower passengers have separate Windows to enjoy the beautiful view of outside. Each bunk also has separate tea table, power socket and pull curtain, guarantee a private space for travelers.
There are sightseeing windows with adjustable sunshade curtain next to all the seats on High Speed Trains. Through it, everyone can view the beautiful sightseeing along the way. If you want to take a sleep over the trip, you can draw the curtain to keep the sunshine off.
Seat number can be found above the windows. For Fuxing High Speed Trains, the seat number is shown on the screen. Passengers can know whether the seat is sold or not through the color of electronic lamp on the seat screen. A red light indicates that the seat has been booked and the owner is inside the train now. A yellow light indicates that the seat has been booked but the owner won't be there until the next stop. A green light indicates that the seat hasn't been sold. For other High Speed Trains, there is no such a function available.
Check more about Classes of Seat on High Speed Trains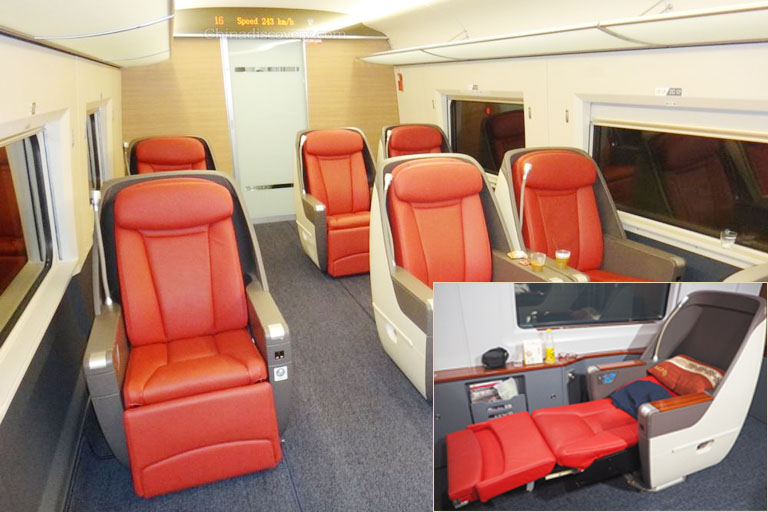 Bussiness Seats on High Speed Trains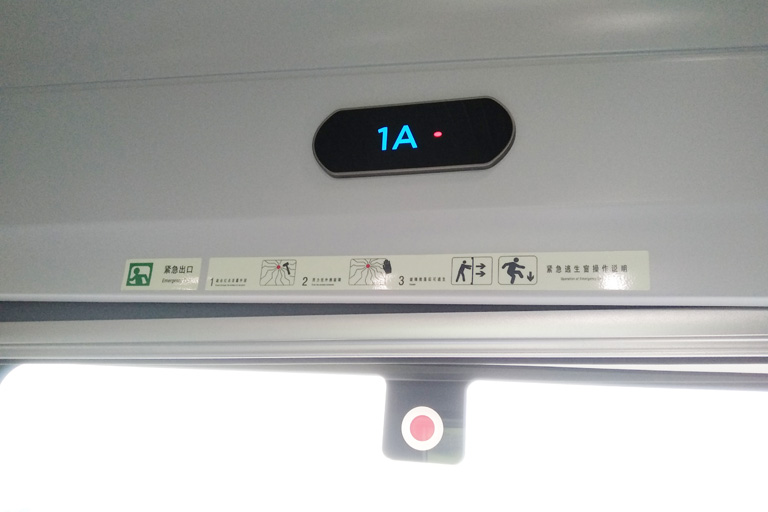 Seat Screen on Fuxing Bullet Trains
All High Speed Trains in China are equipped with air conditioners. The air conditioning system sets the temperature automatically according to the internal and external temperature, making a comfortable condition inside the train. Even the attendants on the trains cannot change it, so for the people who feel sensitive about the air condition, you are highly recommended to take a jacket with you in case that you may feel cold during the trip. For Business Class passengers, you can ask the attendants for help, they will give a blanket or more.
There are special luggage racks and closets on China High Speed Trains to store your luggage. The luggage racks on both sides overhead the seat are the most concentrated and frequently used space for luggage store, while the closets at the joint of two carriages are the best suited place for huge and heavy suitcases and bags..
The overhead luggage racks made in curve shape can keep your luggage firmly stored and doesn't require worrying about falling or wobbling, which is better than designs on other normal trains. But only bags and normal-size suitcase can be put onto for it is only about 45 - 50cm wide and 50 - 60cm high. There is no strict provision that you cannot put your suitcases or bags on the overhead racks near someone else, but you are not recommended to do so for it may be inconvenient for you to get off.If you book the most deluxe Business Class, there is no luggage rack on both sides overhead the seat, but there is extremely broad space around your seat.
The luggage closets placed in the end of every carriage are rarely used by others except peak seasons, so you can put your luggage here after you passed the entrance while small bags and valuable personal stuffs are highly suggested to be carried around with you.
If you inevitably encounter with the peak season and couldn't find any free space at the racks and closets, you can also put your luggage under or near your seat. Do not leave your luggage at the aisle for you'll be constantly asked to move your luggage when someone passes through.
Check more about Baggage Allowance & Policy on China (high speed bullet) trains.
Power sockets can be found on most China High Speed Trains except some old types like CRH1. You can find the socket under the seat, next to the Wash Basins and inside the washrooms. Some sockets are mounted on the top of the head (under the luggage rack). It all depends on the type of the train. For Business Class passengers, there is no need to share the sockets with others, while 1st and 2nd class travelers have to share one socket with another one or two people. All electricity onboard is 220V, so only low power items like phone, laptop, paid and shaver are available.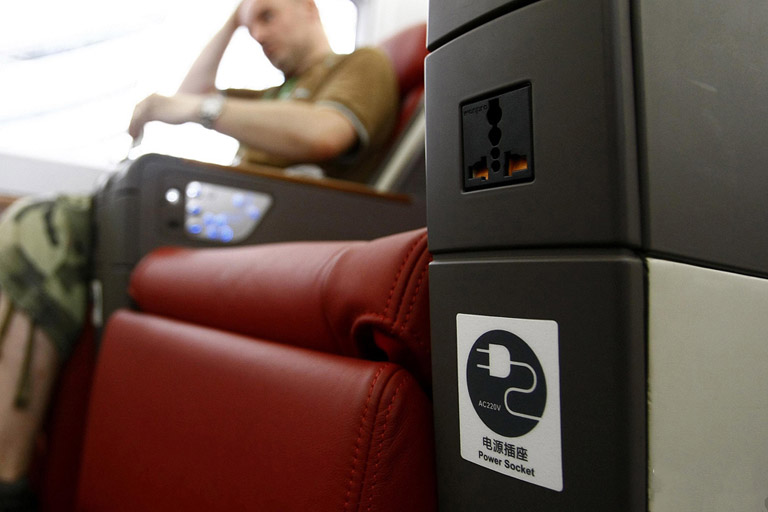 Power Socket inside Bussiness Class Carriage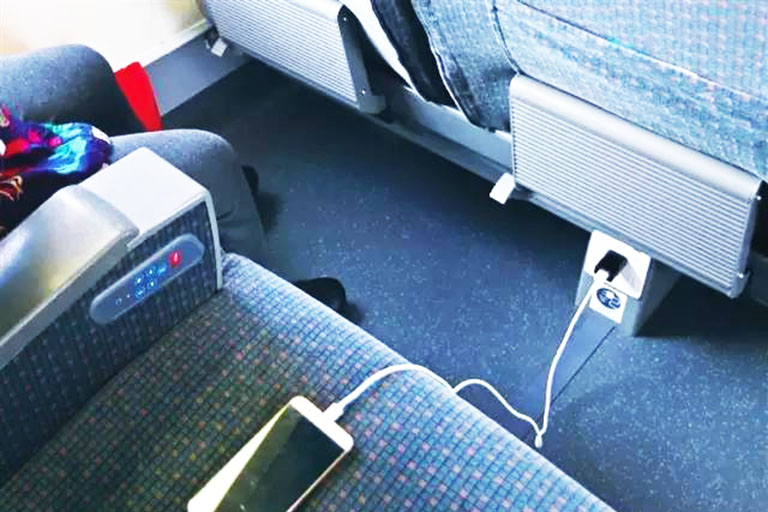 Power Socket under the Seat
The dining car is usually located in 5th carriage on an eight-carriage high speed train. Drink and pre-paced meals are provided in the dining car. There are variety of drinks including wine, beer, coke, juice, milk and coffee for you to choose, and the price of the meal goes from 15 Yuan to 65 Yuan. On account of the limitation of passengers for an eight-carriage high speed train, there is no separate seats and table for dinning, so you have to back to your seat to enjoy your meal after get the meal from the dining car.
The attendants will push a trolley to sell the meal and packed snacks during a trip. So you can just stay at your carriage and waiting for them. Travelers in the business class will be served with free meals and beverage, while passengers in other carriages should pay the meal and drinks.
Check more about Food & Drinks on China High Speed Trains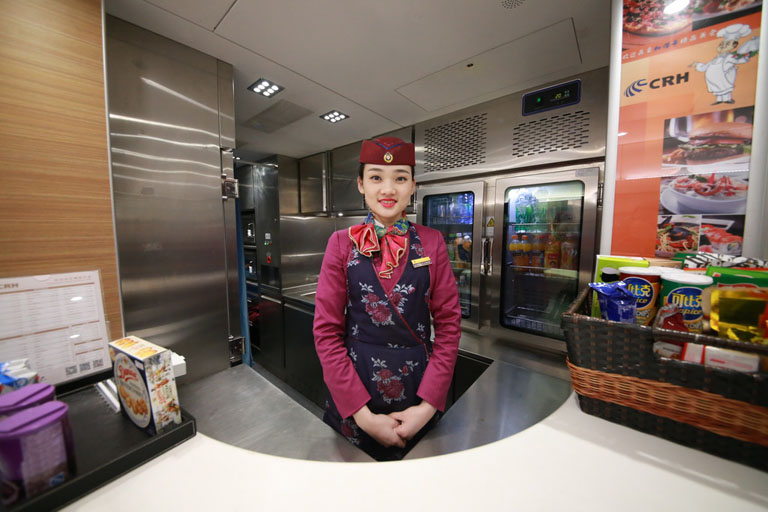 Large and Clean Food Dining Car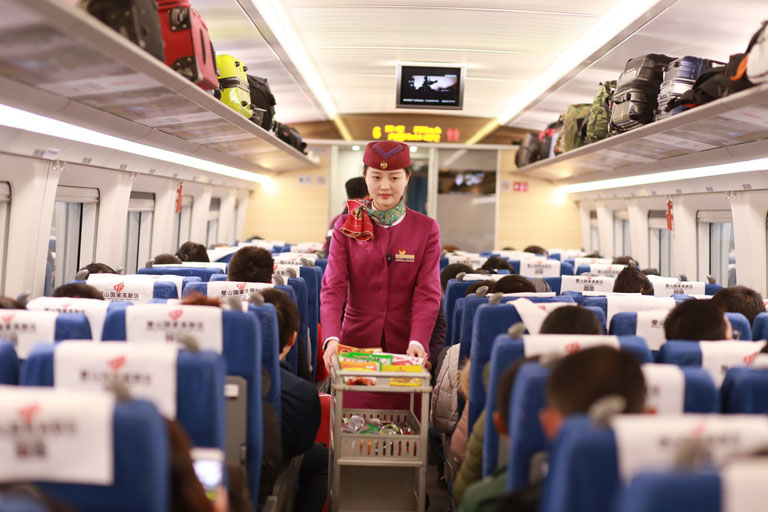 Moving Trolley with Food and Drink
High speed trains offer water heaters at the end of each carriage. There is a big button with red or green color on the heater, put your bottle under the tap and press the big button, you can get the boiled water. Above the big button there are three indicator lights. A red light indicates that the heater is working, and a green light shows that the water has boiled. There are prepared paper cups so it doesn't matter if you have cups. You are highly recommended to get a half full in case that be burned.
High Speed Trains are equipped with both western & squat toilets. If you don't like the squat toilet of your carriage, head to washrooms of other carriage and you can find the western style you want. Actually, toilet is part of the washrooms.
There are signs above the entrance of your carriage that indicate whether the washroom is available or not, a green light means there is nobody (无人) while a red light means there is somebody (有人) in. Not all the sign on China High Speed Trains are used the green or red light, but you can make a judgement of the availability by Chinese words "有人"(somebody) and "无人"(nobody). Unlike normal China trains on which toilets will be closed when the trains stopped, toilets are available on China High Speed Trains whether the trains stop or not.
There is a "flush button" located above all the toilets including both squat toilet and western style. You just need press once and it can flush automatically (the flush may be delayed). Toilet paper is provided in bullet carriages and always available, so there is no need to worry about that anymore.
Check more about Toilets & Washrooms on China High Speed Trains
There are three types of washrooms on High Speed Trains, the washroom equipped with squat toilet, the washroom equipped with western toilet and the Barrier-free Washroom.
The former two washrooms are almost the same, with basic facilities including toilet paper, mirror, dustbin, and clean water inside, while Barrier-free washrooms (or toilet for the disabled) enjoy more spacious space to accommodate a wheelchair and more humanized facilities like SOS button, hand rail and automatic door.
Barrier-free Washroom located between the fourth carriage and the fifth carriage on an eight-carriage high speed train, so you'd better to stay carriage like 4 or 5 if you want to use the washroom during the trip. For the passengers who seat far from the two carriages, China Discovery highly recommended you to change your seats with others. You can ask the attendant for help or just show the below sentences to someone of the two carriages.
● English: I'm sorry. Can I change my seats with you? I want to near the Barrier-free Washroom. Thank you very much!
Chinese: 你好,我可以和你换下座位吗,我想要离无障碍卫生间近一点,非常谢谢!
There is no separate baby care room on High Speed Trains, but a diaper changing table equipped in barrier-free washroom. The diaper changing table above the western style toilet can be easily opened, which is very convenient for mothers with baby in arms. Please be sure to secure your kid with safety belt while using and do not leave he or she alone. The barrier-free washroom is much spacious than other normal kinds so that you can also feed your kid here. If you don't know how to use the diaper changing table or you cannot handle alone, you can ask the attendants for help.
There is a separate wash basin with mirror opposite the washroom. It is a perfect place to make up and wash fruits. Put your hands inside the basins and you can get the water, no need to press any switch. Only cold water available and it is undrinkable. You can also find a power socket here.
A dustbin can be found at the end of every carriage, which is blended with the wall. Before throw litter into it, you have to push the dustbin's door first. For liquid items, please pour into the toilet of the washrooms. Actually, the dustbins are not that conspicuous that can be caught at once, but it is quite certain that it can be found at EVERY carriage.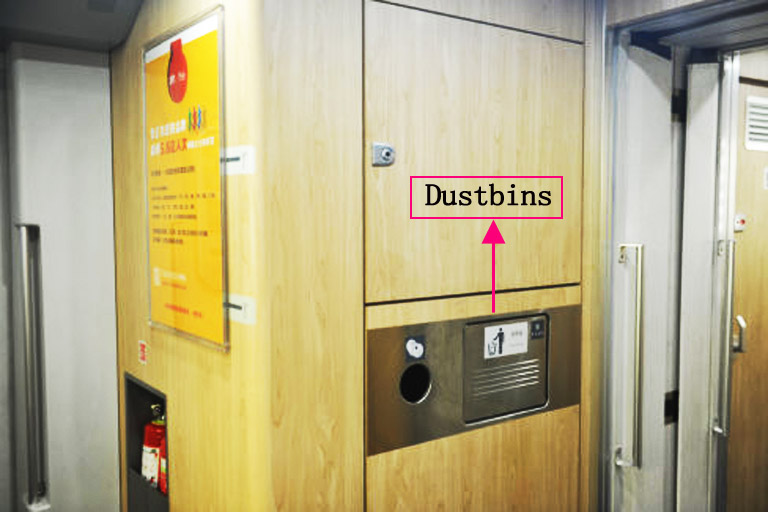 Dastbin on High Speed Trains
Dastbin on High Speed Trains
Everyone can get a small disposal bag from the grid bag of the seat. The design on the bag is depend on the train you will take. For example, cute pandas are printed on the trains start from Chengdu. The cleaners on High Speed Trains will collect the used bags now and then, and you will get a new one if she takes the old one away.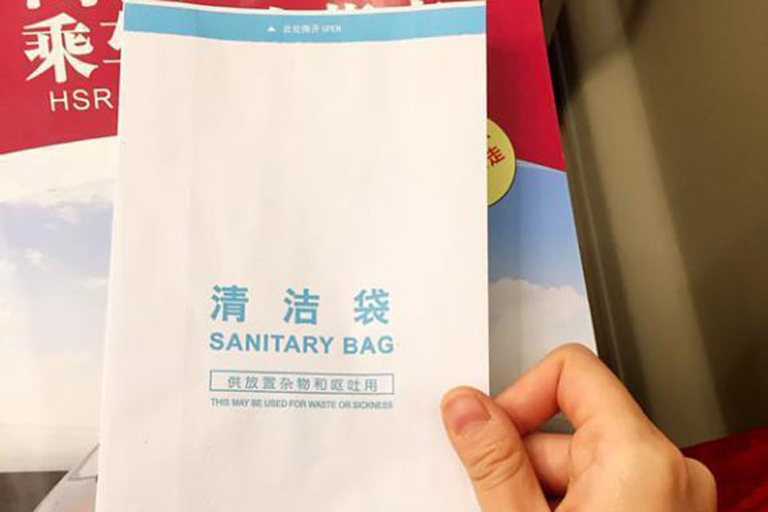 Sanitary Bag for Litters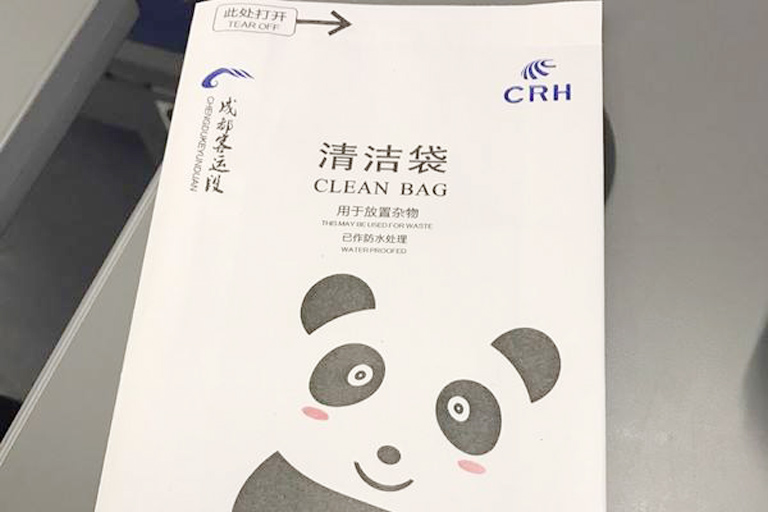 Clean Bag for Litters
Except the barrier-free washroom, there are special belt to secure wheelchair arranged at the end of every carriage. You can stay at any carriage as you want. However, for there is only one barrier-free washroom that usually set at 4th or 5th carriage on an eight-carriage High Speed Train, you are highly recommended to stay carriages near it for convenience.
Free Wi-Fi only available on Fuxing Bullet Trains and small amount of Hexie High speed Trains. There is no Wi-Fi service on normal trains. A Chinese phone number is a must to get the Wi-Fi for you have to get the verification code.
On a high speed train, each carriage has LCD TV sets playing movies or TV programs during the train trip.
But the programs may all in Chinese. The headset jacks and volume buttons are on the arm of each seat, so you can enjoy some Chinese pop music after plugged in a headset or headphones. Packed headset only provided in Business Class. You can also listen to the radio during the trip.
Smoking is forbidden on all China High Speed Trains. There are a lot of areas have nonsmoking signs that warn against smoking. The one who smoked on a high speed train will be forbidden to take any train during the next half year, so please do not try to smoke on high speed trains or else may mess up your travel schedule.
Every carriage is equipped with fire extinguishers, security hammers, and emergency brake. Railway police officers patrol during the journey.
China High Speed Train is widely fond to the public for its punctuality and convenience. If you have more questions and concerns about facilities on a high speed train, please feel free to contact our professional travel expert for help. China Discovery sincerely wishes you enjoy your China High Speed Train trip.
How to Plan Your China Train Travel with China Discovery
Since there are so many tourist cities connected by high speed rail network, tourist have lots of choices and routes to experience the super fast, comfortable and fashionable high speed trains. China Discovery offers you featured high speed train tours in different routes, length, themes and landscape.
If it's your first time to visit China, Beijing, Shanghai and Xian are the top recommended destinations to enjoy the newest Gaotie and most representative attractions in China. It takes about 4.5-6 hours from Beijing to Shanghai or Xian by high speed train, and Shanghai Xian express needs about 6-7 hours. You can experience the top standard seat - Business Class Seats to enjoy the half day train travel. Here is our 6 Days Beijing Shanghai High Speed Train Tour and 8 Days Best of China Tour. If you want to an in-depth train trip to discover more interesting cities, you can have a new Hong Kong Guilin Train Tour, an Ancient Silk Road Tour (15 Days Classic Ancient China Silk Road Tour with Bullet Train Experience) and ethnic culture tour in Yunnan. Check updated train schedules and route to get inspired for you China train tour!
Highly Recommended Routes to Experience China High Speed Trains
As high speed train travel are becoming much popular and recommended by large portion of visitors in China, here we also list some top high speed train routes chosen by most people during their China tour. See the routes at below and pick one to experience the great advantages of travelling by high speed train. Also, you could check all high speed train routes to select which section to experience.
Extension Readings of High Speed Train Travel in China
Recommended Tours
Top 3 tours chosen by most customers to explore in the best way. Check the detailed itinerary, or tailor your own trip now with us.
9 Days East China & Mt. Huang Tour by High Speed Train

Shanghai / Suzhou / Hangzhou / Huangshan
7 Days Shanghai Suzhou Beijing Contrast Tour by High Speed Train

Shanghai / Tongli / Suzhou / Beijing
Start planning your tailor-made holiday to China by contacting one of our specialists. Once inquired, you'll get a response within 0.5~23.5 hours.
Customize a Trip
Questions & Discussions
Following are latest questions and answers from our webusers and customers. You can learn many useful information from the discussion and cases. You can also join in the discussions or ask your own question. Our experts will help you ASAP.
Wifi
Is there wifi on G train from Guangzhou to Wuhan?
Hi Mike,

Thank you for the message. The Wi-Fi service is temperately available on the Fuxing trains that are a new type of G train in China. And from Guangzhou to Wuhan, there are the G96 at about 08:55, G80 at about 09:00, and G66 at about 10:00 for your choice, and they all start from Guangzhou South Railway Station to Wuhan Railway Station, needing only about 3 hours and 38 minutes. However, the other G trains on this route do not provide the Wi-Fi service. The train numbers are only for your reference, and you could contact the official website of China Railway for more details.

Wish you a great experience on the high speed train from Guangzhou to Wuhan.
Hello
Im on the high speed train to beijing from shanghai. How can i access the free wifi because i cant see any. All password protected
Hi Mute,

Thanks for your message. Currently only a few trains in China are equipped with free-WiFi which is still on the Test Run. If you find the password-protected WiFis, they are not the public ones. You can try to consult the conductors on the train to check out.
Wi-fi
Is there Wi-Fi available on the train from Shanghai to Anqing?
Thank you
Hi Paul Drews,

Thanks for your question. We are sorry to tell you at present there is no wifi available on Shanghai Anqing high speed train.

Have a good day!
Have a question? Get answers from our travel experts or guests
Your Question:

Your Name:

Your Email: