How to Apply for A China Visa - Application Guide & Tips
Notice on Further Adjusting the Visa and Entry Policies for Foreigners Entering China - Updated on March 14, 2023:
In order to further facilitate the entry and exit of Chinese and foreign personnel, it has been decided to make the following adjustments to the visa and entry policies for foreigners entering China, effective from 00:00 March 15, 2023 Beijing time:
1. The entry function of visas which were issued before March 28, 2020 and still valid will be restored.
2. Overseas visa offices will resume issuing various types of visas (including Tourist Visa) for foreigners to travel to China, with specific requirements detailed in the visa application guidelines of Chinese embassies or consulates.
3. Port visa offices will resume issuing various types of port visas for lawful purposes.
4. The policies of visa-free entry for Hainan, Shanghai International cruise arrival, Guangdong for Tourist group entry of foreigners from Hong Kong, Macau, and ASEAN tourist groups entering Guilin, Guangxi will be restored.
China Discovery will keep focusing on the updates of the latest Chinese visa and entry policy! You can also call 86 010 12367 (Official telephone number of China National Immigration Administration) to check further information. Welcome to join in our Facebook Groups to catch up with the latest news!
Invitation letter is a vital document for Chinese visa application. If you travel with us, we will not only create a valuable tour for you, but also provide you an invitation letter if you request, which will help you obtain your visa successfully. Start customizing your tour in China now!
We are one of the few China travel agencies who have kept active and received lots of feedbacks and reviews during pandemic years
"It was our second time with China Discovery Tours. Once again they tailored the tour according to our ideas and interests - and succeeded in surprising us!
read more »
Reviewed on March 20, 2023
"We loved it! Our tour guide Frank was very kind, informative, and funny :) We loved how easy it was and how much we got to see in a day, I will definitely recommend to our friends!
read more »
Reviewed on March 16, 2023
There are different ways to obtain a Chinese Visa according to your visa types and visiting destinations in China. Except visitors eligible for Visa Free Entry to China, most foreigners need to apply for a Chinese Visa from Chinese embassies, consulates or China Visa Application Centers abroad. Nations qualified relevant requirements can also apply China Visa on Arrival and China Visa Free Transit in specific ports of entry in China upon arrival.
With required passport, supporting documents and visa fees, applicants need to follow several steps to obtain a Chinese Visa. Applications of regular visas like China Tourist Visa (L Visa) and China Transit (G) Visa require just simple steps, while other visas like China Work (Z) Visa, Student (X) Visa and Family Reunion (Q) Visa have extra requirements. Below is the Complete Guide on How to Apply for Chinese Visas.
Step 1 - Complete the China Visa Application Form & Make Appointment for Submission Online
Find the right website to fill in visa application form
● Visa applicants, such as American, Philippines, etc., need to complete visa application form on COVA - "China Online Visa Application (https://cova.mfa.gov.cn)", then make appointments for on-site submission at the Visa Office of Chinese embassies or consulates on the website AVAS - "Appointment for Visa Application Submission (https://avas.mfa.gov.cn)" . 
● Visa applicants from 46 countries (or regions) in Asia, Africa, Europe, Oceania and North America are required to complete the application form online and book a appointment to submit on the website of China Visa Application Service Center (http://www.visaforchina.cn)
Important Notice: Visa applicants should fill in the application form truthfully, accurately and completely, concerning personal information (about name, date & place of birth, gender, marital status, nationality and passport), type of visa, work, education, family, email, past China travel, etc. Once the visa form is submitted online, no information in the form can be changed. If any adjustment needs to be made, the whole forms must be filled out again. 
After completing the application forms as required, please make sure to print the full set of COVA forms (8-9 pages) and sign on the Confirmation Page and the 8th page. If the COVA forms are not prepared as guided, the application will not be accepted.
Tips: Handwritten application form is not acceptable. If the application form is completed by another person on the applicant's behalf, please fill out his or her information.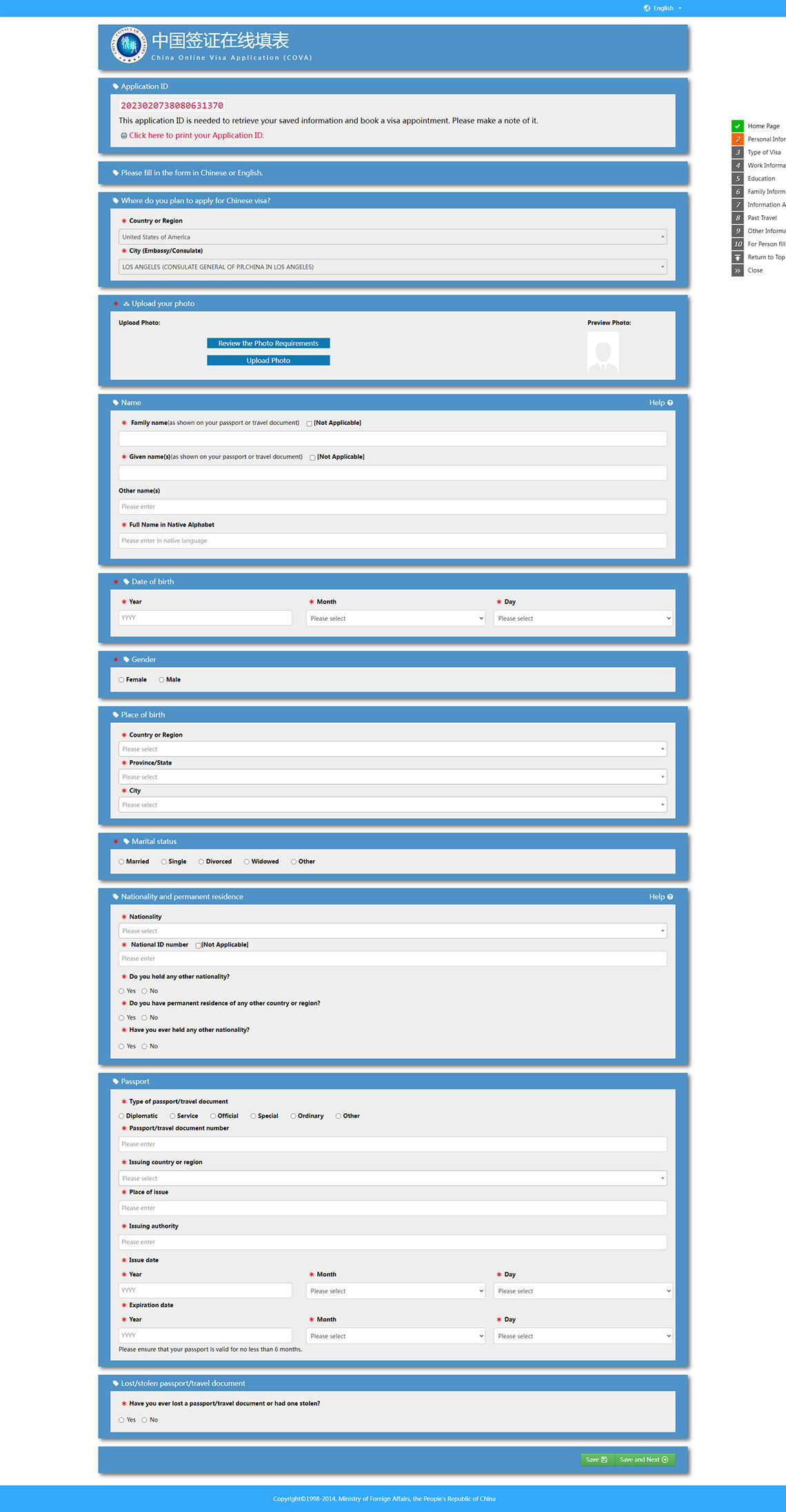 China Visa Application Form (COVA Version)
Step 2 - Prepared Required Documents for Your Chinese Visa Application
To successfully obtain a Chinese Visa, applicants need to prepare some materials to prove his/her legal identity and purpose of visiting. The most important requirements are basic documents, including your passport and a completed visa application form. And supporting documents relate to your China visit, such as invitation letter, flight ticket, hotel booking record, visiting schedule, etc., are also helpful for your visa application.
Basic Documents
① Passport: A valid original passport with validity of at least 6 months and 2 blank visa pages, plus a photocopy of the passport's data page.
② Visa Application Form: One completed China Visa Application Form (should be filled in correctly, downloaded, printed and signed for submission).
③ Photo: 2 recent photos are required to be glued on the application form. The photos should be frontal bareheaded photos taken within past 6 months, in light color background, in size of 48mm x 33m (2x2 square inch). China Visa Application Photo Requirements >>
④ Certification of Legal Stay and Residence: If you do not apply for Chines Visa in your own country, you are required to submit the original and copy of your valid visa, related proof of work, study, residence and legal stay.
⑤ Previous Chinese Passport and Chinese Visa: If you once was Chinese Nationality and acquired a foreign nationality, you must submit the former original Chinese Passport and copy of date page; If you once got a Chinese Visa on an old passport, you should submit copy of the date page and the previous Chinese Visa.
Supporting Documents
● For China Tourist (L) Visa: Travel itinerary materials including round-trip air ticket and hotel booking record, or invitation letter from an individual/company in China.
The Invitation Letter should cover personal information of the invitee's name, gender, date of birth, travel schedule of arrival & departure date, visiting places and inviter's name, contact number, address and signature or related information about the company.
● For China Business (M) Visa: Commercial activity documents and invitation letter for a trade fair by a Chinese trade partner.
● For China Student (X) Visa: Original and photocopy of the Admission Letter from a school or recruiting institutes in China, and original and copy of Visa Application for Study in China (Form JW201/JW202).
● For Family Reunion (Q1/Q2) Visa: Invitation letter from the Chinese Citizen or foreigners holding China Permanent Residence; photocopy of the inviter's ID or foreign nations' passport/Permanent Residence Permit; original and copy of the certification of the family relationships and etc.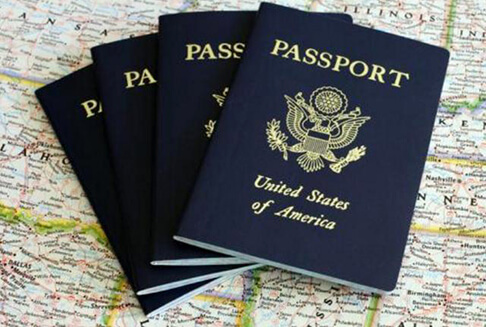 Passport is the First & Foremost Requirement
Complete A China Visa Application Form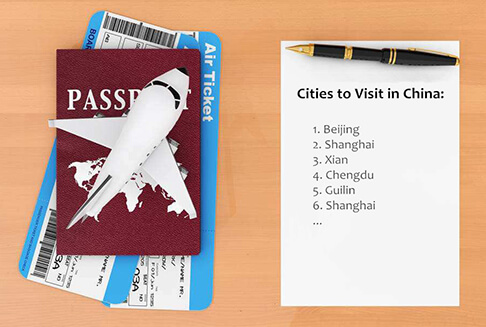 Air Ticket for China Tourist Visa Application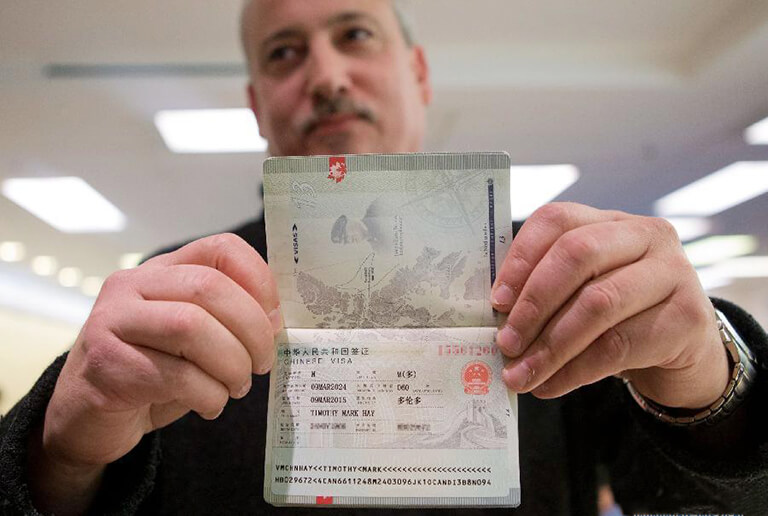 Canadian Granted 10 Year China Visa in Toronto
Step 3 - Submit the Application Form and Required documents
Go to China Visa Application Service Center, or Chinese Embassy or Chinese Consulates that serves your application, and then submit your Visa Application Form and all the documents you prepared. Select whether you need a urgent visa service and postal service or not. Please keep the pick-up slip which tells you the date for collecting your passport & visa.
If you can not make the submission in person, you may entrust others to submit the signed application form and required materials. You may have to show yourself in the embassy office if you are required to input biometric information when Chinese Embassy or Consulate think it's necessary.
Pay the visa application fee & pick up your passport & visa
1.) For submission at Chinese embassies and consulates, you can return to the visa office to pick up your passport and visa after being informed that your application is processed. Upon collection, you have to pay the visa fees. You can pick up your visa and make the payment in person or let a agent help you. The embassies and consulates do not offer mail-back service. 2.) For submission at China Visa Application Service Center, you have to pay visa fees and service charges when submitting documents. Keep the pick-up slip and collect all the documents after be informed your application is processed.
How long does it takes to issue your Chinese visa? Usually, if you submit application on Monday, you can pick up your visa on Thursday (for regular service), on the 4th working day. Longer time may be needed if visa officer requires, even though you choose express or rush service. Express Service (2 working days) and Rush Service (1 working day) are also provided with extra fees.
Useful Link: Chinese Embassies and Consulates List and Website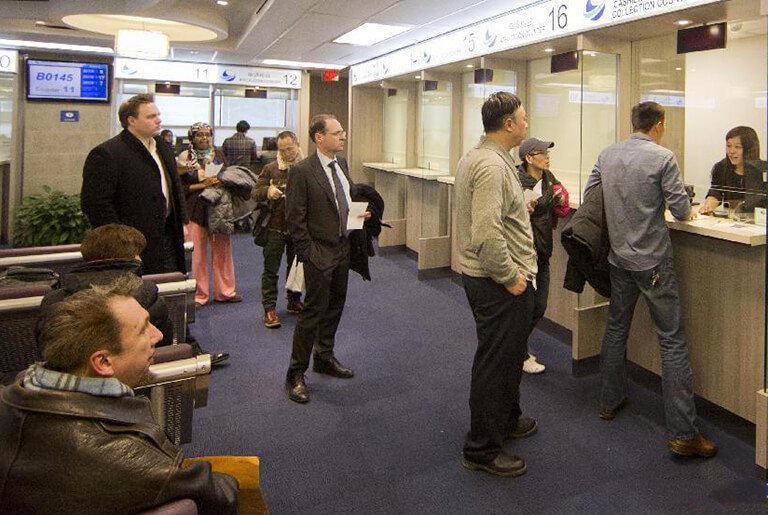 China Visa Application Center in Canada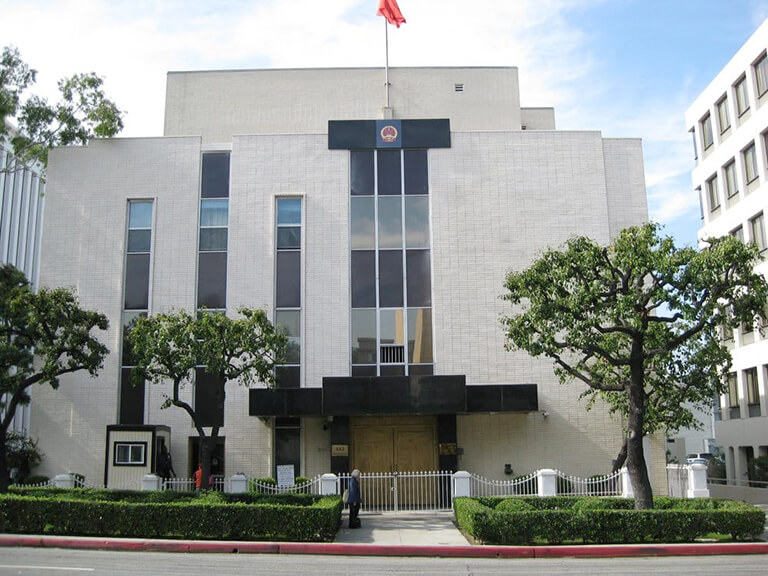 Visa Office of Chinese Consulat General in Los Angeles US
China Visa Application Fee - How Much Does a Visa to China Cost
China Visa Fee varies from different visa type, number of entry, duration of your stay, and nationality for each applicants. If you apply for a Chinese Visa, you will pay for the visa fee to the Chinese Embassy or Consulate and service charge to the visa office. Express and Rush Services for speeding up visa process need extra charges if you request such service. China Visa Fees and Cost >>
| Number of Entry | US Passport Holders | UK Passport Holders | Canadian Passport Holders | Citizens from Other countries |
| --- | --- | --- | --- | --- |
| Single Entry | USD 140 | GBP 85 | CAD $100 | CAD 50 |
| Double Entries | USD 140 | GBP 85 | CAD 100 | CAD 75 |
| Multiple Entries for 6 Months | USD 140 | GBP 85 | CAD 100 | CAD 100 |
| Multiple Entries for 12 Months+ | USD 140 | GBP 85 | CAD 100 | CAD 150 |
Tips:
1.) Chinese Group Visa Fee is CAD 40 for Canadians, and $140 for US citizens applying as a group.
2.) Choosing Express or Rush service, an additional fee will be charged.
3.) Application to China Visa Application Service Centers, applicants still need to pay extra service fees.
4.) Acceptable visa payment includes money order, cashier's check, or Credit Card (Visa or Mastercard only). Cash, personal/company check is not accepted.
5.) The above regular visa fee for third countries may be charged differently, please check updated fees in official website. Applicants must pay the visa application fee upon collection.
China Visa Application Online/On Arrival
▶ Apply for China Visa Online
Currently, completing all processeS of Chinese Visa Application is not available. Applicans or applicant's agent can finish visa form and make appoitment online, but have to go to Chinese embassies, consulates or Visa Centers in persion to submit visa application documents and provide fingerprints when it's necessary.
▶ Apply for China Visa on Arrival - Port Visa
For some applicants, it takes less time and simple procedures to get Chinese Visa at entry of ports upon arrival. There are four kinds of situations eligible for the VOA Application: authorized emergency entry, group tour (unavailable currently), visiting Special Economic Zones (unavailable currently) ( Shenzhen, Zhuhai & Xiamen,) and Hainan Province though certain ports (unavailable currently). You need to complete a simple form, entry card, pay visa fee and accept frontier inspection at the port of entry.
Visitors obtaining Special Economic Tourism Visa must enter and exit at specific ports, stay within the cities, can not travel further to other cities unless apply for a new Chinese Visa. (Duration of Stay is 5 days for Shenzhen, 3 days for Xiamen & Zhuhai, 30 days for Hainan.)
Note: Except cases of 24 Hour/72 Hour/144 Hour Visa-free Transit and other visa exemptions, US and French Citizens must obtain a Chinese Visa before entry, and not apply to China Visa on arrival or landing visa.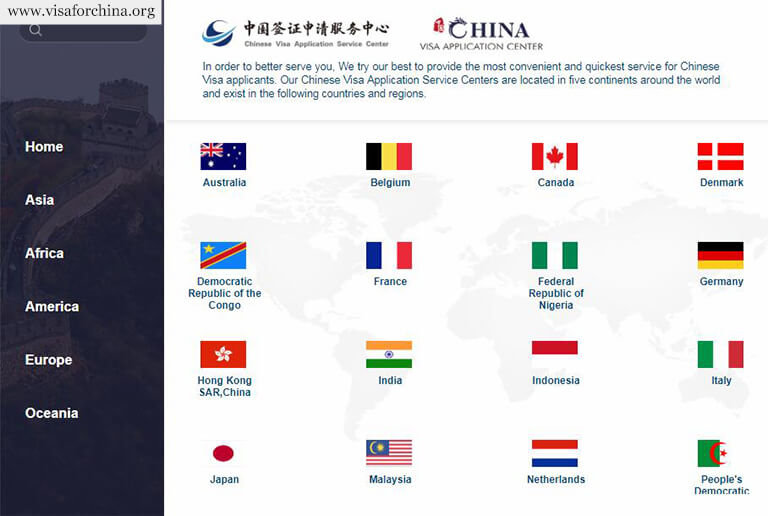 Website to Submit China Visa Application Form Online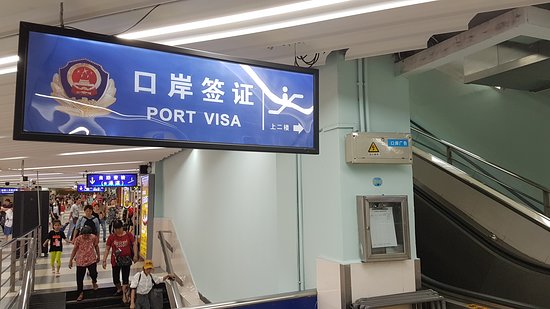 Apply China Port Visa on Arrival in Luohu Port Shenzhen
China Discovery Provides Invitation Letter If You Travel with Us
China Discovery is a professional and experienced travel companion who offers high-value and worry-free tours for you. To fulfill your dream tour to China, we not only design ideal itinerary covering sightseeing, dining, transfer and hotel, but also will provide you useful Invitation Letter to help you obtain Chinese Visa, even customize a China Visa-free Tour in Beijing , Shanghai, Xian, Chengdu, Hangzhou and more available destinations if you meet relevant visa requirements.
Most Popular China Visa-free Tours:
>> 4 Days Classic Beijing Tour with Great Wall Hiking
>> 3 Days Shanghai Past and Present Contrast Tour
>> 2 Days Guilin Ideal Li River Cruise with Yangshuo Essenc