Top 6 Lijiang Tours
Tiger Leaping Gorge Hiking
Lugu Lake Tours
+ Club Med
Golf Tour
Photography Tour
5 Days Kunming Lijiang High Speed Train Tour

Highlights: Stone Forest, Lijiang Old Town, Naxi Dongba Culture Museum, Tiger Leaping Gorge, Kunming Lijiang Bullet Train

There are some reasons for you to take this Kunming Lijiang train tour. First is to experience the new Kunming Lijiang high speed train. Furthermore, in 5 days, it covers all the essences of Kunming and Lijiang, both natural and cultural. You won't miss the first wonder of the world – Stone Forest and its surrounding Sani ethnic village; dig deep into the UNESCO World Heritage Site – Old Towns of Lijiang (Dayan Old Town, Shuhe Old Town, Basha Old Town) and its major minority – Naxi ethic group...
5 Days Stunning Kunming Lijiang Tour by Flight

Highlights: Stone Forest, Western Hills, Yunnan Minority Village, Lijiang old Town, Tiger Leaping Gorge, Black Dragon Pool Park

If your time is limited within several days, you should put Kunming and Lijiang into your travel list. In 5 days, you can enjoy natural beauty and amazing wonder by having a nice stroll in Stone Forest - a land of karst landform and trekking along the deepest gorge in the world with simple hike to Upper Tiger Leaping Gorge... Besides, you have plenty of time to explore the stunning culture of 25 ethnic groups in Yunnan. Chinese ethnic minorities have their own languages, festivals, and cultural traditions, some of which are incredibly unique and interesting. You'll fully enjoy the time with Naxi group and Yi group.
5 Days Lijiang & Shangri-La Best Highlights Tour

Highlights: Lijiang Ancient Town, First Bend of the Yangtze River, Tiger Leaping Gorge, Ganden Sumtseling Monastery, Pudacuo National Park, Tibetan Family Visit

In this trip, you will explore two of the most charming places in Yunnan: Lijiang - the Kingdom of Naxi People & Shangri-La - Garden of Eden! In this 5 days Lijiang & Shangri-La best highlights tour, you'll grasp every second to enjoy yourself on the incredible land - have a panoramic view of Lijiang Old City, explore the authentic Naxi Village to feel the special Dongba Culture, visit Songzanlin Monastery and Pudacuo National Park, and take a light hike to Tiger Leaping Gorge that is the world's deepest gorge. You will just find the tour fabulous every moment!
8 Days Shangri-La & Daocheng Yading Tour for "Lost Horizon" Seeking

Highlights: Lijiang Ancient Town, Tiger Leaping Gorge, Ganden Sumtseling Monastery, Local Tibetan Family Visiting, Yading Nature Reserve

Where is the "land of idyllic beauty" described by James Hilton in his significant novel "Lost Horizon"? Shangri-La meaning the "Sun and Moon in Heart" and Daocheng Yading praised as the "Last Pure Land on Our Blue Planet" are the place narrated by James, where to easily appreciate the most idyllic landscape of towering snow mountains, dense ancient forest, shimmering alpine lakes, carpet-like flowery meadows, grazing and playing herds of sheep, cows and horses, temples & monasteries, and so forth. All the beauty, brightness, quietness, peace and harmony there is the simple and best thing for your seek of the real "Shangri-La" dreamed by anyone.
6 Days Dali Lijiang Tour with Shaxi Ancient Town

Highlights: Dali Old Town, Erhai Lake, The Three Pagodas, Shaxi Ancient Town, Lijiang Ancient Town, Zhoucheng, Tiger Leaping Gorge

This 6-day trip is specially designed and takes you to soak in the best natural and cultural charm of the romantic, relaxing and ancient Dali and Lijiang with the historical exploration of the Shaxi Ancient Town that is a 2,400-year old trading town left from the Tea-Horse Trail period. Covering the Xizhou, Zhoucheng, Dali Old Town, Lijiang Ancient Town, Baisha, and more ancient cultural places to see, this tour will also let you have a nice bite of the wonderful ethnic custom and profound history of both appealing holiday destinations in China! Moreover, our itinerary also arranges the stunning and magnificent landscape for your visual taste of those both fabulous cities.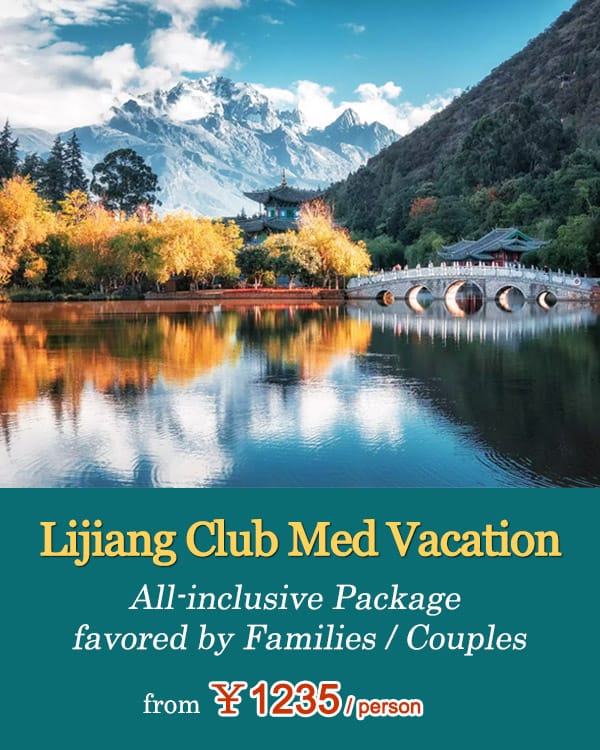 Recommended Yunnan Tour Packages including Lijiang
More Lijiang China Tours
Exploring Spring City and brilliant world of ethnic minorities!
Recommended or Similar Tour Packages You May Also Like

14 Days Wild China Tours from Shanghai to Yunnan on Expresses

Shanghai / Zhangjiajie / Kaili / Kunming / Lijiang / Shangri-la / Kunming

from $2507

19 Days China Panoramic Tour with Iconic Nature & Culture Exploration

Beijing / Xian / Chengdu / Guilin / Lijiang / Dali / Kunming / Zhangjiajie / Shanghai

from $3497

10 Days Classic Sichuan & Yunnan Highlights Tour

Chengdu / Leshan / Mount Emei / Lijiang / Shangri-La / Kunming

from $1757