Club Med Lijiang - Utopia under Snow Mountain with Naxi Minority Culture
3 Nights Club Med Lijiang All-inclusive Package (2023 Labor Day Holiday)
(The following price range is for one person, based on sharing a standard double-bed room for two people)
Prices from only (per night): ¥1,062/adult; ¥850/teenager; ¥637/kid
(check-in dates: Apr. 29 to May 3, 2023)
* A teenager is defined as any one between 12 and 17 years old on their check-in date.
* A kid is defined as any one between 4 and 11 years old on their check-in date.
Club Med Lijiang, opened on September 25 in 2021, is the new and advanced Club Med resort in China. Situated at the foot of Jade Dragon Snow Mountain in Lijiang in central Yunnan, Club Med Lijiang enjoys an excellently advantageous location for the magnificent holy snow peak view, pure ancient Lijiang flavor and fresh air away from the bustling city center. With the rich inspiration from Naxi ethnic minority characters, art and culture, this chic resort is finely designed with a delicate theme and elements to savor the authentic mysterious Naxi minority essences in real leisure. So, your every minute and second in the room, restaurants, bars, garden, lakeside, etc. will be joyous and comfortable in deluxe. Besides, with the traditional theory of Club Med, the resort in Lijiang still preserves the real French vacation soul with various interesting activities, learning and entertainments to provide every customer more happiness, which is quite suitable and popular among family and couple groups!
All-inclusive Package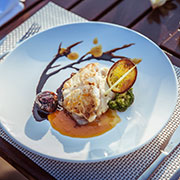 Full-day Gourmet Dining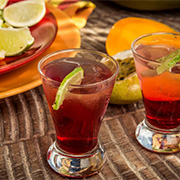 Premium Open Bars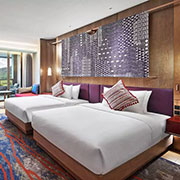 Accommodation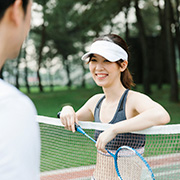 Diverse Sports & Activities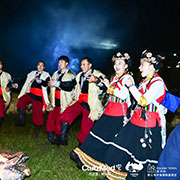 Day & Night Entertainment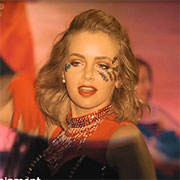 Night Parties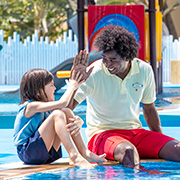 Kids' Club (4-17 years old)
Activities & Fun
Activities & Sports
Kids Club & Fun
Wellness & Release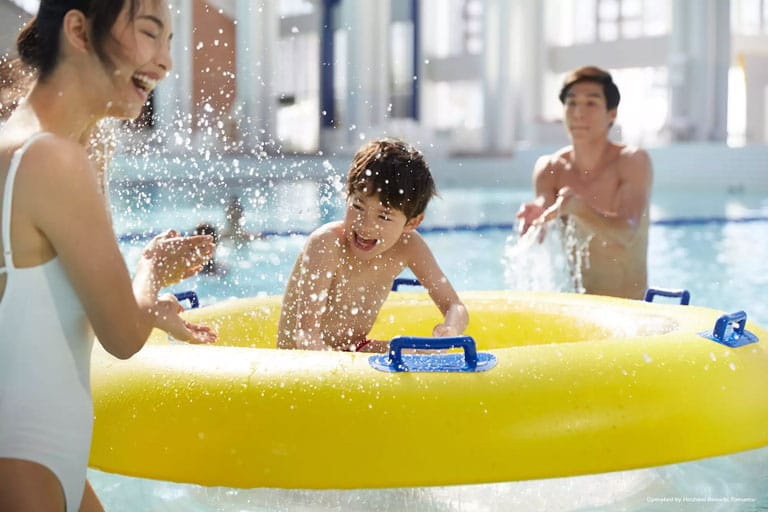 You will never get bored at Club Med Lijiang as there are more than 20 interesting indoor and outdoor activities and sports for vacation happiness and release. More amazing items are arranged in each season. Just join in the items with your family / friends and the enthusiastic G. O! Furthermore, the up to 1,500 s.q.m wide indoor water park with a slide is a wonderland for kids to create more exciting hour.
Fly Trapeze
Climbing (indoor)
Ping-Pong
Yoga
Archery
Baseball
Gym
Karaoke
Cookery
Mahjong
Interactive Works & Games
Band Play
Performance
Swimming
Billiards
Parties
Restaurants & Bars
Club Med Lijiang has three restaurants and two bars for guests to please their taste buds and enjoy leisure time while appreciating the gorgeous Lijiang nature beauty.
Shuhe Dining Room: This restaurant offers abundant types of nutritious and healthy food and snacks with local tastes from breakfast to dinner. The green themed decoration with wall plants and wood floor is ideal for your relax after sports.
Square: Square or Sifang Restaurant is the first new concept restaurant among all those at Club Med resorts in China. Guests can savor the featured gourmet of rich Lijiang and Yunnan flavors, especially Naxi minority cuisine, at the comfortable dining place. Large terrace gives you an awesome sightseeing deck while enjoying the delicacies. (Please make a reservation if you want to enjoy food at the Square)
Baisha Restaurant: This main restaurant offers diverse delicate international food and local specialties from morning to nighttime. You can also admire Jade Dragon Snow Mountain from the lawn in front of the restaurant.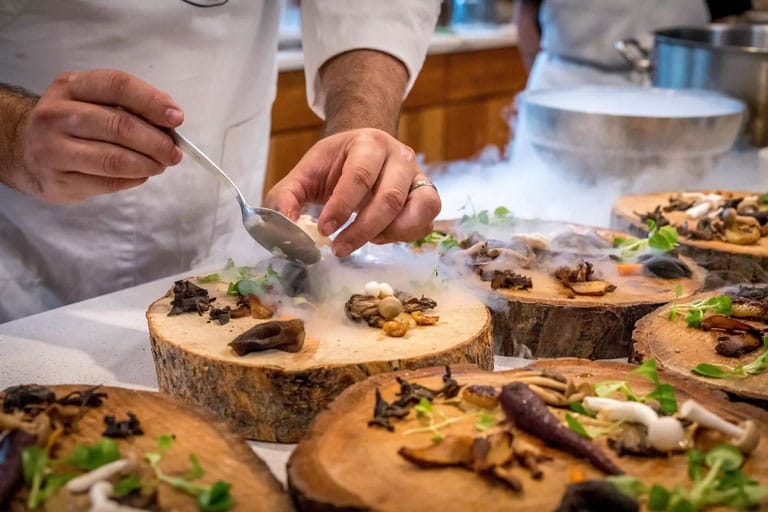 Dayan Bar: Quite naturally charming, Dayan Bar is a great place to enjoy various cocktails, hot and cold drinks, etc. with the night nature outside and also interesting night shows. Get chilled at this original place. You would be appealed by the large ceiling lamps in the shape of fishing baskets.
Blue Moon Bar: Sit back at the gazebo and sip a glass of juice or wine with the charming moonlight shaping the courtyard and trees. Many local and international prestigious brands can be selected.
Note: the legal drinking age (for alcohol consumption) in China is 18 years old and above.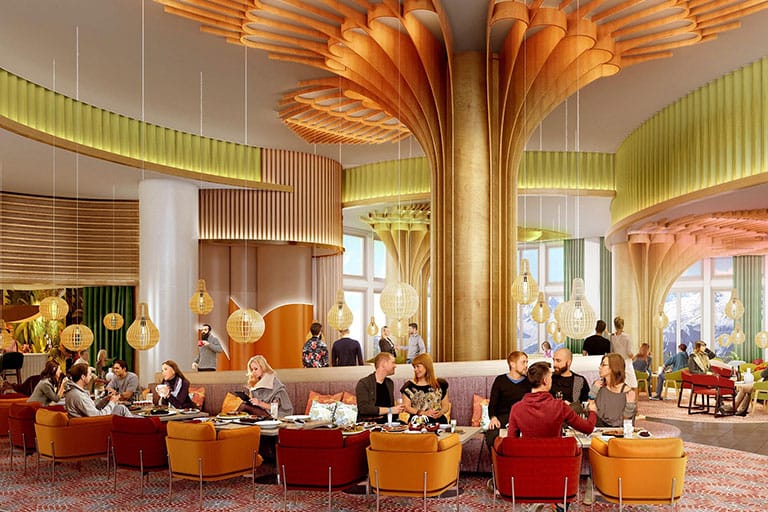 Accommodation
Lijiang Club Med has totally three types of accommodations for the different needs of guests. All rooms are exquisitely designed with large areas of pastel tones combining with some bright colors to go match with the azure sky, gray granite on the snow peaks and traditional costumes of Naxi people. The roofs are also initiated from the ancient buildings of Lijiang old towns. Choose your ideal accommodation to enjoy a cosy and relaxing stay at Club Med Lijiang!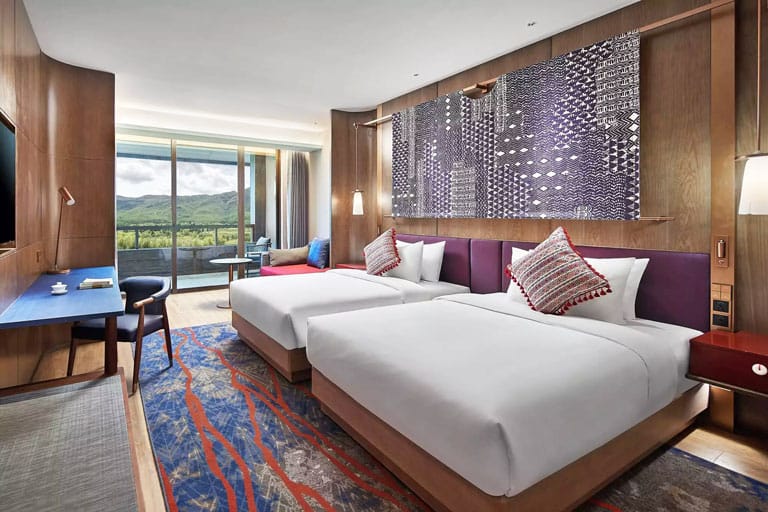 Deluxe Room
Size:

40m²

Balcony:

Yes

Capacity:

2 adults + 1 kid (below 12 years old)
Interconnecting Deluxe Rooms, Deluxe Room with View, Interconnecting Deluxe Rooms with View and Deluxe Room - Mobility Accessible are available.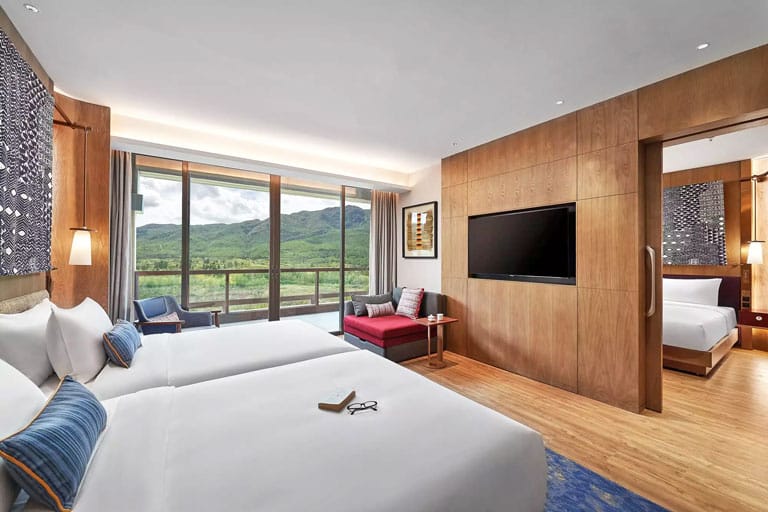 Family Deluxe Room
Size:

65m²

Balcony:

Yes

Capacity:

4 adults + 1 kid (below 12 years old)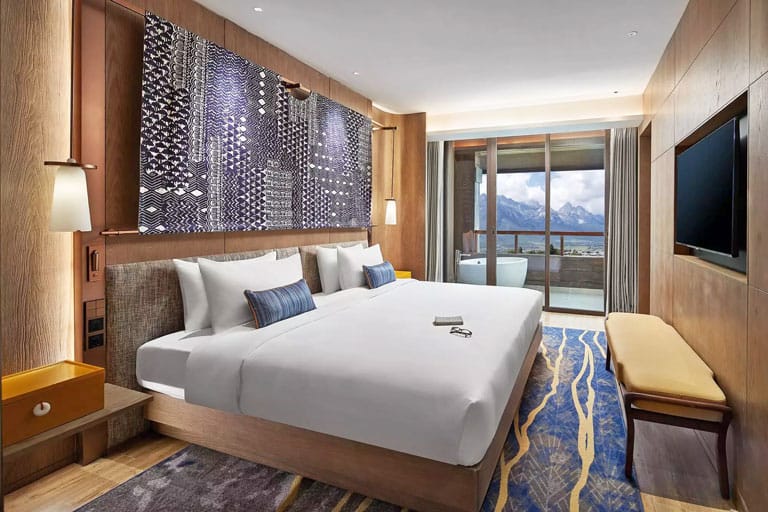 Suite
Size:

70m²

Balcony:

Yes

Capacity:

2 adults + 2 kids (below 12 years old)
Facilities & Services
Room Amenities

Domestic Direct Dialing (extra fee)

International Direct Dialing (extra fee)

Wi-Fi

Air-Conditioner

Private Bathroom

24 Hours Hot Water

Shower

Shampoo

Hair Dryer

Bath Robe

Slippers

Mirror

Safe Box

Desk

Sofa

Baby Bed (need pre-booked)

Club Med Baby Welcome

Umbrella

Ironing Facilities

Socket

Electric Kettle

Free Drinks

Ice Bucket

Fridge

Ironing Facilities

TV

Tea/Coffee

Mini Bar
Hotel Facilities

Chinese Food

Western Food

Gym

Inner Swimming Pool

Conference Room

Business Center

24 Hours Reception Desk

Coffee Maker

Shops

Lobby Bar

Public Resting Area

Garden

Bar

KTV
Hotel Services

Foreigners' Service

Credit Card Payment

Wake-up Service

Child Care Service

Laundry Service

Luggage Service

Concierge

Airport Pick-up / Drop-off (extra fee)

Travel Consulting Service

Cleaning on demand
Select Your Club Med Lijiang Vacation
Check the price of each day at below to decide your vacation time at Club Med Lijiang!!
Referential Currency: 1 USD= RMB
Year
Month
Sun.
Mon.
Tues.
Wed.
Thur.
Fri.
Sat.
Price Notes:
The above price range is for one person, based on sharing a standard double-bed room for two people.
The above prices are not the final price. Please enquire about the exact price according to your date of payment, check-in time and number of nights. As the price may change anytime, particularly during China's Labors' Day Holiday, China's National Holiday Golden Week, Spring Festival, winter and summer vacations, etc., it is highly recommended to make an early booking and payment to get a better price.
It is suggested to pay in China Yuan (¥). If you pay in other types of currency, the final payment amount will be changed based on the practical exchange rate on your payment date.
Single-guest booking charges a supplement fee.
Price Guide
What's Included

Accommodation of selected room and selected nights;
Three meals and drinks at the restaurant during the stay;
All-day drink and snack service at the bar during the stay;
Diverse activities and sports selection during the stay;
Night parties based on the schedule of the resort during the stay;
All-day performances based on the schedule of the resort during the stay;
Wi-Fi access at the resort;
Child-caring service for children above 4 years old during the stay.
What's Excluded

Sports, activities and lessons with extra payments by Club Med Lijiang;
Visiting outside Club Med Lijiang with extra payment;
Supervision service at the "Petit Club Med" for children of 0-3 years old;
Specific imported and domestic wines and liquors with extra payments by Club Med Lijiang;
Lijiang pick-up and drop-off service;
Transfer to / off Lijiang.
Terms & Conditions
The cancellation charge depends on when we receive your cancellation notice or letter, providing that we have received your full payment / deposit for the resort. And the cancellation policy follows the cancellation policy of Club Med. Details as below:
More than 15 days before arrival date
Fully refund
8-14 days (both inclusive) before arrival date
Charge 40% of total amount cancellation fee
(as non-refundable deposit)
1-7 days (both inclusive) before arrival date
Charge 80% of total amount cancellation fee
On arrival date
Charge 100% of total amount cancellation fee
Ignite Your Lijiang Club Med Vacation with a Popular Tour
Since Lijiang is quite famous as the top ideal vacation destination in China with antique and romantic flavor, snow mountain sightseeing and leisure pace with Naxi minority charm, it is much more recommended to extend your Club Med Lijiang vacation with a classic exploration of Lijiang must-see treasures. Most travelers spend 2-3 days in Lijiang to soak in the laid-back lifestyle and antique view around Lijiang Old Town, including the park, old streets, lakes, snow peaks, gorge, etc. Your Lijiang trip will be more unforgettable with both Lijiang essence savory and Club Med vacation happiness!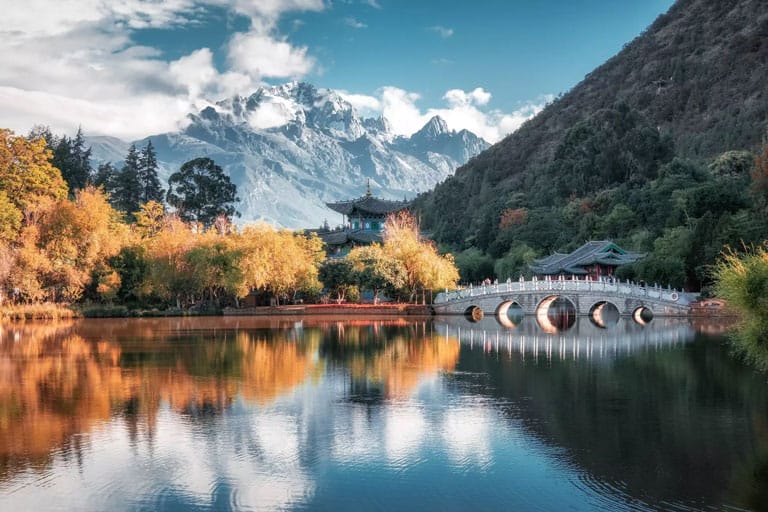 Location: Southwest China
Best Time to Visit: all around the year, especially spring and autumn
Top Highlights: Lijiang Old Town, Black Dragon Pool, Jade Dragon Snow Mountain, Baisha Old Town, Shuhe Old Town, Tiger Leaping Gorge, Lugu Lake, etc.
Recommended Trip Length: 2-5 days
Most Popular Lijiang Club Med Resort Tour Package
Location & How to Get There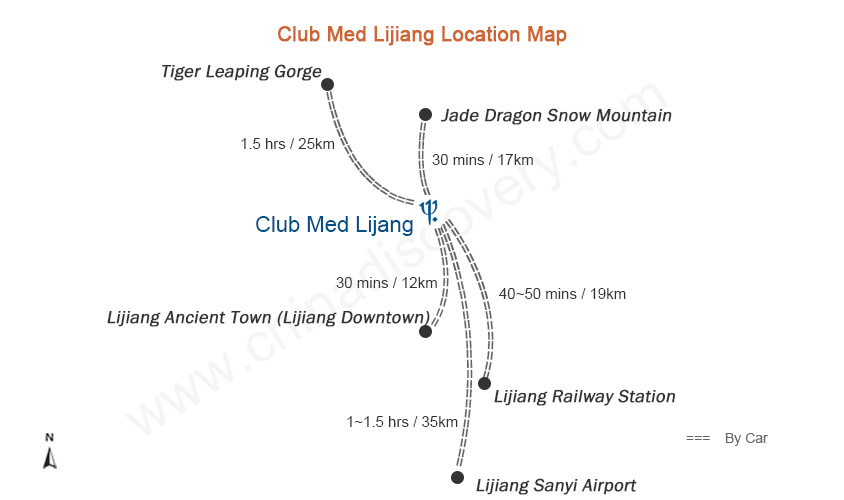 Address:

North side of Xinshan Village, Baisha Township, Yulong Naxi Autonomous County, Lijiang, Yunnan, China
(中国云南省丽江市玉龙纳西族自治县白沙乡新善村北侧)
Transportation from (by car)

Lijiang Old Town (Lijiang Downtown): 0.5 hour

Lijiang Sanyi Airport: 1 hour & 10 minutes

Lijiang Railway Station: 40 minutes

Upper Tiger Leaping Gorge: 1.5 hours

Lugu Lake: 4.5 hours
Private Transfer Service (extra charge)

China Discovery offers local private transfer service for you to arrive at the Club Med resort easily with the non-smoking air-conditioned private vehicle with speed, comfort and safety, which needs extra payment. Please tell your travel expert when booking the resort.
Useful Club Med Lijiang Tips
1. Check in after 15:00 pm and check out before 11:00 am (breakfast and lunch included);
2. Teenagers arrive at the resort without at least one adult guardian accompany will be rejected to check in;
3. Activities, sports, entertainments, night shows, parties and other experiences at Club Med Lijiang are changeable in different season. Please choose your interested items according to the practical arrangement;
4. Some restaurants, bars, swimming pools and other public areas could be closed sometimes, like off season.
5. As part of the Bye-Bye plastic sustainable policy of Club Med, in-room disposable toiletries such as dental kit, shaving kit, shower cap, will be available upon request only. It is appreciated to prepare your own to protect our planet!
More Club Med Vacation Ideas
Recommended or Similar Tour Packages You May Also Like
Top 3 tours chosen by most customers to explore in the best way. Check the detailed itinerary, or tailor your own trip now with us.
6 Days Best of Yunnan Tour (Lijiang, Shangri-La, Kunming)

Lijiang / Shangri-La / Kunming
5 Days Lijiang & Shangri-La Best Highlights Tour

Lijiang / Shangri-La
6 Days Lijiang & Shangri-La Tour with Club Med Resort

Lijiang / Shangri-La
Have a question? Get answers from our travel experts or guests
Your Question:

Your Name:

Your Email: