Want to explore the best highlights of both Chengdu and Tibet in a week? You can firstly spend one or two days to visit the top highlights in Chengdu, then go to fulfill your Tibet dream tour to the holy city Lhasa. There are two suggested transfer choices: flight and train. The straight distance from Chengdu to Lhasa is 1250km. You only need to take less than 2.5 hours to transfer between Chengdu and Lhasa by flight. You can also take a train to Tibet. The incredible landscape of Qinghai Tibet plateau won't disappoint you.
Chengdu Lhasa4 Days Best of Lhasa Tour from Chengdu by Flight

Chengdu provides the easiest access to Tibet. This is the ideal trip for those who have short time but want to see the highlights of Lhasa and learn about the myths and tales of holy land.

Check Details
Chengdu Lhasa6 Days Classic Chengdu & Lhasa Highlights Tour

A short trip from Giant Panda's Home Town - Chengdu to the land of spiritual awakening, covering so many famous sights makes this highlights tour a wonderful choice for exploring the mysterious southwest land of China in less than one week.

Check Details
Chengdu Lhasa7 Days Lifetime Tibet Train Tour from Chengdu

Moving experiences in Tibet and a fantastic chance to get close with pandas gives the best overview on a once in a life-time Qinghai-Tibet railway experience. Let's go to discover this amazing land's myths and stories!

Check Details
Want to spend more days to explore more about the holy land Tibet? After visiting Chengdu and Lhasa, you can take the most classic route from Lhasa to Mount Everest. On route, you will also travel Gyantse and Shigatse which are two influential Buddhist cities. The memorable journey to the highest peak in the world - Mount Everest, will definitely make your Tibet trip complete and enjoyable.
Chengdu Lhasa Shigatse Everest Kathmandu9 Days Lhasa Kathmandu Overland Tour from Chengdu

You will visit first the famous sites in Chengdu,such as Giant Panda Base, Wuhou Temple, Jinli Ancient Street, etc. Then take flight to the holy Tibet land to see the friendly Tibetans, grandoise Buddhist palaces and monasteries, pure holy lakes, sarcred snow mountains, etc. Lastly, leave Tibet for Nepal at Zhangmu border.

Check Details
Chengdu Lhasa Shigatse Everest Lhasa 10 Days Chengdu Lhasa Everest Overland Tour

Amazing scenery, treasured culture and turbulent history, this tour gives nothing but the splendid and glorious. Discovery Tibet from Chengdu and enter this mysterious land by visiting Lhasa, Shigatse and Everest Base Camp to get first sight of Everest,... all will leave deep impression to you. Let's go now to lift the veil of Tibet.

Check Details
In-depth Tour Packages including Chengdu and Tibet
Want to explore Chengdu and Tibet with other popular destinations in China? Here we have selected some best destinations which can be connected to Chengdu or Lhasa conveniently while offering unique travel experience, and covered in a tour packages with enjoyable pace and diverse experience. Or tell us your tour plan, then we can help you customize a tour.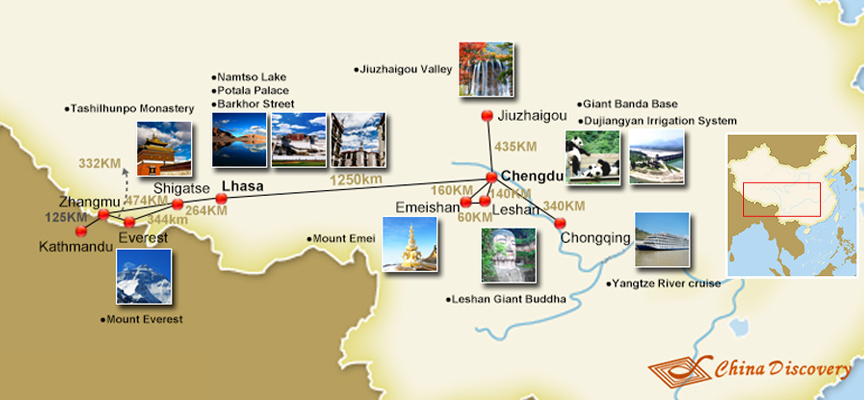 15 Days China Panoramic Impression Tour

Shanghai / Guilin / Yangshuo / Chengdu / Lhasa / Xian / Beijing

This best-selected China tour is all about bringing China's history and culture to life. You could not only enjoy the marvelous landscape, but also experience different culture among the vast country. Join in the REAL China Tibet Tour with China Discovery!

Check Details

17 Days China Tour with Tibet Discovery & Yangtze Cruise

Beijing / Xian / Lhasa / Chengdu / Yangtze Cruise / Shanghai

In this tour you'll experience all the highlights of China. Discover the paradise in Tibet, sit with and hug the cute pandas in Chengdu, visit the golden triangle cities, and more importantly have a 3-day relaxing trip on Yangtze River.

Check Details

15 Days Tibet & Nepal Adventure Tour via EBC

Chengdu / Lhasa / Everst / Kathmandu / Chitwan / Pokhara

Having a Tibet tour from Chengdu would be classic, after visiting Giant Panda. Visit majestic Potala Palace, close look at spectacular Mt.Everest and pray in Monastery, etc. Also beyond China's borders and extend to exotic Nepal.

Check Details

9 Days Chengdu & Lhasa Tour with Yangtze Cruise

Chengdu / Lhasa / Chongqing / Yangtze Cruise / Yichang

Have you ever wondered to explore Tibet and engage profound Buddhism culture. Now with glorious landscape and inspiring activities to discovery not just Lhasa, but also Yangtze River from Chongqing to Yichang.

Check Details

11 Days China Tour to Chengdu Lhasa Xian Beijing

Chengdu / Lhasa / Xian / Beijing

Making full use of time and catch the best of China Tour Packages and fulfill your life-time trip to Tibet in just one go. Discover the holy Tibet, explore the ancient Beijing & Xian, enjoy the leisure life pace in Chengdu. Then what are you waiting for?

Check Details

10 Days Panda & Qinghai Tibet Railway Memorable Tour

Chengdu / Xining / Qinghai Tibet Railway / Lhasa

Relax yourself in the leisure Chengdu and visit cute Pandas; Experience the memorable Qinghai Tibet Railway travel; Soak in the sacred atmosphere of Tibetan Buddhism in the sunshine city Lhasa and Namtso Lake.

Check Details