Harbin is served as the capital city as well as the largest city of Heilongjiang Province. Located in the central area of Northeast China, Harbin is regarded as a shining pearl linking with Eurasia Bridge. Travelers come to Harbin usually during winter season to attend the Ice and Snow Festival with colorful and interesting activities and performances.
Why visit Harbin:
Harbin International Ice and Snow Festival. This grand festival is the first international festival themed with ice and snow which starts from January 5th every year and lasts for one whole month. To enjoy the festival to the fullest, travelers can see various, creative and grand ice and snow sculptures in Harbin Ice and Snow World, Stalin Park, Sun Island Scenic Resort and Zhongyang Street and enjoy ice lantern in Zhaolin Park…
Exciting Skiing Activities. Only seeing ice and snow is not enough and you'd better put your feet on the snow, stretch your body, dance on the ground and fly in the sky. There are many exciting activities you can try – skiing (2 hrs, half day, one day or more days), snow tubing, snowmobiling, snow archery…
Russian Flavor. Harbin's old quarter is still today mostly made up of buildings that were constructed by the Russians at the turn of the 19th century. Most of the buildings are built in baroque or byzantine style with spires and cupolas and interesting shades of yellow, white, green or red. Among them, St. Sophia Cathedral is known as the symbolic architecture of Harbin.
City of Music. On June 22th 2010, Harbin was appointed as a "City of Music" by the UN. Actually, Harbin has been holding Harbin Summer Music Festival (held every two years in July, next will be in 2018) for over 50 years since 1961. When you visit in the summer, travelers can immerse in the sea of music but also taste the famous Harbin Beer.
Top Attractions
Harbin has many amazing sites concentrated on both banks of Songhua River. On the north bank, travelers can immerse yourselves in Ice and Snow World, Sun Island Scenic Resort, Harbin Pole Aquarium and see Siberian tigers at Siberian Tiger Park; on the south bank, travelers can pay a visit to Stalin Park or Zhaolin Park, enjoy leisurely walk to St. Sophia Church and Zhongyang Street to feel exotic Russian flavor. To travel out of Harbin downtown area, Yabuli Ski Resort is the best choice for skiing fun. For more attraction info, please check Top Things to Do in Harbin.
Harbin Ice and Snow World
It's the largest ice and snow amusement park in the world. It is a fascinating place to experience the Ice and Snow Festival with different themes in every winter time. You can admire gorgeous ice and snow sculptures, savor the exquisite art, enjoy interesting ice and snow performances and take part in exciting ice and snow activities.
Sun Island Scenic Resort
Situated on the north bank of Songhua River, Sun Island Scenic Resort is surrounded by crystal lakes, delicate rockeries, beautiful flowers and exotic architectures. It features with its distinguished ice and snow culture combined with folk culture. Every winter, it holds Sun Island International Snow Sculpture Art Fair which lasts for 60 to 70 days.
St. Sophia Cathedral
Built in 1907, St. Sophia Cathedral, the symbolic architecture of Harbin, is an Orthodox church in Byzantine style. Designed by Russian architect, this splendid church stands at 53.25 meters high. Now, St. Sophia Cathedral is converted into "Harbin Architectural Art Gallery" to display the history, culture and future development of Harbin.
Zhongyang Street
It will not be complete in Harbin if you haven't visited Zhongyang Street. Called the No.1 Street in Asia, Zhongyang Street is not only an old street, a pedestrian street, but also an exotic street for architectures. It contains 71 different European style of buildings – Renaissance architecture, baroque architecture, Art Nouveau architecture, etc.
Stalin Park
Stalin Park, faced with Sun Island in the north, is a park built along with Songhua River, stretching 1700 meters long. Entering into the park, travelers can enjoy different kinds of sculptures, flowers standing among Russian buildings. In winter season, the park is capped with snow that travelers can enjoy different kinds of ice and snow sculptures.
Siberian Tiger Park
Close to Sun Island, this park is man-made base mainly for Siberian tiger. Travelers can have a good look at the Siberian tigers at wild training area, adult tiger area, Tigerking area, observe White Lion and view young tiger and young lion training together. You can also learn Siberian Tiger through specimen, pictures and writing in Science Exhibition Hall.
Yabuli Ski Resort
Located 220 km southeast from Harbin, Yabuli is regarded as the largest ski resort in China. Travelers can try many activities in this awesome ski resort, especially skiing. There're 46 trails and 25 ropeways and if you want, you can challenge the longest single trail of 5-kilometer long and the longest high mountain slide way of 2680m.
Harbin Pole Aquarium
Harbin Pole Aquarium, also called Harbin Polar Land, is the first polar land themed park combining animal shows, polar land sights and interactive experience into one. Travelers can explore many in the Grand Khingan Mountain area, Fisherman's Wharf, South Pole Penguin Island and White Whale area.
Weather & When to Go
Harbin in Heilongjiang Province belongs to temperate continental monsoon climate with distinct monsoon feature. It has short, hot and rainy summers and long, cold and dry winter, while spring and autumn change rapidly. The average temperature in winter is -14.2℃ and the coldest month falls in January with average temperature at -19.6℃.
The best time to visit Harbin is winter season (early December to next February) mainly for Harbin International Ice and Snow Festival which starts from January 5th and lasts for one month.
Wearing: During this extremely cold weather, please wear thick clothes and warm shoes to keep you from being freeze. Done coat, thick jacket, mouth-muffle and gloves will also be helpful.
Transportation
Travelers can take flight and high speed train to reach Harbin. Harbin Taiping International Airport is located in the southeast of Harbin, about 33 kilometers away (about 1 hour). There are about 68 airlines linking with popular international cities (like Seoul, Tokyo, Osaka, Moscow, )and many domestic cities (like Beijing, Dalian, Shenyang, Qingdao, Jinan, Xian, Shanghai, Chengdu, Guilin, Erdos, etc.). Both airport shuttle (Line 1, 2, 3 and 4) and taxi are available running between airport and downtown area.
The mainly used train stations in Harbin are Harbin Railway Station and Harbin West Railway Station. Harbin Railway Station is situated in the downtown area, within several kilometers away from the famous tourist attractions. It has D trains linking with Beijing for 8 hours, Jilin for 2.5 hours, Shenyang for 3 hours, etc.
Harbin West Railway Station is used for high speed train station, located in the southwest of Harbin Railway Station, about 9 kilometers away. It has high speed trains (D trains and G trains) running between Harbin and Beijing (7~8 hrs), Changchun, Shenyang(2.5~3 hrs), Dalian (4~5 hrs), Jilin (2 hrs), Qingdao (11 hrs), Shanghai (12.5 hrs), Tianjin (6.5 hrs), Jinan (8.5 hrs), Wuhan, etc.
For more detailed transportation info, please head to How to Get to/away from Harbin.
Accommodation
Accommodation choices are a lot for travelers, ranging from luxury 5 star hotels to budget 3 star ones. You can stay in the downtown area in the 5 star Shangri-La Hotel Harbin, Sofitel Wanda Harbin Hotel and Holiday Inn City Center Harbin, etc.
Shangri-La Hotel Harbin is situated along Songhua River and faced with Ice and Snow World. It has 404 well-decorated standard rooms and suites, offering great chance to overlook the beautiful view of Songhua River from the window. Sofitel Wanda Harbin Hotel is about 8 kilometers from the main tourist spots. It has 22 floors with 322 rooms including standard rooms, executive rooms and deluxe rooms with good service. Holiday Inn City Center Harbin, running by Intercontinental Hotels, has superb location, close to Zhongyang Street and Zhaolin Park. It has 14 floors with 156 rooms, providing comfortable stay.
For more accommodation choice in Harbin city, please feel free to contact our professional travel consultants.
Harbin Maps 2019
Top help you learn better about Harbin's location and attractions, etc, we have collected following Harbin tourist maps which are latest, downloadable and printable.
Other Popular Destinations in China
China is vast and diverse. You can choose your favorite destination among more than 70 tourist destination and regions. Following are 4 popular destinations you may get interested in. Check all destinations in China
Chinese Name: 哈尔滨
Chinese Pinyin: hā ěr bīn
English IPA: /'hɑ:əbin/
Population: 9.61 million
Language: Mandarin & Harbin Dialect
Tel Code: 0451
Zip Code: 150000
Time Zone: (UTC+8)
Plan your Harbin Tour
Usually, most travelers come to Harbin for the annual Ice and Snow Festival in the winter season. It is a good choice to spend 2 or 3 days in and around Harbin. You can take one or two full days to see Ice and snow sculptures in Ice and Snow World, Sun Island Scenic Resort, Stalin Park or view ice lanterns in Zhaolin Park. Visit Siberian Tiger Park and take some leisure walk to Zhongyang Street and St. Sophia Church. To travel further and enjoy the snow to the fullest, many travelers choose to head to the largest ski resort in Asia – Yabuli Ski Resort to take some exciting skiing activities.
As high speed trains are well linking Harbin with Beijing within 8 hours, travelers can start your Harbin tour from Beijing. It will be an awesome tour to combine both the ancient heart – Beijing and the Ice City – Harbin in one tour. Remember, all our tours are flexible and customizable! Select your favorite now!
Recommended Tours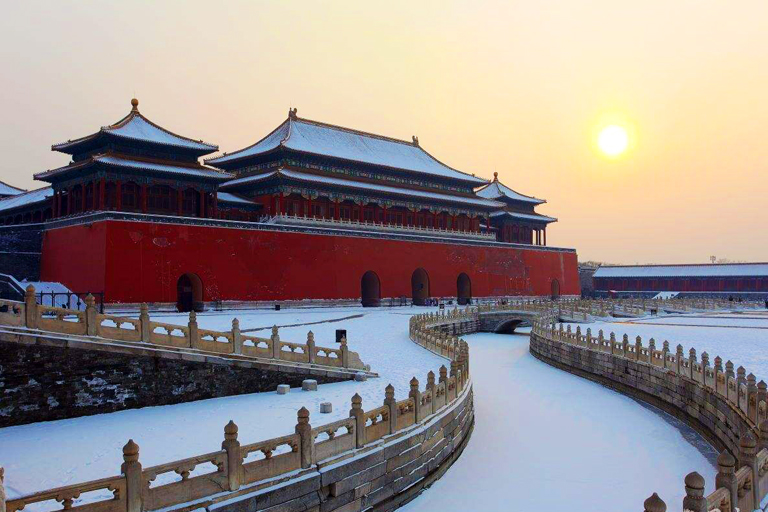 MORE