Jiuzhaigou Valley, or the Valley of Nine Villages is located in northern Sichuan province, as a part of Mingshan Mountains Range. It is known as "the Most Beautiful Waterscape in China", Word Natural Heritage Site, "Fairytale Land", 5A National Park. All people who have been to Jiuzhaigou know all these reputation match the reality. It is even regarded as the "Paradise for Photographers".
Having been hidden as a mysterious and never been bothered by outsider until been found in the middle of 20th century, Jiuzhaigou keeps the wildness of nature very well. All the forests, lakes, waterfalls, landform are the best gifts from other mother nature.
Important Notice
Affected by continuous strong rainfalls in later June, Jiuzhaigou National Park will be closed from 1st July, 2018 to protect tourists from the possible landslides and debris flows. The National Park hasn't informed the exact date when it will reopen. We will keep the latest news updated on our website. Please contact your travel consultant to adjust your itinerary accordingly.
Why visit Jiuzhaigou:
Explore the most beautiful waterscape in China – water is the soul of Jiuzhaigou, and waters in the high-altitude mountain range are much clearer and diverse in forms. Over 108 lakes, 3 groups of waterfalls is the biggest highlight of Jiuzhaigou.
Colors of nature - Jiuzhaigou is the best painting presenting the best color used by the Mother Nature. Visiting Jiuzhaigou is a feast of vision. Wild forests, flowers, lakes changes colors in different season – grey in spring, green in summer, golden in autumn, white in winter.
Rare species - Jiuzhaigou Valley is home to over 220 bird species, 74 species of state-protected plants, 18 species of endangered animals, including the Giant Pandas, snub-nosed monkeys, etc.
Top Attractions
Unlike the small attraction in cities or mountain, traveling Jiuzhaigou is explore two vast lands of attractions which are scattered in two national parks – Jiuzhaigou National Park and Huanglong National Park.
Weather & When to Go
Transportation
Accommodation
Useful Maps
Top help you learn better about Jiuzhaigou Valley's attractions, transportation, names, etc, we have collected following tourist maps which are latest, downloadable and printable. View more Jiuzhaigou maps >>
Other Popular Destinations in China
China is vast and diverse. You can choose your favorite destination among more than 70 tourist destination and regions. Following are 4 popular destinations you may get interested in. Check all destinations in China
Chinese Name: 九寨沟
Chinese Pinyin: jiǔ zhài gōu
Literally: Valley of Nine Fortified Villages
Population: 81,394
Language: Mandarin & Sichuan Dialect
Tel Code: 0837
Zip Code: 623400
Time Zone: (UTC+8)
Plan Your Jiuzhaigou Tour
Usually, 2 or 3 days are needed to explore the highlights of Jiuzhaigou Valley and Huanglong Valley excluding the arrival and departure days. Most travelers transfer to Jiuzhaigou from Chengdu by flight or driving. Some other cities also have flights to Jiuzhaigou, such as Beijing, Chongqing, etc. After arrival, spend a half day to tour the Huanglong Valley, and another full day to visit Jiuzhaigou. If you want to take a walking or photography tour, we recommend spend one more day.
You can also travel Jiuzhaigou with other hot destinations in Sichuan, such as Chengdu, Mount Emei, Leshan Giant Buddha, etc.
Recommended Tours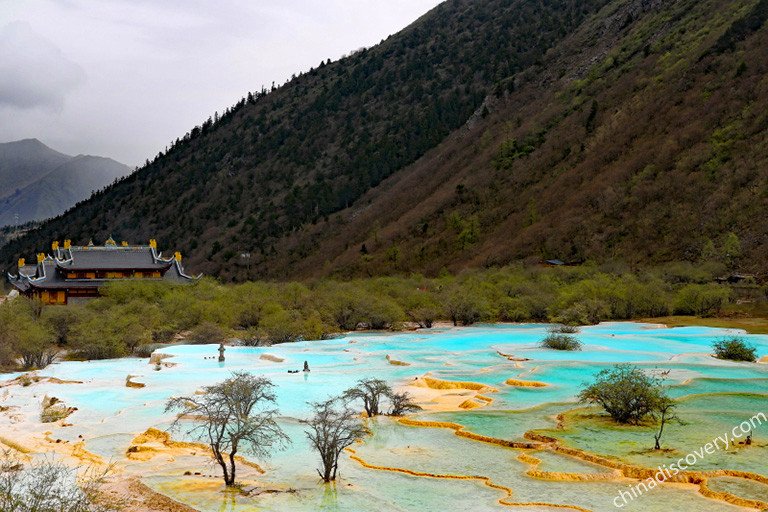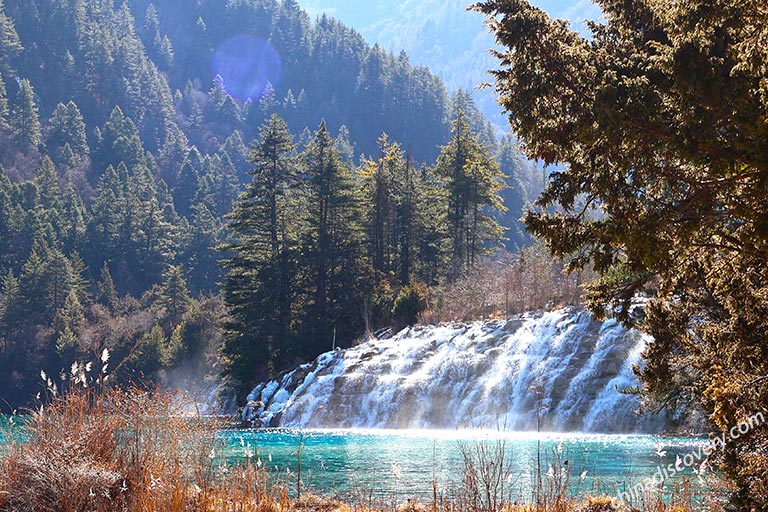 MORE