Sichuan Weather & Places to Visit in Each Season
Latitude and geographic factors (like topography) decide the climate and weather of a region. Covering about 486,000 square kilometers, Sichuan stretches across Qinghai-Tibet Plateau, Hengduan Mountains, Yunnan-Guizhou Plateau, Qin-Ba Mountains and Sichuan Basin with complicated terrains and huge variation of elevations. Generally, Sichuan is located at the transitional region between Qinghai-Tibet Plateau and Middle-lower Yangzte Plains, high in the west and low in the east and consisting of mountains, hills, plains and basin.There are three major climate zones in Sichuan, including the subtropic humid climate in Sichuan Basin, subtropic subhumid climate in southern and western Sichuan mountain areas and alpine climate in northern and western plateaus.
Generally, major tourist destinations in Sichuan enjoys pleasant climate and distinct four seasons and shows variable scenery and climate features, except the mountains and valleys affected by altitude. Check the following three parts of geography and topography about Sichuan Province to have a clear idea about Sichuan's climate and weather, and find inspiration for your seasonal trip to Sichuan.
● Eastern Sichuan is Sichuan Basin, hills and main tourist cities include Chengdu, Leshan, Ya'an, Guangyuan, Zigong, Yibin, Mianyang, Deyang, etc. It mainly experiences a subtropical humid climate with some oceanic climate characters. This year is warm, moist full year, temperature difference between day and night is small while year variation is huge, summer is hot and winter can be freezing cold. Yearly average temperature is around 16℃~18℃, more cloudy days in basin.
● Western and northern Sichuan mainly are high-elevated mountains and plateaus. Climate changes vertically as the elevation rises. 7 climate zones can be found here, such as subtropic, warm temperate, sub frigid, polar and permaforst zones. Dominated by Cold Temperate Zone, Western & Northern Sichuan features in dry and warm in lower valley, cold and west in highlands, with annual average temperature of about 4℃~12℃, rich in sunshine and clear weather, nearly 1,600~2,600 hours' daytime. In this part, main tourist destinations include Jiuzhaigou Valley, Huanglong National Park, Daocheng Yading Nature Reserve, Wolong Nature Reserve, Mount Siguniang, First Bend of Yellow River, etc. The western areas have a mountainous climate characterized by very cold winters and mild summers, with plentiful sunshine.
● Southwestern Sichuan is located at subtropic subhumid climate, where has small annual temperature difference, cold morning and warm noon, unconspicuous four seasons but quite obvious dry and wet seasons, little rainfall, mostly sunny days and few clouds. Rains often happens during May to October each year. The main tourist destinations include Panzhihua, Xichang, Lugu Lake, etc.
Sichuan Spring - Active & Beautiful Bloom Season
Spring Weather and Climate in Sichuan
Spring from March to May is the first season, new beginning of a year and is the most active and blossom blooming season when most cities in Sichuan get warmer and warmer. The lovely Spring normally wakes up early in Sichuan Basin from early March while Western Sichuan receives later in middle or end of March. This season is the start of new life for plants and various kinds of flowers bloom correspondingly. Early days are a little cold, but temperature will rise higher to pleasant warm with more sunshine. City tour is always doable in each season, but a Spring outing to see large area of nature colors is highly recommended in the fresh new year. Suburb Chengdu, Mount Emei and Leshan nearby Chengdu and isolated Jinchuan and Danba in Western Sichuan are best places to visit during Spring. Most Beautiful Places to Visit in Sichuan in Spring >>
Top Things to Do in Sichuan in Spring
See Cute Giant Pandas in Chengdu
The lovely pandas are more active in spring which is also the mating season for them. The male pandas like climbing trees, howling, crawling and fighting each other to attract female pandas' eye. It is recommended to arrive early to the Giant Panda Base in the morning around 08:00 am to catch the best time to observe the pandas eating and playing outdoors. Panda Volunteer projects are also available in Dujiangyan, Ya'an and Wolong Panda Bases.
√ 1 Day Chengdu Relaxing Panda Highlights Tour
√ 2 Days Best Chengdu Leshan Giant Buddha Tour
View Beautiful Flowers in Chengdu Suburb
If you love Spring blossom, you can join small flower exhibition in People's Park during appointed days, but getting out of town and absorb fresh air outdoor is a more local entertainment. In southeastern Longquan, you can have a short hike to see large-scale of pink peach flowers, and go farther to southwest Pujiang looking numerous Tulips in different colors, really a gorgeous view of Spring.
Hike on Sacred Buddhist Shrine of Mount Emei
April is one of the best times to see the blossom of azaleas carpet covering Mount Emei. To appreciate the charming view of azaleas during April and May, you can go to Shaluoping near Leidongping; for Late May to June, Wanfoding is a good place to enjoy such blossoms.
√ 2 Days Mount Emei Leisure Hiking Tour from Chengdu
√ 3 Days Mount Emei Classic Walking Tour with Moderate Pace
√ 4 Days Classic Leshan Giant Buddha & Mount Emei Tour from Chengdu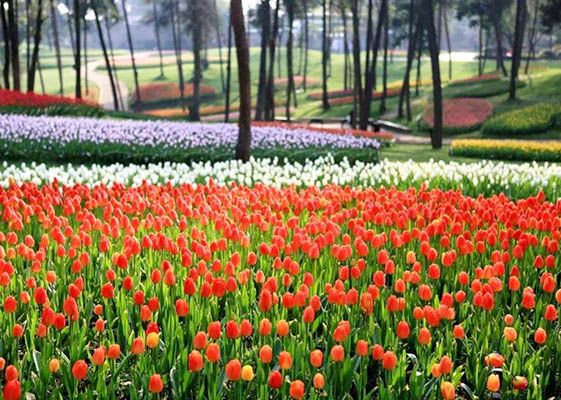 Beautiful Tulips in Shixianghu
Giant Pandas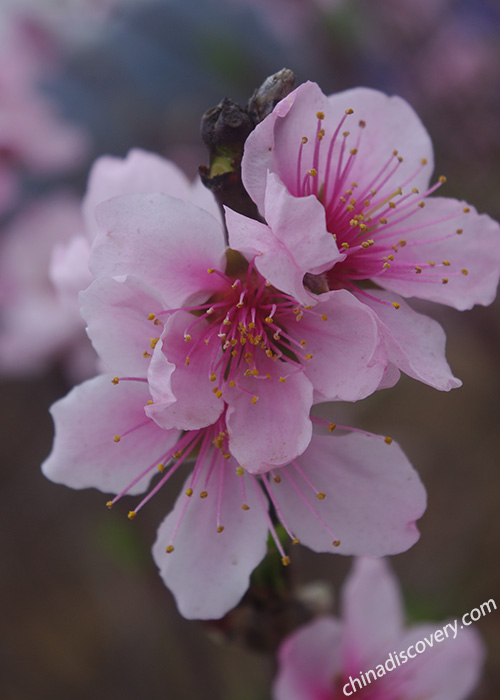 Peach Flowers on Longquan Mountain
Azalea on Mount Emei
Take Jiayang Steam Train
In Qianwei, Leshan, you can still experience the traditional coal-burning steam train in today's high speed train era. During Spring, fields are filled with golden rape flowers, a very scenic train trip when you drive though the rape land in quiet countryside.
√ 2 Days Leshan Giant Buddha Visit with Jiayang Steam Train Experience
View Jinchuan Pear Flower Festival
Every year from the middle of March to early April, the pear flowers are blossom in the vast valley of Jianchuan County in Ngawa (Aba), Northwestern Sichuan. It is a good choice to travel with Guanyinqiao Scenic Area within Jinchuan to appreciate the beautiful pear flowers with local cultural splendors.
√ 8 Days Sichuan Spring Tour with Flowers Appreciation Experience
Overlook Danba Jiaju Tibetan Village
Jiaju Tibetan Village is one of the most featured attractions in Danbda. In Spring, hundreds of special architectural-style Tibetan houses spread over the verdant hillside, painting a beautiful rural scene with lifting mist. What a perfect sights between human beings and wild nature. Seeing from a distance, it's amazing and getting closer, it's quite interesting to observe the dwellings.
√ 6 Days Western Sichuan Autumn Sightseeing Tour
√ 7 Days Western Sichuan Small Loop Tour with Danba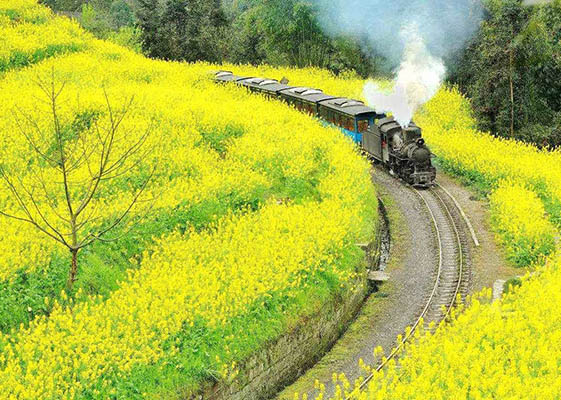 Jiayang Steam Train Passing Through Rape Fields
Jinchuan Pear Flowers
Sichuan Summer – Escape from Heat and Crowds
Summer Weather and Climate in Sichuan
Summer, from June to August, is hot no matter in Sichuan Basin or in West Sichuan Plateau. But, it's cool in high-altitude mountain areas. Do you want to escape from the heat and find a Summer resort to stay when visit Sichuan? Mount Emei, Mount Qingcheng and Shunnan Bamboo Forest are the recommended place to go nearby Chengdu, if time permits, travel farther to Jiuzhaigou & Huanglong National Parks, Ruoergai (Zoige) and Daocheng Yading to spend your Summer holiday. Most Beautiful Places to Visit in Sichuan in Winter >>
Best Places to Visit in Sichuan in Summer
Mount Qingcheng in Dujiangyan
Covered with evergreen forest all the year round, Mount Qingcheng in Dujiangyan is reputed as the most tranquil mountain in China. Immersing yourselves in Mount Qingcheng either on Front Mountain or Back Mountain in summer is an awesome cool way to escape from the heat. Most travelers pay visit to front mountain of Mount Qingcheng for there are numerous Taoist temples and caves to seek for the mysterious Taoism.
√ 3 Days Chengdu, Mount Qingcheng & Dujiangyan Tour
√ 4 Days Chengdu & Dujiangyan All Bests with Panda Volunteer Tour
Shunan Bamboo Forest
Located in Yibin, about 4.5 hours' driving distance from Chengdu city center, the 120-square kilometer Shunan Bamboo Forest is the largest bamboo forest in China and called Natural Oxygen Bar with extensive bamboos, limpid lake, winding path as well as numerous streams and waterfalls. In summer, the young bamboos are extremely green and create a comfortably cool atmosphere.
√ 4 Days Chengdu Essence with Shunan Bamboo Forest Summer Vacation
Liangshan Torch Festival
In every late of July or early August, the Torch Festival will be held in Liangshan Yi Autonomous Prefecture, southern Sichuan. It usually lasts for 3 days and Yi people assemble to watch bull fighting, sheep fighting, cock fighting, horse racing and they sing and dance together, etc.
Ruoergai Grassland in Aba
In Ruoergai, Summer is an excellent time to travel the vast prairie and explore Tibetan culture. You can harvest mind-blowing sights of sunny days, blue sky floating with soft clouds, the ground is carpeted by nice green coat, sheep and cows leisurely eating, mountains stands quietly afar... Better try a horse riding and visit the First Bend of Yellow River, Langmu Temple with Ruoergai Grassland.
√ 6 Days Hongyuan & Ruoergai Photography Tour
Shunan Bamboo Forest
Yi Torch Festival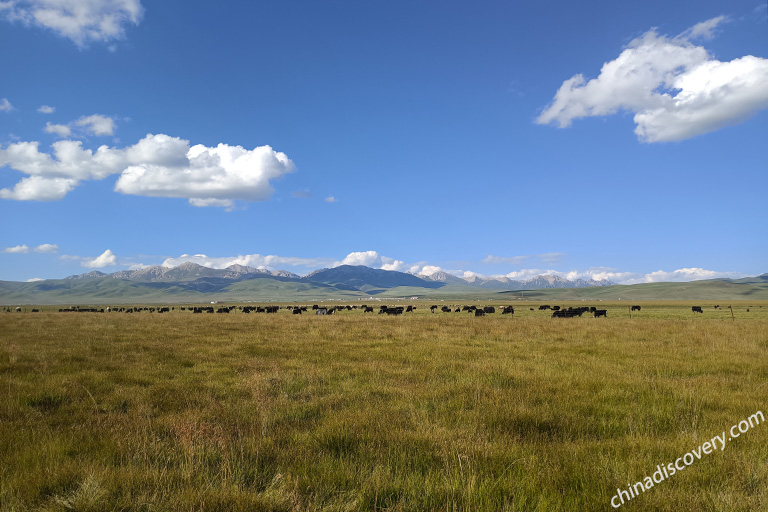 Ruoergai Grassland
Sichuan Autumn – A Colorful World Mixed with Golden and Red
Autumn Weather and Climate in Sichuan
When September (September to November) comes, the world in Sichuan is gradually becoming a golden world with yellow and red leaves. Golden ginkgo in Chengdu and multicolored forest beyond Chengdu are two most impressive scenery to catch in Autumn. This season is a peak tourist season, for the weather is cool, and more clear days and scenery are very attractive... Jiuzhaigou Valley and Huanglong Valley, Miyaluo Scenic Resort, Biepnggou Valley and Daocheng Yading Scenic Area are high advised destinations to go in Autumn. Most Beautiful Places to Visit in Sichuan in Autumn >>
Most Popular Places to Visit in Sichuan in Autumn
Jiuzhaigou Valley
It's true that, Jiuzhaigou is suitable for visiting all year round, since it shows different scenery in each season. But without doubt, Autumn is the best time to travel Jiuzhaigou with comfortable and pleasant weather. Mountains and canyons are dressed up into colorful worlds by the many kinds of trees and flowers of different colors, travertine ponds and lakes are decorated into oil-painting like fairy tale word.
√ 3 Days Classic Jiuzhaigou Tour by Flight
√ 4 Days Jiuzhaigou In-depth Tour with Walking Experience
√ 5 Days Chengdu Jiuzhaigou Comfortable Tour
Huanglong National Park
When Autumn comes, Huanglong National Park is like a natural painting with gorgeous terraced Five-color Ponds unfolding and changing trees surrounded. It is recommended to take cable car up and explore all the scenery by walking down.
√ 4 Days Jiuzhaigou Huanglong Highlights Tour from Chengdu (by Private Car)
Daocheng Yading Scenic Area
It is reputed as the Soul of Shangri-La and the Last Pure Land in Our Blue Planet for the pure and picturesque natural landscape. In autumn, besides having a look at the Three Religious Lord Snow Mountains – Chenresig, Jambeyang and Chanadorje, you should cover Luorong Pasture, Milk Lake, Five-color Lake, Pearl Lake, Haizi Mountain, Red Grassland for more color experience. Your hiking trip in Yading surely will be a once-in-a-lifetime experience when snow-capped mountains, spectacular canyons and lakes jump to your eyes.
√ 4 Days Daocheng Yading Classic Hiking Tour from Chengdu
√ 4 Days Daocheng Yading In-depth Hiking Tour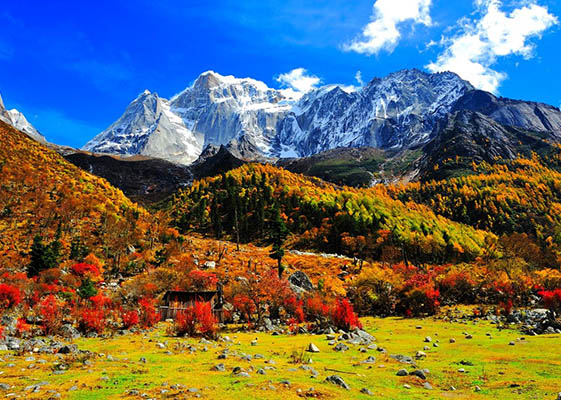 Bipenggou in Autumn
Jiuzhaigou Valley Autumn Views
Huanglong Valley Autumn Views
Yading Autumn Views
Sichuan Winter – Explore Real Frozen World
Winter Weather and Climate in Sichuan
Starts from December to next February, Winter is the coldest season of a year. If you are fond of snowy and icy Winter tour in Sichuan, you should go out of Chengdu, visit mountain or plateau areas and enjoy skiing and relaxing hot spring to expel the coldness. The nearest place is Xining Snow Mounatin in Dayi, Mount Emei in Leshan, or fairytale Jiuzhaigou, Hailuogou with massive glaciers and Bipenggou Valley a little far are popular for Winter travel too. Most Beautiful Places to Visit in Sichuan in Winter >>
Most Recommended Sichuan Winter Destinations
Xiling Snow Mountain
Our Tang Dynasty poet Du Fu wrote "Snow accumulated through thousands years on the west snow mountain could be viewed within a glance from my window" and hence it got the name "Xiling". Xiling Snow Mountain is a great place both to get close to the purest natural beauty and to experience the excitement of skiing sports with over 20 activities in ski field. Ice and Snow Festival is held there annually. Beyond doubt, Xiling Snow Mountain is really a treasure to explore her charm in winter.
√ 2 Days Xiling Snow Mountain Ski Tour
√ 4 Days Chengdu & Xiling Snow Mountain Winter Tour
Hailuogou Valley
If you love nature and Winter, the giant glaciers, ice waterfalls, ice bridges and caves definitely will surprise you. It's unbelievable to closely see, touch and take photos of those natural wonders in a inland region. Some calls Hailuogou a "Crystal Palace" and the low-altitude modern glaciers are magic created by mother nature.
√ 3 Days Classic Hailuogou Tour from Chengdu
√ 4 Days Classic Kangding, Xinduqiao and Tagong Grassland Tour
Zigong Lantern Festival
End of Winter means closer to Chinese New Year, the most important traditional festival celebrated by all families nationwide. Initiated in ancient time, Zigong holds the best and the biggest lantern festival during Winter. Thousands of man-made lanterns will be lit up into a sea of lanterns, different colors, looks and stories are presented by those artworks.
√ 6 Days Splendors Tour to Chengdu, Zigong and Chongqing
√ 7 Days Sichuan World Herigate with Dazu Rock Carvings Tour
Xiling Snow Mountain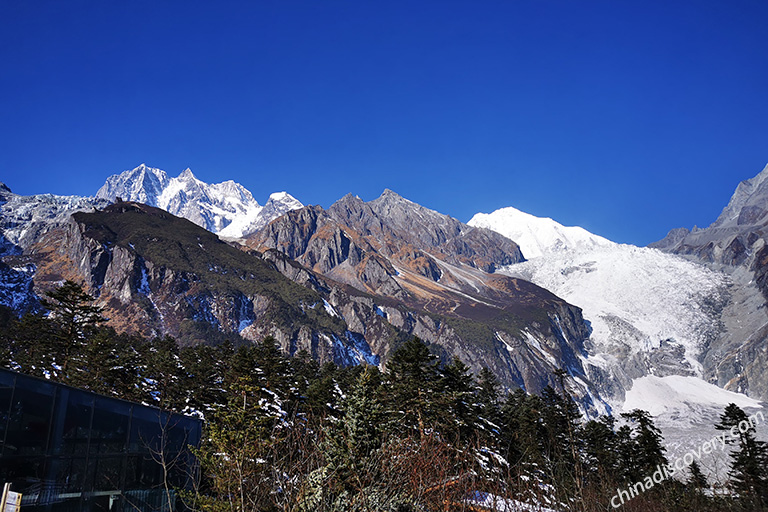 Snowbound Mountains in Hailuogou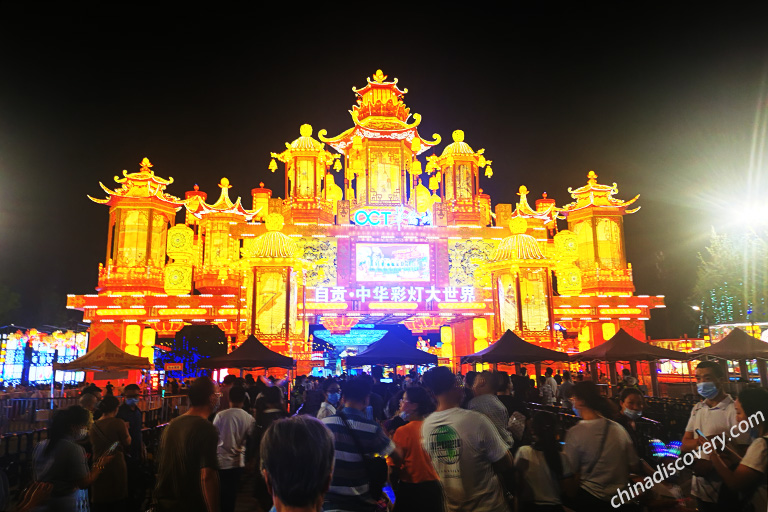 Zigong Lantern Festival
Weather & Climate of Major Travel Destinations in Sichuan
If you are planning a trip to Chengdu, Leshan, Emeishan, Dujiangyan, or other popular palaces nearby and far away from Chengdu in Sichuan, you can check our guide about the weather, climate, temperature, best time to visit and recommended seasonal activities, suggested packing ideas, etc. You're free to contact us to customize a private Sichuan tour with best scenery and wonderful local experiences!
How to Plan Your Sichuan Tour
As a popular travel region in China, Sichuan has different kinds of attractions for tourist, including cultural sights suitable for visiting all year round and seasonal natural spots. Whenever you come to Sichuan, you can always find lots of great sightseeing and interesting activities to join. The Giant Pandas tour and Chengdu city exploration are available most times. Most top spots in Sichuan like Leshan Giant Buddha, Mount Emei, Mount Qingcheng, Jiuzhaigou and many more display varied looks in each season, all are charming and marvellous. High-elevated mountain areas are not advised to visit during cold winter days due to hearvy snow and thick ice and troublesome transportation to get there.
Click to know more wonderful travel destinations and ideas, and to choose from more popular Sichuan Tours!
Travel with China Discovery
China Discovery is an experienced, professional and considerate travel companion based in Chengdu. Travel with us, you can enjoy well-organized tour services in the most convenient way, including the pick-up, local tour guide and drive, thoughtful accommodation, dining and worry-free transportation between each site and the ticket booking, etc. With our help, you can fully focus on the sightseeing journey using the minimum cost of time and energy. According to your itinerary and hobbies, you are free to contact us to customize a special one based on your time schedule, budget and personal hobbies.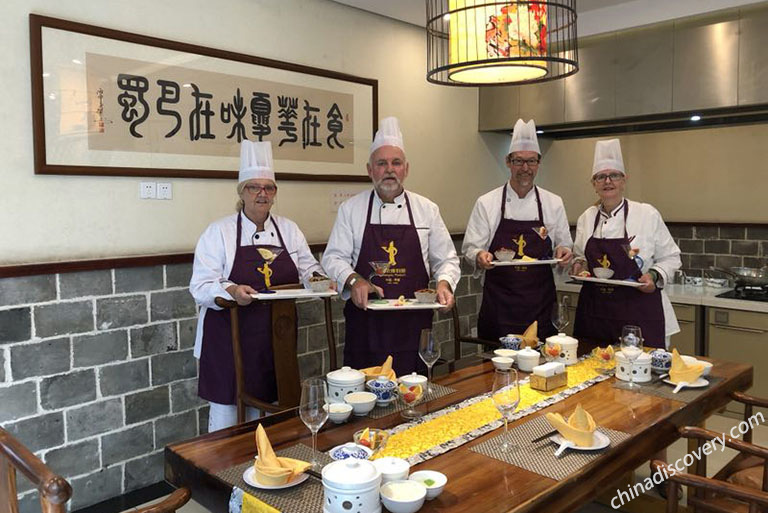 Our Tourists Joined Cooking Class in Sichuan Cuisine Museum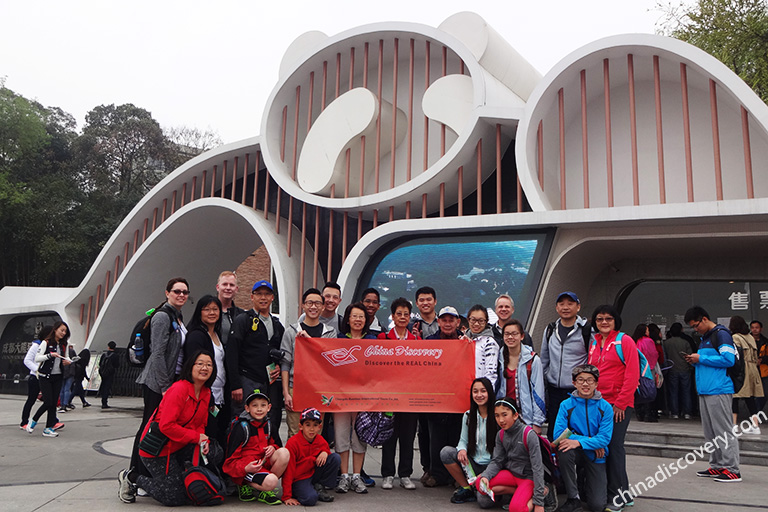 China Discovery Customzied Private Tour to Chengdu Panda Base
Useful Sichuan Travel Guide
Popular Sichuan Tours by Categories
Top City Tours in Sichuan
Recommended Sichuan Tours
Top 3 Sichuan tours chosen by most customers to explore Sichuan in the best way. Check the detailed itinerary, or tailor your own trip now with us.
4 Days Classic Leshan Buddha & Mount Emei Tour from Chengdu

Chengdu / Leshan / Mt. Emei / Chengdu
7 Days Sichuan Discovery Tour

Chengdu / Leshan / Emei / Chengdu / Jiuzhaigou
6 Days Chengdu & Jiuzhaigou In-depth Tour (Round Trip Flights)

Chengdu / Huanglong / Jiuzhaigou / Chengdu
Start planning your tailor-made holiday to China by contacting one of our specialists. Once inquired, you'll get a response within 0.5~23.5 hours.
Customize a Trip
Have a question? Get answers from our travel experts or guests
Your Question:

Your Name:

Your Email: