Pingyao, located in central Shanxi province, is a county-level city. Reputed for the ancient culture, it is home to various cultural relics and about 100 historical sites. Back to its history, Pingyao Ancient City is the great witness with 2700 years of history. Considered as the best-preserved ancient walled city in China and Pingyao city was listed as a World Cultural Heritage site. Around the city, The Shuanglin Temple and Zhenguo Temple will impress you more with its classic architectural styles and imperial treasure of painted sculptures.
Why visit this city:
Pingyao Ancient City - By keeping all the features of Chinese Han nationality during the Ming and Qing Dynasties, it displays a complete picture of the unusual cultural, social, economic development for tourists tracing back the prosperity of that period.
Imposing courtyards - The various well preserved grand courtyards with typical ancient building styles present a great historical value and architectural aesthetics, such as Qiao's Family Compound, Wang's Family Compound.
Shanxi Merchants' culture - Shanxi was known for its merchant for years and Pingyao as the great hometown, once lived many great Shanxi Merchants, Qiao Zhizhong for instance, the host of Qiao's Family Compound. Influenced by Confucian culture, their spirit, known as "Jin merchant spirit", focuses on entrepreneurial spirit, professional ethics and community spirit, which spread into their family history, and can be learned once you travel to the courtyards.
Top Attractions in Pingyao
Traveling to Pingyao is mainly for Pingyao Ancient City. Rich in many kinds of stores and ancient buildings, Pingyao ancient city is like a film to record the lively atmosphere and authentic lifestyle of the Ming and Qing dynasty. Together with the ancient city, Qiao's Family Compound is another historical site to go and explore the Shanxi merchant mansion. Click other Things to do in Pingyao to find more attractions in Pingyao & around.
Top Activities in Pingyao
Besides just strolling around Pingyao ancient city, here you have lots to things to do, including joining the Spring Festival Festival Celebration, watch the famous show - Encore Pingyao, and taking a walk on the ancient wall during the sunset... Click Activities in Pingyao to find more things to do in Pingyao.
Pingyao Chinese New Year
You could experience the traditions of Chinese New Year, enjoying lion and dragon dance, decorating windows with red paper-cuts, pasting red couplets...
Encore Pingyao
Watching the performance called "Encore Pingyao" will help understand Shanxi's history and culture. It is more like a living museum or time-travel experience.
Pingyao Photography Festival
Founded in 2001, Pingyao International Photography Festival (PIP) is one of the most important celebrations, among the international communities.
Pingyao Shehuo Parade
Shehuo Show is a serious folk performances and parade during some traditional Chinese festivals, like the Spring Festival, Dragon Boat Festival...
Best Time to Visit Pingyao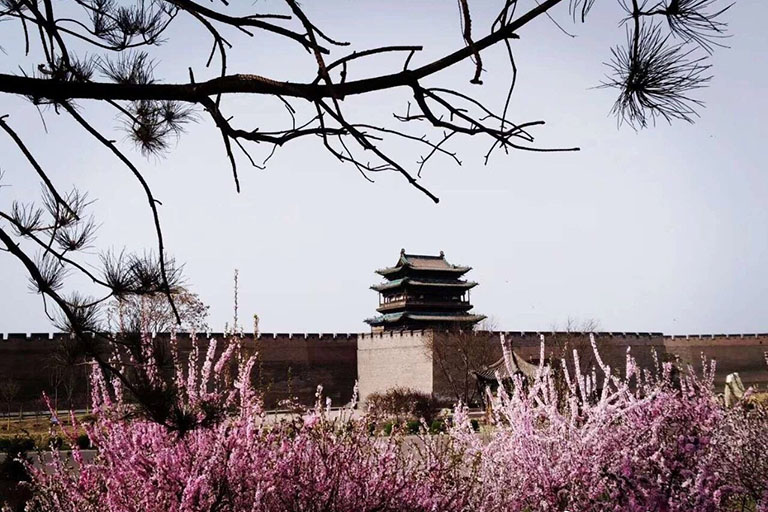 Pingyao, located in the central Shanxi Province. It has a mild a typical temperate continental monsoon semi-arid climate with an average temperature of 10.6°C (51.1°F). The hottest month is July, and the average monthly temperature is 24.50 ℃; the coldest month is January, with a monthly average temperature of - 5 ℃. The best time to visit Pingyao is in autumn, especially September, for the fine weather.
Learn more about Pingyao weather & seasonal activities.
Get to & Around Pingyao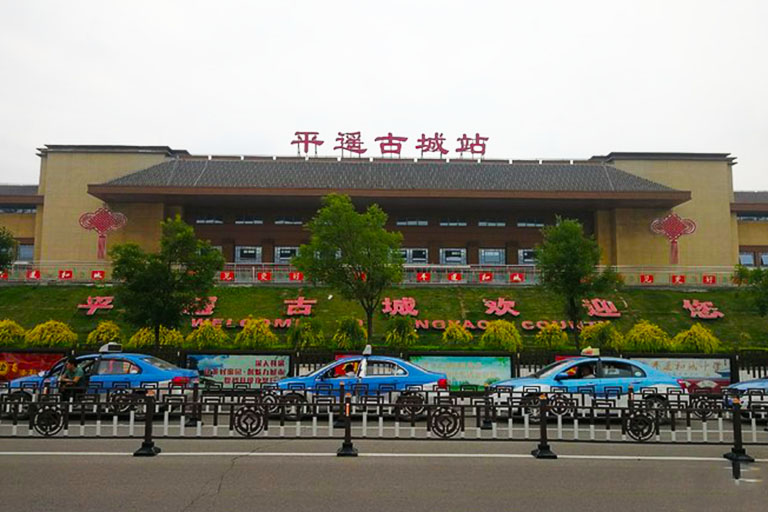 • Get to Pingyao
Presently, there is no airport in Pingyao, tourists can take a flight to Taiyuan and transfer to Pingyao within 100 km. With two train stations (Pingyao Railway Station, Pingyao Ancient City Railway Station), you can reach Pingyao easily by high-speed train, especially taking bullet trains if you come from Beijing (4h), Xian (3h), Taiyuan (2h). Learn More about Pingyao Transportation and Pingyao Railway Stations to find details information.
• Get Around Pingyao
Around Pingyao, there are city buses, bicycle renting sites for you to easily tour around Pingyao ancient city with small charges. Also, many visitors would like to visit Pingyao with the nearby Qiao's Family Compound 50km to the North or Wang's Family Compound 60km to the south. Pingyao Railway Station and Pingyao Bus Station are just outside the northern gate of the ancient city, and Pingyao High-Speed Train Station is about 10km away from the ancient city, offering your easy transferring Shanxi.
Pingyao Accommodation
Once the most prosperous city in Ming & Qing dynasty, Pingyao Ancient City had left a great number of hotels constructed from local residents, varying in 5-star to 3-star. All of them keep the Pingyao ancient living styles for you to experience the Pingyao culture more convenient. The major accommodation site is inside the walled city and most of them are the ancient northern Chinese courtyard style and nice amenities.
Check the detailed Pingyao Hotels to stay with and learn more about where to stay in Pingyao.
Pingyao Maps
As a county of Jinzhong city, Pingyao is located in the central part of Shanxi Province. For understanding intuitively about its location and Pingyao Ancient City, here are the local Pingyao Shanxi Map, Pingyao Ancient City Map, and Pingyao Attractions Map, Pingyao Location Map for you. With more nearby attractions, check more Pingyao Maps.
Other Destinations Near Pingyao
With a convenient high speed train transfer, you can explore more beyond Pingyao city to Taiyuan to view more about Shanxi history; or go north to Datong and veiw the grottoes arts. For Beijing-Xian tourists, Pingyao connects those two great historical and cultural cities for you to have a better perspective of China.
Plan Your Pingyao Tour
Strolling on the old street of Pingyao Ancient City, you may take at least 2 days to explore its time honored city walls, lively streets and the typical styled local houses. If you want a depth tour around Pingyao, the famous compounds are the must-sees. With different scales, there are Qiao's Family Compound and Wang's Family Compound for you to have overview about the ancient folk residences in northern China for another 1 day.
Taiyuan, as the provincial capital of Shanxi, is the best gateway to Pingyao, also worth to go for its long history and ancient culture. If you are traveling though Beijing and Xian, making a stop at Pingyao will delight you more without a detour.
Travel with China Discovery
We have helped many global travelers enjoy their memorable wonderful trips to Shanxi for the past few years. Among them, a sweet couple from the UK traveled with us and spent 21 Happy Days in Datong, Pingyao, Mount Wutai, Xi'an and 5 Other Cities in Northern China, and shared us their special travel story!
Moreover, we got more than 1,570+ good reviews on TripAdvisor.com, and over 3,220+ China travel reviews from our customers. Travel with China Discovery to create your great China trip memories!
Recommended Tours
MORE