China Tours from Hong Kong 2018 - convenient and valuable
Why Start Your China Vacation from Hong Kong?
International Arrival - Over 100 international airlines operate airlines to Hong Kong;
Gateway to Mainland China - travelers can take flights from Hong Kong to most tourist destinations in China;
Vacation Paradise - Hong Kong is charming and diverse, full of things to do.
Features of Our China Tours from Hong Kong:
Covered three or more top destinations in China - Hong Kong, Guilin, Yangtze River, Chengdu, Xian, Beijing, Tibet, etc;
Customizable - fully designed to your interests and needs;
Private - go any day you want, flexible at your own pace;
All-inclusive Service - we take care of every detail, you just sit back and enjoy.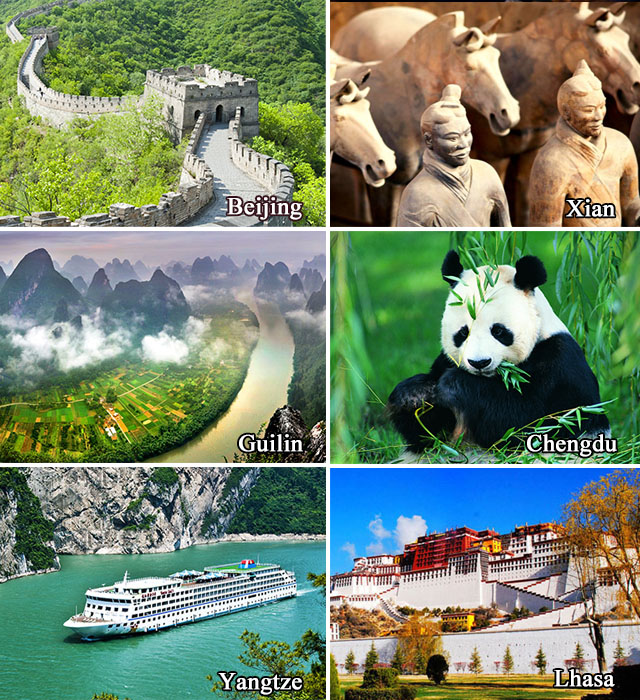 How to plan a China tour from Hong Kong
Travel in Hong Kong is easy, and full of fun. The best highlights of this cosmopolitan gathers in Hong Kong Island, Kowloon and Lantau Island. Each area can be explored pleasantly in a day trip. The Hong Kong Island is the center of tourists, also the essence of Hong Kong - Victoria Peak and Harbor, Repulse Bay, Stanley Market...from here, you can take a day trip to Lantau Island, or take a ferry to visit the neighboring Macau.
After the Hong Kong tour, you can travel to Guilin which is close to Hong Kong. You can also keep on your trip to Shanghai and Beijing. Want to spend more days? Why not to tour the ancient city Xian near to Beijing? Yangtze River cruise is another recommended extension for your Hong Kong China trip..if you still have no idea, don't worry, feel free to tell us, then our experienced travel specialist will customize a tour for you.
Strongly Recommended China Tours from Hong Kong for the First-timers
Top 5 Best China Hong Kong Travel Deals for 2018
Recommended In-depth China Tours from Hong Kong
Below are the top-rated packages especially designed for you who'd like to start your China tour from Beijing. The journeys we offer are all full service: tours, domestic flights, transfer, hotels, some local style meals, personal guides & drivers...to deliver you a worry free China tour at a lower local price!
Hong Kong / Guilin / Yangshuo / Longsheng / Chongqing / Yangtze Cruise / Yichang / Xian / Beijing 13 Days China Cruise Tour with Yangtze & Li River

Start your China tour with the convenient international hub, also the Pearl of Orient – Hong Kong. This 13 days tour gives you the best cruise experiences in China: comfortable and relaxing cruises on Li River and Yangtze River to set your heart free to embrace the pure beauty of China landscapes. Tour to Beijing, Xian and Shanghai give you the chance to see large scale of historical and cultural sites, taste the charming history of China and experience the prosperous scene of today.

From $2,469 Check Details
Hong Kong / Guilin / Yangshuo / Longsheng / Chengdu / Lhasa / Xian / Beijing15 Days Grand China Tour with Yangtze River

This tour is designed for the first-time visitor to experience the GRAND of China. It is truly a visual treat, full of unexpected surprises and many treasures waiting to be discovered. By starting from Hong Kong, you'll see more, experience more and remember more along all the way.

From $3,226 Check Details
Hong Kong / Shanghai / Yichang / Three Gorges / Chongqing / Guilin / Yangshuo / Xian / Beijing17 days Hong Kong Shanghai Guilin Xian Beijing Yangtze tour map

This tour offers you a wonderful experience in the thriving mega city Hong Kong & Shanghai, a fantastic cruise on the spectacular Yangtze River, a relaxing trip to Guilin, the most beautiful landscape under the heaven. And your tour will be more exciting with cultural explore in the ancient city Beijing & Xian.

From $3,060 Check Details
Need more choices for your China tour?
On one hand, if you just want a short stay in & around Hong Kong, the 2-8 days Hong Kong China tours like Hong Kong Guilin Tours will save you more time and money.
On the other hand, besides Hong Kong, Beijing, Shanghai and Chengdu are the other perfect cities to start a China trip. Get inspired and delighted by our handpicked top itineraries now!