How to plan a memorable Shanghai Huangshan tour? It's very easy and simple. Generally speaking, you can spend 2~3 days visiting the landmarks in Shanghai first, such as the Bund, Shanghai Museum, Yu Garden, Shanghai Tower, etc., then take a high speed train to Huangshan where you are suggested to visit at least for 2 full days for Huangshan Mountain hiking and nearby exploration. We have created some suitable tour packages for you all of which can be customized to match your needs and interests. Please feel free to contact us if you have any special requirements.
Shanghai Huangshan Huangshan Mountain

Shanghai has been widely chosen as the gateway city to travel to Huangshan, the Yellow Mountain, as there are more than 12 high speed bullet trains running to Huangshan each day. The 280 mile's train journey, which is very scenic and comfortable, can be done in brief 3 hours. If you have a couple of days and want to visit Huangshan, this is the tour - classic itinerary, private tour and great price.

Check Details
Shanghai Huangshan Huangshan Mountain 5 Days Shanghai Huangshan Tour by High Speed Train

Jiangnan area boasts the elegant scenery with exquisite water and traditional buildings. It is a great treat for travelers who want to travel from Shanghai to Huangshan by high speed train. The train seems to take you from modern to ancient, from fashion to tradition, from city's hustle and bustle to tranquility and quietness in this area.

Check Details
Shanghai HuangshanHuangshan Mountain6 Days Shanghai Yellow Mountain Tour with Water Town Visit

Whichever nickname you prefer, "Paris of the Orient" or "Pearl of China", Shanghai captures the essence of new China, as well as its centuries of history and culture. It is also the best gateway city to travel to Huangshan. During this tour, you will first spend 1 and a half days in Shanghai to visit the landmarks as well as the beautiful Zhujiajiao Water Town. After that, take a high speed train to Huangshan to hike the Yellow Mountain.

Check Details
Everything you need to know before Shanghai Huangshan Tours
The following articles give you useful suggestions and tips about how to plan a Shanghai Huangshan trip, how to decide your travel length, best way to transfer and top things to see and do in both Shanghai and Huangshan.
Travel Shanghai Huangshan with Hangzhou, Suzhou...
Still want to experience more of the highlights in the region after your Shanghai Huangshan tour? No problem, we have selected some Shanghai Huangshan extension tours which cover some other very popular destinations in the region, such as Hangzhou, Suzhou and Wuzhen, etc. If you prefer other destinations, just tell us your plan, and then we will help you to customize your own tour.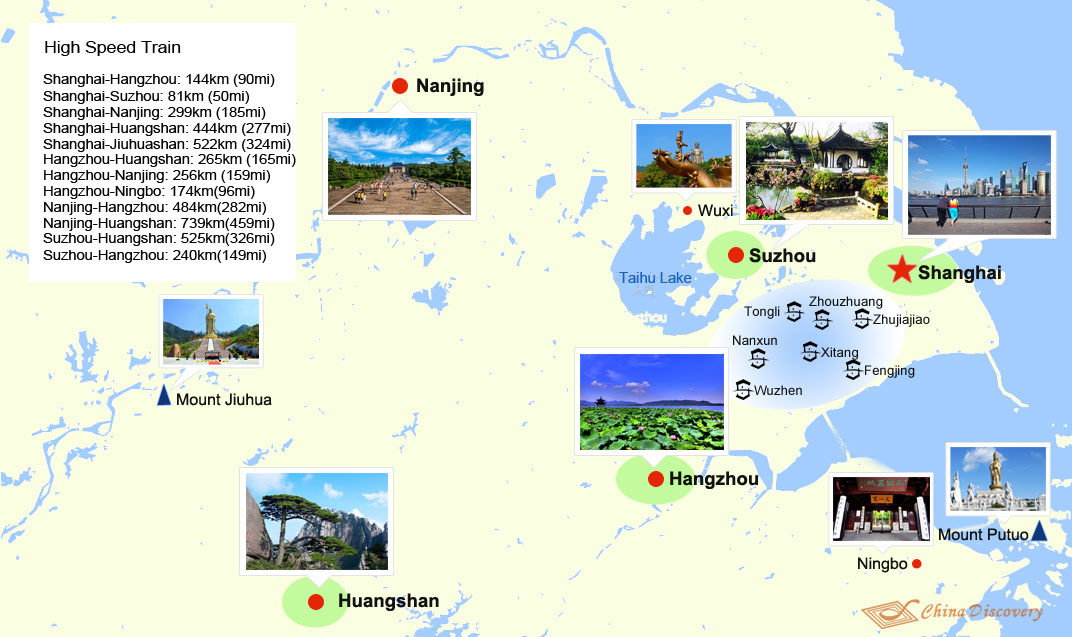 7 Days Shanghai Hangzhou Mt. Huangshan Tour Package

Shanghai / Hangzhou / Huangshan

Experiencing the exquisite Jiangnan-style elegance in Hangzhou, soaking in the excitement of Shanghai's vitality and busyness, being amazed at the four wonders of Huangshan... You will appreciate this deep exploration of China, and also the amazing experience of taking the high speed train.

Check Details

9 Days East China & Yellow Mountain Tour

Shanghai / Suzhou / Shanghai / Hangzhou / Huangshan

You will explore the southeastern China, the most prosperous region which is known for diversity of culture - modern metropolis, beautiful water towns, art of Suzhou Classical Garden, Buddhism, Chinese tea culture, Huizhou-style architecture… The best highlight is the fabulous Yellow Mountain which will please both your mind and eyes.

Check Details

11 Days Gorgeous China Tour

Beijing / Huangshan Mountain / Hangzhou / Suzhou / Shanghai

To find out the beautiful places in China, the best idea is to explore its mountains, lakes, rivers and cities. Arrive at Beijing and visit the World Heritage Sites, then the beautiful Yellow Mountain. Next to visit the classical water towns, gardens, lakes in Suzhou and Hangzhou. The Last stop is Shanghai.

Check Details