Hohhot, the capital of Inner Mongolia, is located in the central part of Inner Mongolia, linking with Yinshan Mountain to the north, Yellow River to the south, Baotou and Ordos to the west, and Ulanqab to the east. It is served as Inner Mongolia's administrative, economic and cultural center.
Hohhot is a historical city with splendid Mongolian culture preserved and also a city beyond Great Wall with gorgeous prairie scenery. Paying a visit to Hohhot during summer or autumn, this "Green City" will never let you down.
Why Visit this City?
Hospitality of Mongol - Hohhot is home 36 ethnic groups including Mongol. It is the right place to experience the hospitality of Mongol of Inner Mongolia. When they first meet their dearest guests (You), they colorfully dressed will present Hada and a silver cup of wine. When stay the moment with Mongols, they will show everything about their culture and traditions and treat you as a family.
Grassland Paradise - Hohhot is a gateway to the beautiful grasslands, including Xilamuren Grassland, Huitengxile Grassland and Gegentala Grassland. On the grassland, you could enjoy a wide variety of featured activities including horse riding, visiting the home of a herdsman's family, roaming over the grassland, tasting the local cuisine, appreciating breathtaking natural prairie scenery…
Grand Naadam Festival - Naadam Festival is the biggest festival in Inner Mongolia which is held in each July or August where you could enjoy and even engage in the traditional activities like wresting, horse racing and archery, etc.
Top Attractions
As you know, Hohhot is not only a famous historical and cultural city in Inner Mongolia, but also as a pearl of grassland. Travelers can take a short visit in the downtown area to see ancient temples, pagodas and tombs and spend one day to escape the modern city to the vast grasslands which provide you with magnificent prairie scenery and a wide green "sea" decorated with flocks of sheep, cattle and horses…Catch the precious time to enjoy the grand Naadam Festival with numerous fantastic activities on the amazing grasslands. For more attractions info, please see all Attractions in Hohhot.
Xilamuren Grassland
It is 88 km from Hohhot with 1.5 hours' drive. Visit Puhui Temple, Aobao and experience a range of Mongolian cultural activities and annual Naadam Festival in July.
Huitengxile Grassland
It is 135 km from Hohhot with 3 hours'drive. At an altitude over 1800 meters, this grassland offers to see 99 natural lakes, Yellow Flower Valley and Wind Power Plant.
Gegentala Grassland
It is about 128 km from Hohhot with 2.5 hours' drive. Gegentala Grassland is a great summer resort to throw yourselves into Paradise Grassland for a short stay.
Weather & When to Go
Hohhot has continental temperate monsoon climate with distinct seasons. It is marked by long, cold and very dry winters and hot, humid summers, strong winds, especially in spring. The average temperature is 6°C. In winter, the average temperature is about -10°C and in summer, the average temperature is 22°C.
The best time to visit the Green City is in summer and autumn, especially from May to October. During this period, it is suitable for visiting the downtown area of Hohhot as well as paying visit to the nearby grasslands – Xilamuren Grassland, Huitengxile Grassland and Gegentala Grassland. In every July, Mongolian's traditional Naadam Festival is held and lasts for about 5 days. >>see details about Hohhot climate, weather & season to go
Transportation
Transfer to Hohhot
Travelers can take flight and train to and around Hohhot. Hohhot Baita International Airport is 14.3 kilometers east of Hohhot. There are flights connecting with Hulunbuir, Manzhouli, Ordos in Inner Mongolia; domestic flights to Beijing, Shanghai, Xian, Hong Kong, Chengdu, Harbin, Datong, Hangzhou, Wuhan, Taiyuan, Qingdao, Dalian and more cities; international flights to Ulan Bator, Mongolia, Korea and more places. It is very popular to get to Hohhot from Beijing with about 10 daily flights within 1.5 hours.
Hohhot has two railway stations – Hohhot Railway Station (in downtown area) and Hohhot East Railway Station (high speed train station, 8.7 km away from downtown). From Hohhot East Railway Station, travelers can take D trains to Baotou with 75 minutes' transfer, Jining with 1 hour's transfer. From Hohhot Railway Station, there are train to Beijing (about 6 hours), Yinchuan (about 8 hours), Xian (about 14 hours), etc.
Transfer around Hohhot
For the grasslands are scattered with 1.5~3 hours' drive, China Discovery suggests you to use our private service with your personal car, driver and local guide to visit the beautiful grasslands near Hohhot. To check more transfer info, please see how to get to and around Hohhot.
Accommodation
Visiting Hohhot means you will have different kind of experience for your accommodation. In Hohhot downtown area, travelers can choose hotels from luxury ones to comfortable ones, like Shangri-La Hotel Hohhot, Inner Mongolia Hotel, Sheraton Hotel Hohhot, etc. These hotels is equipped with modern facilities and some are decorated in Mongolian style. When escaping from the hustle and bustle city area to the peaceful grassland, travelers should try the Mongolian yurts which will fulfill your basic needs and offer chance to experience authentic Inner Mongolia customs and etiquettes. Feel free to tell your needs and requirements to our professional travel consultants, they are here ready to help and book your ideal hotels.
Useful Hohhot Maps
Hohhot is served as the gateway city to grasslands and other cities of Inner Mongolia. To make it easier to transfer in Hohhot or to nearby grasslands and cities, to make you understand Hohhot better, you could have a look at our Hohhot Maps like Hohhot China Map, Hohhot Inner Mongolia Map and Map of Grasslands near Hohhot etc. For more maps, please check 2016 Overall and Detailed Hohhot Maps.
Other Popular Destinations in China
China is vast and diverse. You can choose your favorite destination among more than 70 tourist destination and regions. Following are 4 popular destinations you may get interested in. Check all destinations in China
Chinese Name: 呼和浩特
Chinese Pinyin: hū hé hào tè
English IPA: /'həu'hɔt/
Population: 2.91 million
Language: Mandarin & Mongolian
Tel Code: 0741
Zip Code: 010000
Time Zone: (UTC+8)
Plan your Hohhot Tour
Most travelers coming to Hohhot is for the beautiful grasslands and appealing Naadam Festival. There are three grasslands near Hohhot, including Xilamuren, Huitengxile and Gegentala Grassland. Travelers can add one of these grasslands into your Hohhot trip and spend one day in Hohhot downtown exploring Dazhao Temple, Five-pagoda Temple and Inner Mongolia Museum. The trips usually take 3~4 days.
Since Hohhot is close to Baotou and Ordos, it is a good idea to cover these two cities after your Hohhot trip to see more attractions like Mausoleum of Genghis Khan, Resonant Sand Bay, Wudangzhao Monastery. Discover now!
Recommended Tours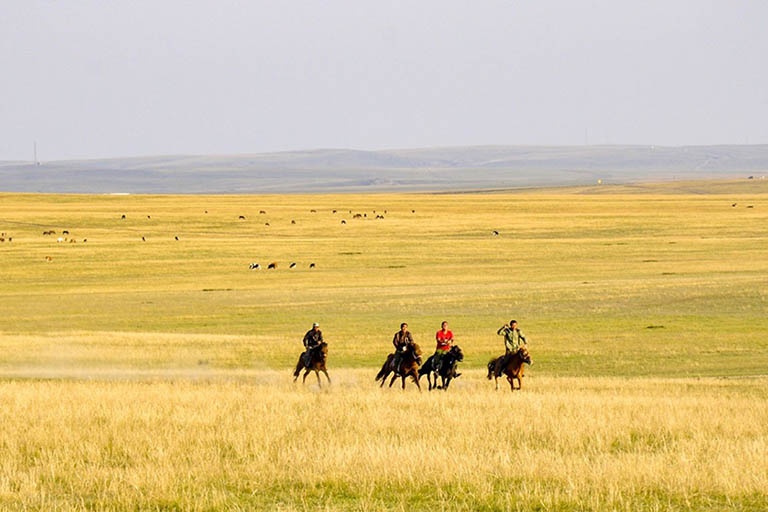 MORE