Fanjingshan, or called Mount Fanjing, is located in Tongren City (铜仁), the eastern Guizhou Province (贵州省) of China, about 248 kilometers from Guiyang (贵阳) and 220 kilometers from Zhangjiajie. Mount Fanjing is the highest peak of the Wuling Mountains, at an elevation of 2572 meters. Primitive vegetation is the major feature of Mount Fanjing, with mountains standing majestically, peaks rising one after another, streams crossing and waterfalls overshooting. Besides, Fanjingshan is a sacred Buddhist site and many Buddhist believe that Fanjingshan is where one can reach spiritual enlightenment as Maitreya Buddha did.
National Geographic has released its "Best Trips in 2019" list with 28 places selected around the world. Mount Fanjing is the only tourist destination in China to make the list. Before you kick off your trip to this mysterious land, you can carefully have a browse of this latest Fanjingshan travel guide to plan your adventure and itinerary.
Why Visit Fanjingshan?
The 53rd UNESCO World Heritage Site in China. The 42nd session of the World Heritage Committee in Bahrain has announced Fanjingshan as UNESCO's ever-expanding list of World Heritage Sites. It is an island of metamorphic rock in a sea of Karst and is home to many ancient and relict plant and animal species which originated in the Tertiary period, between 65 million and 2 million years ago.
Profound Buddhist Culture over 1300 Years. Fanjingshan is a sacred Buddhist mountain, considered to be the bodhimaṇḍa of the Maitreya Buddha. It is ranked as the Fifth Buddhist Mountain of China. The influence of Buddhism reached Fanjingshan by the Tang Dynasty in 639 AD. More temples were built during the ensuing Song and Yuan dynasties. Now the two temples sitting atop of the New Golden Summit are the significant pilgrimage site for Buddhist worshipers around the world.
Peculiar Rocks and Superlative Natural Views. There is arguably no better view of the world that one that can be seen form the New Golden Summit (also known for Red Clouds Golden Summit). It takes about four hours to hike over 8000 steps to the temples. Along the way, you can fully appreciate the strange rock formations like Mushroom Stone standing ten meters high which speaks to the area's prehistoric creation. There are many other strange rock formations and stone pillars on Fanjingshan that you won't miss during your visit.
Mount Fanjing (Fanjingshan) & Attractions to See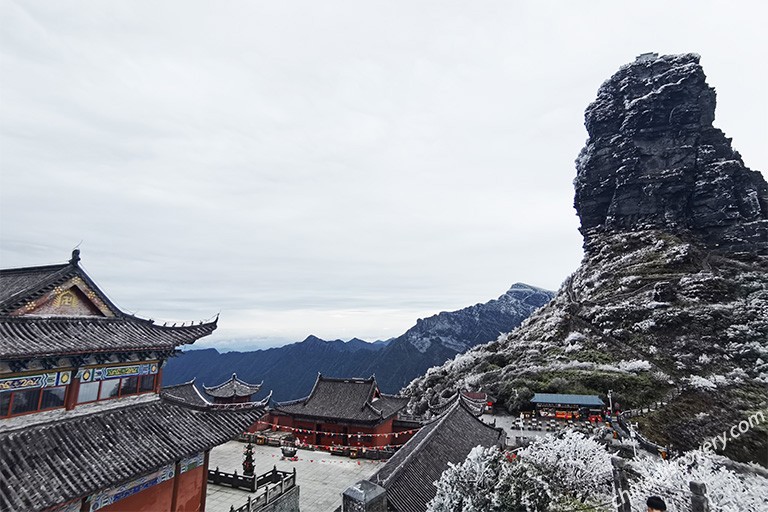 The mountain was named "Fanjing", an abbreviation of "Fantian Jingtu", is a Buddhist term which means "Brahma's Pure Land". It has been reputed as the Fifth Buddhist Mountain in China, after Mount Wutai in Shanxi Province, Mount Putuo in Zhejiang Province, Mount Emei in Sichuan Province, and Mount Jiuhua in Anhui Province. With a history more than 2000 years and filled with many unusual rock formations and rich biodiversity, Mount Fanjing is a beautiful, quiet and unique site and can make a refreshing and spiritual change after the hustle and bustle of big cities.
Like Avatar Hallelujah Mountain in Zhangjiajie National Forest Park, Fanjingshan is much taller than it is wide, a vertical pinnacle that resembles a pencil standing on a desk. To reach the top, travelers have to walk up more than 8,000 steps or take a cable car ride up from the road below. Most travelers would like to spend one full day exploring this extraordinary holy mountain. The attractions include Red Cloud Golden Peak, Old Golden Summit, Ten-Thousand Sleeping Buddha, Mushroom Stone, Jiulong Pond, Fenghuang Mountain, Numerous Rolls of Books and so on.
Learn more information about Mount Fanjing (Fanjingshan) | Miraculous Buddhist Temples on Mount Fanjing >>
Best Things to Do in Fanjingshan
Reach Up the Summits in the Air
There are three summits of Mount Fanjing perching into the sky - Red Clouds Golden Summit (2336 meters), Old Golden Summit (2493 meters) and Phoenix Golden Summit (2572 meters). Standing on the top of the summits, you can catch amazing panoramic view of Mount Fanjing.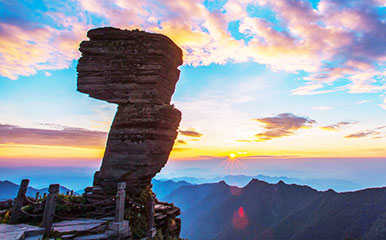 View Peculiar Rocks & Peaks
The landform of Mount Fanjing is called a "fold belt" in geology, which means that the massif resembles huge lasagnas - layers and layers of rocks piled into bizarre shapes rarely seen anywhere else. The Mushroom Stone is a good example that layers of rocks form the shape of a tall mushroom.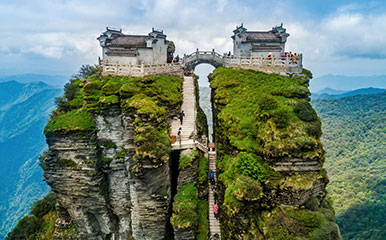 If you are in good physical condition, it is recommended to enjoy the 4-hour hiking experience to climb about 8000 steps reaching up the summit. It will reward hikers with bizarre rock formations and above-the-clouds views of China's Wuling mountain range.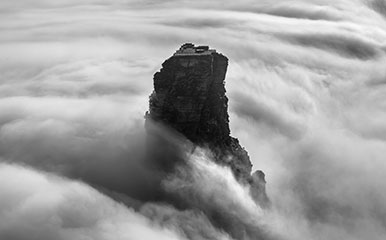 Photography
This place is definitely worth your time to take many awesome photos. No matter you want to shoot the holy Buddhist temples shrouded into the sky, unbelievable rocks, endangered animals, or other stunning landscape like sea of clouds, the light of Buddha...you have got the chances.
Weather & Best Time to Go
Fanjingshan located in the mountainous Guizhou Province, belongs to the subtropical humid monsoon climate with distinctive four seasons. The annual average temperature of the year ranges from  13.1°C to 14.7°C. The hottest days occur in the late July with an average temperature around 24°C; and the coldest nights fall in the early January with an average temperature around 4.6°C. Generally speaking, the climate in Fanjingshan is mild with abundant solar power and rainfall. No too hot summers or cold winters. The rainfall season is usually during May to October and the the annual frost-free period is 270-278 days.
The best time to visit Mount Fanjing is from March to November. And if you are planning to catch some surprisingly photos, the best time to visit is in the early morning. And, Sea of Clouds, Zen Fog, Buddha Light and amazing sunrise will appear after the rain. Learn more about Fanjingshan Weather, Climate, Best Time to Visit & What to Bring >>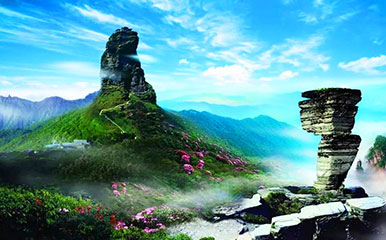 Fanjingshan Spring Travel
The spring includes March, April and May. The azaleas come to blossom all over the green mountain from April to May. During this period of time, it is the best time to visit Mount Fanjing.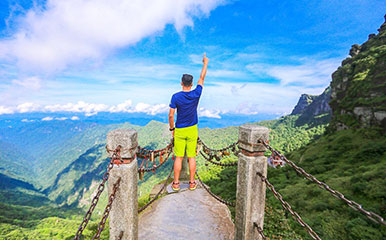 Fanjingshan Summer Travel
Summer includes June, July and August. Many travelers come to this holy mountain with supreme tranquility to escape the summer heat. The sea of clouds occurs the most frequently at this time.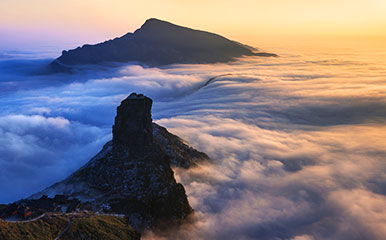 Fanjingshan Autumn Travel
Autumn includes September, October, November. Mount Fanjing comes to the most colorful time in a year. With different elevations, different colors are displayed - red, yellow, purple, green, gray...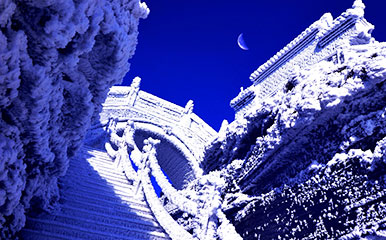 Fanjingshan Winter Travel
Winter includes December, January, February. The whole mountain gradually turns to dark green with less crowds. It sometime snow and the whole mountain will be covered in white, providing impressive pure beauty.
How to Get to Fanjingshan
Fanjingshan is located at the junction of Yinjiang County (印江县), Jiangkou County (江口县) and Songtao County (松桃县), the central region of Tongren City, Guizhou Province. Travelers who want to arrive at Mount Fanjing should first arrive in Tongren City and then make a transfer to the mountain.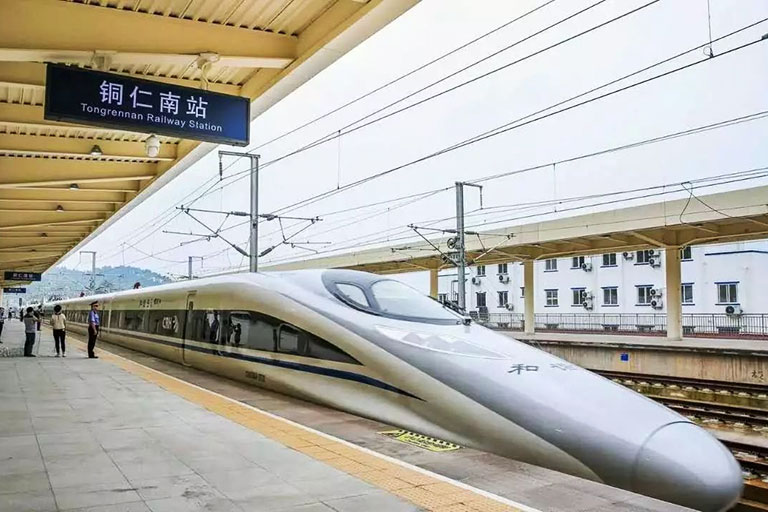 Flight to Tongren (Fanjingshan)
Tongren Fenghuang Airport is the nearest airport to reach Mount Fanjing. It has direct flights from Beijing, Shanghai, Guiyang, Guilin, Nanning, Shenzhen, Guangzhou, Xian, Nanjing, Xiamen, Wuxi, Hohhot, and more cities in China. This airport is about 87 kilometers from Fanjingshan and about 21 kilometers northeast of Tongren City.
Train to Tongren (Fanjingshan)
● Bullet Train to Tongren: Tongren runs bullet trains from/to Guiyang (about 1.5 hours), Kaili (about 1 hour), Chengdu (about 5 hours), Chongqing (about 3.5 hours), Guangzhou (about 5 hours), Changsha (2-2.5 hours) and more cities. Most high speed trains arrive at Tongren South Railway Station which is 117 kilometers to Fanjingshan and 63 kilometers to Tongren downtown area.
● Normal Train to Tongren: Tongren also has normal trains from/to Huaihua (about 1 hour), Zhangjiajie (about 7 hours), Changsha (about 9 hours), Chongqing (6.5-9.5 hours), Chengdu (11-12 hours), Shanghai (about 20.5 hours), Guangzhou (14.5-22 hours) and more destinations in China. Most normal trains arrive at Tongren Railway Station located in the Tongren downtown which is 78 kilometers to Fanjingshan.
To know more detailed transportation information with specific cities to Tongren/Fanjingshan, you can check How to Get to Fanjingshan or directly jump to the following links to view the transportation plan.
How to Transfer from Tongren City to Mount Fanjing?
Since Mount Fanjing is a little far away from Tongren City (about 70-80 km), the airport and train stations, it is highly recommended to take our worry-free private car service when planning your Fanjingshan trip. If you want to travel on your own to this holy mountain from Tongren City, you can hire a taxi or hop on the bus with complicated transfer. Learn more about How to Get to Fanjingshan from Tongren >>
Where to Stay in Fanjingshan & Recommended Hotels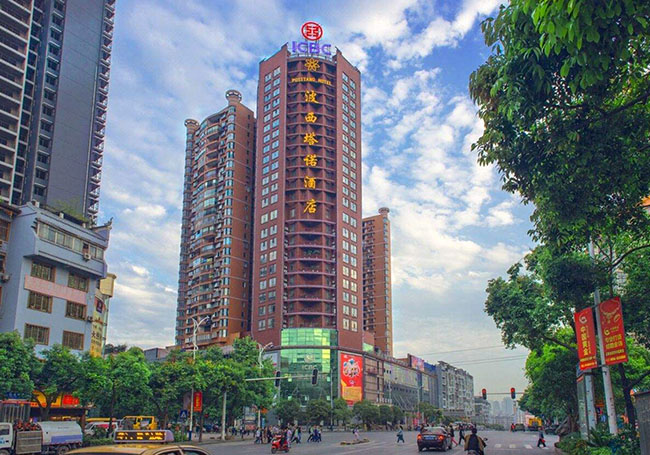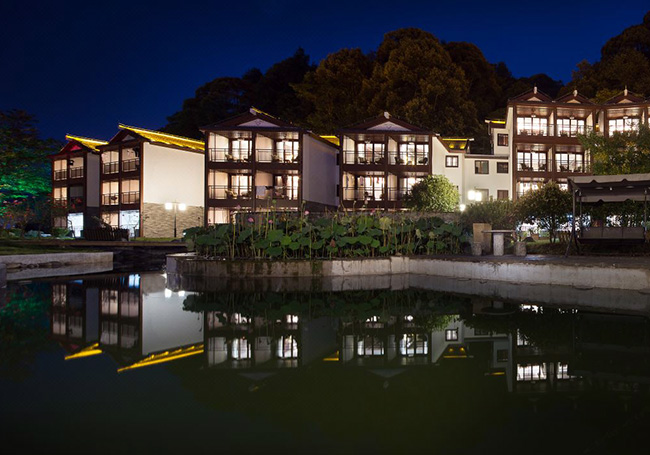 Most travelers will spend one night in Fanjingshan or Tongren City when paying the visit. No accommodation is provided in the scenic area. But, there are four best areas for you to select your accommodation.
● Stay at the foot of Fanjingshan: To avoid long queue and get atop of the Mount Fanjing in the morning, it is recommended to stay at the foot of Fanjingshan. Most of the hotels are 3-star or 4-star with comfortable facilities. Learn more about Recommended Hotels near Fanjingshan >>
● Stay in Jiangkou County: Jiangkou County is the closest county to the entrance of Mount Fanjing. It only takes about 0.5 hours from Jiangkou to the mountain. Choices are a lot with more than 100 hotels ranging from 3-star to 4 star. So, the accommodation at Jiangkou county is a good choice in the peak season. Learn more about Recommended Hotels in Jiangkou County >>
● Stay in Tongren City: Tongren City is close to the airport and train stations. If you look for better accommodation or arrive in Tongren in the late evening, you can choose to stay in Tongren City. Learn more about Recommended Hotels in Tongren City >>
To get more ideas about how to choose the area and select the hotels, you can turn to Where to Stay in Fanjingshan >>
Useful & Overall Fanjingshan Maps
To have a clear idea about where is Fanjingshan located, how to transfer to Fanjingshan with detailed transportation, and how to visit this sacred mountain, you can have a browse at our 2023 latest Fanjingshan maps. All the maps will help you get a better understanding about how to plan your tour to Mount Fanjing. Feel free to view, downtown and use them! For more Fanjingshan maps. please check 2023 Updated Fanjingshan Maps.
Other Scenic Destinations in China
If you are nature lovers, you can add some more scenic destinations in China to appreciate different fabulous sightseeing of the vast country, like Zhangjiajie, Guilin & Yangshuo, Huangshan, Yangtze River, Yunnan, etc. into your China tour. Check the detailed travel guide of each destination and discover now!
Other Popular Destinations in China
China is vast and diverse. You can choose your favorite destinations among more than 70 tourist destination and regions, like Beijing, Shanghai, Xian, Chengdu, etc. Following are 4 popular destinations you may get interested in. Check all destinations in China.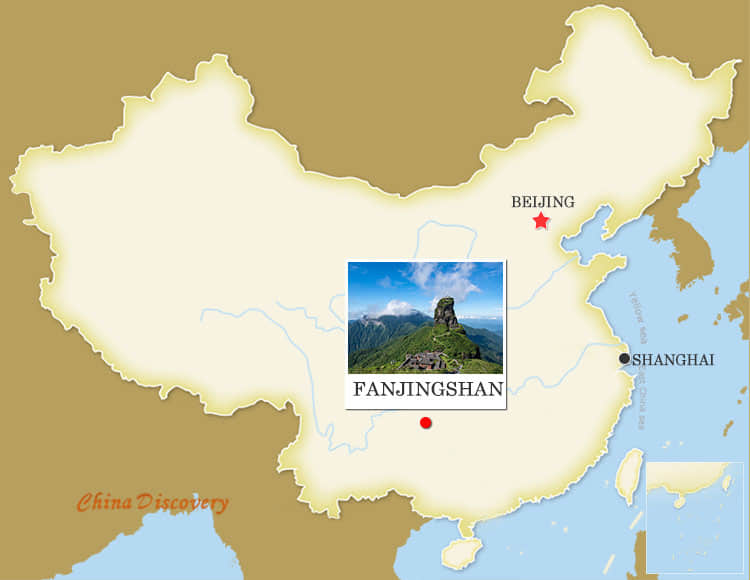 Chinese Name: 梵净山
Chinese Pinyin: fàn jìng shān
Area: 567 square kilometers
Population: 3203
Language: Mandarin & Dong & Tujia Dialect
Tel Code: 0856
Zip Code: 554400
Time Zone: (UTC+8)
Plan your Fanjingshan Tour
Most of travelers would like to spend one to two days visiting Mount Fanjing. Actually, this marvelous Buddhist mountain is not large that one full day is enough to see all the stunning highlights, like Red Cloud Golden Summit, Old Golden Summit, Mushroom Stone, Chen'en Temple, Longquan Temple and so on. You can either take cable car to reach up and get down with comfortable pace, or enjoy hiking experience to climb more than 8000 steps to pay the holy visit.
To visit Mount Fanjing, travelers should arrive in Tongren City either by flight or train from other hot destinations, such as Guiyang, Kaili, Zhangjiajie, Guilin/Yangshuo, Changsha, Chengdu, Chongqing, Shanghai and more. If you have your own ideas about your Fanjingshan China tour, please feel free to let us know. Our professional travel consultants are glad to help you customize the tour at the best reasonable prices.
Recommended Tours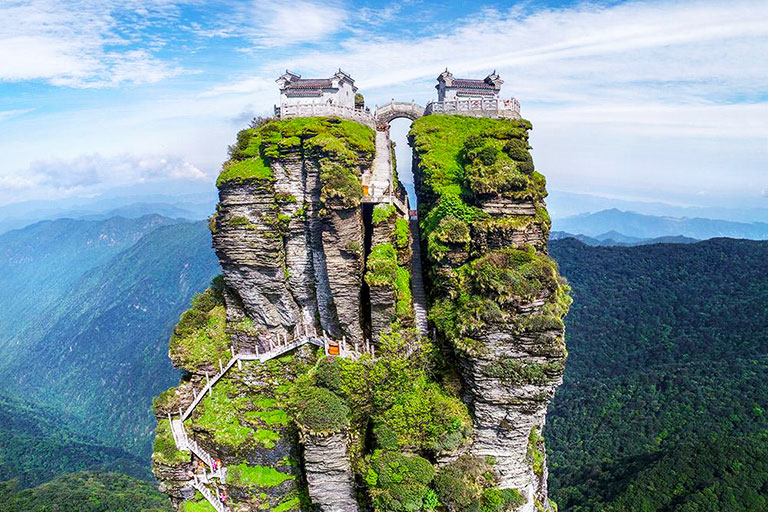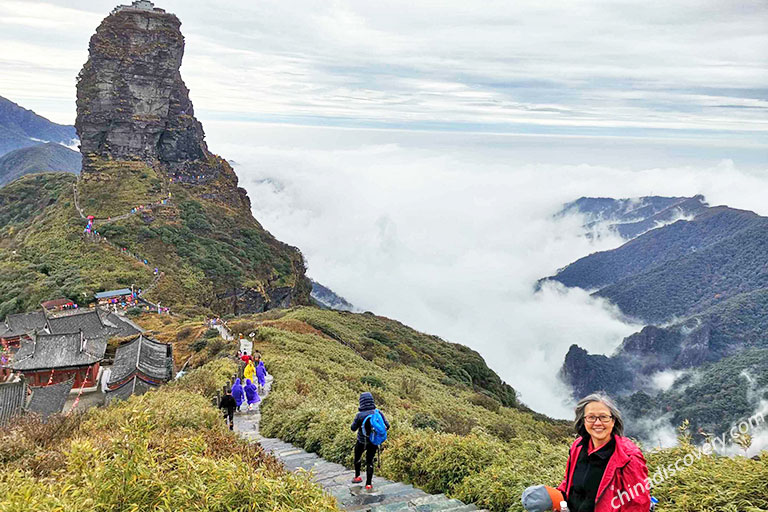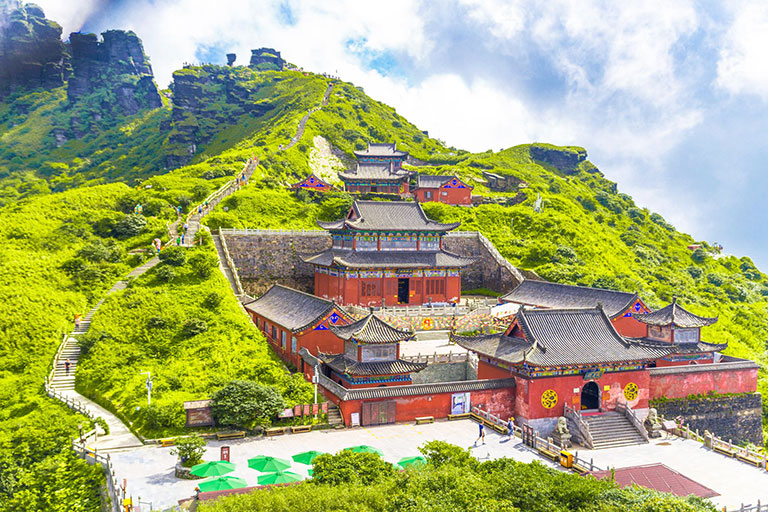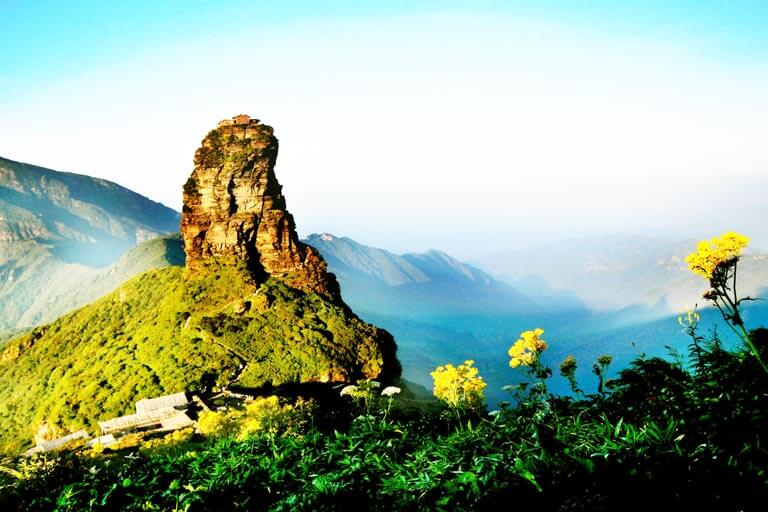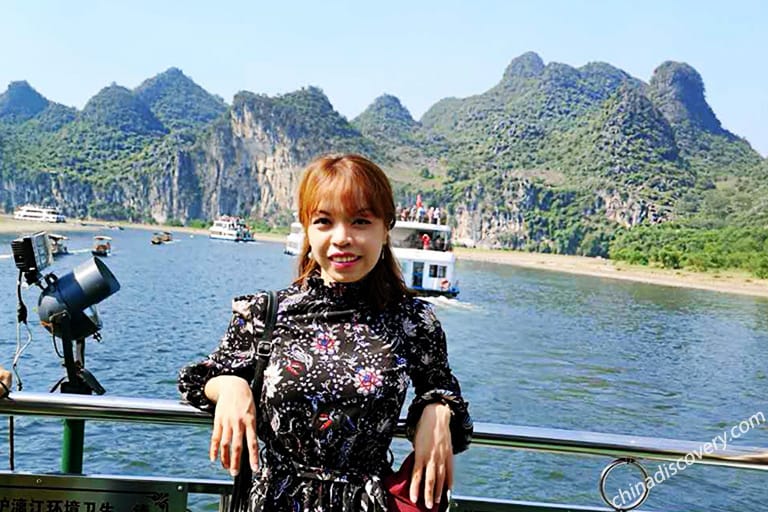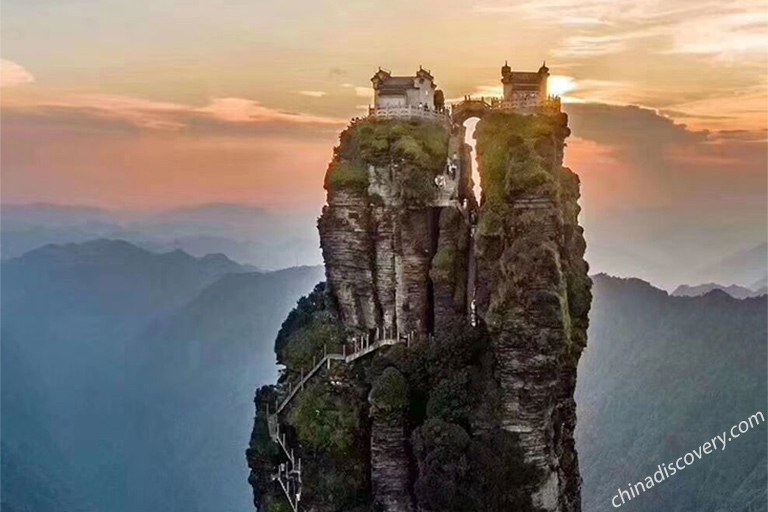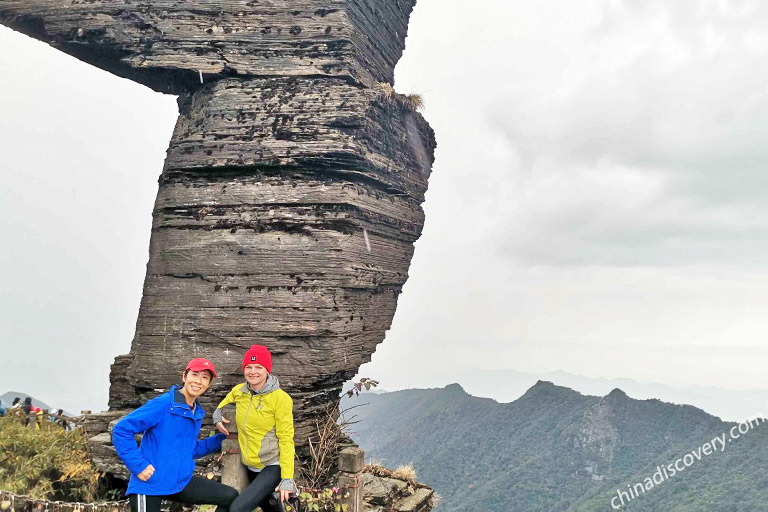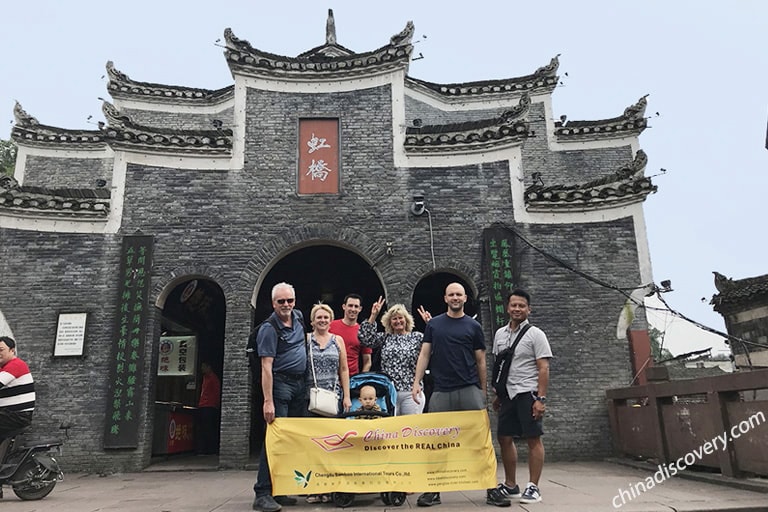 MORE