Qingdao, covering an area of 11293 km², is an international coastal city in the southeast of Shandong Peninsula. It is the economic center of Shandong and an international shipping hub of Northeast Asia.
Its natural advantages endow Qingdao with beautiful coastal scenery, comfortable weather, convenient transportation, and international atmosphere, which make it a popular destination for spending holidays. The blue sky, gentle breeze, soft beaches, distinctive beer, delicious seafood, colorful buildings, and warmhearted Qingdao people will not let you down.
Why visit this city:
Breathtaking Coastal & Mountain Scenery - Qingdao is a city you can appreciate both seascape and mountain scenery. Walking along the coastline in the gentle breeze is quite an enjoyment and when you climb up to Laoshan Mountain, you will be rewarded with magnificent view.
Fantastic Beer Culture & Beer Festival - Beer is an icon of Qingdao City. You can know more about Tsingtao Beer at Qingdao Beer Museum or attend the grand Qingdao International Beer Festival in August.
Exotic Style Architectures Telling the History - Qingdao has a large number of western-style buildings built over 100 years ago in areas such as Badaguan. They all tell the past of Qingdao when it was occupied by foreign countries.
Convenient 144-hour Transit Visa Free Policy - Foreigners from 53 countries, such as the US, Russia, UK, France and Germany, with valid international travel documents and joint tickets to a third country (region), can enter China from Qingdao Liuting International Airport without a visa and stay 144 hours in Shandong Province.
Qingdao Top Attractions
Qingdao has many attraction sites that can take you to appreciate its beautiful seascape, probe into its long history, and learn more about the beer culture. Among them, Qingdao Beer Museum is a one of the favorites and if you have enough time, Laoshan Mountain is a place you can not miss. More attractions in Qingdao >>
Qingdao Featured Activities
Apart from visiting the top attractions such as Laoshan Mountain and Qingdao Beer Museum, you can attend the grand Qingdao International Beer Festival if you are here in August. You can also try some sea food in the snack streets and have fun exploring other sites in Qingdao such as the Underwater World. See all featured activities in Qingdao >>
Qingdao Weather & When to Go
Qingdao Transportation
Qingdao Accommodation
Qingdao Maps
In order to have a more efficient Qingdao tour, it is quite important to get a better understanding of Qingdao's location, transportation and attractions distribution. Here we provide some Qingdao maps for you, including Qingdao Location Maps, Qingdao Transfer Maps, Qingdao Tourist Maps, etc. View more Qingdao Maps >>
Other Popular Destinations in Shandong
Shandong, a coastal province in East China, offers both charming seaside landscape and rich cultural and historical heritages. Except for the beautiful Qingdao, there are much more great destinations in Shandong worth your exploration, including picturesque Jinan, sacred Mount Tai, honorable birthplace of Confucianism - Qufu, Weifang, fairyland-like Penglai in Yantai, etc. The following are top recommended Shandong destinations to travel with Qingdao.
Other Popular Destinations in China
China is vast and diverse. You can choose your favorite destinations among more than 70 tourist destinations and regions, like Beijing, Shanghai, Xian, Chengdu, etc. Following are 4 popular destinations you may be interested in. Check all destinations in China.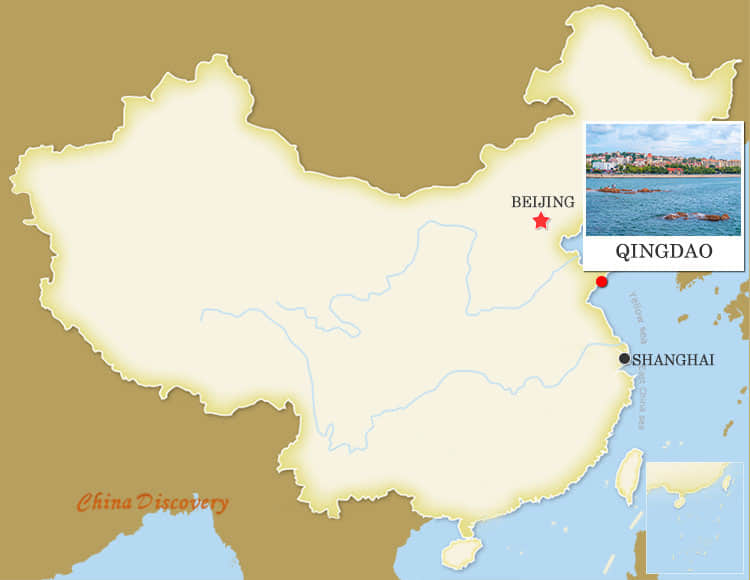 Chinese Name: 青岛
Chinese Pinyin: qīng dǎo
English IPA: /tɕʰíŋtàu/
Population: 9,499,800
Language: Mandarin & Qingdao Dialect
Tel Code: 0532
Zip Code: 266000
Time Zone: (UTC+8)
Logo: Tsingtao Beer
Plan Your Qingdao Tour
Qingdao is a typical seafront city in Jiaodong Peninsula of Shandong Province. Praised as one of the cleanest, most elegant and most beautiful cities of China, Qingdao attracts numerous domestic and international travelers to have a body-comforting and mind-relaxing holiday.
It usually needs 2 days to explore the highlights of Qingdao. You can learn the history and production process of Tsingtao Beer in Qingdao Beer Museum, take some beautiful pictures at the symbol of Qingdao – Zhanqiao, enjoy a 360-degree view of Qingdao City in Xiaoyushan Park, see the pretty neighborhood with villas in different styles in Badaguan, etc.
If you have more days, spend a day hiking Laoshan Mountain or you can travel to other destinations in Shandong such as the capital city Jinan, sacred Mount Tai, and Confucius' hometown Qufu, or go further to other cities like Beijing, Xian, Luoyang, and Tianjin. How to Plan a Qingdao Tour>>
Recommended Tours
MORE