China Tours from Shanghai 2023 – valuable and customizable
Why Start your China Vacation from Shanghai?
Convenient Transportation - Shanghai has airlines connecting with 282 cities and regions, linking almost every part of the world and China;
Gateway to Mainland China - Traveler can take flights or high speed train to visit Yangtze River Delta and other parts of China;
Paris of the East - Shanghai is a great place to explore east-meets-west culture.
Features of Our China Tours from Shanghai:
Best Experience - Cover three or more China best destinations, like Shanghai, Yangtze River, Suzhou, Hangzhou, Mt. Huangshan, Xian, Beijing, Guilin, Yangshuo, Chengdu, Lhasa, Zhangjiaije…
Customizable - fully designed to your interests and needs;
Private - go any day you want, flexible at your own pace;
All-inclusive Package - we take care of every detail, you sit back and enjoy.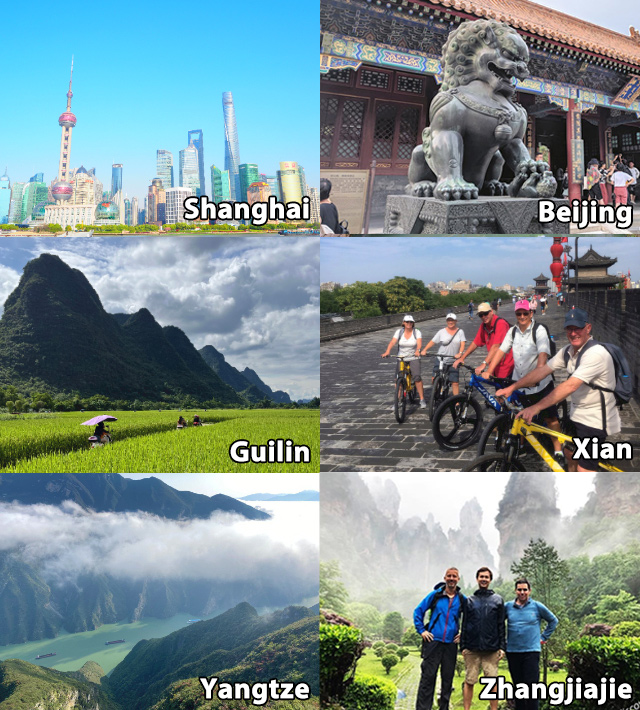 We are one of the few China travel agencies who have kept active and received lots of feedbacks and reviews during pandemic years
"It was our second time with China Discovery Tours. Once again they tailored the tour according to our ideas and interests - and succeeded in surprising us!
read more »
Reviewed on March 20, 2023
"We loved it! Our tour guide Frank was very kind, informative, and funny :) We loved how easy it was and how much we got to see in a day, I will definitely recommend to our friends!
read more »
Reviewed on March 16, 2023
How to plan a China tour from Shanghai
Usually about 2 or 3 days are needed to tour Shanghai city. The first day is flexible for your arrival. The second day is the highlight. There are many activities to be taken - visit the Shanghai Urban Planning Exhibition Center, walk leisurely around the beautiful Yu Garden and Bazaar, stroll at the French Concession. You can also enjoy an Acrobatic Show in this evening. On the third day, you can go to the famous Bund, Nanjing Road and Jinmao Towner. Then continue to visit the Jade Buddha Temple. In the afternoon, you can leave Shanghai for next destination.
A Shanghai tour is usually connected to Beijing and Xian. These three cities are called the Golden Triangle destinations in China. Guilin and Yangtze River are two other great extension choices if you are interested in natural sightseeing. You can also go to visit Chengdu, and then take flight to the holy plateau Tibet. If you still have no idea, don't worry, feel free to tell us, then our experienced travel specialist will customize a tour for you.
Strongly Recommended China Tour Packages from Shanghai for the First-timers
Top 6 Shanghai China Tours for 2023
In-depth China Tours from Shanghai
Below are the top-rated packages especially designed for you who'd like to start your China tour from Shanghai. The journeys we offer are all full service: tours, domestic flights, transfer, hotels, some local style meals, personal guides & drivers...to deliver you a worry free China tour at a lower local price!
Need more choices for your China tour?
On one hand, if you just want a short stay in & around Shanghai, the 2~9 days Shanghai China tours like Shanghai Beijing Tours, Yangtze River Delta Tours, Shanghai Suzhou Hangzhou Tours, Shanghai Huangshan Tours will save you more time and money.
On the other hand, besides Shanghai, Beijing, Chengdu and Hong Kong are the other perfect cities to start a China trip. Get inspired and delighted by our handpicked top itineraries now!