Chongqing, reputed as "Little Hong Kong", has become the world's fastest-growing tourism city in recent years with both enthralling urban cityscape and traditional cultural elements. Positioned alongside the upper Yangtze River in Southwest China, this sprawling metropolis is the launching point for scenic relaxing cruise down the Yangtze River through Three Gorges and the Three Gorges Dam. As one of the four major municipalities of China (the other three are Beijing, Shanghai, Tianjin), Chongqing is bordered with Sichuan in the west, Hubei and Hunan in the east, Shaanxi in the north, linked by numerous high speed trains and flights with many domestic cities of China.
Several nicknames just describe Chongqing perfectly. "Mountain City" is the first impression when speaking of Chongqing. Built on mountainous area, roads and architectures are all built along with the terrain, thus, it's always possible to see people walk through your window even if you live at 10th floor. Sitting in the confluence of Yangtze River and Jialing River, "The City of Fog" just describes the scene that Chongqing is always in a thin mist, just like in fairyland. Another nickname for Chongqing is "Stove", yes, the summer in here is extremely hot, and the highest temperature outdoor is over 40℃. However, hot is not only describe the weather, it can also describe the spicy food and beautiful girl in Chongqing.
Besides coming this megacity for Yangtze River cruise, Chongqing welcomes you spend more time here experiencing its delicious cuisine, cultural museums, mountain city panoramic views and even UNESCO World Heritages Sites.
Why Visit this City?
Starting / Ending Point for Yangtze River Cruise. The main reason for travelers to come to Chongqing is for taking the 4 days and 3 nights downstream Yangtze River cruise running between Chongqing to Yichang. Also, you can embark from an upstream cruise from Yichang to Chongqing if you like. It is relaxing, and both scenic and cultural along the longest river of China.
Charismatic Geography & Amazing Skyline. Why this modern metropolis called Mountain City and why makes it special to visit? Its downtown is located on a huge syncline in the folding zone of eastern edge of Sichuan Basin. Major physical geographic features in and around downtown Chongqing are 4 parallel major mountains and 2 major rivers (Yangtze River and Jialing River). Those two rivers cut through mountains and form six major gorges around the urban area. Choose to go in your way to catch the panoramic view of this vibrant Mountain City.
A Charming City Combines Modern Architectures and Traditional Culture. Chongqing, unlike Shanghai with western-meets-eastern culture, is a beautiful city with many featured modern buildings settled in the mountains area. At the same time, it is very common to find traditional Chinese architecture well-kept in the bustling city.
Two UNESCO World Heritage Sites. Within 2 to 3 hours' driving, you can easily reach two UNESCO World heritage Sites. One is called Dazu Rock Carvings which contains an exceptional series of rock carvings dating from the 9th to the 13th century. The other site is Wulong Karst Landscape where you can find the magnificent natural rock bridges, stunning gorges, colorful caves and serene mountains.
Top Attractions & Best Things to Do in Chongqing
Top Attractions along Yangtze River in Chongqing Section
As you know, the first thing coming to Chongqing is for Yangtze River cruise. How about the cruise journey along the way? What can I see during four or five days? What can I do both onboard and offshore? Check the following representative attractions along Yangtze River on Chongqing section to catch a glimpse of the highlights with a Yangtze cruise. For more attractions info, you can turn to Best Attractions along Yangtze River in Chongqing >>
Top Attractions in and around Chongqing
Besides going with a cruise, you can have a nice exploration in and around Chongqing city. Actually, the city itself is kind of a big attraction. It's very interesting to see a mountain city. Besides that, Chongqing also has many cultural and natural attractions, like Ciqikou Ancient Town, Chongqing China Three Gorges Museum, E'ling Park , Dazu Rock Carvings, Wulong Karst Landscape, etc. See more attractions in Chongqing, please see Top 15 Chongqing Attractions >>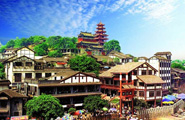 Ciqikou Ancient Town
The thousand-year-old Ciqikou Ancient Town is kind of the landmark in Chongqing. It's the epitome for the old Chongqing and you can taste the authentic local flavor here.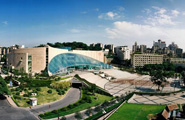 Three Gorges Museum
The free museum is a good place to know the history and culture of Chongqing, besides that, tourists can also learn information about the Three Gorges.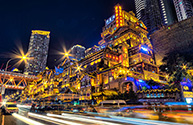 Hongya Cave
Built on a cliff side facing the Jialing River, Hongya Cave is the largest building complex where you can see the lights in the evening and explore shops and restaurants inside.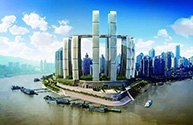 Chaotianmen Square & Dock
On the confluence of Jialing River and Yangtze River, Chaotianmen Dock is the place where you embark/disembark Yangtze cruises. Have a walk to this vast Square.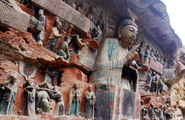 Dazu Rock Carvings
The delicate and beautiful Dazu Rock Carvings is listed as a World Heritage Site, and it represent the last highlight in the history of Chinese rock carving art...
Wulong Karst Landscape
As the filming location for Transformers: Age of Extinction, Wulong has classic karst scenery of Southern China, and it houses numerous stunning natural sceneries...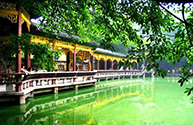 E'ling Park
When you need a break from the crowds, E'ling Park is a peaceful green spot in the city. It has a good viewing point from which you can overlook the city and Jialing River.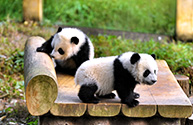 Chongqing Zoo
If you never see the lovely giant pandas before, you can pay a visit to Chongqing Zoo which has over 10 pandas in this large zoo. Many other rare animals can be seen.
Special Experience You Should Never Miss in Chongqing
To inspire yourselves more, you can do something special to seize the essences of Chongqing. To know more about what to do, you can turn to Top 10 Things to Do in Chongqing >>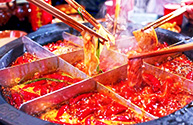 Authentic Spicy Hot Pot
No visit to Chongqing is complete without tasting this popular spicy Hot Pot. Chongqing is the City of Hot Pot where offers you authentic flavor.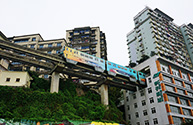 Liziba House-Crossing Metro
It is a unique experience to experience the incredible house-crossing metro train running through a modern flat building at Liziba Metro Station on metro Line 2.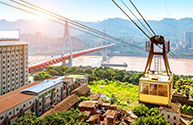 Yangtze River Cableway
Take "The First Corridor across Yangtze River" to experience 1166-meter-long Yangtze River Cableway to have a panoramic view of the mountain city and Yangtze River.
Weather & Best Time to Go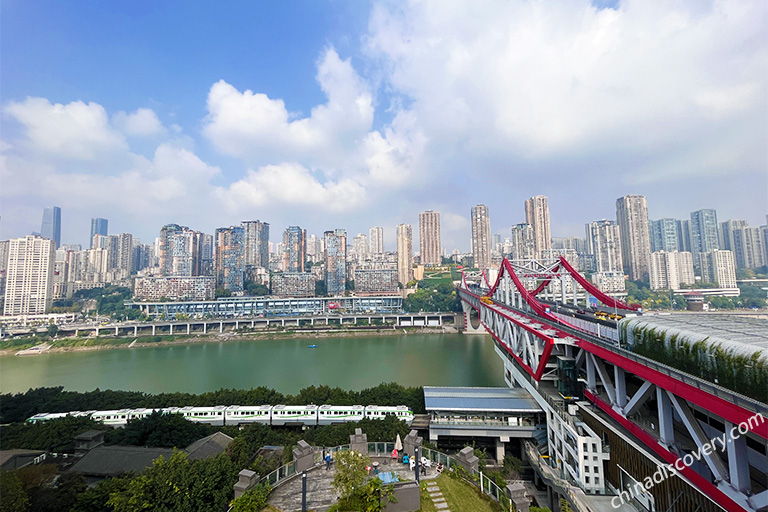 Chongqing has a classic humid subtropical monsoon climate, with average annual temperature from 16℃ ~ 18℃. The average temperature in the hottest month is from 26℃ to 29℃, while the average temperature for the coldest month is from 4℃ to 8℃. Rainfall is abundant, and May to September is the rainy season. Due to the effect of terrain and climate, Chongqing is rich in mist. Average foggy days are 104 days, a large number comparing the average foggy days for London are only 94 days . While in the mountainous area, the annual foggy days can reach to 204 days.
Spring and autumn is the best time to visit Chongqing. The weather in these time is fair and comfortable. However, from October to the next April, Chongqing is foggier than other time, thus, although summer is hot, it has less fog comparing with other seasons, and it's the best time to appreciate the stunning night view of Chongqing. Winter is more suitable to visit indoor museum or Fairy Mountain in Wulong Karst Landscape, and it's a great time to see snow scenery and enjoy a hot spring bath is also quite relaxing.
Learn more about Chongqing Weather >>
How to Get to & around Chongqing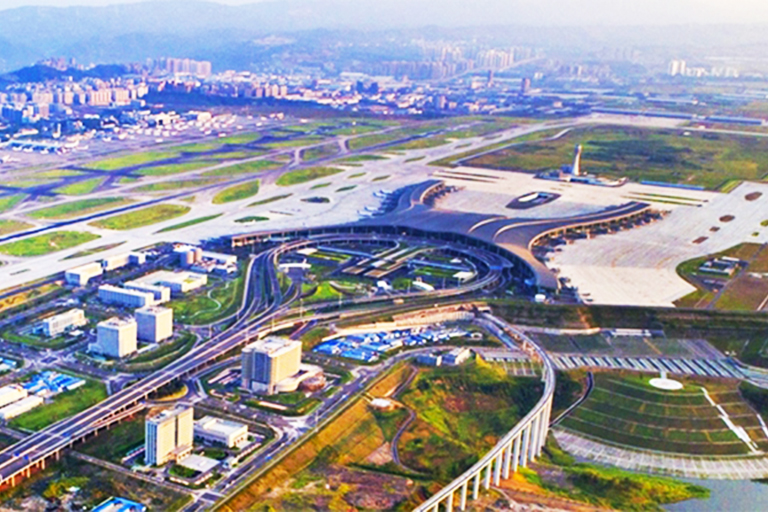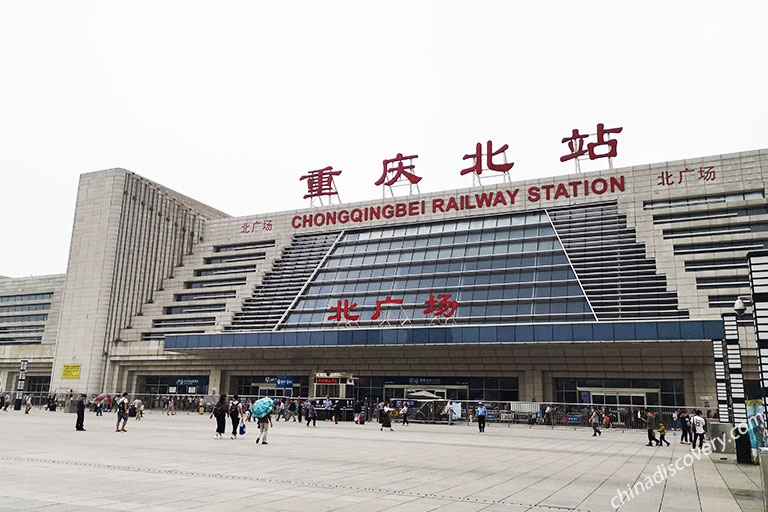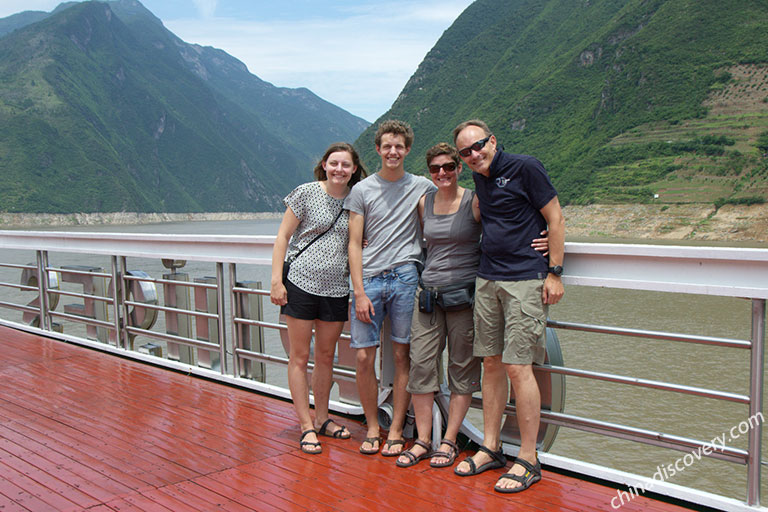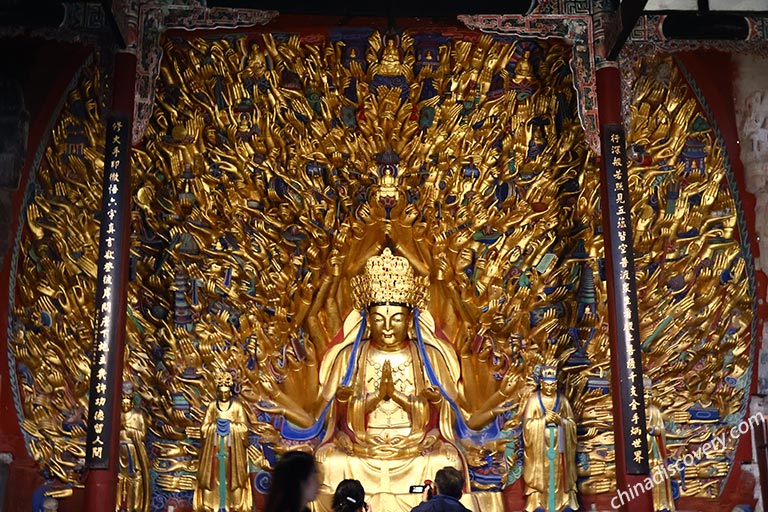 Getting to Chongqing
By Flight:
Chongqing Jiangbei International Airport has flights to over 40 major cities in China, including Beijing, Shanghai, Guangzhou, Xian, Guilin, Wuhan, Kunming, etc. It also has international flights to Hong Kong, Singapore, Seoul, Bangkok, Phuket Island, etc.
By Train:
The most used railway stations in Chongqing are Chongqing Railway Station and Chongqing North Railway Station, Chongqing West Railway Station. The former one is an old station located in city center, and now it has rather less trains every day. The latter one is a new train station in Chongqing, and it has bullet train from Beijing (G309 during 08:23~20:35, about 12 hrs), Shanghai (6 trains during 06:04~09:30, 10.5-13 hrs), Guangzhou (3 trains during 06:28~08:10, 11-11.5 hrs), Chengdu (49 trains during 06:44~21:40, 1.5-2.5 hrs), Wuhan (32 trains during 06:40~15:56, 6-7.5 hrs), Changsha (3 trains during 09:14~10:58, 8.5 hrs), Nanjing (13 trains during 06:58~11:44, 9-10.5 hrs), Hangzhou (4 trains during 07:34~09:35, about 12.5 hrs), Suzhou (4 trains during 06:46~10:03, 10.5-12.5 hrs), Zhengzhou (2 trains during 11:57~13:45, 8.5 hrs), Xiamen (2 trains during 07:39~08:14, 14.5 hrs), Shenzhen (G1312 during 07:38~19:33, 12 hrs), etc.
By Cruise:
Chongqing is the start or end destination for Yangtze River Cruise, which can take you to visit the Three Gorges on Yangtze River.
Getting Around
Besides common transportation tools, like taxi, bus and private car, Chongqing also has other transportation tools to facilitate the daily life of Chongqing people, like rail transit, cableway, escalator, ferry, etc. Chongqing is full of slope roads, so bicycle is not suitable to use in Chongqing.
To know how to get to Dazu/Wulong from Chongqing, you can check How to Get from Chongqing to Dazu Rock Carvings, or How to Get from Chongqing to Wulong Karst.
If you just go to Chongqing for the Yangtze River cruise, you can check How to Get to Chaotianmen Dock from Chongqing Airport / How to Get to Chaotianmen Dock from Chongqing Train Stations.
For more information, please see Chongqing Transportation >>
Accommodation & Where to Stay in Chongqing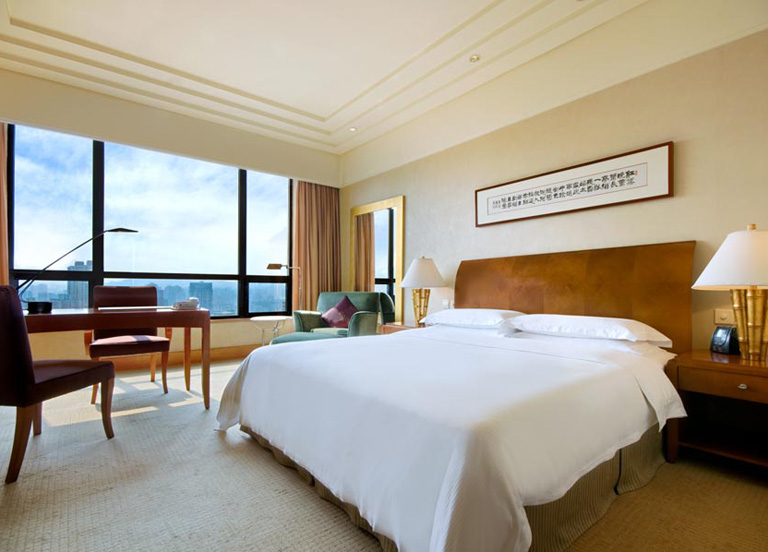 Most tourists will stay overnight near Jiefangbei, because the transportation is very convenient here, and there are many attractions also. Besides, Nan'an District, Shapingba District and Jiangbei District are also popular for these districts also have many attractions and convenient transportation, with more cheap price comparing with Jiefangbei.
Chongqing is a big city, and it has all kinds of hotels, from international luxury hotel chains to economic hotels and even youth hostels and family inns. It's about ¥40 ~ ¥60 per night for youth hostels; ¥150 ~ ¥300 for economic hotels; ¥300 ~ ¥1000 for starred hotels. You can find rooms even in peak seasons, however, the price will rise in major holidays, so it's better to book the hotel in advance.
For more information, please check Where to Stay in Chongqing | Recommended Chongqing Accommodation>>
Useful & Latest Chongqing Maps
To help you to know more about Chongqing attractions, we have selected some useful Chongqing maps for you. Please feel free to use them. For more maps of Chongqing, please see Chongqing Maps>>
Other Popular Destinations in China
China is vast and diverse. You can choose your favorite destination among more than 70 tourist destination and regions. Following are 4 popular destinations you may get interested in. Check all destinations in China
Plan Your Chongqing Tour
Normally, most tourists will spend half day to one day in Chongqing, and this is enough to experience most of the highlights in Chongqing city, including Ciqikou Ancient Town, Chongqing China Three Gorges Museum, Erling Park and other highlights in the city center. Also, tourists can also spend one day to Dazu Rock Carvings. For those who want to visit Wulong Karst Landscape, you'll need add two more days to your itinerary.
Chongqing tour is often connected with Chengdu tour, for it's really convenient from Chengdu to Chongqing. Also, as the upstream of Yangtze River, Chongqing is the start/end destination of Yangtze River Cruise. So if you are going to take the Yangtze River cruise, don't forget spend one or two days in Chongqing before or after your cruise to experience the unique charm of this old city.
Learn more about How to Plan a Chongqing Tour >>
Recommended Tours
MORE