Where to Stay in Chongqing - 4 Best Accommodation Areas
Chongqing is visited by an increasingly enormous number of people worldwide, well-known for its enchanting part of the golden Yangtze River, marvelous view of the famous classic Three Gorges, mouth-watering hot pot and quite exceptional mountain landform. So, where to stay during your coming Chongqing and Yangtze River discovery in 2023/2024? Which are the most recommended accommodations in each area? Please follow us to check all the useful information at below to plan your Chongqing trip and Yangtze River cruise sailing in China!
4 Best Areas to Stay in Chongqing
Actually, since Chongqing is prosperous and quite large as a municipality, there are many places offering accommodation choices from basic standards to international luxury levels. However, for most travelers and Yangtze River cruise visitors, there are the 4 best areas to stay in Chongqing, namely the core Jiefangbei, Yuzhong District, Nan'an District and Jiangbei District. Let's compare each area to match your itinerary now!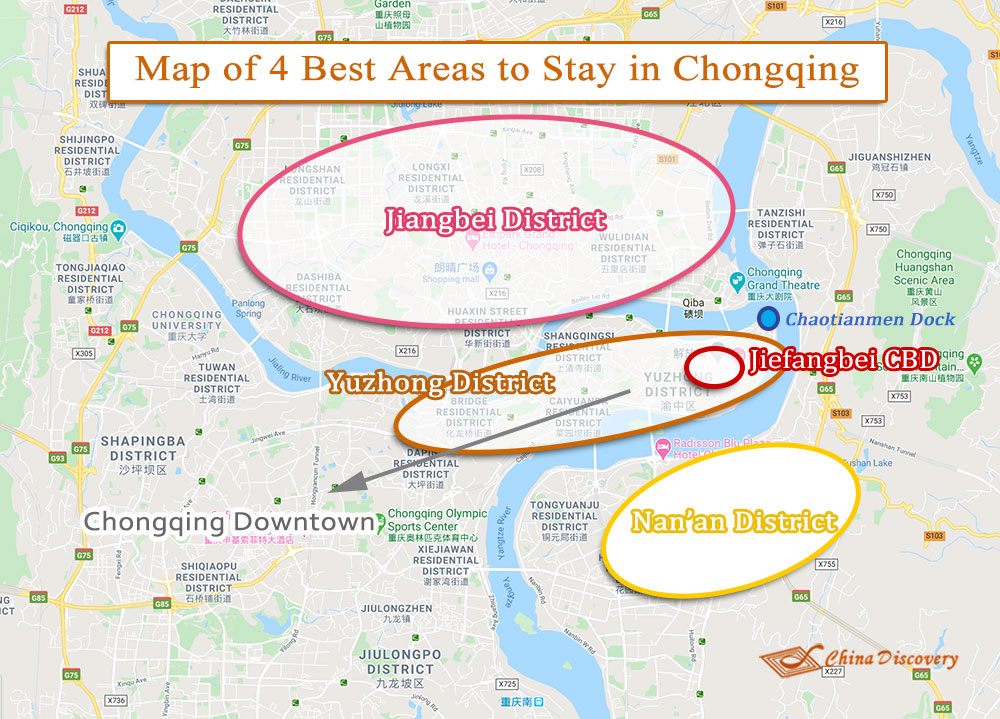 Map of 4 Best Places to Stay in Chongqing
1. Jiefangbei CBD - Best for Yangtze Cruise Embarkation at Chaotianmen Dock
Jiefangbei in Yuzhong District is in fact the center of Chongqing City. Super close to Chaotianmen Dock within 10 minutes' car driving distance, the popular and convenient Chaotianmen Business District is perfect for people visiting Chongqing with the downstream Yangtze River Cruise leisure, and also the choice for most first-timers to Chongqing. Diverse hotels and hostels of different price ranges can be easily found within, and particularly, if you are seeking for the deluxe accommodating experience with international high-class facilities, services, bed linen, food, etc., Jiefangbei is your No.1 recommendation as well.
Since Jiefangbei is also the symbolic pedestrian shopping street gaining popularity around the country, you will also feel it really nice to see the city's real appearance closely and convenient to buy some necessities and local products. Besides, the amazing Hongya Cave being the prototype in the famous animated movie Spirited Away is also in this area with walking distance from Jiefangbei Pedestrian Street, so why not stay closer to have a glimpse at its fancy night view and the neon lining the two rivers nearby.
Recommended Accommodations in Jiefangbei CBD:
● JW Marriot Hotel Chongqing (5 Star)
Add: No.235, Minsheng Road, Yuzhong District, Chongqing
● Westin Chongqin Liberation Square (5 Star)
Add: No.222, Xinhua Road, Yuzhong District, Chongqing
● Glenview ITC Plaza Chongqing (5 Star)
Add: No.66 Qingnian Road, Yuzhong District, Chongqing
● Hyatt Regency Liberation Square Chongqing (5 Star)
Add: No.68 Zourong Road, Wuyi Road, Yuzhong District, Chongqing
● Somerset Jiefangbei Chongqing (4 Star)
Add: No. 151 Changjiang Binjiang Road, Yuzhong District, Chongqing
● Bindun Langyi Hotel (Chongqing Jiefangbei Hongyadong) (4 Star)
Add: 6 F, No.118 Zourong Road, Yuzhong District, Chongqing
Recommended Tour Package:
▶ 4 Days Chongqing Essence Tour with Yangtze Cruise (Downstream)
Jiefangbei CBD Night View
Chongqing Chaotianmen Dock
JW Marriort Chongqing in Jiefangbei
2. Yuzhong District - Close to Most Chongqing Attractions
Want to stay closer to the top tourist highlights in Chongqing? Well, Yuzhong District in Central Chongqing will absolutely be your great choice. Being the very historic downtown of this municipality, it holds most of the top attractions including Three Gorges Museum for an overview of Yangtze River and Three Gorges, People's Assembly Hall with fancy exterior, E'ling Park for a panoramic Chongqing, etc. Besides, the international famous scene of the light rail passing buildings is rightly offered there at Liziba Metro Station on Chongqing Rail Line 2, and the Testbed 2 Cultural and Creative Park is another nice place to get some artistic inspiration. You will never worry about the public transportation, since Chongqing Rail Line 1, 2 and 3 are all available there in Yuzhong District for your easy transfer in downtown, and also Chongqing Coach Terminal is within to travel further to the highlights like Dazu Rock Carvings at the suburb areas.
Convenient at all! A larger quantity of chain hotels, themed homestays, cost-effective hostels, and more are intensively operated in this large district for both tourists and business people. This area should be both convenient but not so bustling as Jiefangbei CBD.
Recommended Accommodations in Yuzhong District:
● Wanyou Conifer Hotel (4 Star)
Add: No.77 Daping Changjiang Second Road, Yuzhong District, Chongqing
● Bloom Boutique Hotel (4 Star)
Add:15 F, Building 4, Daping Times Street, Yuzhong District, Chongqing
● 88 Eling Park Hotel (3 Star)
Add: No.181 E'lingzheng Street, Yuzhong District, Chongqing
Recommended Tour Package:
Yuzhong District Night View
Bloom Boutique Hotel in Yuzhong District
3. Nanan District - Nice for Chongqing Night View, Relax & Wulong Visit
Apart from the most convenient whole Yuzhong District including Jiefangbei, Nanan District at the south part of Yangtze River is another advantageous accommodating area for Chongqing visitors. Boasting the super nice location to catch the fabulous night view of Chongqing city. No matter a leisure walk along the Nanbin Road or jumping high onto the Yikeshu Viewing Deck, you will be easily convinced why Chongqing is reputed as the "Little Hong Kong". And you will have a better look at Chaotianmen Dock just on the opposite side of the Yangtze River bank. Besides, it is also a very convenient start for transferring to Wulong Karst Geopark if you are planning such an extensional short-day trip. Also, there offers lots of deluxe starred hotels including international brands, so if you focus more on the quality and service, you may consider Nanan District a nice one!
Recommended Accommodations in Nanan District:
● DoubleTree by Hilton Hotel Chongqing - Nan'an (5 Star)
Add: No.36 Nanping West Road, Nanan District | Crossing of Kaifa Road and Nanping West Road, Chongqing
● Sheraton Chongqing Hotel (5 Star)
Add: No.78 Nanbin Road, Nanan District, Chongqing
● Kempinski Hotel Chongqing(5 Star)
Add: No.2 Jiangnan Avenue, Nanan District, Chongqing
● Radisson Blu Plaza Chongqng (5 Star)
Add: No,22 Nanbin Road, Nanan District, Chongqing
Recommended Tour Package:
▶ 3 Days Chongqing & Wulong Karst Landscape Exploration Tour
Chongqing Nanan District
Kempinski Hotel in Nanan District
4. Jiangbei District - Time-saving for Too Early or Late Trains or Flights
There are some traffic jams in Chongqing downtown, and if you are planning a very early flight or train after your Chongqing exploration or scheduled a very late one to Chongqing, you are suggested to stay in Jiangbei District. Far away from the major traffic jam area and linked with Chongqing North Railway Station as well as Chongqing Jiangbei International Airport by Rail Line 3, those two areas are great to save your transferring time. The North Station and Jiangbei Airport are both in Yubei District, however, comparing the two districts, Jiangbei District closer to the city center offers more accommodations and convenient shopping malls and close to the iconic Ciqikou Old Town, while Yubei District is quieter and better for more time saving, particularly to the airport.
You will find various accommodations in those areas, including luxury 5-star hotels, comfortable 4-star hotels, budget 3-star hotels, boutique hotels and more types to suite your needs and likes.
Recommended Accommodations in Jiangbei District:
● Niccolo Chongqing (5 Star)
Add: Tower 1, IFS, No.1 Qingyun Road, Jiangbei District, Chongqing
● Bai Yun Qing She Boutique (4 Star)
Add: 24F, Tower 1, Dongyuan Center, No.18 Hongsheng Road, Jiangbei District, Chongqing
● Rezen Dong Hotel (Chongqing Guanyinqiao) (3 Star)
Add: LG, Nongken Mansion, No.2 Tanghua Road, Jiangbei District, Chongqing
● Yinxin Century Hotel (5 Star)
Add: No.9 Baotong Road, Yubei District, Chongqing (Close to Jiangbei Airport)
Ciqikou Old Town near Jiangbei District
Niccolo Hotel in Jiangbei District
Besides the above best 4 areas, Chongqing also has some other popular places for your comfortable stay. You can also tell us about your trip itinerary, and we will help you to arrange your accommodation!
Check More Recommended Chongqing Hotels >>
How to Plan a Tour in Chongqing?
Most highlights in Chongqing are located relatively close, and for most visitors to Chongqing, they spend 1-2 days in the downtown to experience the top attractions including Hongya Cave, Three Gorges Museum, Ciqikou Old Town, city's full view, and more with the fresh taste of the famous hot pot and more local special things to see and do. And also, you can extend like many other people to travel further to see the UNESCO World heritage sites - Dazu Rock Carving and Wulong Karst Geopark at Chongqing suburb area for another 1-2 days.
Chengdu and Chongqing are very close with only 1.5 hour's high speed train riding, so you are also recommended to add a 2-3 days' Chengdu trip into your itinerary to full feel the culture, history and food in Sichuan Ba and Shu areas. And since Chongqing is the start and end of the world famous classic Yangtze River Cruise, you are highly recommended to do as other over 50% of Chongqing visitors to travel Chongqing together with the great mother river! Chongqing to Yichang Yangtze River Cruise takes 4 days and 3 nights, and Yichang to Chongqing cruise takes 5 days and 4 nights, you can select according to your length of vacation! Furthermore, you are also very welcomed to tell us if you have any other ideas about your Chongqing trip 2023/20241!
Most Popular Chongqing Tour Packages:
▶ 4 Days Chongqing Essence Tour with Yangtze Cruise (Downstream)
▶ 6 Days Shanghai & Yangtze Cruise Tour (Downstream)
Chubby Giant Pandas in Chengdu
Yangtze Three Gorges Red Leaves
Travel Chongqing with China Discovery
As Chongqing has a complicated terrain and public transportation, it is a little difficult for foreign travelers to discover this city by yourselves, particularly for first-timers! You are highly suggested and welcomed to travel with us China Discovery with branch company in Chongqing, and our local guide and driver will take care of you through your trip and accompany you between your hotel and attractions with the comfortable licensed private vehicle of China Discovery. You can just put your time and focus on the highlights, rather than the transportation and hard communication with locals.
Furthermore, our experienced travel experts are very willing to help with your trip planning to Chongqing and more beautiful destinations in China, such as Chengdu, Yangtze River, Beijing, Shanghai, Xian, Zhangjiajie, etc. If you want to customize your own trip, please feel free to contact us for help!
Useful Chongqing & Yangtze River Travel Articles
Read More Chongqing & Yangtze Attractions
Keep Readings of Chongqing Transportation
Recommended Chongqing Tours
Top 3 Chongqing tours chosen by most customers to explore Chongqing in the best way. Check the detailed itinerary, or tailor your own trip now with us.
4 Days Chongqing Essence Tour with Yangtze River Cruise

Chongqing / Yangtze Cruise / Yichang
3 Days Chongqing & Wulong Karst Landscape Exploration Tour

Chongqing / Wulong / Chongqing
2 Days Chongqing City Tour with Dazu Rock Carvings

Chongqing/Dazu
Start planning your tailor-made holiday to China by contacting one of our specialists. Once inquired, you'll get a response within 0.5~23.5 hours.
Customize a Trip
Have a question? Get answers from our travel experts or guests
Your Question:

Your Name:

Your Email: