How to Get to & around Tibet 2023
As one of the most attractive travel destinations in the world, Tibet welcomes your visiting with easy and multiple transfer accesses. You have flexible schedule choices of trains and flights, many departure cities to start your travel. So far, train and flight are two most popular travel ways to Tibet.
Option 1: Take a Flight to Tibet
So far, there are 5 airports in Lhasa, Nyingchi, Shigatse, Qamdo and Ngari of Tibet. Lhasa Gonggar Airport serves most domestic and international flights in Tibet. Shigase Peace Airport and Nyingchi Mainling Airport offer several domestic flights connecting Chengdu and other Chinese cities. Airports in Qamdo and Ngari are mainly connected with regional air routes between Lhasa.
Lhasa Gonggar Airport
Lhasa Gonggar Airport is the largest airport in Tibet. With an elevation of 3,600 m, it is located in Gonggar County of Shannan Prefecture, Tibet, about 60 km away from Lhasa city. There are fully maintained amenities of ticket service, dining, rest, and transfer service in Gonggar Airport. Both airport shuttle bus and taxi are available for your transfer between Lhasa and the airport.
Domestic Flights to Tibet
Domestic flights are the major service in most airports in Tibet. There are many airlines connecting Lhasa. Beijing, Shanghai, Chengdu, Chongqing, Xian and more than 20 cities are connected to Lhasa with non-stop flights. These cities are relatively located near to Tibet. Few cities at long distance also have flights to Tibet, but will stop or transfer via Chengdu, Chongqing or Xian to Lhasa.
International Flights to Tibet
Currently, there is only one international airline route to Tibet - Kathamndu Lhasa Flight. The international flights are scheduled weekly, and the one-way duration is about 1.5 hours. If get a right position, you may view stunning views of Himalayan Range when flying through.
Warm Tips: you'd better book your flight ticket to/off Tibet as early as possible because ticket supply is always intense.
Most Popular Tibet Tour by Flight:
✔ 6 Days Classic Chengdu & Lhasa Highlights Tour
✔ 7 Days Classic Beijing Lhasa Tour
✔ 14 Days China Treasure Tour with Tibet Dream
Lhasa Gonggar International Airport
Tibet Airlines' Flight Landing at Lhasa Airport
Option 2: Take a Train to Tibet
Train travel to Tibet is becoming more and more popular in recent years, which will cut down your budget much, and also have a lot of fun. The best highlight is the highest-altitude railway in the world – Qinghai Tibet Railway along which you can experience magnificent plateau landscape of snow mountains, prairie, rivers, etc.
It depends on you to travel to Tibet by train or leave Tibet by train. So far, there are 8 major cities providing direct trains to Lhasa. Every above route has many midway stations. Some of them are major provincial cities, such as Xian, Wuhan, etc. You can board at any of these midway stations to catch the train to Tibet. If you have to start your trip from some cities which have no direct train to Tibet, you can first transfer to Lanzhou, Xining and other major transfer stations to take the train.
Most Popular Tibet Tours by Train:
✔ 7 Days Lifetime Tibet Train Tour from Chengdu
✔ 8 Days Tibet Train Tour from Beijng
Lhasa Railway Station
Wonderful Plateau Lanscape along Qinghai Tibet Train
Tibet Train Schedules from Major Gateway Cities:
| | | | | | | |
| --- | --- | --- | --- | --- | --- | --- |
| Train Route | Train No. | Dep.~Arr. Station | Dep.~Arri. Time | Duration | Frequency | Distance |
| Beijing - Lhasa | Z21 | Beijing West Station - Lhasa Station | 20:20-12:45 (3rd day) | 40 hrs 45 mins | daily | 3,756 km |
| Shanghai - Lhasa | Z164 | Shanghai Station - Lhasa Station | 20:08-19:35 (3rd day) | 47 hrs 27 mins | daily | 4,372 km |
| Guangzhou - Lhasa | Z264 | Guangzhou Station - Lhasa Station | 11:52-16:45 (3rd day) | 52 hrs 53 mins | daily | 4,979 km |
| Chengdu - Lhasa | Z322 | Chengdu Station - Lhasa Station | 21:37-09:55 (3rd day) | 36 hrs 18 mins | daily | 3,015 km |
| Xian - Lhasa | Z265 & Z165 | Xian Station - Lhasa Station | 09:45-16:45/ 11:22-19:35(2nd day) | 31~32 hrs | daily | 2,863 km |
| Xining - Lhasa | Z6801 (& more) | Xining Station - Lhasa Station | 213:50-11:20 (2nd day) | 21.5 hrs | daily | 1,971 km |
Note: The above Tibet train timetable is listed for reference only and is subject to change by the airline company. Please feel free to contact our private consultant to get latest train information.
How to Get around Tibet
Get around Tibet By train
On 22th, July, 2014, the construction of the first provincial railway completed, which meant travelers and locals can transfer between Shigatse and Lhasa within 3 hours. Lhasa is usually used as the arrival city in Tibet. While Shigatse is the most important transfer hub in Tibet from which you can travel to Everest, Kathmandu, Ngari, etc.
Lhasa to Shigatse Train Schedules:
| | | | | |
| --- | --- | --- | --- | --- |
| Train No. | Route | Departure | Arrival | Duration |
| Z8801 | Lhasa - Shigatse | 08:30 | 11:25 | 2 hrs 55 mins |
| Z9801 | Lhasa - Shigatse | 14:00 | 16:50 | 2 hrs 50 mins |
| Z8803 | Lhasa - Shigatse | 15:20 | 17:58 | 2 hrs 38 mins |
Get around Tibet By Road
Scattering from the capital Lhasa city, Tibet has built a basic network of road system. You can drive from Lhasa to most of cities and towns in Tibet, such as Shigatse, Gyantse, Tsetang, Nyingchi, Ngari, Namtso, etc. Most roads are tar road in good condition. While if you want to travel to remote places, such as Everest, Kailash Mountain, etc, you have to drive quite a long way for more than half a day.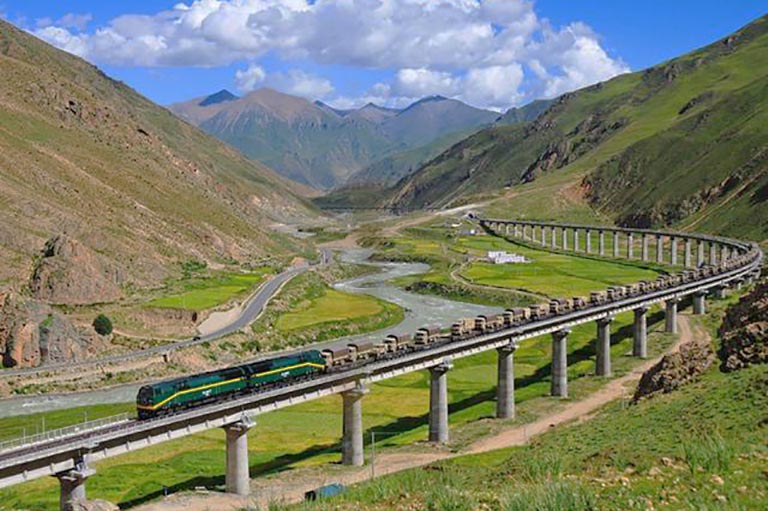 Lhasa to Shigatse Train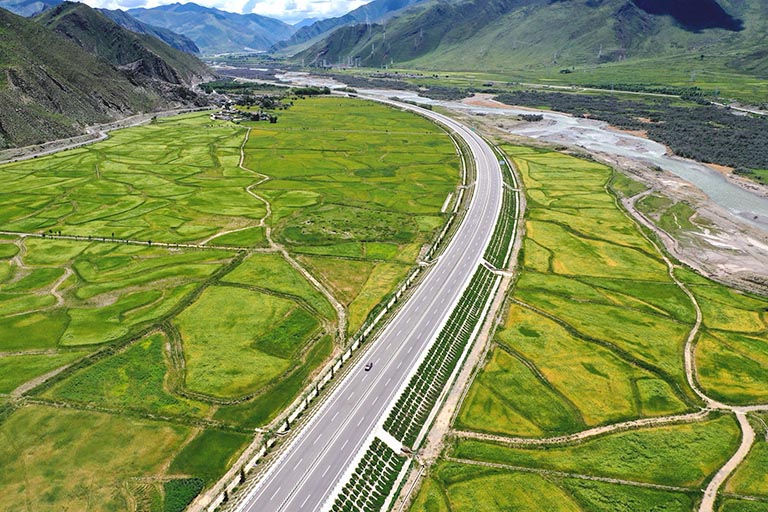 Well-paved Lhasa to Nyingchi Highway in Tibet
How to Plan a Tibet Tour
Tibet is a vast place with lots of destinations to visit. Your Tibet tour can be flexibly designed according to your holiday time, budget and personal appetite. After arrival by a flight or train, you can start Tibet journey from spiritual center - Lhasa. It usually needs 2 full days to visit landmarks in Lhasa, like the Potala Palace, Jokhang Temple, Barkhor Street, Sera Monastery and other must-visits. If time allows, travel further regions of Tibet, to Shigatse, Mount Everest, Mount Kailash, Nyingchi, Gyantse, Shannan and others regions. Or, you can cross the border to visit Nepal in the south Himalayas or continue to visit other great destinations in China, such as Xian, Chengdu, Lijiang, Guilin, Zhangjiajie and so on.
Useful Links: Top Tibet Tours / Top Things to Do in Tibet / Beijing Tibet Tours/ Chengdu Tibet Tours
Extended China Tours with Tibet:
✔ 14 Days China Treasure Tour with Tibet Dream
✔ 15 Days China Tour with Tibet Discovery and Panda Visit
✔ 17 Days China Paradise Tour with Tibet Discovery & Yangtze Cruise
Travel with China Discovery
China Discovery is a leading comprehensive travel agency in China, providing excellent customized tour packages across China. We have helps thousands of travelers fulfill their dream tour in China. Just telling us your schedule and budget, we can arrange a satisfied China tour including Beijing, Shanghai and other popular tourist destinations and covering transport, sightseeing, tour guide, local vehicle and driver, accommodation, Chinese Visa application assistance, etc. The length, places to visit, theme can be arranged depending on your individual requirements. You may choose from our most popular Beijing Tibet tour packages or contact us to customize a special one!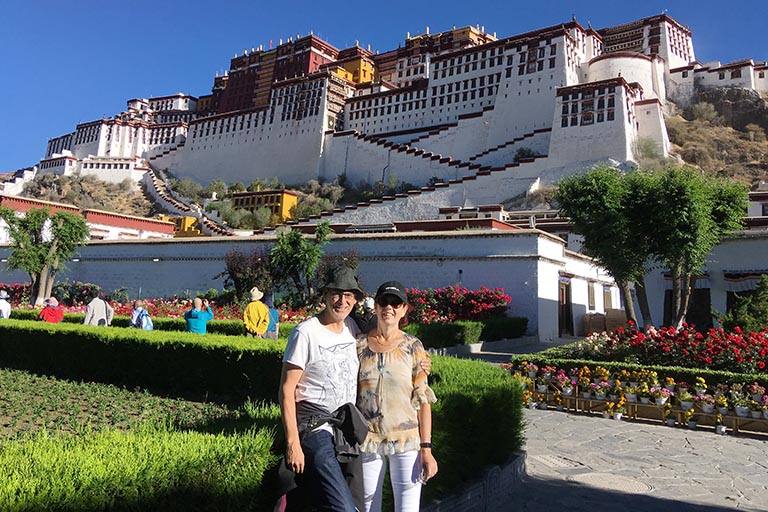 China Discovery Customized Tibet Tour for Belgian Travelers
Our American Group Tourists Enjoyed Tibet Everest Tour
Keep Reading
Recommended Tibet Tours
Top 3 Tibet tours chosen by most customers to explore Tibet in the best way. Check the detailed itinerary, or tailor your own trip now with us.
8 Days Classic Mount Everest Private Tour from Lhasa

Lhasa / Gyantse / Shigatse/ Everest
7 Days Lhasa Shigatse Gyantse Tibetan Culture Private Tour

Lhasa / Gyangtse / Shigatse
8 Days Lhasa to Kathmandu Overland Tour via Mount Everest (unavailable)

Lhasa / Gyangtse / Shigatse / Everest / Gyirong / Kathmandu
Start planning your tailor-made holiday to China by contacting one of our specialists. Once inquired, you'll get a response within 0.5~23.5 hours.
Customize a Trip
Have a question? Get answers from our travel experts or guests
Your Question:

Your Name:

Your Email: