How to Plan a Chengdu Tibet Tour
Traveling Chengdu and Tibet together is one of the most classic routes since Chengdu and Tibet are close neighbors having rich travel resources. During a Chengdu Tibet tour, you can experience diverse cultures, see spectacular landscape, and get close to local people. Here is some useful information about the best time to go, where to stay, how to travel, etc. to help you well plan a Chengdu Tibet tour.
Best time to go
Chengdu and Tibet differ in the weather condition greatly. But both two places are suitable for travel all year around. Autumn is the best season to visit Chengdu and Tibet.
Located in the middle area of Sichuan Basin, Chengdu has a foggy and humid weather in more than half time of a year, which is quite similar to the weather in London. But don't think there are little sunny days. It is warm and humid. The rainy season is usually in July and August, with occasional storms. The best time to visit Chengdu is from March to June and September to November when it is cooler with less rain.
Most places in Tibet are over 4000m above sea level, which results in the special weather in Tibet – thin air, strong sunlight, huge temperature gap between daytime and night, less rain. Some remote areas and high mountains have extreme climate with strong snow such as Mount Everest, Ngari region. You are suggested to visit Tibet from April to October when you can enjoy amazing sightseeing with pleasant weather.
Useful Links: Chengdu weather | Tibet weather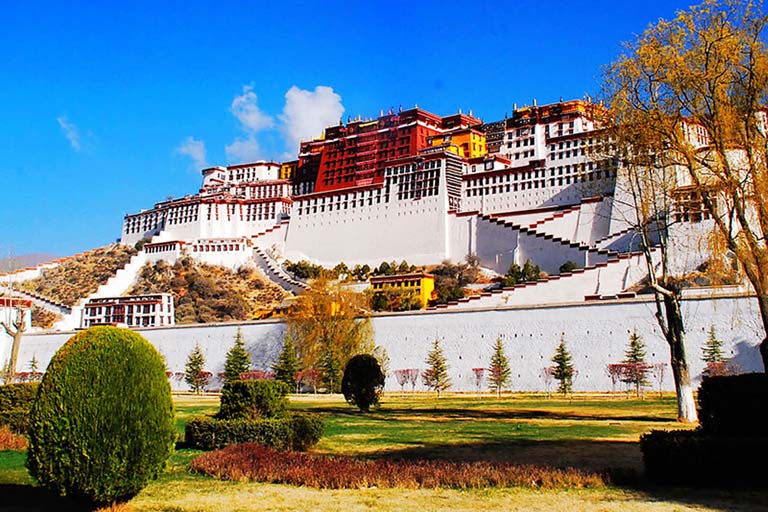 Sunny Lhasa City
Decide your travel length
Generally, 6~10 are days needed to take a Chengdu Tibet (Lhasa) Tour because these two destinations have too many attractions to visit.
Firstly you will arrive in Chengdu by flight or train. If you get to Chengdu early, you can visit a site in the afternoon, such as Jinsha Museum and Kuangzhai Alley. Then spend a full day exploring the best highlights of Chengdu, including Panda Base, Jinli Street, Wenshu Temple, etc. On the third day, you can visit a small site in the morning if your flight to Lhasa is not hurry.
For the travel in Tibet, you need 2 or 3 days to visit the capital city Lhasa and its surrounding sites such as Namtso Lake and Ganden Monastery. From Lhasa you can extend your trip to further destinations, such as Gyantse(1 day), Shigatse(2 days), Mount Everest(4 days), and Nyingchi(2 days).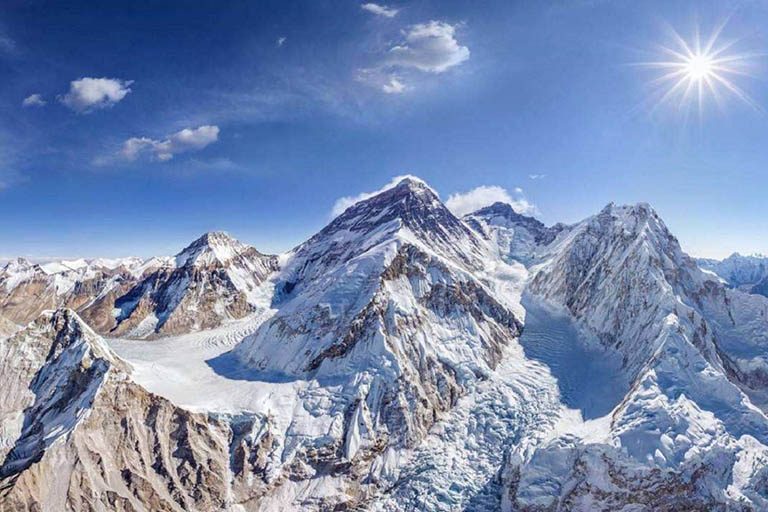 Mount Everest in Tibet
How to travel: Chengdu to Tibet or Tibet to Chengdu?
Since Tibet only has international flights connecting Kathmandu, most travelers choose to get to Tibet from cities in China, and Chengdu is one of the most popular one because of its closer location and frequent flights and train schedules to Tibet. So we suggest you travel from Chengdu to Tibet. After finishing your tour in Tibet, you can leave Tibet for Nepal or other places in China immediately. But if you go to Tibet from other cities in China, such as Beijing, Shanghai, Xian, you can tour from Tibet to Chengdu. From Chengdu, you can travel to Chongqing, Yunnan, etc.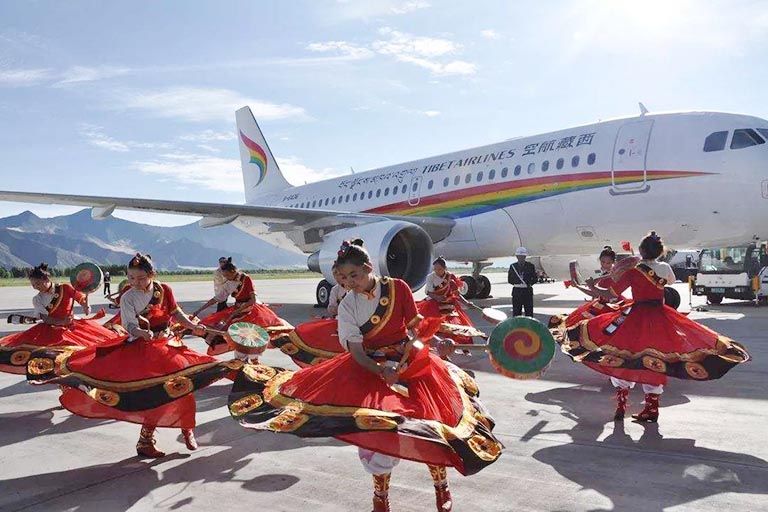 Lhasa Gonggar Airport
Choices of transportation
There are three transfer choices to Tibet – flight, train and road. Taking flight is the most recommended way because you only have to travel 1334km approximately less than 2.5 hours. There are frequent schedules of flight connecting Chengdu with Tibet. Taking train from Chengdu to Tibet is also a popular way, but you have to spend about 36.5 hours on the 3360km's train journey between Chengdu and Lhasa. While you have chance to experience the highest railway in the World – Qinghai-Tibet Railway which has amazing landscape. Overland driving from Sichuan to Tibet along the long 318 National Road is not recommended, because it is too long a drive, and the road condition is not good often in rain seasons.
Useful Links: How to get to Tibet from Chengdu | How to Get to Chengdu from Tibet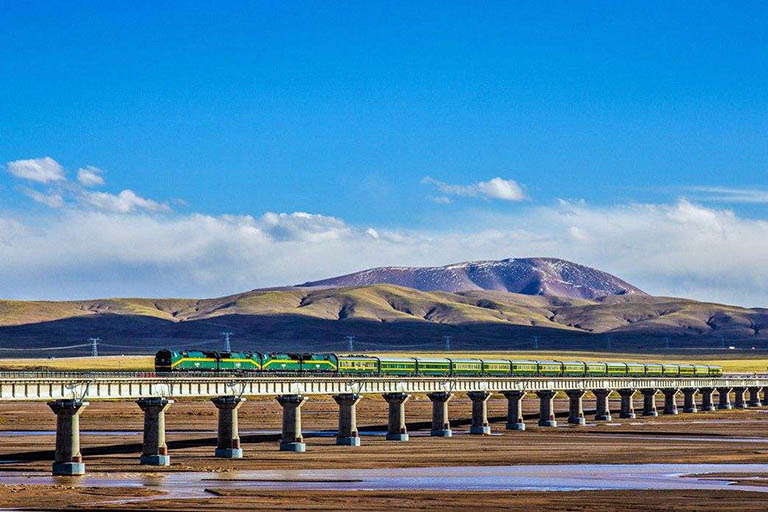 Qinghai Tibet Railway
Choose accommodations in Chengdu and Tibet
After decide your travel schedule and transportation, you should book your accommodation in Chengdu and Tibet in advance. Chengdu provides flexible choices of hotels ranging from economy class to top luxury class hotels. While the accommodation in Tibet is relatively lower than in Chengdu, especially remote regions, such as Everest, Ngari, etc. But the capital Lhasa city offer great accommodation.
Useful Links: Chengdu accommodation | Tibet accommodation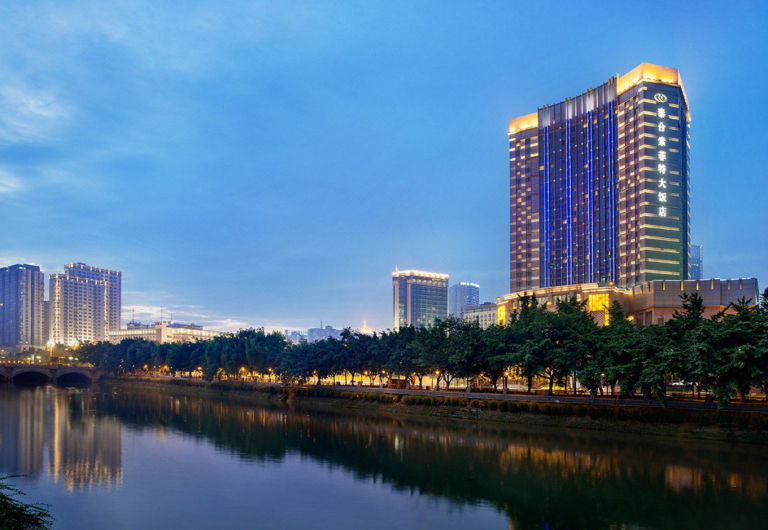 Sofitel Chengdu Taihe
Explore highlights in Chengdu and Tibet
Both Chengdu and Tibet have rich travel resources with different themes. Chengdu is famous for leisure life style, but it is also a historical city with many great cultural sites, such as Wenshu Temple, Jinli Street, Wuhou Temple, etc. Besides, it has the famous Giant Panda Breeding Research Base. .
Tibet has too much to offer. On this vast land, you can get a feast of both cultural and natural sightseeing. There are many word famous influential Tibetan monasteries and palaces, such as Potala Palace, Jokhang Temple, Tashilhunpo Monastery, etc. The landscape in Tibet is splendid – pure holy lakes, giant snow mountains, vast grassland, etc.
Useful Links: Chengdu attractions | Tibet attractions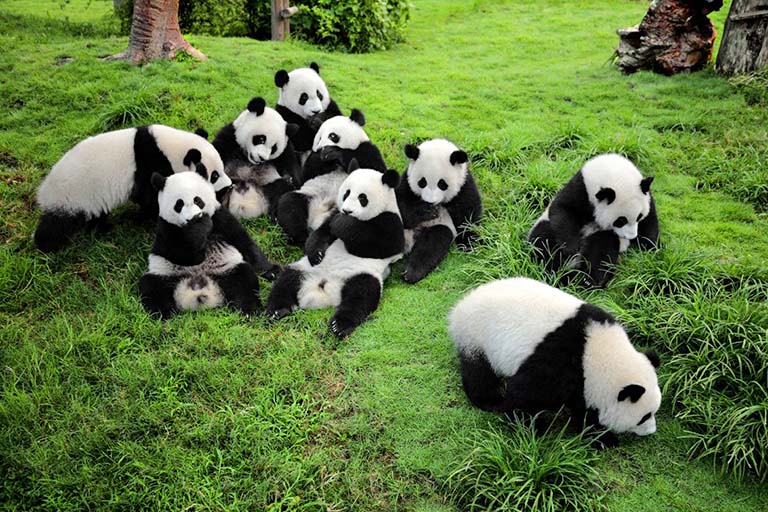 Giant Panda Base
Extended destinations between Chengdu and Tibet
Want to slow down your traveling pace between Chengdu and Tibet? You can go to visit Qinghai province, and spend 2 or 3 days there to visit Xining and Qinghai Lake, etc, then take a train to Tibet via Qinghai Tibet Railway. After the Tibet tour, you can immediately transfer to Nepal. As for the side trips in Chengdu, there are too many extensions – you can travel from Chengdu to Chongqing to take a Yangtze cruise. You can also visit some top famous sites in Sichuan, such as Leshan Giant Buddha, Emeishan Mountain, Jiuzhaigou Valley, etc. For a long trip, you can fly to Guilin, Shanghai, etc.
☞ 10 Days Panda & Qinghai Tibet Railway Memorable Tour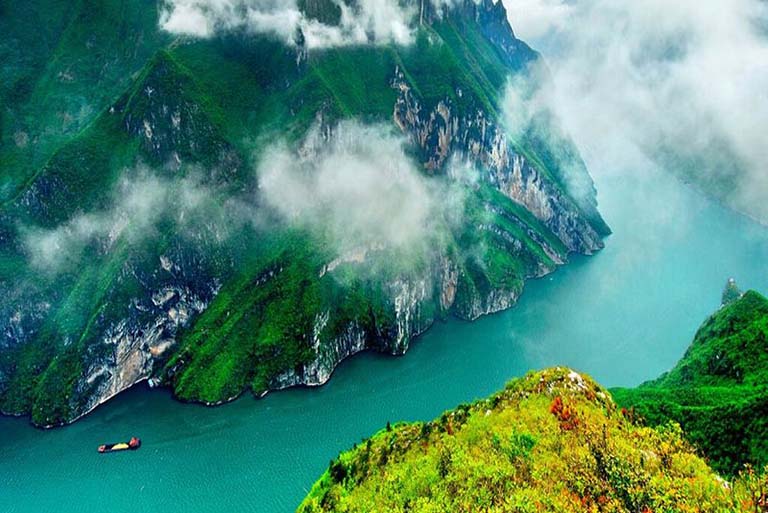 Yangtze River Cruise
How to Plan a Chengdu Tibet Tour
It usually takes 6-7 days to tour Chengdu in Sichuan and Lhasa in Tibet. You can either take a flight (2.5h) to shorten your trip or take a train (36.5h) to help yourself adapt to the high altitude gradually.
While you are in Chengdu, it is recommended to meet the national treasure – Giant Pandas in Chengdu Panda Base in the morning, and then visit the peaceful Wenshu Temple in Chengdu downtown. In the afternoon, have a cup of tea at People's Park to feel the leisure lifestyle of Chengdu and try some reputed Chengdu snacks in Jinli Old Street.
☞ 4 Days Best of Lhasa Tour from Chengdu by Flight
After take a flight or train to Lhasa and a night's good sleep, you can start your Lhasa exploration from the grandiose Potala Palace and the holiest Jokhang Temple. Then take a walk at the Barkhor Street. The next day, spend a leisure time at the largest Tibetan garden – Norbulingka Park and then watch the famous Buddhist debating in Sera Monastery.
☞ 6 Days Classic Chengdu & Lhasa Highlights by Flight
If you have more days, it is highly recommended to extend your tour to Mt. Everest - the highest mountain in the world. On the way, you can pay a visit to holy Yamdrok Lake and you will pass Shigatse and Gyantse where you can see the magnificent Karola Glacier and tome-honored Palcho Monastery.
☞ 9 Days Lhasa Kathmandu Overland Tour from Chengdu
☞ 10 Days Chengdu Lhasa Everest Overland Tour
Travel with China Discovery
China Discovery is a leading comprehensive travel agency in China, providing excellent customized tour packages across China. We have helped thousands of travelers fulfill their dream tour in China. Just tell us your schedule and budget, we can arrange a satisfactory China tour including Chengdu, Lhasa and other popular tourist destinations. It will cover transport, sightseeing, tour guide, local vehicle and driver, accommodation, Chinese Visa application assistance, etc. The length, places to visit, and theme can be customized depending on your individual requirements. You may choose from our most popular Chengdu Tibet tours or contact us to customize a special one!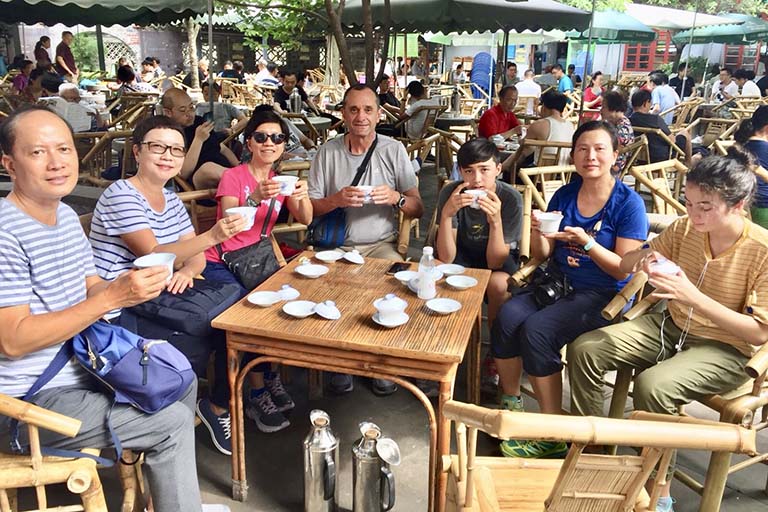 Chengdu Family Tour Customized by China Discovery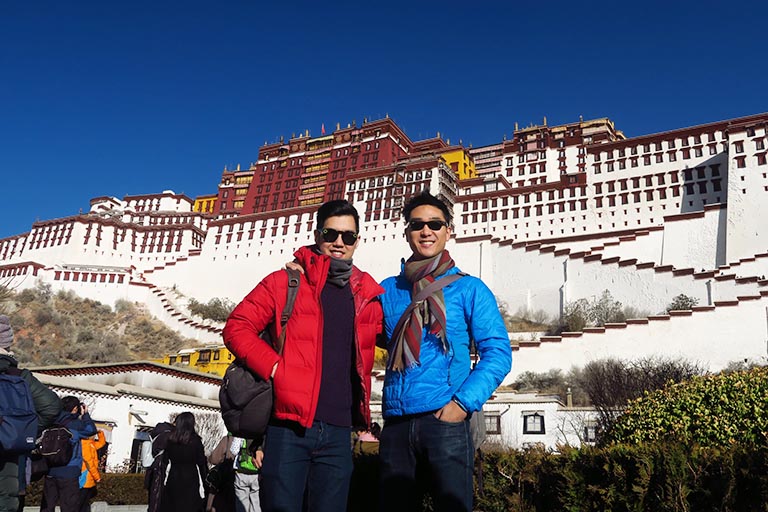 Jeff from Taiwan Visited Potala Palace with China Discovery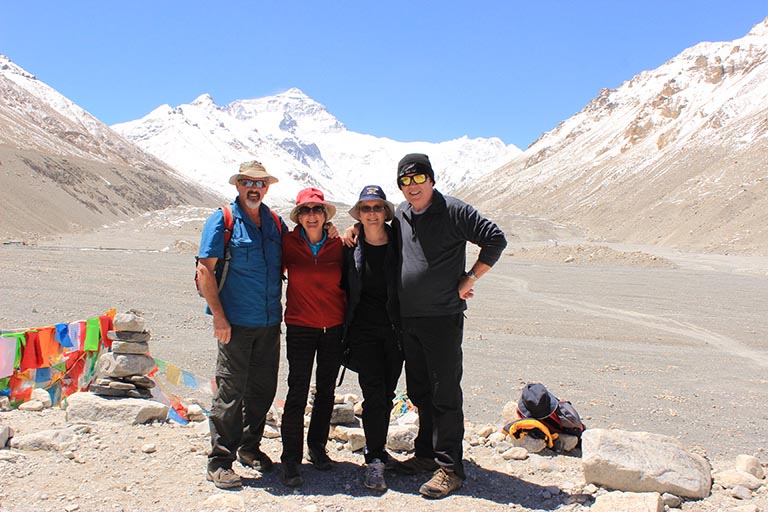 Our Customers in Front of the Mt. Everest
Keep Reading on Chengdu Tibet Tour
Useful Chengdu Travel Guide
Recommended Chengdu Tibet Tours
Top 3 Chengdu Tibet tours chosen by most customers to explore Chengdu Tibet in the best way. Check the detailed itinerary, or tailor your own trip now with us.
6 Days Classic Chengdu & Lhasa Highlights Tour

Chengdu / Lhasa
7 Days Lifetime Tibet Train Tour from Chengdu

Chengdu / Lhasa
9 Days Lhasa Kathmandu Overland Tour from Chengdu

Chengdu / Lhasa / Shigatse / Zhangmu / Kathmandu
Start planning your tailor-made holiday to China by contacting one of our specialists. Once inquired, you'll get a response within 0.5~23.5 hours.
Customize a Trip
Have a question? Get answers from our travel experts or guests
Your Question:

Your Name:

Your Email: