Inner Mongolia Weather & Seasons - Best Time to Visit Inner Mongolia
Inner Mongolia is a vast autonomous region with high latitude and a large plateau area. It's far from the ocean and there are mountains along the border. So it is mainly dominated by temperate continental monsoon climate, which has the characteristic of less and uneven precipitation, strong wind and severe changes in temperature. The northern part of the Great Khingan Mountains like Ergun and Genhe, etc. belongs to the cold temperate continental monsoon climate, and the region west of Bayanhot, like in Badain Jaran Desert and Ejina Banner, etc. belongs to the temperate continental climate.
Temperature: The annual average temperature in Inner Mongolia Autonomous Region ranges from -3.7°C (Turi River) to 11.2°C (Ejina Banner). The annual temperature in the central part of Inner Mongolia in Hohhot, Baotou and Ordos is 6~7°C. The annual average temperature in Hulunbuir is about 0℃ and 7~8°C in Badain Jaran Desert.
Rainfall: Inner Mongolia is deeply inland, the total precipitation is much less than the eastern coastal areas of China. The distribution of annual precipitation in Inner Mongolia changes as follows: the annual precipitation decreases gradually from east to west. Precipitation in the eastern forest region is abundant, and the annual precipitation can reach 400~500 mm. The western region is mostly desert and the precipitation is less, and the annual rainfall in most areas would be less than 100 mm.
Sunshine, Gale and Sandstorm: Inner Mongolia has abundant sunshine and is rich in solar energy. The annual sunshine hours in most areas are more than 2,700 hours, and the western part of the Alxa Plateau is more than 3,400 hours. The average number of gale days in a year ranges from 10 to 40 days, 70% of which occur in spring. Among them, Xilingol and Wulanchabu plateau reach more than 50 days within a year and the gale days in the northern area of Great Khingan Mountains are generally under 10 days. The number of sandstorm days is 5-20 days in most areas of Inner Mongolia, and more than 20 days in western Alxa and Ordos Plateau.
Best Time to Visit Inner Mongolia
Inner Mongolia covers a wide range of longitude and latitude, different regions have different natural and cultural landscapes, therefore the best time for sightseeing in different tourist cities/attractions in Inner Mongolia is not the same. But generally speaking, the urban areas in the central part of Inner Mongolia (Hohhot, Baotou and Ordos) and Arxan area in the eastern part of Inner Mongolia are suitable for visiting all seasons.
The best time to visit grasslands in Inner Mongolia is summer from June to August and autumn is the best time to have fun in deserts like Kubuqi Desert and Badain Jaran Desret, etc. and enjoy the oil-paint-like forest in Ejina Populus Euphratica Forest, etc. from September to early November.
Besides the natural landscape, Inner Mongolia also has a long history, unique nomadic culture and diverse ethnic customs waiting for travelers to experience and discover. Historical sites & ruins like the Mausoleum of Genghis Khan, Site of Xanada, Wudangzhao Monastery, Dazhao Temple and Great Wall Ruins, etc. can be visited at any time.
If you come to Inner Mongolia in July or August, there is a good chance that you will see the Mongolians holding the Naadam Festival (The fourth day of the sixth lunar month) on the grasslands. During the festival, you may have a chance to see horse racing, Mongolian wrestling, archery and other traditional festival events.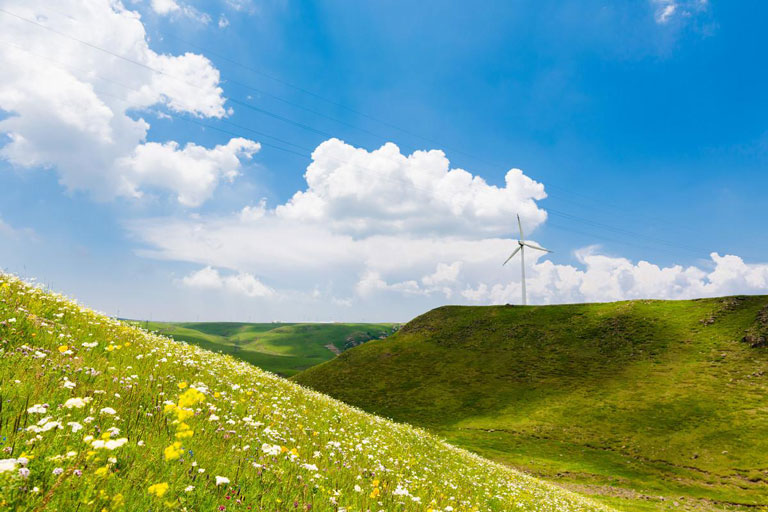 Yellow Flowers Valley Summer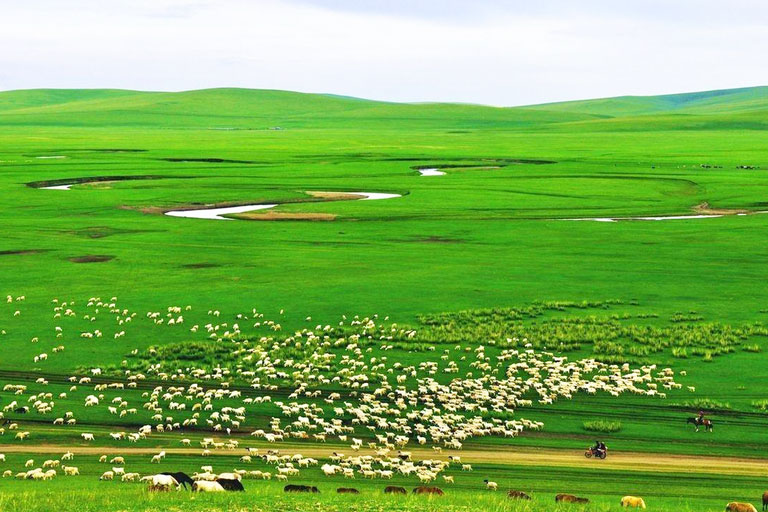 Emerald Hulunbuir Grassland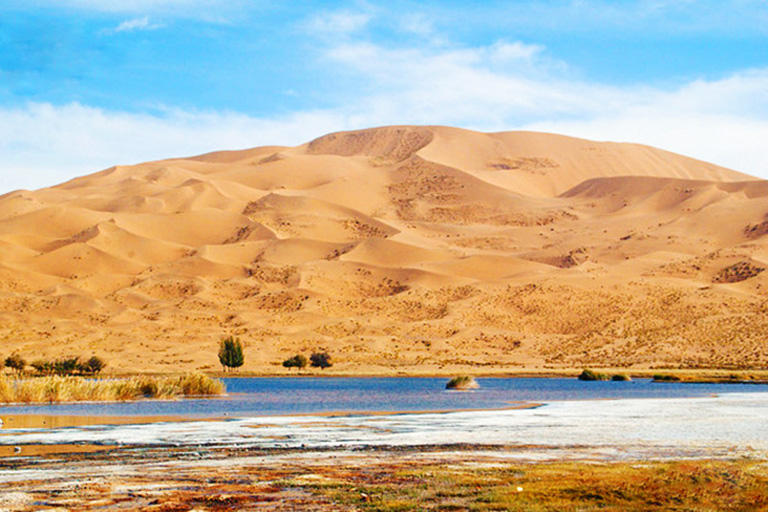 Bilutu Peak in Badain Jaran Desert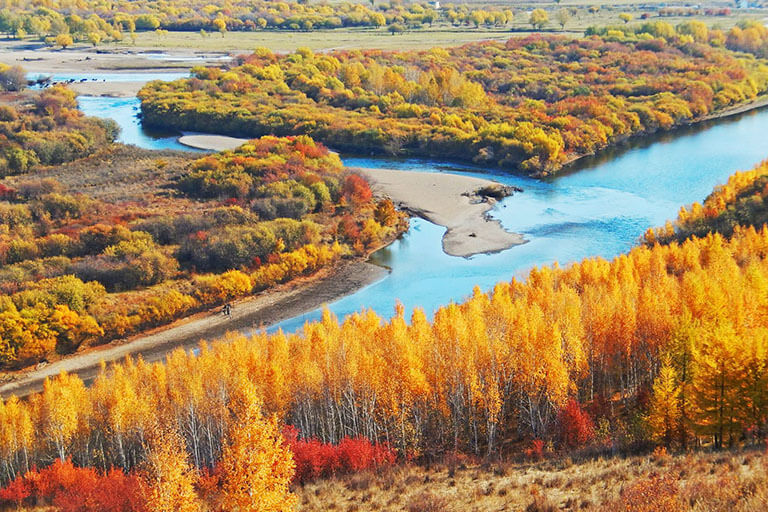 Eerguna Wetland in Autumn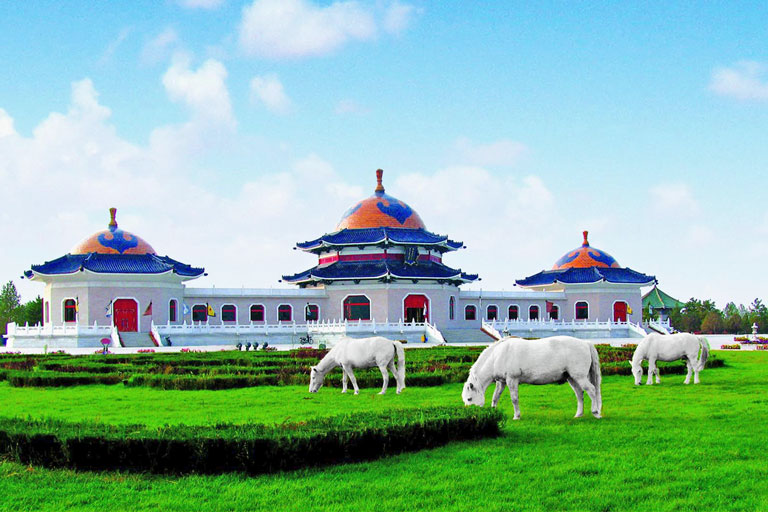 Mausoleum of Genghis Khan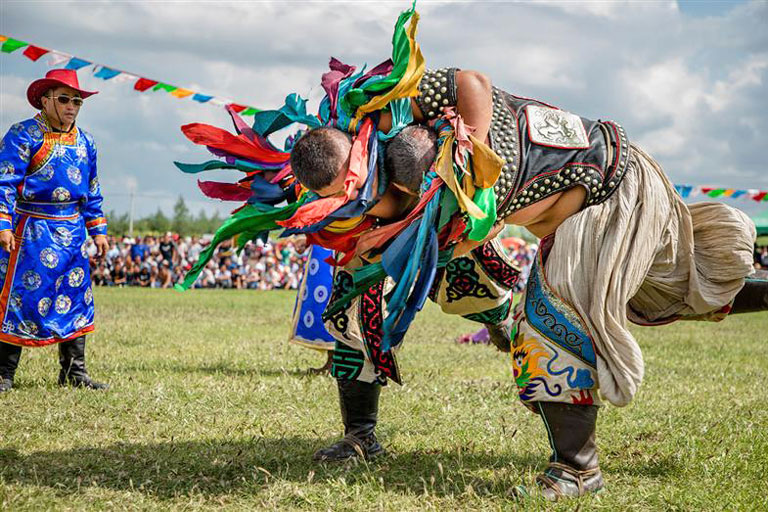 Mongolia Wrestling in Naadam Festival
Weather/Best Time of Major Cities and Areas in Inner Mongolia
Average Inner Mongolia Temperature by Month
| Month | Recommended Rate | Max Temp. | Min Temp. |
| --- | --- | --- | --- |
| Jan. | | °C | °C |
| Feb. | | °C | °C |
| Mar. | | °C | °C |
| Apr. | | °C | °C |
| May. | | °C | °C |
| Jun. | | °C | °C |
| Jul. | | °C | °C |
| Aug. | | °C | °C |
| Sep. | | °C | °C |
| Oct. | | °C | °C |
| Nov. | | °C | °C |
| Dec. | | °C | °C |
Inner Mongolia Seasons to Go
The weather in Inner Mongolia Autonomous Region is generally characterized by a sudden rise in temperature and windy spring (from April to May); short and hot summer (from June to August) with concentrated precipitation; sharply fall temperatures and early frost in autumn (September and October); and a long and cold winter (November to next March) with periodically strong cold surge.
Inner Mongolia Summer - June , July and August
Summer (from June to August) is the peak tourist season and the best time to visit Inner Mongolia. The boundless emerald grasslands and thick primeval forests turn themselves into super summer resorts and natural oxygen bars, welcoming visitors from all over the world. Summer is the season with the most abundant rainfall in Inner Mongolia. Generally, the precipitation of the 3 summer months alone accounts for more than two thirds of the total annual precipitation in the region. The average temperature is 20°C~23°C in Hulunbuir, 21°C~26°C in Hohhot, 19°C~23°C in Baotou and Ordos, 26°C~29°C in Ejina Banner and Badain Jaran Desert.
What to Wear in Summer in Inner Mongolia
Summer clothes like short pants, T-shirts, short sleeves and dresses would be OK for the daytime in the downtown area. If you are planning to visit grasslands, deserts or mountainous areas, take a thin overcoat or sweater with you. Remember to bring necessities like suncare products, mosquito repellent, medicine for motion sickness and sand-proof masks, etc.
Seasonal Activities in Inner Mongolia Summer
1. Pay a visit to famous grassland near Hohhot: Under the azure sky and cotton candy-like clouds, herds of sheep and cows are scattered over the grassland. Riding a horse and galloping through the lush meadows will help you forget all the worries and distresses. Huitengxile Grassland and Xilamuren Grassland are all hot grassland destinations near Hohhot. They can be accessed easily by car within 2 hours.
2. Appreciate the idyllic scenery of the "one of the four grasslands in the world": Summer is the ideal season for visiting Hulunbuir, especially in July and August, when the Hulunbuir Grassland is green and lush, suitable for horse riding and fishing in the hinterland of the prairie, or boating on Hulun Lake in the west.
3. Enjoy fresh air and lush forest sea in the Greater Khingan Mountains: Located at the southwest foot of the Greater Khingan Mountains, the Arxan National Forest Park has a forest coverage rate of 80% and has been listed in "China's Forest Oxygen Bar". Summer here is short and cool. It is a good place for tourism, escaping summer heat and family vacation. At the turn of spring and summer, lush pine and birch trees surround Tianchi Lake, overflowing with sparkling and shaking green, forming a unique natural landscape.
4. Take part in the grand Naadam Festival: Naadam Festival is the grandest fair in the whole Inner Mongolia Autonomous Region. It usually happens in July or August. During the festival, there will be exciting games like horse racing, Mongolian archery and wrestling, etc. During the festival, you may also have a chance to see some colorful traditional Mongolian costumes and solemn grassland sacrificial ceremonies.
5. Have a panoramic view of Picturesque Genhe Wetland: In summer, the Ergun Wetland is paved with green carpets. The Genhe River is like a silver jade belt winding and flowing through the flat grassland. From the viewing platform, visitors can overlook the whole Erguna wetland and the scenery is quite spectacular. It's a primitive natural paradise that can not be missed by photography lovers.
6. Escape summer heat and appreciate flowers in Daihai Scenic Area: In the summer of Daihai, the mountains and rivers reflect, the forests and grass are lush, and you may discover flocks of wild ducks when you look reed marshes closely. Besides, the planting area of the flower garden here is over 600 mu. You may see flower seas of gomphrena globosa, zinnia and sunflower in summer.
Hot Inner Mongolia Summer Tours:
☛ 3 Days Best Hohhot Grassland Tour with Huitengxile Landscape
☛ 5 Days Classic Inner Mongolia Tour
☛ 9 Days Hulunbuir & Arxan UNESCO Global Geopark Highlights Tour
Huitengxile Grassland near Hohhot
Inner Mongolia Naadam Festival
Arshan National Forest Park in Summer
Genhe Wetland in Summer
Inner Mongolia Autumn - September and October
Autumn is the most colorful season in Inner Mongolia. There are many typical scenery can't be missed like golden populus euphratica forest, pastures and dunes. Thanks to the moderate climate, early autumn is also the best time to explore famous deserts (Badain Jaran, Tenggeli and Kubuqi Desert, etc.) in Inner Mongolia. In autumn, the precipitation in Inner Mongolia decreases gradually, the sky is usually clear and bright during the daytime. The temperature drops quickly during autumn. From September to October, the average temperature is 7°C~15°C in Hohhot, Baotou and Ordos, 8°C~14°C in Hulunbuir, and 5°C~16°C in Ejina Banner.
What to Wear in Autumn in Inner Mongolia
In autumn, you could wear shirts, sweaters, jeans and wind-proof overcoats. If you are going to the deserts, remember to bring sunglasses, masks, hats and other sand-proof, sun-proof and wind proof stuff. If you are planning to do desert hiking, wear ankle waterproof boots and thick cotton socks and bring other outdoor equipment like alpenstocks, sport bottles, goggles, etc.
Seasonal Activities in Inner Mongolia Autumn
1. Savor the most beautiful scene of golden autumn in Ejina: Ejin Banner is famous for the populus euphratica forest, which is one of the three largest in the world. Every autumn, Ejin turns into a golden sea. From the end of September to early October is the best time for appreciating the Ejina Populus Euphratica Forest. In early October, after the autumn wind blows, the large area of populus euphratica turns from green to gold, which together with the azure sky creates a beautiful and magical autumn oil painting.
2. Take an exciting adventure in Broad Badain Jaran Desert: Autumn is one of the best seasons to enjoy the colorful desert scenery in Badain Jaran Desert. "The Most Beautiful Desert of China" not only has amazing natural wonders which can release yourself from all sorts of moods but also has lots of featured activities like Jeep safari, camel riding and desert hiking, etc. waiting for you to try.
3. Hike through "the rising star of desert trail" - Kubuqi Desert: Even the scenery may not be as striking as Badain Jaran Desert, Kubuqi Desert is close to Baotou (about 60 km) and Ordos (about 60 km), therefore the transportation is much more convenient. Coupled with its superior arched shape, scattered but well developed scenic areas, and several relatively mature hiking routes, the popularity of the Kubuqi Desert has been increasing steadily in recent years.
4. Step into the oil-painting-like fairyland: Arxan National Forest Park (阿尔山国家森林公园) is one of the most beautiful places in Inner Mongolia in autumn. Every step here makes people intoxicated and like entering natural paradise. From September to October, there are at least 7 colors in Arxan: blue sky, black earth, white clouds, golden sun, yellow, red and green trees, and colorful villas, together composing a splendid natural picture scroll.
5. Enjoy the autumn scenery of red leaves and birch forest: Moerdaoga Forest Park (莫尔道嘎) is one of the best places to appreciate autumn and red leaves in the Great Khingan Mountains. Autumn begins in late August in Moerdaoga, and the best time to enjoy autumn scenery is from September to early October. The forest sea in autumn, red like fire, yellow like gold, plus sliver birch, making the mountains gorgeous and beautiful beyond words.
6. Immerse yourself in the most beautiful autumn grassland: If the summer of Hulunbuir Grassland is refreshing green and blue, then the autumn of Ulan Butong Grassland (乌兰布统草原) is the beauty of thick and heavy red. Here is a paradise for photography lovers! From the first step you step into Ulan Butong, you are entering the world of oil painting.
Hot Inner Mongolia Autumn Tours:
☛ 6 Days Ejina Populus Euphratica & Badain Jaran Desert Sightseeing Tour
☛ 6 Days Inner Mongolia Bests Discovery Tour
☛ 5 Days Classic Hexigten Scenic Tour with Wulan Butong Grassland
Ejina Populus Euphratica Forest
Colorful Lakes in Badain Jaran Desert
Kubuqi Desert Hiking
Sunrise in Moerdaoga in Autumn
Ulan Butong Photography in Autumn
Inner Mongolia Spring - April and May
In spring, the temperature rises quickly in the central and western parts of Inner Mongolia, with less precipitation and high winds. Sandstorms and other extreme weather might occur in this season (mostly in early spring from mid-march to mid-April). However, the temperature is suitable for travelling and high winds do not affect the tour of cultural attractions and exploring local customs and culture. Due to the high altitude and latitude, spring in the northeast of Inner Mongolia comes late and won't last long, but the weather is very comfortable, and the scenery is exquisite, and the mountain flowers are blooming everywhere. The average temperature is 9°C~16°C in Hohhot, Baotou and Ordos, 4°C~14°C in Hulunbuir, and 10°C~17°C in Ejina Banner.
What to Wear in Spring in Inner Mongolia
You can wear thermal underwear, sweaters and a thin cotton clothes. As the weather is changeable even in one day, it is advised to wear multiple layers, so you can easily take off when you heat up. Due to the occasionally windy and sandy weather, wind-proof scarfs, sand-proof masks are also recommended.
Seasonal Activities in Inner Mongolia Spring
1. Feel the vigor and vitality of spring in Hulunbuir: The scenery of Hulunbuir is attractive all year round. In spring, the snow and ice melt. The grass is fluttering with tiny buds, colorful flowers are emitting infinite fragrance in the wind, like a beautiful carpet spread on the earth of Hulunbuir.
2. Enter into the sea of azalea flowers: Spring doesn't arrive in Alshan until May, but it's worth the wait. The late spring has created a beautiful sea of azalea in Xing'an League. Spring breeze blowing, azaleas gradually blooming, they are like the guardian spirit of the Alshan, bringing the snow-covered land back to life.
3. Learn more about Inner Mongolia history and culture by exploring highlights in downtown areas: If you are visiting Inner Mongolia for the first time, it's better to learn some local history and special costumes before heading to grasslands or desert areas. Inner Mongolia Museum and Zhaojun Tomb in Hohhot, Mausoleum of Genghis Khan and Ordos Museum in Ordos and Site of Xanadu in Xilingol, etc. are all good places to go.
4. Explore famous ancient Mongolian Buddhist temples: If you are interested in religious belief in Inner Mongolia and love typical Buddhist architectures. Don't miss attractions like Dazhao, Five-pagoda Temple, Xilituzhao, etc. in Hohhot city and well-known as the" Little Potala Palace" - Wudangzhao, and Meidaizhao, which is cuddled by the Yinshan Mountains near Baotou.
5. Encounter migratory birds in Hasu Lake: In spring, with clear water and lush green grass, Hasu Lake is a "post" for migratory birds. More than a hundred species of birds such as cranes, swans and black storks would make a stop here. There are grasslands, wetlands, lakes and hot springs, etc. in the scenic area. It is the perfect place to relax and watch migratory birds.
6. Enjoy the grassland scenery and Mengyuan culture in famous films and TV series shooting base: Ulan Butong Grassland (乌兰布统草原), the closest grasslands in Inner Mongolia to Beijing, used to be the Mulan Paddock Area of the Qing Dynasty royal family. You can enjoy brilliant flowers and exotic wildlife here in spring. Besides, it's also a famous shooting base of Chinese history dramas, like Kangxi Dynasty, etc.
Hot Hohhot Spring Tours:
☛ 5 Days Primitive Inner Mongolia Tour to Xilingol
☛ 4 Days Inner Mongolia Grassland & Genghis Khan Culture Tour
☛ 6 Days Inner Mongolia Authentic Nature & Dynasties Culture Tour from Chengde
Azalea Flowers Blossom in Arshan Mountain
Meet Dazhao Temple in Hohhot Downtown in Spring
Migratory birds in Hasu Lake
Ulan Butong Grassland in Spring
Inner Mongolia Winter - November to Next March
In winter, Inner Mongolia transforms into a kingdom of ice and snow. There are many places to enjoy special snow scenery (like the rime), do skiing, attend local festivals, admire ice sculptures and enjoy hot springs. Winter is the coldest time inInner Mongolia. The temperature drops below zero in most areas in winter. Precipitation during the season is mostly snow. However, most downtown areas are heated, so it's not cold indoors.The average temperature is -12°C~1°C in Hohhot, Baotou and Ordos, -21°C~-4.5°C in Hulunbuir, and -12°C~-2.5°C in Ejina Banner.
What to Wear in Winter in Inner Mongolia
Wear thermal underwear, sweater, fleece series and waterproof jacket. Cold-proof shoes with thick sole, like a pair of hiking boots, are recommended so that you can play or work flexibly. You can also wear wool caps or woolen hats to keep your ears warm. Masks, gloves and wind-proof scarfs and other winter accessories are also needed when you do outdoor activities like skiing, skating and winter drifting, etc.
Seasonal Activities in Inner Mongolia Winter
1. Appreciate special winter scenery "the rime" in Arxan: Alshan in winter can satisfy all your fantasy about winter: the vast snowfield, rime, hot springs, pine forest... From November to April of the following year, Mount Alshan is covered with snow and ice, with thousands of mountains and fields piled with jade and silver, just like an ice and snow world in a fairy tale.
2. Don't miss the Winter Naadam Festival in Hulunbuir: Besides the Naadam Festival held in summer, there is also a Winter Naadam Festival held on Hulunbuir Grassland in December. You can enjoy their exciting horse racing, wrestling and archery games.
3. Join the "Ice and Snow Festival" in Manzhouli and enjoy stunning Ice Sculptures: Manzhouli is a hot tourist destination that integrates Chinese and Russian culture and customs together. Every year around late December, Manzhouli (满洲里) will hold the annual grand "China-Russia-Mongolia International Ice and Snow Festival", which will last till next February. During the Festival, there will be more than a dozen themed activities with distinctive features, such as ice and snow tourism, culture, sports and trade, etc.
4. Take advantage of the off-season to visit downtown areas and popular historical attractions: If you like quiet and are interested in the local culture, customs and food, then coming here in winter might also be a good travel experience for you. You can taste local delicacies, visit museums and historical sites in Hohhot, explore Buddhist temples and watch migrant birds in Baotou, learn more about the Great King of Inner Mongolia by visiting the Mausoleum of Genghis Khan, and witness the glory of the ancient Yuan Dynasty at the Site of Xanadu.
5. Listen to the "Winter Sonata" played by sand: Resonant Dune Bay (响沙湾) is the most famous scenic area in the Kubuqi Desert. In winter, the desert is covered with snow, exposing a little golden, showing a different kind of desert scenery. Every year from December to February of next year, Xiangshawan will hold the "Xiangshawan New Year Carnival". There is also a famous desert ski resort in the scenic area, named Xiangshawan Ski Resort. With several desert ski trails, you can enjoy exciting skiing here in winter.
6. Watch traditional winter fishing in Chifeng: In winter, the frozen Dalinor Lake (达里诺尔湖) in Chifeng City integrates with the snow and ice land, showing the most spectacular scenery of the four seasons. The mysterious traditional winter fishing and hunting activities also begins in this season. Besides some winter fishing activities such as sailing ceremony, lake worship ceremony and ice-breaking fishing in Dari Lake, you can also try various recreational activities such as ice carving, skiing and skating.
7. Find yourself in the pure "prairie pearl": When winter comes, snow will turn Xilin GoI Prairie (锡林郭勒草原) into a vast expanse of white carpet. The Xilingol Grassland in winter is covered with snow and the scenery is magnificent. It is also one of the most beautiful places in Inner Mongolia in winter. Around the end of December, Xilingol will also hold the annual "Silver Xilingol Grassland Snow Naadam" activity, which will last for four months.
Hot Inner Mongolia Winter Tours:
☛ 4 Days Inner Mongolia Grassland & Genghis Khan Culture Tour
☛ 6 Days Inner Mongolia Bests Discovery Tour
☛ 9 Days Hulunbuir & Arxan UNESCO Global Geopark Highlights Tour
☛ 6 Days Inner Mongolia Authentic Nature & Dynasties Culture Tour from Chengde
Naadam in Winter in Hulunbuir
Delicious Mongolian Food - Roast Lamb
Mausoleum of Genghis Khan in Ordos
Wudangzhao in Winter
Special Snow Scenery of Xiangshawan in Winter
How to Plan Your Inner Mongolia Tour?
Places to Visit in Inner Mongolia: Hohhot, Hulunbuir, Ordos, Baotou, Ulanqab, Badan Jaran, Ejina, Xilingol, Chifeng…
How to Get to Inner Mongolia: International and domestic flights to Hohhot, Hulunbuir…; Domestic flights to Xilingol, Chifeng…;High Speed Train to Hohhot, Ulanqab, Baotou, Ordos, Chifeng…; Drive to Badan Jaran, Ejina…
Best Time to Visit: April to October (especially from June to September for grasslands, June to October for deserts)
Inner Mongolia is so large and abundant with diverse distinct natural and cultural highlights, therefore, you can hardly discover all the bests in one single visit. It would take 3 days to more than 1 month for various needs. And your itinerary can be decided based on your trip length, interests and a major area of this vast destination.
Classic Inner Mongolia Tours - Middle Part (Hohhot, Baotou, Ordos...)
A classic Inner Mongolia tour usually starts from Hohhot, the capital of Inner Mongolia and most convenient traffic hub. Planning 3 days is popular for an essential discovery of Hohhot city highlights with surrounding grassland like Huitengxile or Xilamuren. 1-2 days extension to Kubuqi Desert in Ordos is also frequently chosen. And a 5-6 days trip including Hohhot, nearby grassland, Ulanqab volcanoes, Baotou and Ordos are the favorite one among travelers to discover grassland, desert, historical culture of Genghis Khan, Tibetan Buddhism, etc. in Inner Mongolia.
☛ 5 Days Classic Inner Mongolia Tour
☛ 6 Days Inner Mongolia Bests Discovery Tour (Hohhot / Ulanqab / Huitengxile Grassland / Baotou / Kubuqi Desert / Ordos)
Authentic Grassland, Wetland & Forest Park - East Part (Hulunbuir, Arxan...)
If you are interested in the most beautiful grassland, arrange 4-5 days to Hulunbuir to catch Hulunbuir Grassland and all the fabulous primitive nature and in-depth nomadic tribe culture highlights in Hailar, Ergun, Genhe and Manzhouli. If you have more time, add 2 more days to Arxan National Forest Park.
A middle and east Inner Mongolia discovery to Hohhot, Baotou, Ordos and Hulunbuir usually takes about 6-8 days, which helps you savor the top representative prairie sightseeing and culture of Inner Mongolia.
☛ 5 Days Best Hulunbuir Tour with Grassland Exploration
☛ 9 Days Hulunbuir In-depth Tour with Arxan UNESCO Global Geopark
Wild Desert & Golden Populus Forest - West Part (Badain Jaran, Ejina...)
The west Inner Mongolia is favored for seeking wilder sightseeing and adventure. If you want to discover China's most beautiful desert, a 2-4 days Badain Jaran Desert trip to the west Inner Mongolia is your best choice to go! Besides, the splendid Ejina Populus Euphratica Forest is quite hot for a 2-3 days' photography tour in autumn. If you want a longer vacation, plan as many other visitors to discover Badain Jaran together with nearby hot and convenient destinations like Xining, Zhangye, Dunhuang, Jiayuguan, etc. It usually needs 7 days for a Xining Zhangye Badain Jaran Desert trip.
☛ 5 Days Zhangye Danxia Badain Jaran Desert Geography Miracle Tour
☛ 7 Days Qinghai Lake Zhangye Danxia Badain Jaran Desert Wonders Tour
☛ 4 Days Ejina Populus Euphratica Forest Photography Tour
If you are seeking more authentic sightseeing and deeper Inner Mongolia culture and history highlights, it is also popular to discover Chifeng and Xilingol for 4-5 days.
Besides, it is also a great idea to extend to more popular destinations in China to appreciate more wonderful nature, culture, history and food of this vast country, such as Beijing, Shanghai, Xian, Chengdu, Xinjiang, Gansu, Tibet, Yangtze River, Yunnan, Guilin, Zhangjiajie, Huangshan, etc.
Huitengxile Grassland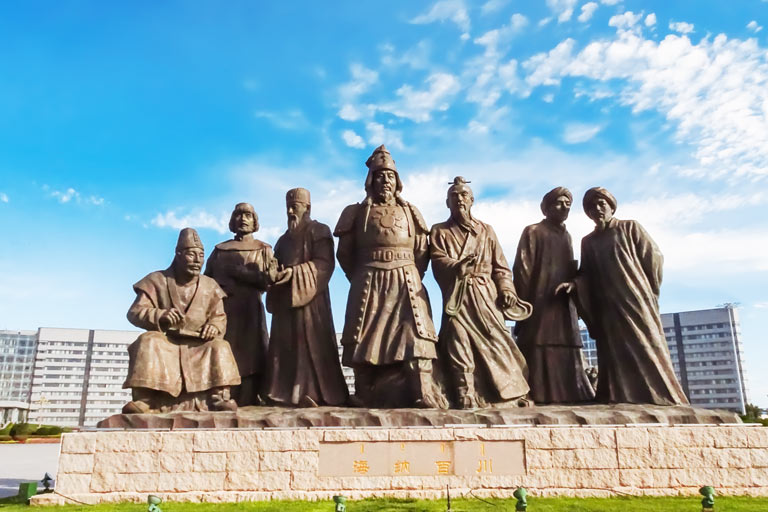 Genghis Khan Statue in Ordos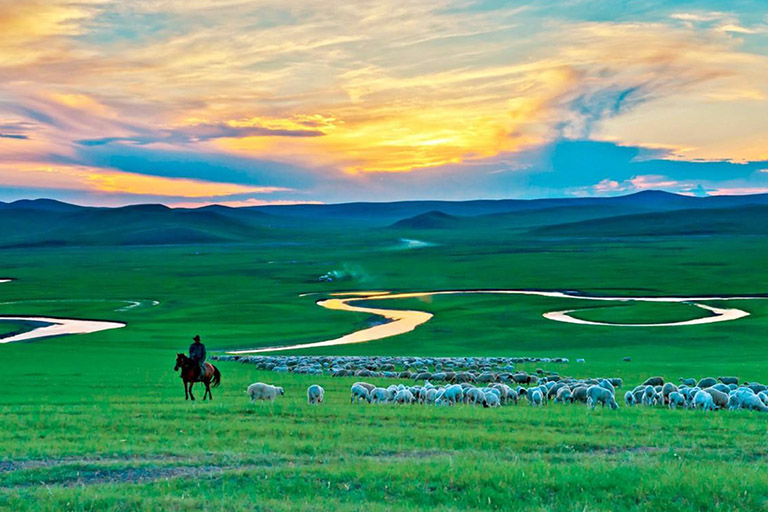 Hulunbuir Grassland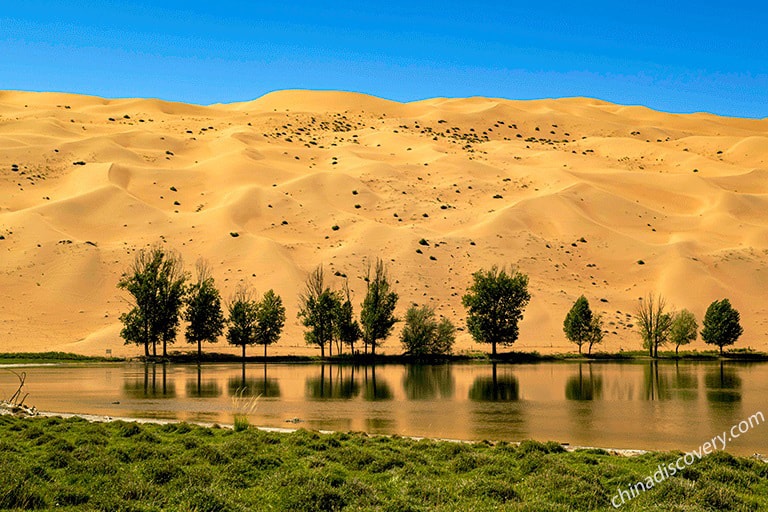 Badain Jaran Desert
Travel Inner Mongolia with China Discovery
Have your own ideas of where and what to discover in Inner Mongolia? We China Discovery offers many popular and valuable private Inner Mongolia tour packages taking you to enjoy wonderful exploration of the best highlights of Hohhot, Hulunbuir, Ordos, Baotou, Ulanqab, Badain Jaran, Ejina, Chifeng, Xilingol, etc. And our professional travel team with experienced travel expert, local English-speaking travel guide and driver and non-smoking comfortable licensed private vehicle will help you throughout the trip from the planning, navigation, hotel arrangement and scenic spot visiting. So you will have the much better travel experience in the large and beautiful Inner Mongolia. You can check our tour packages to get some inspiration. All tours can be tailor-made according to your group size, time, physical condition, plan, interests, budget and any other special need! Please feel free to contact us to customize your own Inner Mongolia trip or if you need any help!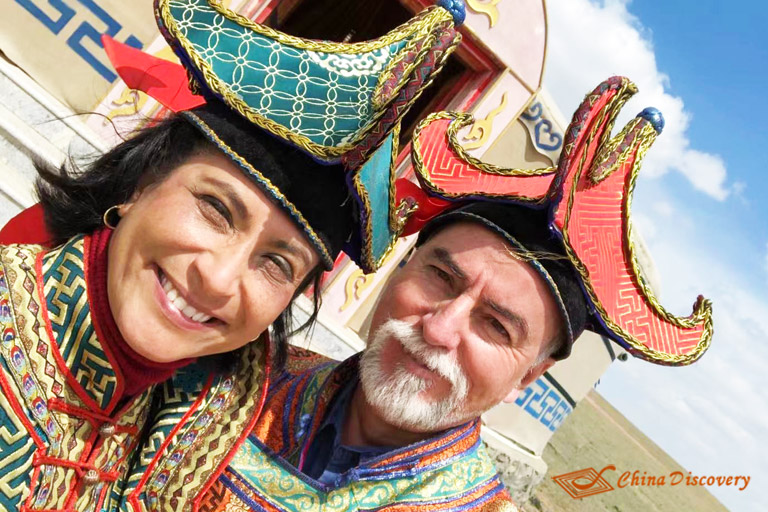 Our Customers Enjoying Their Trip to Inner Mongolia Grassland in April, 2021
More about Inner Mongolia Travel Guide
Inner Mongolia Cities' Travel Guides & Tours
Hottest Attractions in Inner Mongolia
Recommended Inner Mongolia Tours
Top 3 Inner Mongolia tours chosen by most customers to explore Inner Mongolia in the best way. Check the detailed itinerary,or tailor your own trip now with us.
5 Days Classic Inner Mongolia Tour

Hohhot / Huitengxile Grassland / Yemingsha of Kubuqi Desert / Hohhot
6 Days Inner Mongolia Bests Discovery Tour

Hohhot / Ulanqab / Huitengxile Grassland / Hohhot / Baotou / Yemingsha of Kubuqi Desert / Ordos
5 Days Best Hulunbuir Tour with Grassland Exploration

Hulunbuir / Erguna / Manzhouli / Hulunbuir