China Golden Week | China National Day Holiday Travel Tips 2022
If you are planning a trip to China and have done some researches, you may have heard about the Golden Week and found that many people recommend avoiding traveling China in that period. That is also what we will recommend our customers: DON'T travel China in Golden Week. Why? What is Golden Week? What is traveling China in Golden Week like? What if the trip is scheduled in Golden Week and is unchangeable? Are there any places to avoid the crowds? Here are answers to these questions and some tips you need to know about the Golden Week before a China trip.
China Golden Week usually refers to the National Day Holiday of China, a 7-day holiday from October 1-7 to commemorate the founding of the People's Republic of China. Unlike many other Chinese traditional holidays counted by lunar calendar, Golden Week holiday is usually the fixed period in the first week of October. By the way, it is close to the Mid-Autumn Festival (15th day of the 8th lunar month), a 3-day holiday usually in September. If the Mid-Autumn Festival happens to fall on one day in the Golden Week, the Golden Week Holiday will usually be extended to 8 days.
China National Day Holiday is a statutory holiday that people can get 7 days off from their work. And most places in China in October are suitable for traveling because of the cool weather, little rainfall, and beautiful autumn scenery. Therefore, it is the busiest traveling time in China and most famous cities and attractions are full of people.
It is common that people wait in long lines to get on a cable car or get into a museum; cost for meals, accommodation, transfer is increasing; tickets are quickly run out and the demand for hotel rooms is exceeding the supply… That is what you need to know if you are going to famous cities such as Beijing, Shanghai, Xian and less famous but popular destinations like Guilin, Zhangjiajie, Huangshan, Chengdu, Hangzhou, Kunming… and the list goes on. This is also why people recommend avoiding traveling China in Golden Week.
Beijing Badaling Great Wall in Golden Week
When talking about China, the cities jumping into most people's mind are Beijing, Shanghai, Xian, and Guangzhou. It is true that these places are worth a visit but there is much more to explore on China's 9,600,000 km² land with 56 ethnic groups. Even in these popular cities, there are many less traveled spots with spectacular view.
For example, if you are in Beijing, Jinshanling, Simatai, Juyongguan, Huanghuacheng sections of the Great Wall are more primitive and have fewer tourists; the nearby Bashang Grassland is vast enough for you to enjoy the golden and extensive grassland view with multiple activities such as riding and campfire party. If you are interested in history and culture, Shanxi Province between Beijing and Xian is home to the over-1500-year-old Yungang Grottoes and has the best-preserved ancient city in China - Pingyao Ancient City. If you are looking for coastal scenery, Beihai in Guangxi, Yantai in Shandong, Qinhuangdao in Hebei, Fuzhou in Fujian, Lianyungang in Jiangsu are all good choices. Or you can follow the path of Silk Road to the northwest of China to see the starting point of the Great Wall - Jiayuguan, the colorful Zhangye Danxia Landscape, or go deep into Xinjiang with minority culture, watery fruits and scenery of mountains, deserts and lakes. For people favoring Tibetan culture and highland landscape, apart from Lhasa in Tibet, Gannan in Gansu, western or northern part of Sichuan, and Qinghai will also bring you much surprise. The broad grassland, the Tibetan Buddhist temples, the devout people form such a heart-refreshing journey. If you still have questions about where to go or want to customize a tour according to your own interest, feel free to contact our professional travel consultant and we will provide more detailed advice to you.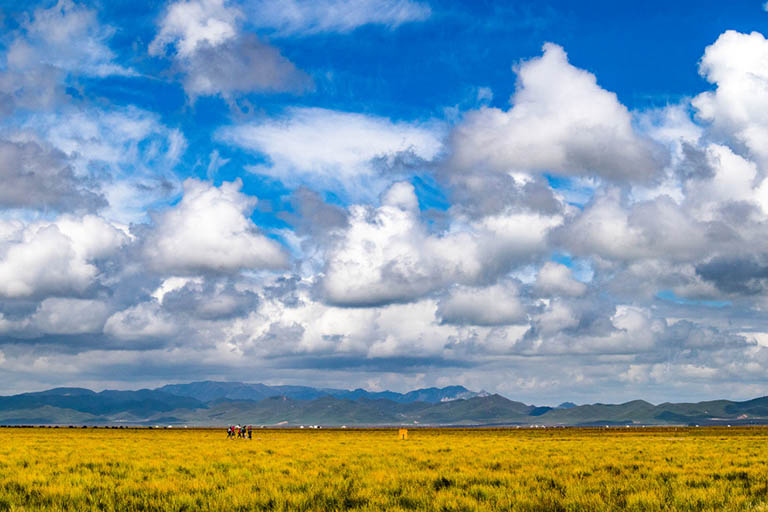 Gannan Autumn Scenery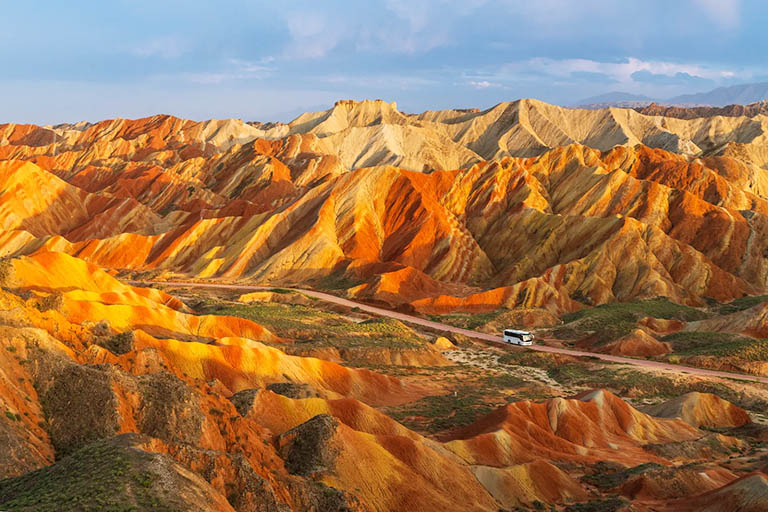 Zhangye Danxia Landscape in Gansu
• Rearrange your tour in other time: For foreign tourists, there is an advantage which is that you can arrange your China trip in other time of the year because the Golden Week is the time when most Chinese get a break and there are bound to be a lot of people. Best Time to Visit China>>
• Choose less touristy destinations: If you can not change the traveling time, as mentioned above, there are many choices for a China trip in Golden Week. The best way to avoid the crowds is choosing a less touristy destination. If you still want to visit the top cities like Beijing and Shanghai, keep in mind the following tips. Where to Visit in China>>
• Choose Spacious Outdoor Attractions: In popular spacious outdoor attractions such as Jiuzhaigou, Yellow Mountain, Zhangjiajie National Forest Park, Great Wall, it is true that you will be waiting in line if yo want to take the tourist bus or cable car, but as you travel deeper in the scenic area, there will be fewer tourists.
• Arrange popular attractions on the first or last day of Golden Week: On the first day of Golden Week, many tourists are still on the way and on the last day, most people are on their way back home. There are much fewer tourists than on October 3rd or 4th when most attractions reach the peak.
• Start your trip early in the morning: The early bird catches the worm and the early tourist will not be caught in long line. Try to be the first ones visiting the popular attractions such as Forbidden City in Beijing and Terrocotta Warriors in Xian. Usually, 11:00am - 4:00pm is the busiest time.
• Book everything in advance: Once you have decided the date, city and attractions you want to visit, book your hotel, train & flight ticket as soon as possible because the price will increase a lot during the Golden Week and in some hot places such as the Yellow Mountain, the hotel rooms are very likely to be booked up before the holiday. If you need any help in booking hotel or tickets, feel free to contact us.
• Be prepared that there will be crowds: Before your trip, Google some photos or videos about the hectic scene of China Golden Week and be mentally prepared. In this way, you will not be so shocked if it is really that crowded and if you are lucky to find a relatively less touristy site, it will light your trip up like a bonus.
• Take Things as they come & enjoy your trip: China is a vast country with stunning nature and splendid culture. It is a pity if you miss all the highlights because of the crowds. Just focus on what you really want to see and feel and enjoy your trip, take things as they come and the trip itself would be your priceless memory and experience.
Want to enjoy a worry-free China Golden Week tour? Just travel with China Discovery! China Discovery is a leading travel agency offering private China tour packages with great flexibility, comfort and personalized services for decades. We have got 1,460+ good reviews on TripAdvisor.com, and 4,050+ China travel reviews from the customers. Before your travel, our experienced travel expert will communicate with you one-to-one and organize everything (accommodation, transfer, itinerary…) well. In your trip, our local travel guide will accompany you all the way and introduce the highlights of every place to you. Private transfer service allows you to enjoy a comfortable and safe trip. All the experience can be tailor-made according to your group size, travel time, physical condition, personal interest, travel budget and other needs. Please feel free to contact us if you need any help!
Popular China Tours in Different Themes: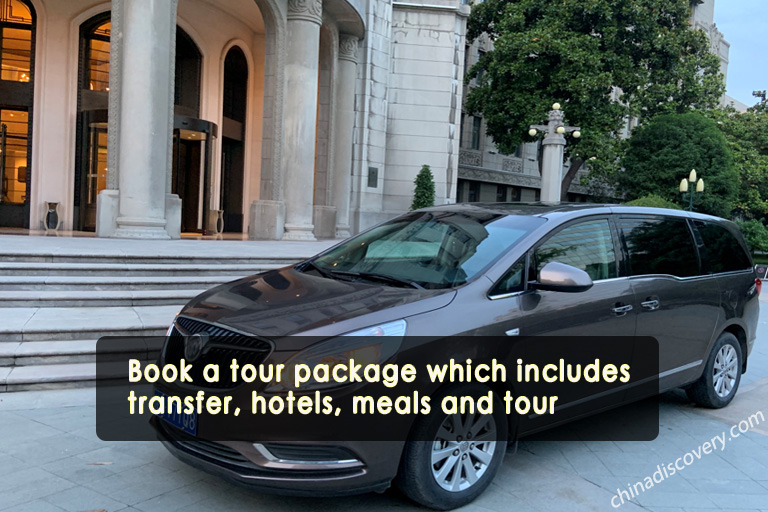 China Discovery Private Transfer
Popular China Tours in Different Themes:
How to Plan a China Autumn Tour
Choose A Destination According to Your Interest: It is comfortable to travel to most destinations in China in autumn, so you just need to choose a destination according to your interest. If you want to explore more about China's history and culture, Beijing, Xian, Shanxi, Shandong and Gansu are all recommended. If you want to view or photograph the best autumn colors, we suggest you go to Jiuzhai Valley, Kanas, Western Sichuan, Wuyuan, Dongchuan Red Earth and some other forests or mountains or grasslands with colorful autumn views. If you want to stretch your legs and enjoy natural landscape at the same time, Yellow Mountain, Zhangjiajie, Mount Emei and some other mountains are perfect. If you want a relaxing journey with some autumn landscape, we advise you take a Yangtze River Cruise and visit some beautiful cities like Hangzhou, Nanjing, Xiamen, Chengdu, etc.
Try to Avoid Traveling in China's Golden Week: China's Golden Week usually starts from the first day to the seventh or eighth day in October. It is the longest national holiday in China and most tourist destinations will be crowded with domestic travelers. If you have to travel in these days, we suggest you visit some remoter areas in Yunnan, Western Sichuan, Guizhou, Tibet, etc. and avoid Beijing, Xian, Shanghai, Guilin, Jiuzhai Valley, etc.
Pack and Dress According to the Climate in Destinations: Generally, the weather of autumn is mild and comfortable, warmer in September and cooler in November. Because of the vast land, there is a large temperature difference between two cities in northern China and southern China. If you go to Kanas in September, you need to prepare sweaters and down coat. If you go to Haikou in November, T-shirt is enough.
Top Recommended China Autumn Tours:
☞ 6 Days Classic Beijing Xian High-speed Train Tour
☞ 5 Days Yellow Mountain Autumn Landscape Tour with Shaiqiu Experience
☞ 6 Days Western Sichuan Autumn Sightseeing Tour
☞ 9 Days Kanas Lake Fairyland Tour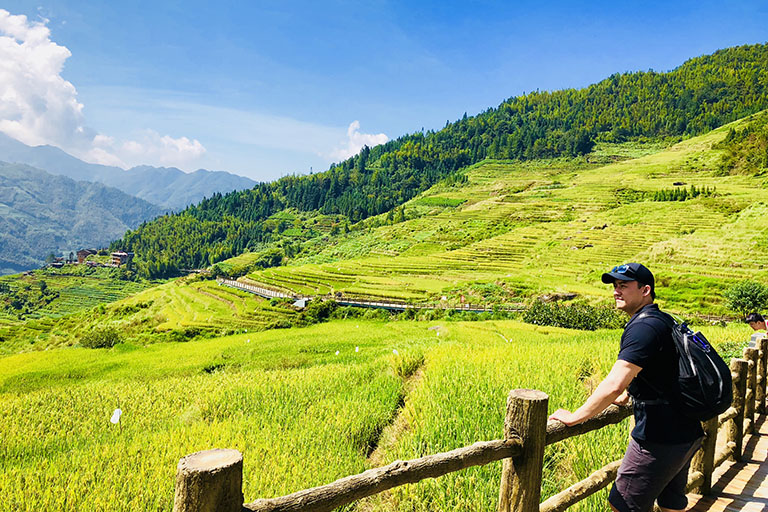 Our Customers Traveled Longji, Guilin in September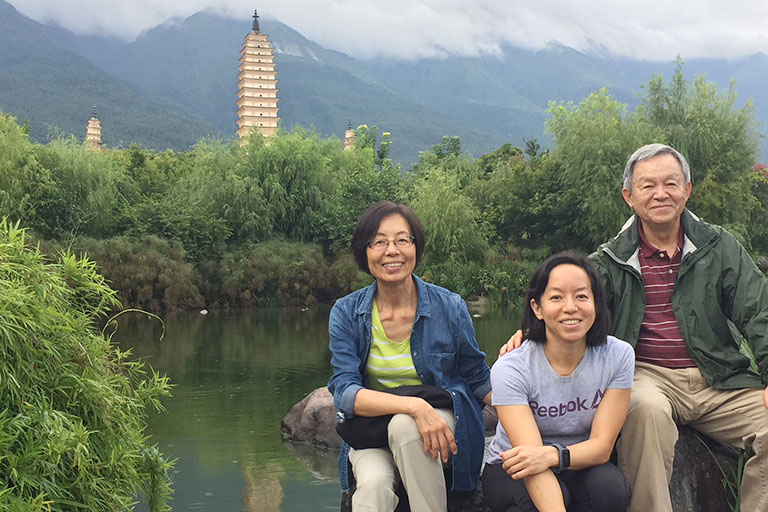 Our Customers Enjoyed a Family Holiday in Dali in September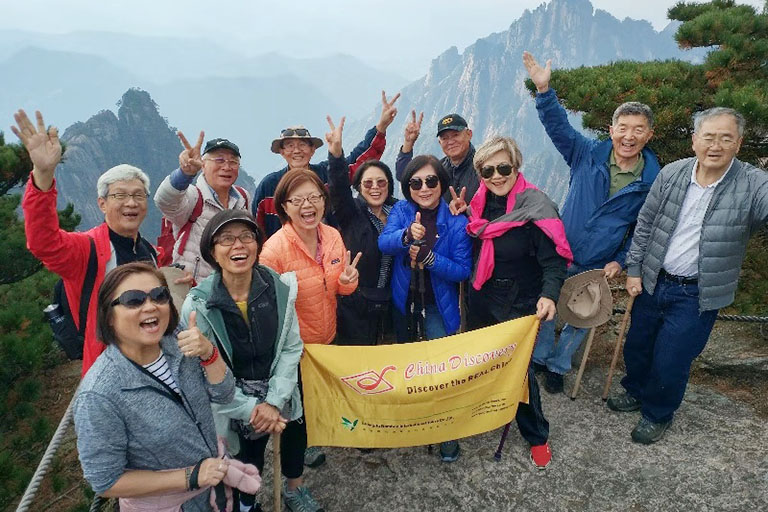 Our Customers Visited Yellow Mountain in October
Keep Reading about China Autumn Travel
Learn More about China Seasonal Travel
China Monthly Weather
Recommended Tours
Top 3 city tours chosen by most customers to explore in the best way. Check the detailed itinerary,or tailor your own trip now with us.
6 Day Datong Pingyao Tour Plus Wutaishan Visit

Datong / Wutaishan / Taiyuan / Pingyao
6 Days Hexi Corridor Discovery Tour(Zhangye/Jiayuguan/Dunhuang)

Lanzhou - Zhangye - Jiayuguan - Dunhuang
6 Days Western Sichuan Autumn Sightseeing Tour

Chengdu / Wolong / Mount Siguniang / Danba / Tagong / Xinduqiao / Kangding / Chengdu