Though China enjoys a vast land and diverse climate, it is wildly recognized that autumn (September ~ November) is the best season to travel. Because the weather is always comfortable with fresh air, cool temperature and less rain. No matter you want to hike, photograph or sightsee, you can get a very wonderful experience. It can be said that all destinations can be visited in autumn, especially in early and middle autumn (September ~ October). Here we list the top 15 places to visit in China in autumn to help you figure out your most wanted destinations and plan a better autumn holiday. They may feature with excellent autumn scenery, or interesting autumn experience, or superb cultural splendors with autumn fun. Feel free to contact us for more details if you have any other ideas. Just browse these destinations and get inspired for you 2022 autumn holiday now.
Please Note: Xian and Shanghai are two top destinations whenever you visit China. Though they offer less autumn colors, there are world-class cultural wonders in ancient Xian and alluring cityscape in modern Shanghai. If it is your first time to visit China, don't miss them.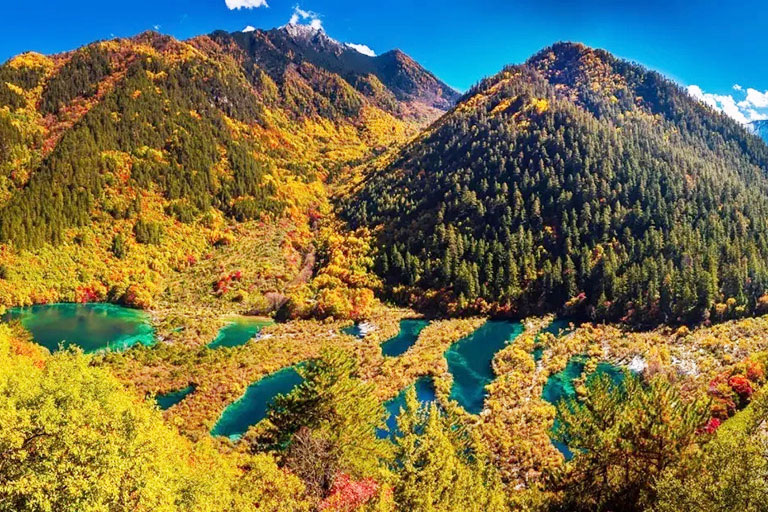 Shuzheng Lakes at Jiuzhaigou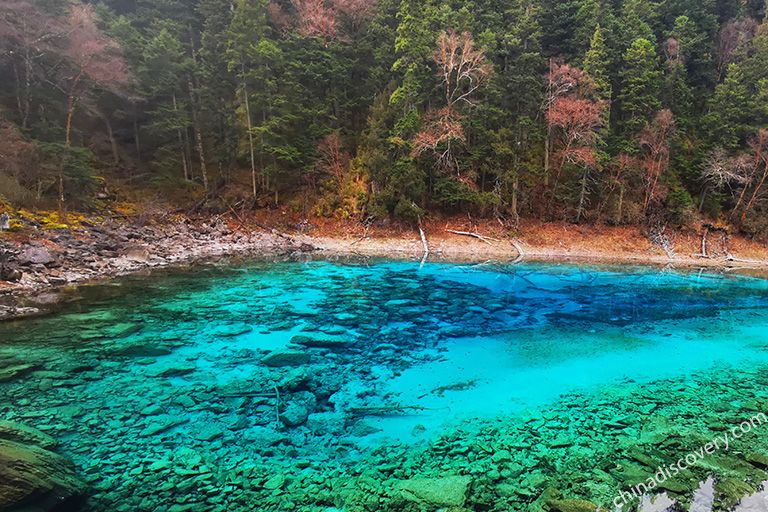 Autumn View of Jiuzhaigou Valley
Type: Geoparks, Forests, Waterscape, Hiking, Photography
Best Places to Visit There: Jiuzhaigou Valley, Huanglong National Park
Recommended Trip Length:  1-2 days;
Jiuzhaigou Valley, literally meaning Nine Villages Valley, gets its name because of nine Tibetan fortified villages in the valley. It is a UNESCO-recognized World Natural Heritage site world-famous for its incredibly mystic waterscape, including popping, waterfalls, crystal blue and green lakes, glittering and translucent lakes, flowing springs and forest-covered mountains. Its natural landscape makes travelers, photographers and nature lovers hankering in an endless stream. When autumn comes, the forests in Jiuzhaigou Valley, get dressed with the its most enthralling colors from red to golden, orange and scarlet. The seaweeds at the bottom of the lakes also present a strong hue. Seen from above, it seems like the color of autumn is poured into the water, making Jiuzhaigou Valley the real fairyland in the world. If you want to enjoy the best autumn scenery of China, Jiuzhaigou Valley is undoubtedly one of the best choices.
Huanglong National Park, attractive with magic landscape of lime formations and calcified terrace ponds, is always traveled with Jiuzhaigou Valley. The distance between them is about 110 km and it needs about 2.5 hours' drive. The best gateway to Jiuzhaigou is Chengdu and you can get there from Chengdu by drive or flight. Some travelers also choose to fly to Jiuzhaigou tour from Chongqing or Xian.
▶ Learn more about: How to Plan Jiuzhaigou Trip | Jiuzhaigou Travel Guide | Jiuzhaigou Autumn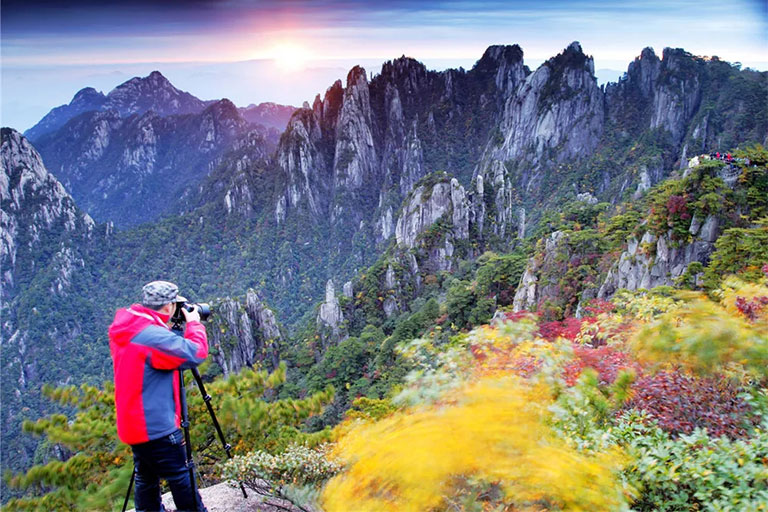 Colorful autumn scenery in Yellow Mountain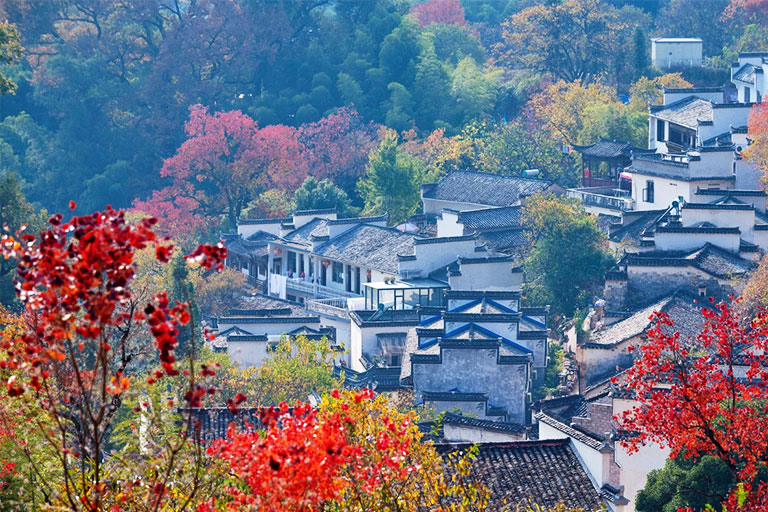 Tachuan Village with Colorful Village Scenery
Type: Mountains, Nature & Parks, Culture, Hiking
Best Places to Visit There: Yellow Mountain, Hongcun Village, Xidi Village, Tunxi Old Street…
Recommended Trip Length:  3-4 days
Huangshan is named after beautiful Huangshan Mountain (also known as Yellow Mountain). It's is not difficult to learn that Yellow Mountain is the biggest highlight of this city. There are five wonders in the mountain, namely odd-shaped pines, spectacular rocky peaks, sea of clouds, hot spring and winter snow. In fact, Huangshan is suitable to visit all the year around, but visiting in autumn delivers you a more far-reaching vista because of the high visibility. There are four cable cars and several trekking routes equipped in Yellow Mountain. No matter you are a sightseer or a hiking enthusiast, a spectacular experience in the mountain will enjoyed.
More than Yellow Mountain, Huangshan offers many other things to see and to do. What you can't miss is the featured village with white walls and gray titles. Top recommended villages are Hongcun Village and Xidi Village. But you prefer more quiet and low-key ones, Nanping Village, Bishan Village, Chengkan Village… are also remarkable. Traveling in autumn, it is also available to enjoy the picturesque scene of Shaiqu (crops drying). Besides, it is available to take part in many interesting activities, like hiking between the peaceful villages, learning to make local dessert, join in a inksticks-making class,, being a local farm a day, etc.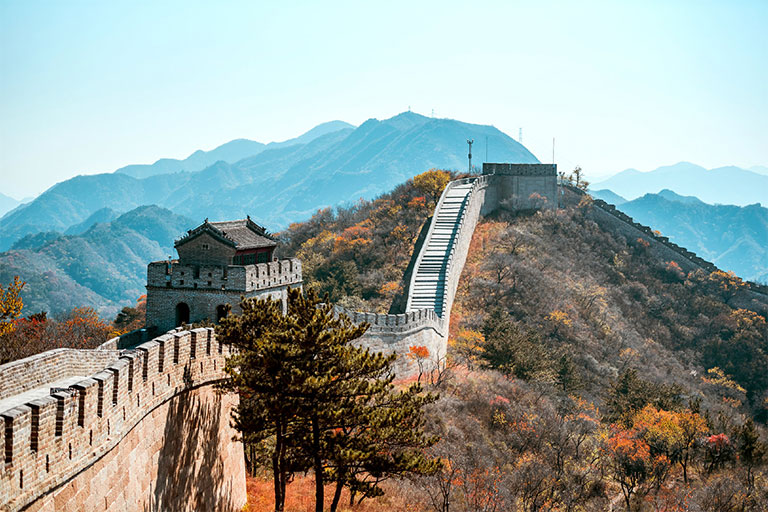 Magnificent Badaling Great Wall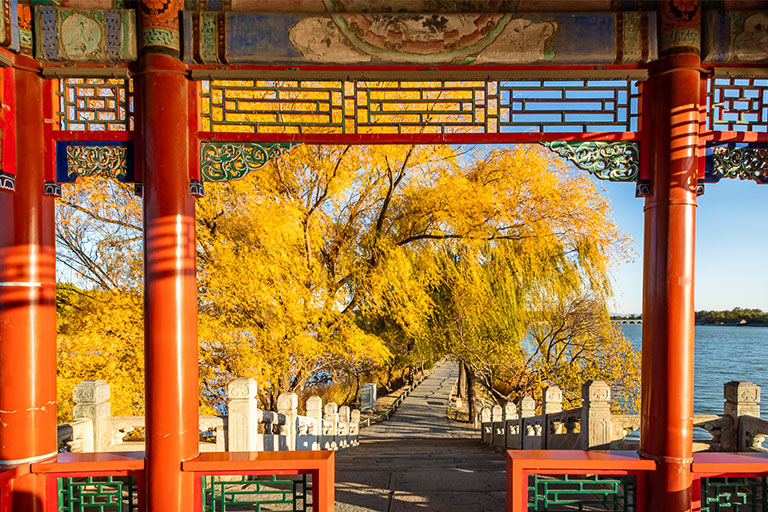 Summer Palace in Autumn
Type: Culture, History, Cities, Parks
Best Places to Visit There: Great Wall, Forbidden City, Summer Palace, Temple of Heaven
Recommended Trip Length:  3-5 days
Beijing, the charming capital city, is always China's No.1 destination for the first timers. So many cultural wonders preserved in this city to make you jaw-dropping, such as Great Wall with unique precipitousness and spectacularity, Forbidden City full of imperial stories, Summer Palace for royal families, twisting Hutong alleyways, numerous treasured collections in various museums, etc. Of course, you won't fail to savor the modern charm in Beijing. There are supertall skyscrapers towering in Beijing Central Business District and superb architectures in Olympic Park to appreciate. There are also may first-class fashion shows, modern dramas, acrobatic show… taking place in Beijing.
Beijing shows more antique flavor with the warm-toned autumn view. The Great Wall extending into the colorful forests strikes visitors endless imagination. The best sections of the Great Wall to catch an extraordinary autumn scenery include Mutuanyu Great Wall, Badaling Great Wall, Huanghuacheng Great Wall and Jinshanling Great Wall. Apart from the Great Wall view, the contrast between yellow gingko tree leaves and red walls in Forbidden City is also a distinctive sight. If you want to see the red leaves, Xiangshan Park (Fragrant Hill Park) is a popular place.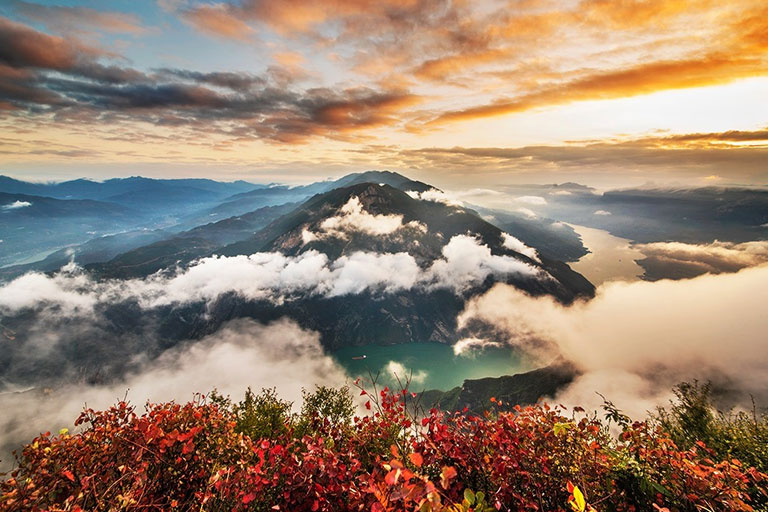 Qutang Gorge in Misty Morning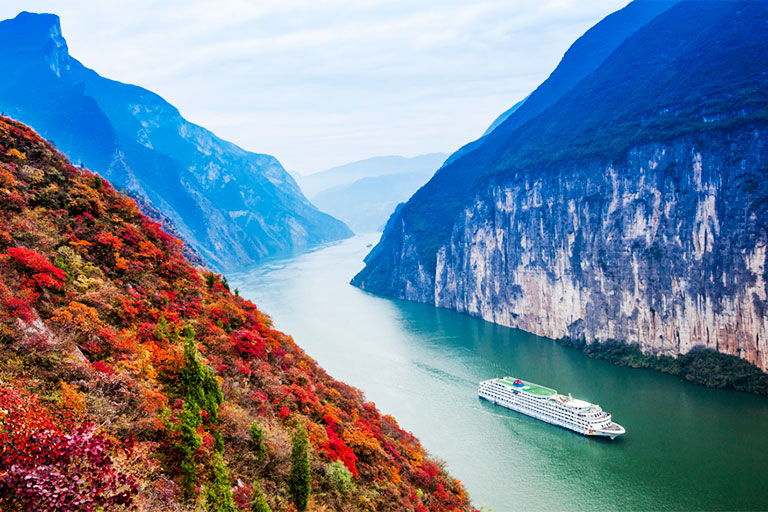 Amazing Yangtze River Cruise
Type: Mountains, Rivers, Nature, Gorges
Best Places to Visit There: Chongqing, Yichang, Three Gorges, Three Gorge Dam
Recommended Trip Length:  4-5 days;
Don't hesitate to take a Yangtze River Cruise if you are interested view magnificent China in a relaxing way. Navigating between Chongqing and Yichang, a 4 or 5 days' downstream or upstream cruise takes you to discover the natural scenery, culture and history of central China along the Yangtze River. Different kinds of ships equipped with advanced facilities, satisfying entertainment, delicious Chinese and western food and friendly staff give you a super holiday. Every detail is taken care of and the only thing you need to do is enjoy.
In the your cruise trip, the scenery contains mountains, rivers gorges and villages. In the late autumn, the mountain are covered with red maple trees, especially Three Gorges which offers a fascinating view. Late October and November are the best time to enjoy flaming leaves. In addition to a comfortable stay and sightseeing experience on the cruise, you will also enjoy wonderful shore excursion. Lots of opportunities will be given to you to enjoy architectures, culture, history and folk customs.
Recommended Yangtze River Cruise Trips in Autumn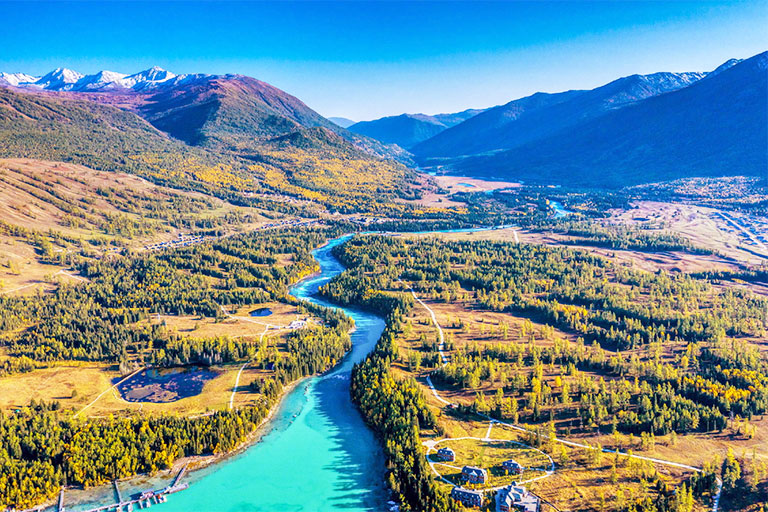 Panoramic View of Kanas Lake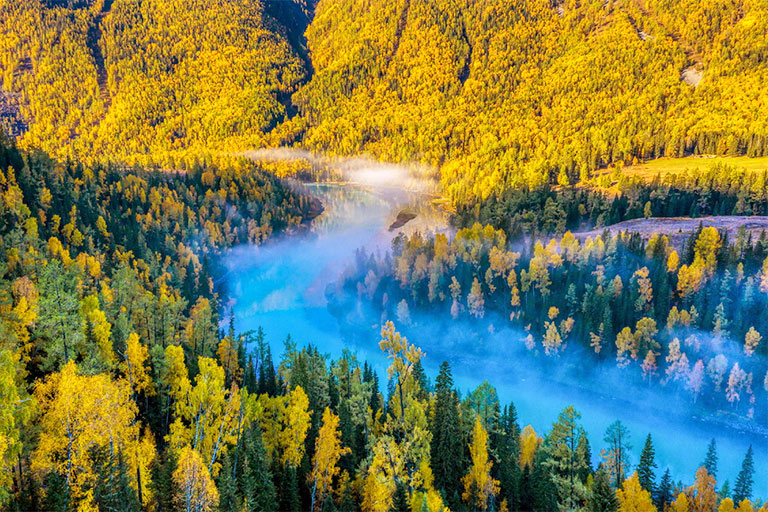 Amazing Autumn Forest in Kanas
Type: Nature, Lakes, Forests, Grasslands
Best Places to Visit There: Kanas Lakes, Hemu Village, Bahaba Village,
Recommended Trip Length:  2-3 days
Kanas means "beautiful and rich, mysterious and unpredictable" in Mongolian, and it is worthwhile to name this land with "Kanas". With the beautiful scenery of lake and surrounding dense alpine forests, Kanas is honored as Oriental Switzerland and Photographers' Paradise. There is a collection of dazzling glaciers, tranquil lakes, virgin forests, snow-capped peaks, verdant grasslands and ethnic customs to discover.
September is the best time to visit Kanas Lake while the autumn foliage against the emerald color of lakes creates such an appealing sight to behold. The weather is comfortable as well because it is not so cold. The scenic area will be closed after the Golden Week in October because of the cold weather. It is available to take a cruise or walk along the lake to enjoy the lake view. Kanas Lake also have several hiking routes. The most popular hiking route is to hike up to Fish Viewing Pavilion where you can enjoy a bird-eye's view of the lake, the snow-capped friendship Peak, and nearby grasslands. To shoot the best scenery of Kanas, photographers always choose to travel between two of Kanas, Wuerhe and Burqin.
Recommended Kanas Trips in Autumn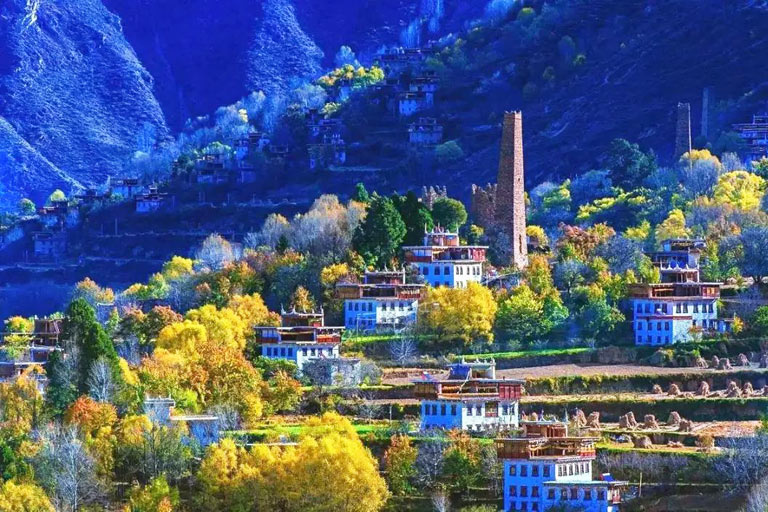 Jiaju Tibetan Village in Autumn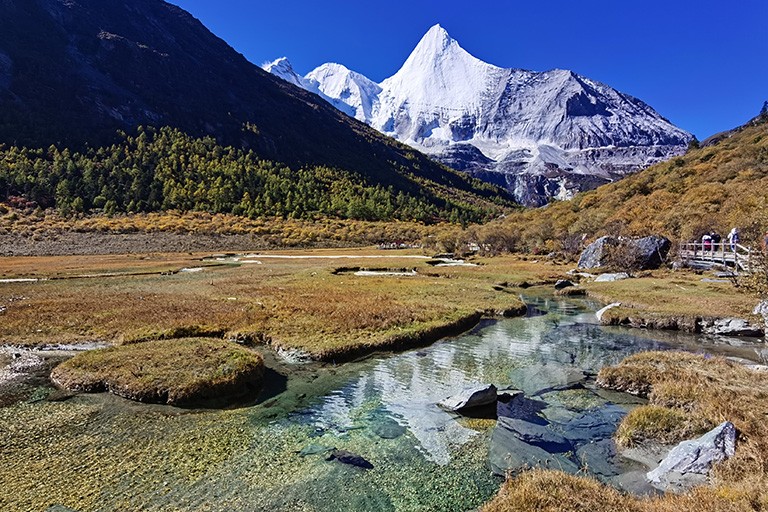 Yading Nature Reserve in Autumn
Type: Nature, Mountains, Grasslands, Photography
Best Places to Visit There: Daocheng Yading, Mount Siguniang National Park, Xinduqiao, Danba, Tagong, Kangding
Recommended Trip Length:  3-6 days;
Wester Sichuan, mainly composed of Aba and Garze, is an undeveloped and gorgeous region of Sichuan. It has epic mountain vistas, Buddhist monasteries, grasslands peppered with yaks, traditional Tibetan houses… In every autumn, there are numerous travelers and shutterbugs flocking into this region.
It takes more than 10 days to have an in-depth discovery of the whole land of Western Sichuan, and many travelers choose to travel to the most beautiful and challenging part - Daocheng Yading. Yading Nature Reserve is the main highlight in Daochengaocheng and it owns sacred snow mountains, blue high plateau lakes, idyllic pastures and scenic hiking routes above 4,000 meters. Besides, there are some other enchanting attractions, like Haizi Mountain, Red Grassland, Golden Forest and Benpo Monastery, which enrich your understanding of this pure and primitive land.
Other than Daocheng Yading, you can visit Siguniangshan - oriental alps, Jinchuan - an intoxicating wonderland, Danba - a place with hundreds of ancient watchtowers, Bamei - magic town with incredible Stone Forest, Xinduqiao - a paradise to shoot idyllic Tibetan countryside scene, Mount Gongga - the King of Sichuan Mountains, Hailuogou Glacier - China's only glacier forest park… Once you take an unbelievable trip in autumn, you will be praised with an unforgettable memory of the core Western Sichuan dyed into golden yellow and more brilliant Autumn colors!
Recommended Western Trips in Autumn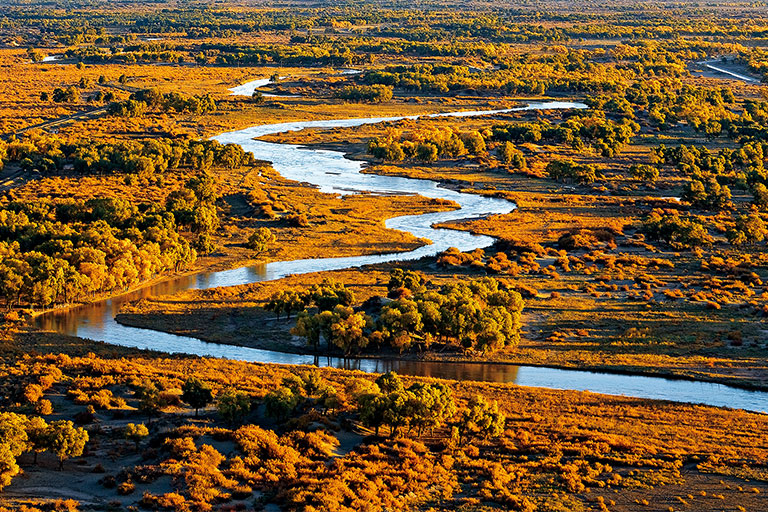 Ejina Populus Euphrates Forest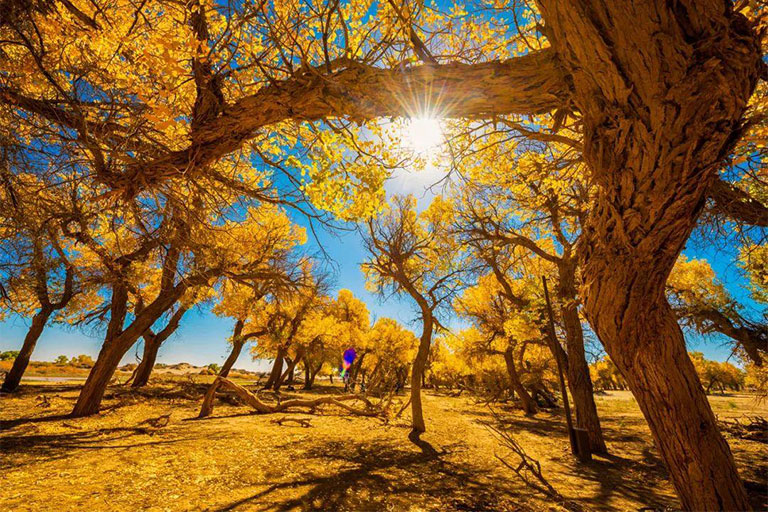 Ejina Populus Euphrates Forest
Type: Nature, Forests, Grasslands, Desert
Best Places to Visit There: Ejina Populus Euphratical Forest, Badain Jaran Desert
Recommended Trip Length:  3-5 days;
Ejina is a small city located at the western edge of Inner Mongolia. Many travelers love to visit Ejina in autumn for the dazzling golden Euphrates poplar leaves, boundless grasslands with running sheep and vast deserts with camels. Ejina Populus Euphrates Forest, one of the only three Populus Euphrates forests in the world, covers a large area of 3,800 square kilometers. There is a number of types of trees in forest and they turn yellow and golden from late September. Together with the blue sky and vast desert, it attracts lots of travelers and photographers.
To the south of Ejina Populus Euphrates Forest lies Badain Jaran Desert which features colorful spring-fed lakes and hundres of singing dunes. Besides, we suggest you visit Juyanhai Lake which shapes like a long narrow crescent moon. The sunrise is amazing here. Heicheng Historical Site is another place recommended for its cultural significance.
Recommended Ejina Trips in Autumn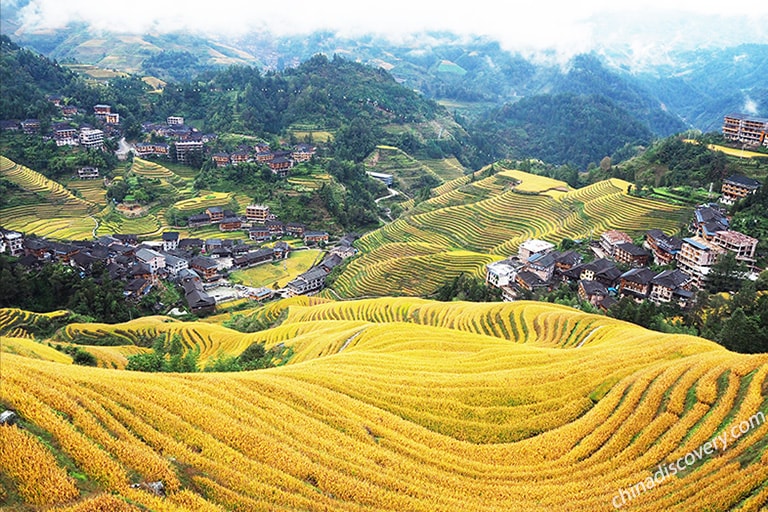 Jinkeng Rice Terraces Autumn View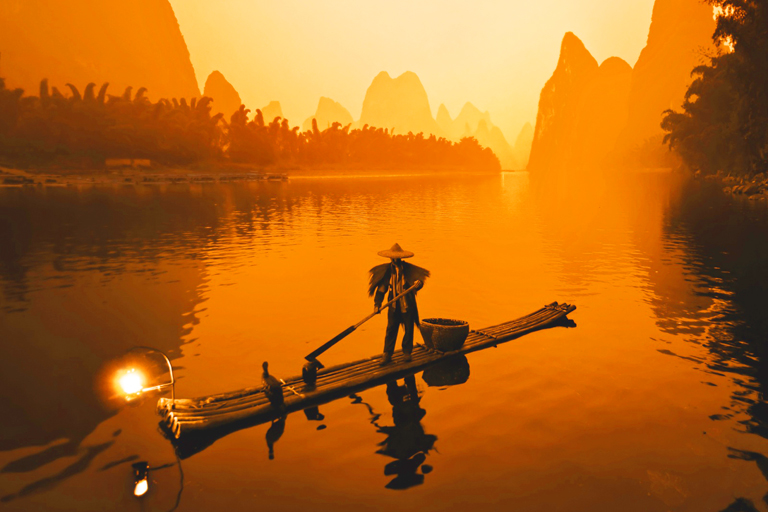 Guilin Li River
Type: Mountains, Ethnic Villages, River, Cruise, Hiking, Photography, Nature
Best Places to Visit There: Li River, Yangshuo, Longji Rice Terraces, Elephant Thunk Hill, Reed Flute Cave
Recommended Trip Length:  3-6 days;
Have you ever heard these words - "Guilin scenery is the best in the world"? The typical karst landform, thousands of limestone mountains, winding river and picturesque countryside make Guilin much more dramatic than many other scenic cities in China. Cruising along Li River from Guilin to Yangshuo is the best way to enjoy Guilin landscape. Both cruise boat and motor-driven raft are available. As you reach Yangshuo which is famous for its relaxing life pace and stunning idyllic scenery, you get a lot of interesting to do, such as bamboo rafting, countryside biking, rock climbing, etc. We strongly suggest you spend a half day enjoy the original, natural, pure and primitive scenery in Yulong River. When autumn comes, the fall foliage dresses the river and countryside to a romantic place. Longsheng Rice Terraces is a can't-be-missed attraction. Main attractions include Jinkeng Red Yao Terraced Fields, Pingan Zhuang Terraced Fields, Longji Old Village Cultural Terraced Fields and many other minority villages. After the maturity of the rice in late September, all the terraced fields become golden. Late September to October is the best time to see and take a photo of golden terraces.
▶ Learn more about: Guilin Travel Guide | How to Plan a Guilin Tour
Recommended Guilin Trips in Autumn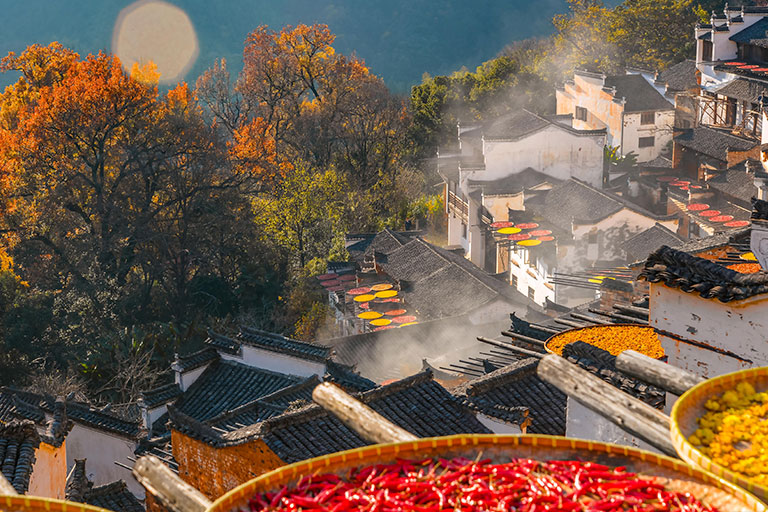 Wuyuan Shaiqiu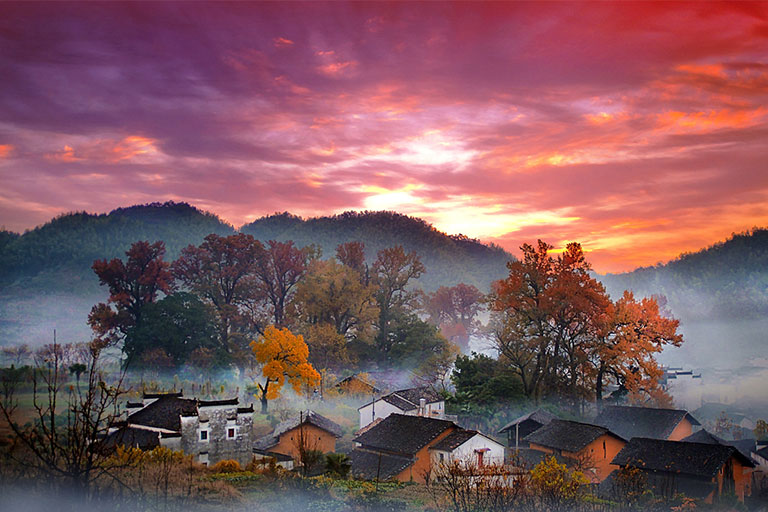 Wuyuan Morning Fog
Type: Forests, Villages, Photography
Best Places to Visit There: Huangling Village, Jiangling Village, Li Village, Shicheng Village
Recommended Trip Length:  2-3 days;
Known as China's most idyllic village, Wuyuan explains to you what a utopian home looks like: horse-head walls shrouded in faint smokes, abstract lines of terraces, cows and horses walking in the twilight, yellow rape flowers or fiery red maple leaves in different seasons.
Most travelers choose to go to Wuyuan in spring and autumn. Wuyuan in autumn is full of warm colors. Changxi Village and Shicheng Village are two hot places to view or take photos of flaming maple leaves. Besides, the sunset in Changxing and fog in Shicheng are outstanding. Huangling Village, a hilltop village featured with Huizhou-style architecture and surrounded by mountains, is the favorite place for painters and photographers. Every autumn, the harvested crops on roofs constitute a spectacle for the village.