Hi Wendy,
Yes, we had a wonderful trip, thank you so very much. I added comments after your questions. I will send a few pictures in a separate email. Thank you very much for a great tour.
1.Was your travel consultant of our company fast enough to answer your E-mail and patient enough to answer your questions?
Wendy was wonderful. She always replied quickly to our emails, answered all of our questions and was willing to make any arrangements we needed.
2.How was your tour? Are you satisfied with the tour we arranged for you?
The tour in the Huangshan mountains was wonderful. Our guide Zora was helpful checking into hotels. We were lucky to have great weather and the mountains didn't disappoint at all. Zora knew the tour very well and took us to many highlights of the mountains. Be prepared to climb MANY steps. The Xihai Hotel in the mountains was also perfectly adequate. We also visited Hongcun and Xidi, two ancient villages. And we had a tour on the Xin'an river. The first stop in the ice cave is not a highlight, but the other three stops were well visiting. The stop in Jiusha Village is particularly beautiful in the fall, when the harvest is displayed.
When not in the mountains we stayed at Huashan Huiyan Hotel. It is not a fancy hotel, but the location is right by the 900 year old Tunxi street. Perfect to spend an afternoon and evening. Zora, our guide, was helpful in pointing out some areas to visit.
3.Do you have any suggestions on improving our services?
It might have been nice to have a guide in the Tunxi street. We had so many questions. Zora was great answering them the next day, but it would have been nice to have her with us on our first visit. Otherwise, I couldn't think of any improvements. I would definitely use China Discovery again to arrange for future travels.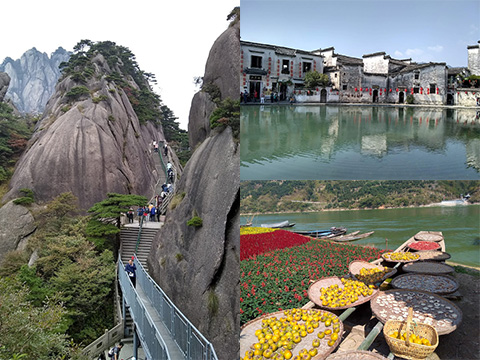 Huangshan Mountain and Village