Good morning Livia,
Well we are now home after spending 3 days in Sydney after our China tour.
Very very happy with our trip to see the Warriors our driver who picked us up from the hotel was great, he helped us go through the train station and was there to pick us up to take us back to the hotel.
We spoke to Shirley prior to leaving the hotel she was extremely helpful.
The train trip was excellent very comfortable.
When we got to Xian Carrie was waiting for us, what a lovely young lady she made us feel most welcome.
Cannot remember the drivers name but he was very good.
We had a wonderful time seeing the Warriors. Carrie was excellent with the knowledge of the Warriors. It was lovely spending the time with her, she took us to a very nice restaurant for lunch the food was delicious.
Then it was time for our return journey back to Zhengzhou, Carrie took us through the station.
We highly recommend your company for the ease of the booking and how everything just went so smoothly.
Could not of done this tour without you.
Many thanks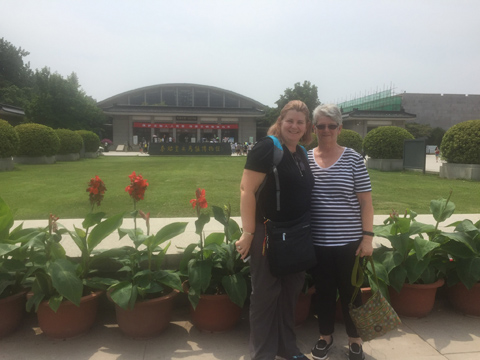 In Front of Terra-Cotta Warriors Museum