Hi Mike,
Here are my answers below.
1. Is your travel consultant of our company fast enough to answer your E-mail and patient enough to answer your questions?
Mike was excellent with communications through out the whole process of deciding and finally accepting the proposed tour. He was very good with the questions we asked and provided excellent and thorough information at all times. Very quick at answering our questions.
2. How do you comment your tour arrangements?
Tour arrangements were excellent. Everything was as expected from the confirmation letter. Guides were there to meet us at the correct places and times. Drivers were fantastic to cope with the amount of traffic on the roads. Hotels were top class and in areas that were easily accessible to what we wanted to do at nights or in spare time. Flights and trains were very good. The service that the guides provided was excellent. All guides communicated clearly and were easily understood and they understood our questions. Their knowledge of subjects on the tour and on China was outstanding and they were willing and able to give us a personal view of China as well. Drivers were very safe and provided us with safe transport where ever we went.
3. Are you willing to recommend our service to your people who also have an interest to visit China?
Would have no hesitation in recommending your service to any body who is contemplating a visit or visits to China. Your service is outstanding.
4. Your general opinion on us?
Very professional, easy to communicate with, exceptional guides and drivers, travel consultant provided us with first class service. Booking a service online sometimes comes with thoughts of what if things go wrong or do not work as easily as they should, especially with a language barrier. However, we had no worries with your service as it was very professional even down to communication with us and the guides when something needed changed. We were fully informed.
5. Do you have any suggestions on improving our services?
From a personal point of view, we would suggest that train rides are all booked with first class seats as the added costs would not be great in the overall cost. We believe that most Western travels would appreciate the little bit extra comfort and room. With your guide evaluations, you could easily email forms prior to tour starting so that we can fill them in and return email at completion of each segment of the tour. Sometimes getting the form just before you finish with the guide does not give you much time to fully think about the feedback especially if it was only for transfers from train/ plane to next boat.
6. Can we use your comments of our service, the photos or other images that you took on the tour for our websites, brochures, marketing and publicity? If yes, could you please send us some of your photos by E-mail?
We have no problem with you using our comments or images if they suit your needs.
7. We sometimes have requests from potential customers who would like to inquire from or our ex-customers. May they contact you for advices?
We would be happy to offer our advice if needed.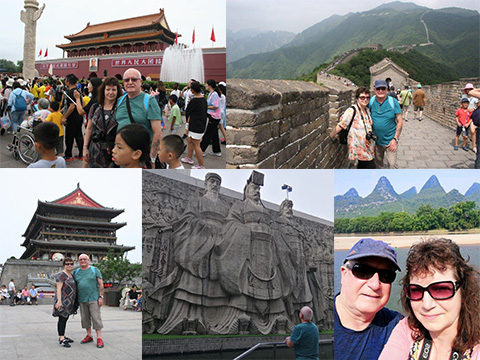 China Travel in Beijing, Xian, and Guilin