Hi Wendy,
Thank you so much for your patience. We are now back and rested.
I will be very happy to give you the feedback you have asked for. Please use the photos and comments on your website.
1. We have had a great experience with the travel consultants from China discovery. We started off working with Olivia, who was always very patient with all my million queries. She was quick to revert to my mails and very helpful in giving my itinerary the shape I was looking for. When she went on leave, Wendy came on board to see us through the final leg of finalizing our tour and executing it. She managed to do a fabulous job with it. Wendy would revert to all my questions (and I had a lot of them) with speed, flexibility and clarity. Very impressive team of travel consultants.
2. The tour was all that we had imagined it would be. Everything worked like clockwork. The guides were always where they were supposed to be and were all knowledgable with a good command over English. Special mention to Lucia in Xi'an who made us feel very comfortable and was an excellent guide.
The vehicles used all throughout the tour were clean and very comfortable. The drivers were professional and drove carefully.
The choice of restaurants for lunch were really good for the most part and the food was really tasty. We got to experience Chinese food from different parts of the country through these lunches. We had only one not so good experience, which was at the restaurant at the Bund in Shanghai. Though the location was really good, the restaurant was hot (AC didn't seem to work) and the food was average.
Overall, the tour was great. And what really touched us was the thoughtfulness of the travel company. My daughter's 12th birthday started with a beautiful bouquet of flowers given to her by the guide on behalf of the company. My son got a panda bear toy for his 6th birthday, which was such a lovely gesture. We really appreciated it and it will serve as a special reminder of our trip to China.
3. There is not much that I can suggest to improve the service or the execution of the tour. It was near to perfect.
I would like to complement the travel team at China Discovery for our memorable trip to China. We will cherish all our days spent there for the rest of our lives. And we will definitely be recommending you to our friends and family.
And next time we come to China, we will be using your services again. Thank you once again.
Am attaching some pics from our holiday.
Regards
Sandhya
The following pictures were shared by Sanhya Varma.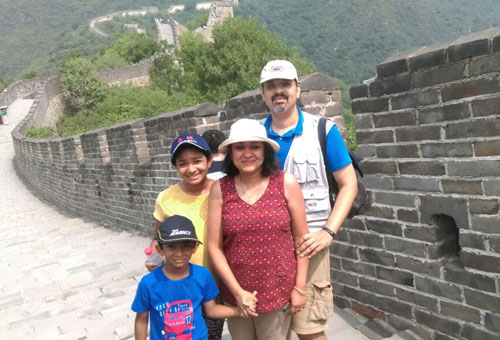 Sandhya Varma's Family Visited Great Wall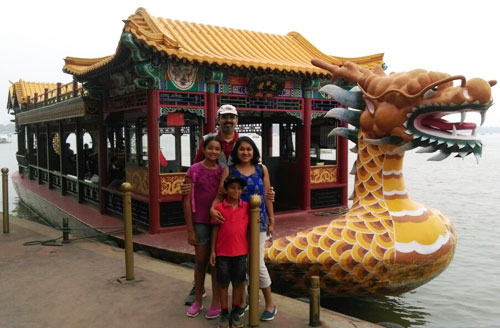 Sandhya Varma's Family Visited Yangtze River