Hi Riley,
Here are my feedbacks.
1. Did your travel consultant of our company quickly reply to your E-mails and were they patient enough to answer your questions?
Yes, Riley always responded within a few hours of my sending an E-mail, sometimes prior to her arriving at the office to begin her day. Riley was very efficient and professional in providing the answers I needed to make an informed decision about the tour.
2. Do you have any comments concerning your tour arrangements?
I thought Riley was very thorough in providing us the best value possible for our tour even though we requested the tour at the last minute. She even included some extra sightseeing that we had not ask for which added to the tour!
3. Are you willing to recommend our service to anyone who also may have an interest to visit China?
Yes, I would highly recommend Riley and China Discovery to anyone who has an interest in visiting China!
4. What is your general opinion of us?
I have a positive opinion of the China Discovery team. This is my second time booking with China Discovery, both times Riley has provided fast, efficient, professional service. I can tell she takes great pride in her work and wants her clients to experience the best China has to offer!
5. Do you have any suggestions on improving our services?
I can suggest that your travel material and documents be reviewed and corrected by a native English-speaking person because some of the material is very difficult to understand. My payment was made to an individual and not to an entity that contained the name China Discovery or Chengdu Travel. Most people are very wary of giving money to someone they do not know or have any idea of who they are. I would suggest warning people in advance that the payment will be made to this individual to put them at ease.
6. Can we use your comments of our service, the photos or other images that you took on the tour for our websites, brochures, marketing and publicity? If yes, could you please send us some of your photos by E-mail?
You have my permission to use my comments and photos to promote your services.
7. We sometimes have requests from potential customers who would like to inquire from our ex-customers. May they contact you for advice?
I have no problem providing my comments to any potential customers your company may have.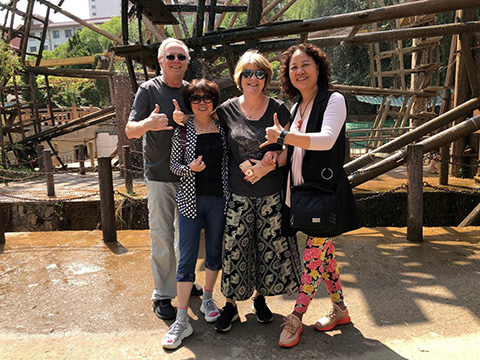 Thumb-up China Tour