Dear Catherine Liu and our friends at China Discovery:
Here is my evaluation of your service. You have my permission to share all or part of it with others. You may also share our pictures. We had a really wonderful trip to China!
We are extremely satisfied with China Discovery! As we began planning our trip, we had no experience traveling in China, didn't speak the language, and didn't even know what to see or where to go. So we went into this trip with a lot of anxiety. We were also nervous because we didn't know what to expect from a Chinese travel company. Despite our apprehension, China Discovery was absolutely fabulous. I sent an inquiry with the dates we would be in China and the areas we were interested in visiting. I thought it would be logistically impossible to fit all of the sites in our relatively short 9 day trip. However, we were pleasantly surprised when Catherine Liu responded within 24 hours of my inquiry with a detailed itinerary that allowed us to visit 4 major regions in just 9 days and included all arrangements for food, lodging, and travel. Initially, I did not think we could afford a private tour company. However, our second surprise was that this entire jam-packed, 9-day itinerary, was actually very reasonably priced. What really convinced me was the fact that they provided everything: an English speaking guide & private car with driver to meet us at the airport and take us to to all the sites, bullet train/airfare reservations to transfer around the country, hotel reservations, tickets for most of the sites, and even meals for breakfast and lunch. We were very impressed with the hotel quality; they were all very clean and gave World class service. Our guides planned wonderful site seeing events, including the big-ticket items as well as local culture experiences that foreign tourists would never get to see without a knowledgeable local guide. Our guides and drivers were friendly and made us feel very safe. China Discovery also has access to "insider" VIP status which allowed us to bypass the long lines at some sites. Our guide often gave us tips about shows and other events that were absolutely incredible. Ultimately, I think it would have been impossible to experience all of this if we had tried planning the trip ourselves.
Was there any downside at all to our China experience? I can honestly say there really wasn't. Sure, we probably over extended ourselves a little by trying to see so much of this massive country in just a little over a week. And there was a minor annoyance that a couple of the tourist sites (jade, silk, and pearl factories) included some polite, but pushy salespeople. All in all, we felt that these aspects were part of the authenticity of this experience, and that was our goal for the trip.
I would definitely recommend China Discovery to anyone who is traveling for the first time in China, who doesn't have extensive knowledge about the country or culture, and/or who wants to maximize their experience.
Feel free to contact me with further questions.
Kent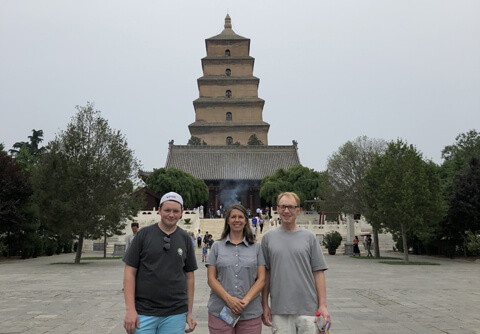 Wild Goose Pagod in Xian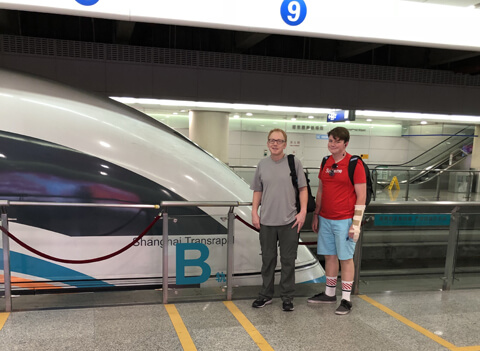 We took a maglev train in Shanghai
Beautiful Night View in Shanghai