Hello Wendy
I am so sorry for my late response, I have been very busy after my vacations, but I am responding your questions below. Of course we are agreeing for you to use our comments and pictures in your website.
1. Was your travel consultant of our company fast enough to answer your E-mail and patient enough to answer your questions?
Yes, they answered very quick and very clear
2. How was your tour? Are you satisfied with the tour we arranged for you?
We are very happy with the tour, the agency service is really good, the guides were very helpful and they take care of us at all times, we are really happy with their service in an overall. Wendy –our travel office assistant- was very kind and she showed interest about our tour to be good.
3. Do you have any suggestions on improving our services?
Maybe you should include more shopping tours, we love history and China´s history is very interesting, but we think one of the attractive activities in China is the shopping.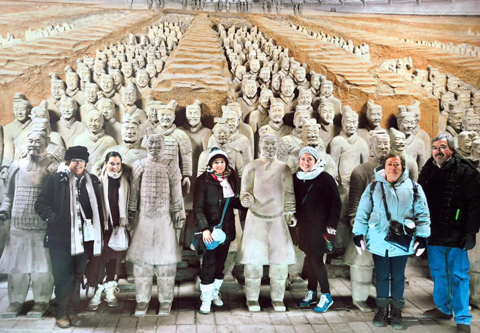 The Splendid Terracota Warriors in Xi'an