Wing,
We had a great time in China. Thanks for such a culture packed itinerary
Below is the evaluation sheet from the confirmation letter
There is one thing in shanghai I need to bring up. I paid 720 rmb each for our Disneyland tickets. It turns out the shanghai tour guide bought 1 regular (standard) and 1 senior (selected) ticket for us. The senior ticket is 200 rmb cheaper than the regular ticket. Should I get a refund? I found that out at the entrance when the ticket checker keep checking my birthday on the passport and not my daughter's. I asked her why and she said I have a senior ticket. Please let me know
1. Is your travel consultant of our company fast enough to answer your E-mail and patient enough to answer your questions? Excellent. Ms Zeng responded to all my requests in a timely manner during the planning phase and during our trip
2. How do you comment your tour arrangements? It was more than expected. The trip to Chengdu introduce us to Chinese culture that we were not aware of. We are still talking about the face changing performance we attended.
3. Are you willing to recommend our service to your people who also have an interest to visit China? Absolutely. I have been telling my co-workers about the private tour we had.
4. Your general opinion on us? Very responsive and very familiar with the Chengdu area.
5. Do you have any suggestions on improving our services? better tour guides in Shanghai. however Ms Zeng was able to re-mediate the situation
6. Can we use your comments of our service, the photos or other images that you took on the tour for our websites, brochures, marketing and publicity? If yes, could you please send us some of your photos by E-mail? I am sending a few pictures of the pandas. A baby, an older one eating lunch and the forgotten red panda. These are pandas that we actually saw
7. We sometimes have requests from potential customers who would like to inquire from or our ex-customers. May they contact you for advice? yes
Thank you China Discovery for an excellent tour
If we decide to visit other areas in China we will definitely engage your service again.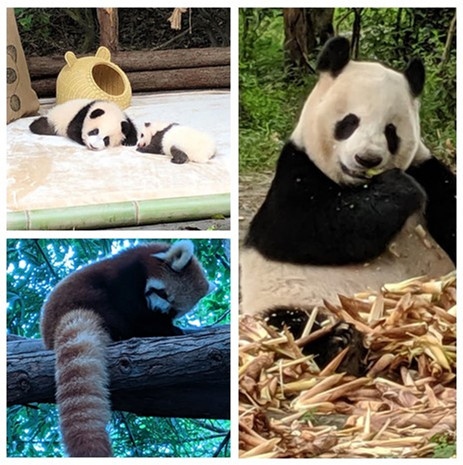 Giant Panda and Red Panda